New & Feature
A Closer Look At The Tudor Black Bay Bronze
Dec 03, 2021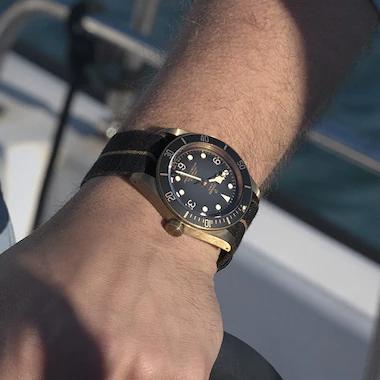 We all know Tudor as a watch brand that can dish out truly exceptional pieces. Like its parent company, Rolex, this brand's watches offer incredible quality, reliability, and striking designs, while also being much more affordable. Over the years, Tudor has made a name for itself, proving to be much more than just a "poor man's Rolex".
One of Tudor's most coveted collections is the Black Bay. As a tribute to Tudor's iconic 1954 Submariner, this flagship lineup consists of sleek, robust modern dive watches. One especially stylish piece from this collection is the Tudor Black Bay Bronze. Stick around as we take a closer look at this bold diver watch and find out why it is so popular with watch collectors.
Introducing the Tudor Black Bay Bronze
Tudor has a lot of gorgeous tool watches and the Black Bay Bronze is definitely one of them. For this article, we will be taking an in-depth look at the quintessential Tudor Black Bay Bronze model — the Tudor Black Bay Bronze 79250BA-0001.

Specifications of the Tudor Black Bay Bronze
Dimensions
The Tudor Black Bay Bronze 79250BA-0001 has a case diameter of 43mm, making it slightly larger than standard Black Bay models. With its case thickness of 14.5mm and rather wide lug-to-lug distance of around 52mm, this is a watch that will feel quite substantial around your wrist. It is best suited for those with average-to-large wrists. 
In addition, the Tudor Black Bay Bronze is made from bronze. As such, this watch has a bit more weight than its steel counterparts. To be precise, the Black Bay Bronze weighs 94g, which is 16g heavier than a Black Bay watch made of steel. If you have ever worn a steel-cased Black Bay piece before, you will definitely notice the added heft. That said, it's still quite a manageable weight, so you will not find the Black Bay Bronze cumbersome at all. The difference is noticeable, but it is not dramatic enough to cause inconvenience.
Case, Bezel, and Crystal
Just like its name implies, the Tudor Black Bay 79250BA-0001 is crafted from a bronze alloy that comprises copper and aluminium. This type of bronze is extremely sturdy, making the watch case strong and highly scratch- and corrosion-resistant. At the back of the Black Bay Bronze is a satin-finished stainless steel rear case treated with a bronze-coloured PVD coating. The watch's dull, pale-gold surface, which gleams under the light, gives it a very classy vintage look, which is precisely what Tudor was going for when they built this watch. 
On the right of the case, you can find a bronze screw-down crown, which is engraved with an image of a delicate rose. For those who are not familiar with this emblem, the rose used to be one of the brand's old logos.  The crown is sizeable, with teeth-like edges to give wearers a better grip when adjusting the time. Since this is a dive watch, having a secure screw-down crown and caseback is pivotal to the watch's resistance. Thanks to these components, the Tudor Black Bay Bronze has a depth rating of 200m, making it perfect for any water activity between washing your hands and scuba diving.
Inserted on top of the bronze watch case is a unidirectional rotating bezel. The bezel is also made out of the same bronze alloy as the case and has a matte grey aluminium anodised disc fitted on top of it. This disc features a 60-minute elapsed time scale, with clean clicks, and an inverted triangle with a luminous pip at 12 o'clock. The sides of the bezel are knurled, allowing you to grip and turn it more easily than many other dive watches out there. This bezel also does not have any back play at all, so wearers can rest assured that their elapsed time underwater will be accurately tracked.
As with many luxury watches, the Tudor Black Bay Bronze is also fitted with a domed sapphire crystal. Rated a "9" on the Mohs scale of mineral hardness, this crystal is extremely durable and can only be scratched by diamonds. The crystal's domed structure and matte finish also ensure that it has minimal light distortions, so you will be afforded a clear view of the watch's dial.
Dial
Like most Black Bay watches, this bronze dive watch takes inspiration from historic Tudor models. The dial of the bronze Tudor showcases a matte grey surface adorned with luminous hour markers and hands that are reminiscent of the Tudor Oyster Prince Submariner. Rimmed with bronze, its hour markers take the form of a mix of bold circles, Arabic numerals, and an inverted triangle at 12 o'clock. The hands of the watch come in the iconic Tudor Snowflake design, which is characterised by diamond-shaped hour and seconds hands. 
Wearing this timepiece at night allows the Tudor Black Bay Bronze to show off its spectacular lume, which is coated on the large hands and hour markers. The quality of this lume is excellent and glows a bright incandescent green, ensuring you will have no problem reading the dial in the dark.
Viewing the watch face as a whole, the Tudor Black Bay Bronze boasts an appearance that resembles the legendary Rolex Submariner and Explorer. With its clean spacing, well-sized markers, and contrasting colours, the dial is highly legible and quite satisfying to look at. Moreover, it pairs beautifully with the watch's vintage bronze case. 
Movement
Operating underneath the Tudor Black Bay Bronze's slate grey dial is a Tudor Calibre MT5601. Introduced in 2016, the MT5601 is an in-house automatic movement that features a variable-inertia balance and an impressive 70-hour power reserve. This Tudor calibre is held by twenty-five jewels and can produce a steady beat frequency of 28,800 vibrations per hour (4Hz). With its bi-directional rotor system, the movement automatically rewinds itself using the kinetic energy from the movement of your arm.
The Calibre MT5601 is COSC-certified, so you will never encounter any issues with its reliability and accuracy. On top of that, it also uses a silicon balance spring, which boosts the Black Bay Bronze's resistance to magnetic fields.
Strap
Keeping the Tudor Black Bay Bronze safely on your wrist is a slate grey leather strap made of nubuck leather. For those who are not familiar with the term, nubuck is a type of top-grain leather that has been buffed or sanded on its grain side. This produces a surface of short protein fibres, giving the leather strap a smooth and supple suede-like feel. As a result, this grey leather strap has a somewhat aged look, which definitely complements the vintage aesthetic of the Black Bay Bronze. The nubuck leather strap uses a bronze buckle to fasten the timepiece on the wearer's wrist.
If you prefer a different strap option, Tudor also offers the Black Bay Bronze 79250BA with a custom Jacquard fabric strap. This fabric band comes in black, with a single bronze streak running down its centre to give it a more stylish appearance. To see how it looks, take a look at the Tudor Black Bay Dark 79250BA-0002.
Price
Purchasing a Tudor Black Bay Bronze 79250BA-0001 will cost you around $4,090 USD. Interestingly enough, buying a pre-owned model that is relatively new or in good condition costs roughly the same amount. This makes sense given how popular the Tudor Black Bay watches are, and how well they retain their value. 
Why Do Bronze Watches Change in Tone?
One of the best aspects of owning a Black Bay Bronze, or any bronze timepiece for that matter, is watching its patina develop. 
Generally, bronze watches develop a darker hue after a week or two on the wrist. But why does something like that happen? The science of it is that, when exposed to air, the copper in bronze alloys will start to oxidise. This creates a chemical reaction known as patina. What patina does is change the bronze's surface colour. The development of patina can be natural, artificial, or sometimes a mix of both. Depending on the type of bronze alloy, the surface colour could simply darken, or it could alter to a beautiful green shade.

In the case of the Tudor Black Bay Bronze, the bronze develops from a pale gold colour to a darker tone with almost no sheen. This is due to the aluminium used in the watch's bronze alloying agent. The aluminium allows the bronze case to resist oxidation better, essentially preventing the watch from developing green streaks on its surface.
Although the green patina, or "bronze disease", does not form on the Tudor Black Bay Bronze's case, you might notice a bit of green on your skin after wearing this watch for extended periods. Fear not, however, as this will only happen during the early stages of patina formation. As the bronze case is exposed to the air more and more, the "green effect" will occur less. However, if you are very averse to having your skin turn green, you could also opt for a bund watch, which will make sure the bronze case never comes into contact with your skin.
Once it has completed its final stage of development, the patina gives the Black Bay Bronze a darker, bolder look that further emphasises its character as a functional, purpose-built dive watch. Appealing and formed through an interesting process, the patina is a charming aspect of the Black Bay Bronze that makes it even more desirable to watch collectors and enthusiasts.
Alternatives to the Tudor Black Bay Bronze
The Tudor Black Bay Bronze may not be to everyone's tastes. Whether it is because you are not a fan of its size or its design, you need not worry, since the Black Bay Bronze is not the only bronze watch out there. We have listed a few of the best alternatives to the Black Bay Bronze that you might take a liking to. Read on to check out these bronze models and see if any of them might just be what you are looking for.
1. Bell & Ross Vintage BR V2-94 Aeronavale Bronze (BRV294-BLU-BR/SCA) 

The Bell & Ross BR V2-94 Aeronavale is a limited edition bronze timepiece that boasts strength, elegance, and functionality. This Bell & Ross watch is housed in a bronze case made of 91% copper, 7% aluminium, and 2% silicon. Since this is a bronze timepiece, after all, expect its hue to darken after a few days of wearing it. The Aeronavale is slightly smaller than the Tudor Black Bay Bronze, measuring 41mm in diameter, and can fit on mosts wrists without looking too bulky.
At the top of the case, you can find a box-type sapphire glass with a layer of anti-reflective coating. This sapphire crystal is paired with a bronze dive bezel that has an anodised blue aluminium ring on top. As with all dive watches, this ring has an elapsed time scale marked on it. Located at the side of the case are two mid-sized chronograph pushers and a screw-down crown. Sealed shut by a display caseback made of steel and sapphire crystal, the Aeronavale is water-resistant up to depths of 100m. 
The dial of the Aeronavale features a blue sunray surface with polished gold hour numerals and indices. Its hands have been applied with Super-LumiNova for better legibility even at night. Depressed sub-dials can be found next to the 3 and 9 o'clock markers, and serve to give the watch face some depth and added texture. Operating underneath the blue sunray watch face is an automatic BR-CAL.301. This movement has a beat frequency of 28,800 vibrations per hour and a power reserve that can last up to 42 hours. 
This Bell & Ross Aeronavale piece is slightly more affordable than the Tudor Black Bay Bronze, retailing at a price of $4,045 USD.
2. Hamilton Khaki Field Mechanical Bronze (H69459530) 

If you want a classy bronze timepiece that will not hurt your savings much, have a look at the Hamilton Khaki Field Mechanical Bronze. As the brand's first bronze-cased watch, the Khaki Field Mechanical pays homage to Hamilton's rich military heritage. It comes with slender lugs, a sizeable bronze crown, and a solid, lightweight titanium caseback.  Unlike the Tudor Black Bay Bronze and the Bell & Ross Aeronavale, this Hamilton watch is not a dive piece. As such, it only has a water resistance capacity of 50m, which is enough to survive the rain and some splashes of water. Protecting the dial is a layer of sapphire crystal. 
Once you turn your gaze on the dial, you will immediately recognise that the Khaki Field Mechanical Bronze draws inspiration from the original Hamilton soldier's watch. A black backdrop with a 24-hour layout, bold white 12-hour numerals, and triangular luminous markers make for a highly legible watch face that anyone can rely on. The syringe hands have also been applied with luminescence to provide better visibility in low light conditions.
Below the vintage military-inspired dial is a Hamilton H-50 movement equipped with an extended power reserve that can last up to an incredible 80 hours. To finish off the whole look, Hamilton pairs the watch with a brown leather strap.
This Khaki Field is also a much more budget-friendly alternative to the Tudor Black Bay Bronze, with a retail price of just $615 USD. 
3. Zenith Pilot Cronometro Tipo CP-2 Flyback Bronze (29.2240.405/18.C801) 

In 2018, Zenith unveiled another modern take of their beloved Cairelli Chronograph, which they called the Cronometro Tipo CP-2 Flyback Bronze. Sheltered inside a 100m water-resistant bronze case, this Zenith timepiece carries a rustic look that any watch enthusiast would love. 
With its 43mm diameter and nearly 13mm case thickness, the CP-2 is quite close to the Tudor Black Bay Bronze in size. As such, it is better suited for men with medium or large-sized wrists. Wearers can access the watch's chronograph functions, or adjust the time, using the two small pushers and crown at the right side of the case. At the back of the timepiece is an exhibition-style rear case that provides a clear view of the Zenith El Primero Calibre 405B.
The dial of this watch has a rust-coloured finish and is adorned with thick luminescent hour numerals and applied pencil hands, along with a unique Zenith seconds hand. At the centre of the dial, you can find two chronograph sub-dials with white markers that contrast well against the duller-coloured backdrop. The dial pairs wonderfully with the watch's brown leather strap. As previously mentioned, the CP-2 is also powered by a highly advanced El Primero movement, the Calibre 405B. It has a beat frequency of 36,000 vibrations per hour and a lengthy power reserve that, when fully wound, can last up to 50 hours.
This bronze Zenith piece can be purchased for $5,570 USD.
Final Thoughts
On the whole, the Tudor Black Bay Bronze is an astonishing timepiece. It is arguably one of the best-looking bronze watches in the market. With its alluring design, first-rate reliability, and rugged structure, the Tudor Black Bay Bronze stands as a testament to Tudor's level of expertise and craftsmanship. If you are looking for a bulky luxury bronze dive watch that you can always count on for performance and style, look no further than the Tudor Black Bay Bronze.
Featured Image By: Tudor Watch
Want another Tudor Timepiece? Have a look at the contemporary and edgy Tudor Black Bay Dark!