New & Feature
Bulova Moon Watch: More Than Just a Cheaper Alternative to the Speedmaster
Jun 16, 2020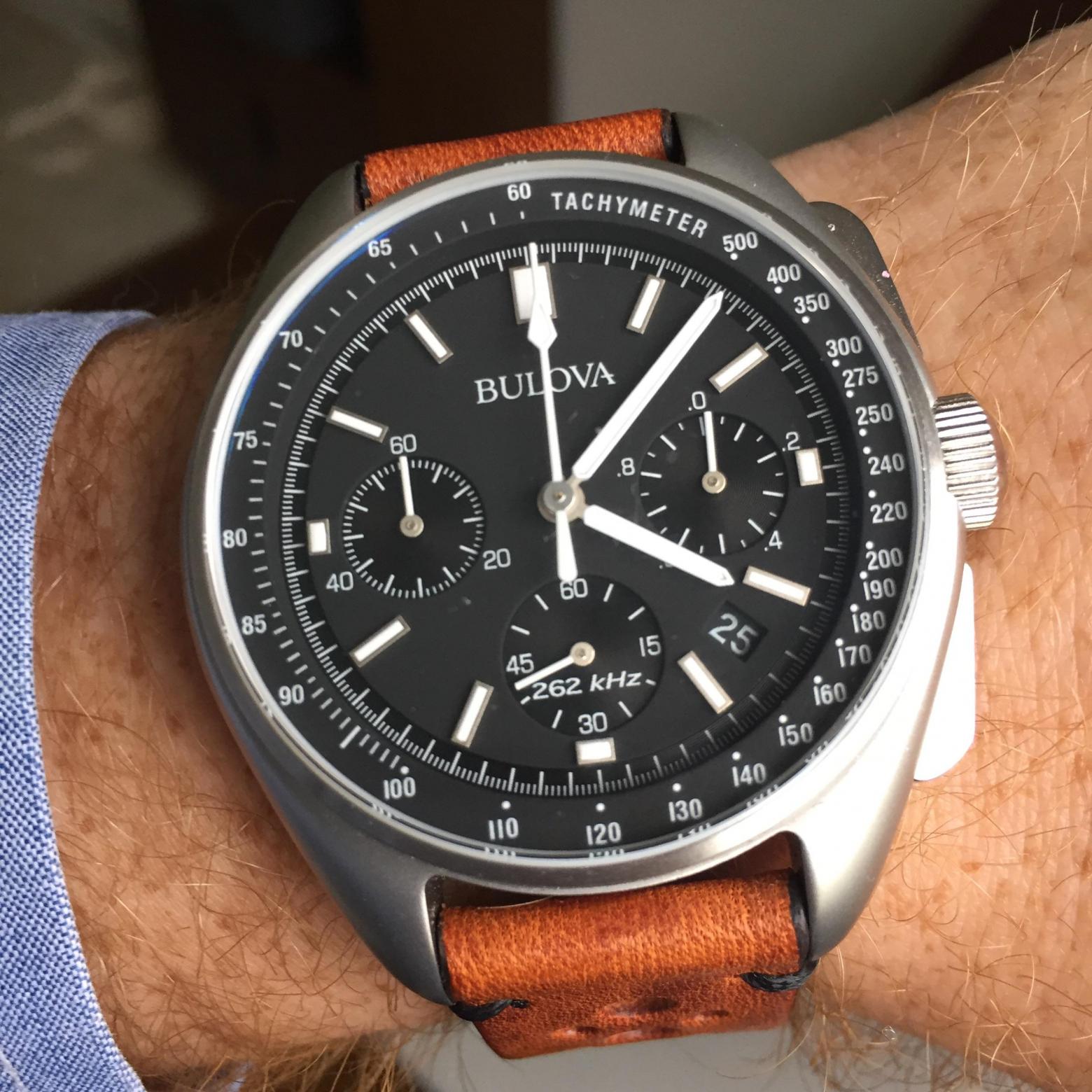 It has always been humanity's dream to explore outer space. Case in point: one of the most groundbreaking achievements being celebrated up to this day is the landing of Apollo 11 on the moon. Aside from that, we put things that have reached outer space on a high pedestal. The first dog in space will always be mentioned in university classrooms, the Omega Speedmaster has a spot in a museum, and of course, the Bulova Moon Watch will always be highly coveted.
Despite being overshadowed by the Speedmaster, the Bulova Moon Watch has a lot of history behind it. Read on below to know what makes this timepiece out of this world, both literally and figuratively.
Bulova Moon Watch History

One Out of Two Moon Watches
As of 2020, only two watches are confirmed to have been worn by astronauts on the moon. The first one, of course, is the iconic Omega Speedmaster. In particular, the models with Reference numbers 105.012 and 145.012 which was a 1966 update. The second one is the Bulova Reference 88510/01.
Of course, that's not to say that these were the only watches that reached outer space. A few more have graced the wrists of astronauts, however, these were only considered as back-up watches in case the main ones have malfunctioned. One example is Ed Mitchell's Rolex during the Apollo 14 mission. In addition, there is also no concrete evidence like pictures from NASA regarding the other watches.
American Pride
During the late '60s and early '70s, spacemen wore Omega Speedmaster timepieces, which were issued by the government. The watch of choice had its fair share of controversy due to the fact that it's a timepiece from a Swiss company. Indeed, some Americans believe that their astronauts should only be dressed in American products from head to toe. Some would say it's their way of expressing their patriotism or their American pride.
At that time, Bulova was still a 100% American company. So, they decided to create a chronograph prototype meant to be worn in space. They then gave it to astronaut Dave Scott as a present. After a few years, the watch proved to be a reliable companion as he wore it in various space missions.

How the Bulova Moon Watch Saved the Mission
In 1971, astronaut Dave Scott brought his gifted Bulova to one of his space missions. Significantly, it wasn't the only watch that he brought. Along with the Bulova was his government-issued Omega Speedmaster.
And as fate would have it, his trusty Speedy malfunctioned. This forced the Bulova Moon Watch to take its place on the astronaut's wrist. In effect, it became one of the rare timepieces on the moon that are not Speedmasters or government-owned.
A Piece of History
Omega Speedmasters were supposed to be sent to the Smithsonian museum after their service. That was the usual protocol for moon watches once their space missions ended. However, the Bulova Moon Watch is an exception.
If you would recall, the Bulova timepiece that Dave Scott carried was gifted by the brand. Meaning, it is considered as his personal property. What a lucky guy. It's only once in a lifetime when you get the chance to own a piece of history.
With that said, Scott kept the Bulova Moon Watch for many years. But after some time, it resurfaced in 2015. Word was spreading that Scott was planning on selling it. He was planning to auction the watch along with some of his items that were used during the Apollo 15 mission. Discussions were had and predictions were made. Some people even said that the projected price for the watch would be $50,000.
The prediction did not come true. In fact, it didn't even come close. Truth is, Scott was able to sell his beloved Bulova Moon Watch for a staggering $1.6 million! That's 32 times more than what people originally thought.
A Bulova Moon Watch for the Non-astronauts
Ever since the auction, the Bulova Moon Watch has gained a lot of traction. Bulova knew how to use it to their advantage so they decided to release a reissue of the iconic timepiece.
Modern times call for modern solutions. So, while the Bulova Moon Watch was undoubtedly ahead of its time, the time in question was decades ago. Now, the new breed of Moon Watches is made with modern materials. You can also expect a few upgrades when it comes to a few features.
But there is nothing to worry about. It is guaranteed that the 2016 version of the Bulova Moon Watch is faithful to the original version when it comes to aesthetics. Now, let's take a closer look at the new version of the famous Moon Watch below.

Bulova Moon Watch Specs
Case material: 316L Stainless Steel
Diameter: 45mm
Thickness: 13.5mm
Movement: High-performance quartz
Water resistance: 50m

1. Case
As mentioned above, the case of the Bulova Moon Watch measures 45mm wide and 13.5mm thick. Most people consider this watch larger than average. However, the watch feels just right when worn on the wrist. A lot of people say that the shape of the case gives the illusion that the watch is smaller than it actually is.
In terms of durability, one can leave their worries behind. Its case is made out of 316L stainless steel that has a soft blasted effect.
Meanwhile, on the right side of the case are two buttons for the chronograph function. These are very easy to reach and operate as they are based on the specs that NASA has required for astronauts.
When you flip the watch over, you'll see an impressive caseback. It bears an engraving that commemorates the Apollo 15 space mission.
2. Dial
What makes this dial special is that despite being large, you'd find that its space has been maximised. In other words, the layout is perfect. Aside from being easy to read, it is visually pleasing.
The outermost ring features the tachymeter with a ⅕ second scale. Slightly below it is the rectangular hour markers which come in different sizes. The indexes at 3, 6, and 9 o'clock, for instance, are smaller compared to the others. Surprisingly, this inconsistency has given the dial an interesting appeal.
Moving closer to the centre, we have three sub-dials at 3, 6, and 9 o'clock. These feature the 1/10th second counter, running seconds display, and the minute totaliser. It is big, equally spaced apart, and legible.
To conclude, the elements on the dial have been carefully placed to maximise legibility and convenience. Hats off to its designers!
3. Movement
Yes, the movement inside the new Bulova Moon Watch is quartz. But don't be too quick to dismiss it for it is Bulova's own high-performance 262 kHz quartz chronograph movement. It belongs to a family of movements that used to be called "UHF" (ultra-high frequency).
It is a given that quartz calibres are more accurate than their mechanical counterparts. But this movement inside the Moon Watch is several times more accurate than other quartz movements. In fact, reports say that its accuracy rating clocks around 10 seconds per year. You'd be surprised to know that the usual rating is around 10-15 seconds per month.
Staying true to its name, the 262 kHz movement operates at an above-average frequency. What this means is that this small detail is to blame for the accuracy of the watch. In addition, the movement offers features such as the time, date, and chronograph complication which measures up to 1/10th of a second.
Lastly, the movement has a battery life of two years. This is fair since a battery for a quartz watch typically lasts 1-2 years.

4. Strap or Bracelet
Luckily, Bulova is selling this watch with two strap options — leather strap or metal bracelet. This is good news for those who are very particular with their watches or for those who love having options to choose from.
Whether you prefer the leather strap or the bracelet, you'll be delighted to know that you'll get another strap for free – a Velcro-style fabric strap. Let's take a closer look at each strap.
Leather Strap
First, let's talk about the leather strap. It comes in a black colour, which is good since that means it can go with a lot of outfits. Apart from that, it also matches the matte black colour of the dial.
From afar, the bracelet might look just like any other black leather strap. However, if you look closely, the strap features a carbon fibre-style pattern. Although subtle, this small detail helps the watch stand out from the rest.
Choose the leather strap option if you usually find yourself in business meetings. Or if your wardrobe consists of mostly smart casual to business casual outfits.
Metal Bracelet
If the leather strap is not your thing, the 20mm metal bracelet is just as handsome as the whole watch itself. Indeed, its material and brushed finishing match the case. Furthermore, it has three links and a butterfly clasp.
A lot of people would swear that this is one of the most beautiful bracelets that you can get in this price range. It also does not add excessive weight which makes it very comfortable to wear in a casual setting.
Despite being originally made for a casual getup, this strap can still be worn during semi-formal occasions. With its elegant black dial, I'm pretty sure that no one will bat an eye if you wear it with your blazer.
Velcro-style Fabric Strap
Whichever strap you choose, it is good to know that you will always have the fabric strap. This was meant to mimic the actual straps worn by astronauts when they go on space missions.
To demonstrate, the strap is a Velcro-style "hook and loop" that is very functional and comfortable to wear. This is the reason why most military watches use this kind of strap. Apart from that, Bulova took the time to make it look visually appealing. It has a tan leather patch that has a print of the speed of the quartz movement and the original Apollo 15 mission date.
A lot of military-spec straps are dull but this one is definitely a winner. Once again, kudos to the Bulova Moon Watch designers!
Change the Strap Easily
Having more than one strap poses another question — how do you change them? The good news is that the Bulova Moon Watch comes with a tool for changing the straps. No need to worry about driving to the nearest watch shop just to change the strap. Indeed, Bulova's attention to detail is beyond impressive.

Pros and Cons of the Bulova Moon Watch
Pros:
Affordable — the Bulova Moon Watch is a very affordable timepiece. Especially if you're going to consider its features and collectability. In fact, you'd be able to buy one for less than $600.
A faithful reissue of the original Moon Watch — Bulova is proud to say that the new edition of the Moon Watch is very much like the original version up to the small details.
Collectible — There's no denying that the Bulova Moon Watch is a part of history. Although this is only a reissue of the original, its sophisticated design could make it a highly sought-after collectible in the near future.
Cons:
Case size might be too big for some — As mentioned above, the Bulova Moon Watch has an above-average case size. Although the structure of the case helps in making it look small, it can still be a bit large for some people. Folks with thin wrists better check the watch in person before buying.
Has a quartz movement — For mechanical watch junkies, this can be a dealbreaker. Clearly, the Bulova Moon Watch is not for you if you love admiring the gears that power the watch.
Who Should Buy the Bulova Moon Watch?
A short answer to that question is: the Bulova Moon watch is for anyone who needs a capable chronograph watch. You'll get a big bang for your buck with its reliable movement and freebies that come in the box.
Also, this timepiece is ideal for people who are looking for cheaper alternatives to the Omega Speedmaster. But that's not to say that the Bulova Moon Watch is just a stepping stone. In fact, it is more than enough for an everyday watch.
Final Notes
Despite being less popular than the Omega Speedmaster, the reissue of the Bulova Moon Watch is slowly gaining popularity. Apart from the story behind it, customers appreciate the attention to detail that Bulova has given.
Even minute features such as the engravings at the back and the free mil-spec strap make the watch a lot more special. Bulova has definitely outdone itself with this one.
In the mood for more affordable tool watches? Check out our Guide on the Seiko Monster!