New & Feature
Richard Mille: The Holy Grail of New Generation Luxury Watches
Jun 18, 2020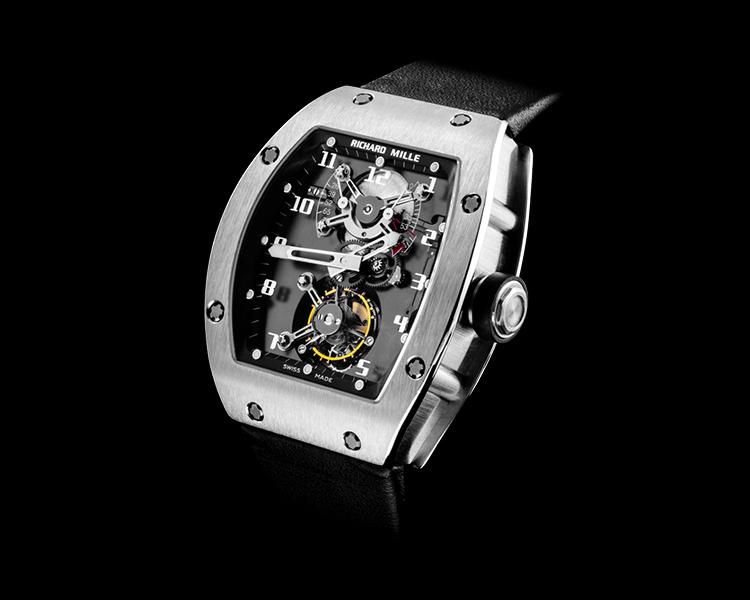 It's only been two decades since the establishment of Richard Mille, an eponymous brand under Horométrie SA. But that doesn't stop them from quickly rising through the ranks of luxury watches. Various celebrities such as Jackie Chan and Natalie Portman don the expensive watch on their wrists. Moreover, the brand collaborates with various athletes to stay true to its vision. For instance, Spanish professional tennis player Rafael Nadal remains to be one of its most popular collaborators to this day. But what exactly makes the brand so popular? Furthermore, what makes it so expensive?

Brief History of Richard Mille
The brand's history goes as far back as the 1970s, despite its foundation in the 2000s. Richard Mille is not just any other name in the industry. He is, in fact, an established designer whose journey began in Besançon, France. In 1974, he began working at a local watchmaking company, Finhor, bought by Matra later in 1981. From there, he rose up the ranks to manage Mantra's watchmaking businesses such as Yema and Cupillard Rième. Shortly after Seiko bought Mantra's watchmaking arm, Mille left the company to join Mauboussin, a French jewellery firm.
Mille, however, had disagreements about commercial strategy with his peers at Mauboussin. This later led him to leave his position as General Manager of the watchmaking division of the Place Vendôme jeweller. But this only fueled his passion even more as he decided to launch his own range of watches. Mille presented his plan to Dominique Guenat, owner of Montres Valgine and a good friend of his. Mille and Guenat shared the love of cars, aeronautics, as well as mechanics. This ultimately led to a partnership to establish a new watch brand. This is, of course, with the support of Lucien Tissot, a specialised lawyer in the watchmaking industry.
From the late 1990s, Mille and Guenat drafted and developed their plan to establish a brand of their own. For a couple of years, the two combined cars, aeronautics, and sailing with innovative, resistant, and accurate technology. Then, finally, on October 23, 2001, they founded Horométrie SA in the Swiss registry of commerce. This would be the parent company of what would be Richard Mille, the brand.

Establishing the Brand
Through all these, the RM 001 Tourbillon was in the works. Then, finally, at Baselworld 2001, the first Richard Mille watch was launched. The watch had a ribbed tonneau-shaped case that revealed the manually wound mechanism inside. It also featured a tourbillon calibre with a power reserve and torque indicator. Moreover, the timepiece had a water-resistance of up to 50 metres. It didn't take them long to follow up with a new and improved version of the tourbillon with the RM 002. In 2002, they debuted the watch with a few but significant changes from its predecessor. The watch now has a movement baseplate in titanium, and a function indicator with winding, neutral and hand-setting positions.
In the same year, the brand further impressed the industry with the RM 003, a dual timezone tourbillon. It was also in that year that Richard Mille became a major participant at the 1st edition of the Le Mans Classic, an iconic 24-Hour race. A year later in 2003, the brand introduced a flyback chronograph, the RM 004. This only led to a few more watches launched almost every year. Then, in 2005 came the RM 007 Automatic. This was Richard Mille's first ladies' watch introduced alongside the RM 009 Tourbillon Felipe Massa limited to only 25 pieces. The latter used ALUSIC® as the primary material, used in space exploration. It was also one of the first collaborations the brand made with a sports mogul such as Brazilian Formula E and former Formula One racing driver Massa.
With the brand's track record of disruptive releases, Richard Mille joined the Fondation de la Haute Horlogerie in 2007. This further improved their ranking in the luxury and ultra-luxury watch sectors.
The Price Indicators of Richard Mille Watches
A lot of bystanders would think that celebrity endorsements and collaborations dictate the price of Richard Mille watches. However, the brand is a lot more than that with its quality, design, and accuracy. These are just a few of the many factors that affect the price of the watches.
According to Mille himself, he wanted to make the watch of his dreams, one he would never find anywhere else. This led him to design watches that are robust and one of a kind. "The only limits I acknowledge are those of the technically feasible," he added in an interview with Forbes. "And we are rolling these back with every day."

1. Design
To begin, the design of each watch should be given credit for its price range. It's as close as you can get to having an automobile on your wrist. It's robust, accurate, precise, as well as aesthetically pleasing. Since both Mille and Guenat are fans of cars, it's not a surprise that you'll find elements inspired by automobiles in the timepieces. Just like Formula One cars, his designs would be engineered that in a way where design embraces and emphasises materials and functionality.
However, a lot of patrons think twice about the design of Richard Mille cases. The tonneau shape surely is big but the brand assures comfort with each watch. From slim to massive models, each is designed to properly function without sacrificing comfort.

2. Materials
It's not a surprise how materials make a strong case for the price range of Richard Mille watches. The watches are famous for their unique case and baseplate materials. These include not only carbon nanotubes but also gold fused with carbon and toughened ceramic. This makes each watch even more resilient and resistant to damage. After all, these materials only make the watches rightfully aligned with Formula One cars.

3. Movement
The watches from the brand have a tourbillon that further increases the accuracy of the escapement. Each movement is built to meet 21st century technological standards. Moreover, through research, the brand applies technology and methods used in a racetrack. This allows for the brand to continue improving every watch's baseplate rigidity and energy transmission. In addition, enhancing the flexibility of certain parts of the movement makes the watch overall shock-resistant.

4. Rarity
Not a lot would consider this, but RM watches are actually very limited. In fact, the brand only produces less than 5,000 watches every year. While this could be a very high number for a young luxury brand, the demand for these watches allow for such production. This further pushes the price of the watches, especially at auctions. For instance, the RM52 Tourbillon Skull only has six examples made. To add to its value, the watch is also in white ceramic and 18K pink gold.

5. Testimonials
The first collaboration the brand ever made was with Formula One driver Felipe Massa. Meanwhile, the most prominent would be the one with tennis champion, Rafael Nadal. The RM006 Tourbillon made for Massa was as lightweight as it is powerful. It weighs a little over a credit card does but resists up to 500G pressure. In fact, in a tragic accident that gave Massa serious head injuries, the watch remained unscathed. Meanwhile, Nadal wore his 20-gram RM027 during his first US Open tournament win in 2010. This was also his overall 9th grand slam title.
Richard Mille Watches to Check Out
Every watch from the brand is unapologetically bold and robust. With the mixture of strong materials, innovative mechanisms, and unifying design, RM watches are surely one for the books. While there are only a few watches released by the brand every year, that's still a lot to ponder. Among these watches, we picked a few that you should be on the lookout for. From aviation watches to diver's watches, here are the RM watches you should definitely check out.
RM 67-01 Automatic Winding Extra Flat

It's not easy to create a thin automatic watch. However, RM took on the challenge and used the brand's philosophical approach to reach its goal. To make the watch just as functional as it is thin, we see extreme skeletonisation on the RM 67-01. Underneath the case is the Calibre CRMA6 that only stands 3.6mm. This skeletonised automatic-winding movement also has hours, minutes, date, and a function indicator.
Moreover, it has 25 jewels, and powers at 28,800 VpH. It also has 50 hours of power reserve. In addition, its baseplate is in micro-blasted grade 5 titanium. The grey electro plasma treatment also gives it more rigidity.
RM 63-01 Automatic Winding Dizzy Hands

The RM 63-01 Automatic Winding Dizzy Hands is an art in itself. At first glance, you would think of it as your typical RM watch. However, the beauty of the watch shows when the centre of the crown is depressed once. This is when the slow-motion 'dizzy hands' begin. The sapphire glass dial rotates counter-clockwise. Meanwhile, the hour hand moves clockwise. Both move at different speeds. This one will totally blow your mind.
This is, of course, made possible by the Calibre CRMA3. It also comes with hours, minutes, and rotor in 5N gold. The 'dizzy hands' function gives the wearer the pleasure to as if suspend time. This is done without having to sacrifice the original precision of the movement. To make time work again, you simply have to press on the crown again. This ends the dance and restores the sapphire disc and hand on their normal positions. It's as if nothing happened!
RM 032 Automatic Winding Flyback Chronograph Diver

RM stands out by pushing boundaries and performing to disrupt constraints. The RM 032 Automatic Winding Flyback Chronograph Diver's watch does just that and more. Not only does it work well as an automatic chronograph but it also functions for deep-sea diving. You can take it as deep as 300 metres underwater. The watch features hours, minutes, seconds, a 12-hour totaliser, and flyback-chronograph functions. It also has an annual calendar with an oversized date seen at 12 o'clock and a month indicator between 4 and 5 o'clock.
Meanwhile, at 3 o'clock, you'll find the running indicator. The watch's geometry, as well as 2-RPM rotational frequency, allows for it to function in stressful and dimly lit environments. All these made possible by the Calibre RMAC2. Not to mention, the power reserve can be up to 50 hours depending on the use of the chronograph.
RM 030 Automatic Winding with Declutchable Rotor

Richard Mille is known for its tourbillon watches. However, a declutching rotor system was one of the dreams that they worked hard to achieve. This process allows for a dynamic continuation of the torque sensor that is already generally used in the brand's tourbillon watches.  The RM o30 Automatic Winding with Declutchable Rotor is the actualisation of this dream. This is, of course, inspired by automotive mechanics.
The brand hoped to combine automatic clutching and declutching control of the winding system with a torque sensor. This, therefore, ensures a specific degree of spring tension idea to provide a perfect supply of torque to the movement. This watch has the Calibre RMAR1 with its hours, minutes, seconds, date, winding, and power-reserve indicators.
RM 022 Manual Winding Tourbillon Aerodyne Dual Time Zone

The brand's RM 021 is one of the brand's most successful creations. This watch would be perfect for the frequent traveller. But to further improve that, Richard Mille decided to add a second timezone to the watch. The RM 022 Manual Winding Tourbillon Aerodyne Dual Time Zone watch communicates space and supersonic speed. These concepts have been a part of the brand's identity since its establishment in 2001. But this tourbillon is a lot more than the typical tourbillon we already know. This would be the first watch to combine dual timezone complication with an external structure in titanium. It also has orthorhombic titanium aluminide and carbon nanofibre composite. As complicated as it sounds, the watch is actually very user-friendly. It's also easily and quickly adjusted through the pusher at 9 o'clock. Just remember that each beat adds an extra hour to the time zone.
The Calibre RM022 made specifically for this watch is a manual winding tourbillon movement. Besides the hours, and minutes, it also has a function selector, power-reserve, and torque indicators. Its power reserve can go up to 70 hours.
21st Century Horology at Its Finest
Richard Mille may be relatively new to the industry but it sure knows how to leverage technology. The greatest thing about these watches is the bold and fearless steps taken to achieve their features. There's no other brand that does it like Richard Mille. It is not, however, the price tag that indicates its value. It is the value we put on the watch. And with such finesse and accuracy, it's not hard to add a few more digits to their timepieces' prices.
Mille, of course, didn't want his watches to be worn for the sake of wearing it or because they have to. Each watch has a purpose and he wants each to serve that purpose to the bearer. He also pushes his team of engineers, researchers, and the manufacture itself to process new ideas and methods for new movements. "In this manner," he said, "the company is enriched and our expertise rose higher and higher."
---
Looking for more new luxury watches to check out? Learn more about Christopher Ward here.