New & Feature
Seiko SNK809: Your Best First Automatic Watch
Aug 12, 2020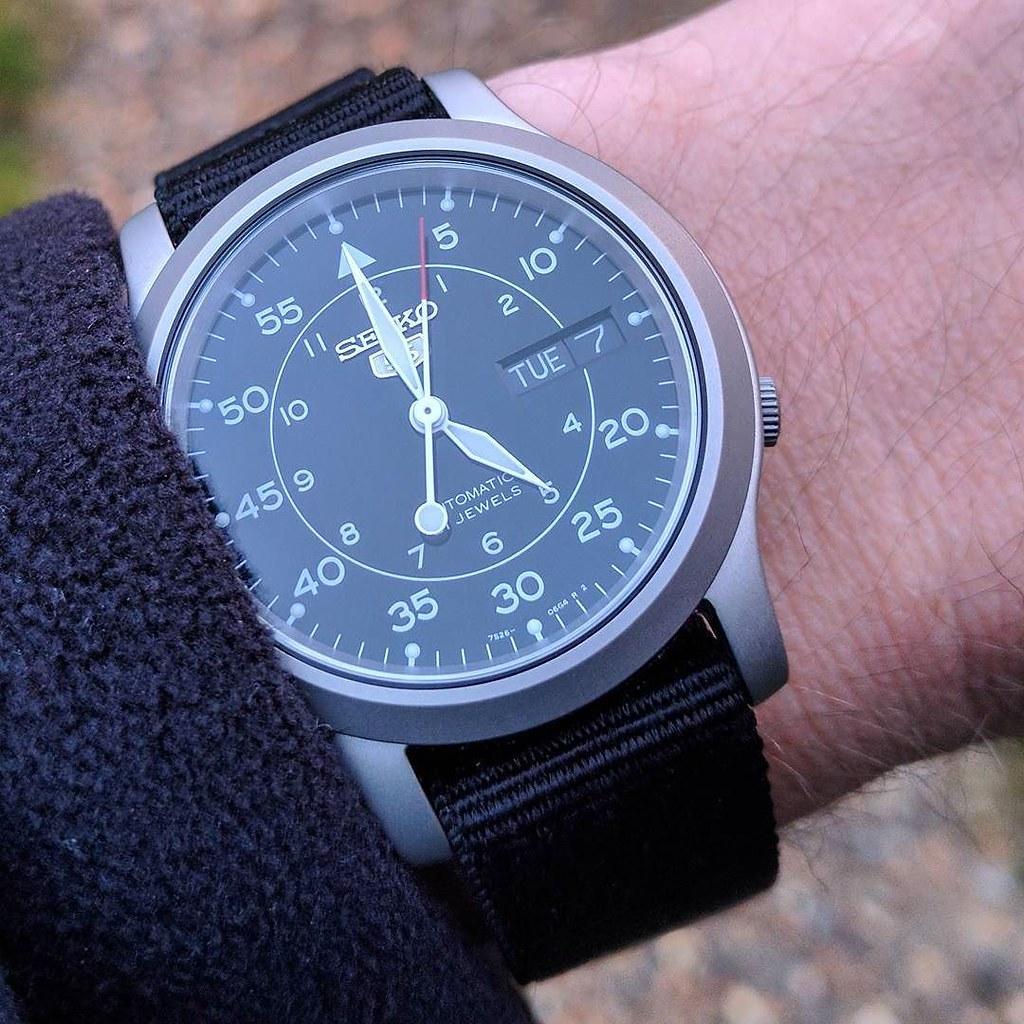 Ask anyone about their first automatic watch and more often than not, the name Seiko SNK809 will come up. It's not surprising, though, given its reliability and popularity among watch enthusiasts. Not only is the Seiko SNK809 a durable automatic watch but it also comes with a reasonable price tag.
Simple, functional, and reliable, the Seiko SNK809 watch is not out to make heads turn at first glance. Admittedly, it's no beauty by any watch standards. However, it has its own charms that have so far enchanted millions of watch lovers all over the world.
From a Long Line of Seiko 5 Family
The SNK809 comes from the well-loved Seiko 5 family – one of Seiko's most popular collections. First introduced in 1963 as an alternative and affordable mechanical watch for the masses, Seiko 5 offers one of the most affordable and reliable automatic watches around.
Originally called the Sportsmatic 5, it became the official timekeeper of the Tokyo Olympic Games in 1964, helping boost the popularity of Seiko, not to mention the collection itself. Not long after its release, in less than five years, the brand has already produced and sold more than five million Seiko 5 models.
From Sporstmatic 5, the name was changed to 'Seiko 5', derived from the five best key features of the watch namely: a self-winding automatic movement with Diashock protection system, a day-date complication in one window, good water resistance, a recessed crown at 4 o'clock, and a durable case with unbreakable Diaflex mainspring.
Fifty years down the road, Seiko 5 is still producing classics and cult favourites, including the Seiko SNK809 model.

Best Qualities of the Seiko SNK809 Watch
Today, the Seiko SNK809 is still the favourite first mechanical watch by many — not just by the novice watch collector but by long-time watch enthusiasts as well. In fact, if you want an entry piece into the world of mechanical horology, many watch aficionados would recommend getting a Seiko SNK809 as your first watch. The watch is not only reliable, durable, and functional — with its under $100 price point, everybody can afford it.
So let's take a closer look at what makes the Seiko SNK809 special, shall we?   

The Movement
The Seiko SNK809 is powered by the in-house automatic 7S26 calibre movement, which boasts a combination of functionality and reliability. It has 21 jewels and beats at 21,600 vph, -20/+40 seconds per day. Not only is the 7S26 one of Seiko's most precise movements but it is also very affordable. So what's not to like about it?
Since it's a mechanical automatic, you'll gonna have to wear the Seiko SNK809 regularly to power it. It has up to 41 hours of power reserve — definitely a decent power reserve among automatic movements out there.
Introduced in 1996, the Seiko Calibre 7S26 is a reliable automatic that powers most of Seiko's popular dive watches and entry-level Seiko 5 watches. It features Seiko's Diashock system and is magnetic resistant up to 60 Gauss.

The Dial 
The Seiko 5 SNK809 features a non-assuming black dial with white Arabic numerals. It has an inner circle with the hour markers and an outer circle with the minute markers. You'll see the day-date window at 3 o'clock, the Seiko 5 logo at 12 o'clock, and the text 'Automatic 21 Jewels' at 6 o'clock.
The hour markers and silver-toned sword-shaped hands are luminous, allowing the wearer to easily read the time in the dark. At the same time, the second hand features a red tip that helps with the legibility and adds a bit pop of colour to the whole black dial.
The dial is pretty straightforward. It may look a bit crowded at first glance due to the huge minute markers, but the no-fuss presentation of the dial is actually one of the SNK809's best features.

The Case
With its 37mm stainless steel case, the SNK809 easily fits any guy's wrist. It has a matte finishing on the front and side, as well as a polished caseback. At 11mm thick, this watch is not too thin and not too thick, just perfect for its 37mm diameter.
It has a matte bezel and a flat Hardlex crystal, protecting the dial from wear and tear. Although it's not sapphire, Hardlex is a lot better than mineral crystal when it comes to scratch resistance. Some may not like the matte finishing, but it somehow adds a nice and premium touch to the watch.
Another interesting design of the Seiko SNK809 is the position of the crown which sits at 4 o'clock instead of the usual 3 o'clock position. Although this takes getting used to, the position of the crown actually adds more comfort to the wearer as it avoids the crown from pressing on your wrist whenever you bend your wrist up. Since the crown isn't screw-down, don't expect excellent water resistance from the SNK809. It only has 30m water resistance which is still good for accidental water splashes.
In addition, you'll be thrilled to know that the Seiko SNK809 has a see-through caseback, which gives the wearer a glimpse of the mechanism behind.

The Strap
If there's one thing that's a bit of a disappointment about the Seiko SNK809, it's the strap. The watch comes in a basic black canvas strap that looks plain and unassuming. But what it lacks in beauty, it makes up for its durability. Simply put, the strap may not look much but it certainly does the job well.
However, for those who prefer a much nicer feel and look on the strap, they can easily replace it with any strap of their choice. With its 18mm lugs, it's easy to do the replacement and find many Seiko 5 strap options.
The Seiko SNK809 is as versatile as it gets, not only in functionality but also in design. So you can even mix and match the strap with your outfit or activity for the day. The leather strap is a top favourite for its wearability, comfort, and elegant look.
Alternative Seiko 5 SNK Watch Models
As mentioned, although the SNK809 is among many watch enthusiasts' favourites, it is just one of Seiko 5's iconic models. These are your practical gateway to the world of automatic watches. They're not only affordable and of great quality but they are also quite fashionable.
There are a lot of Seiko 5 SNK models you can explore with the same quality and aesthetics as the SNK809. Below are our suggested alternatives.

Seiko 5 SNK803 (Beige)
A favourite by both men and women, this Seiko SNK803 watch comes in a beige dial and a matching beige canvas strap. With its 37mm stainless steel case, it can easily fit in either a man or a woman's wrist. The strap is, of course, interchangeable with any colour and material that suits your style. The beige dial has black Arabic numerals, with the inner circle displaying the hour and the outer circle the minute markers. It has sword-shaped hands and a day-date window at 3 o'clock.
Running the watch is the 7S26 calibre movement, which boasts 41 hours of power reserve. It has an exhibition caseback, Hardlex mineral crystal, and water resistance up to 30 metres.

Seiko 5 SNK805 (Green)
The Seiko SNK805 version is another favourite go-to watch for first-time automatic watch aficionados. It has a cool military-inspired vibe with its green dial and green military canvas strap. The standard 37mm matte stainless steel case is complemented by a Hardlex crystal, a see-through caseback and a crown at 4 o'clock.
Powered by the Seiko 7S26 calibre movement with 41 hours of power reserve, it has luminous hands and hour markers, a day-date aperture at 3 o'clock, and water resistance up to 30 metres, which is safe for occasional splashes of water.

Seiko 5 SNK807 (Blue)
The blue dial of the Seiko SNK807 is complemented with a matching blue canvas strap. It has a refreshing look that can give your wardrobe a pop of colour anytime. It comes in a 37mm stainless steel case with Hardlex crystal protection, an off-centre crown, and a skeleton caseback. The dial displays luminous Arabic numerals, sword-shaped hands, and a day-date window at 3 o'clock.
At its heart beats the automatic Seiko 7S26 calibre movement with a power reserve of 41 hours. Just like with the other watches on the list, this one has a water resistance of 30 metres. Of course, straps can also be customised according to your desired look or occasion.

Seiko 5 SNKM95 (Red)
With its red dial and blue canvas strap, the Seiko SNKM95 gives off a nautical vibe. From yachting in the Caribbean to lounging in the Maldives, this watch is the perfect accessory to your island holidays. White Arabic hour markers and sword-shaped hands stand out against the red dial. The usual Seiko logo and the day-date window at 3 o'clock are also in white. The lugs, crown at 4 o'clock, and the bezel are all in matte stainless steel, pairing well with the overall look of the dial. A blue canvas strap does the job perfectly in putting the look together.
Keeping the watch running is the Seiko automatic Seiko 7S26 calibre movement with a power reserve of 41 hours. It also has an exhibition caseback, a water resistance of 30 metres, and Hardlex crystal.
First Time's A Charm
There's a reason the Seiko SNK809 is one of the most recommended first automatic watches by experts and enthusiasts. It is reliable, of good quality, and very affordable. Some people choose this watch as gift to their sons and to introduce them to the world of mechanical watches. While some don't even outgrow their love for this watch, so much so that it still remains one of their favourite go-to watches through the years.
Photo credits: Amazon, Wikimedia Commons, and Flickr.
In the mood for a minimalist watch? Check out our list of 30 best minimalist watches to upgrade your style.