Watch Guide
Mar 11, 2020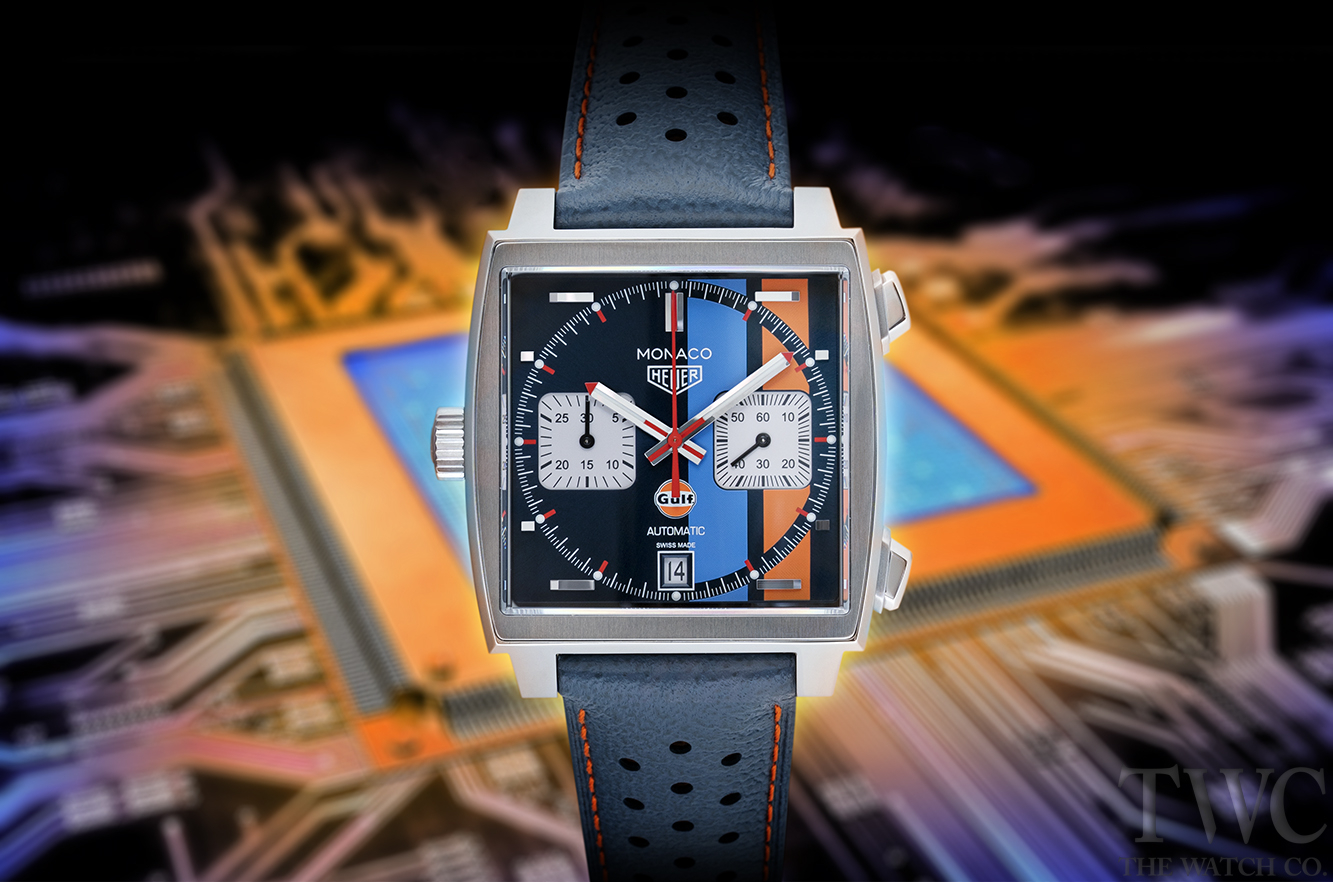 Introduction
One of  TAG Heuer's renowned collections, Monaco was originally known as Heuer Monaco. Its collection of automatic chronograph watches was built in honour of the 1969 Monaco Grand Prix Formula One motor race. These watches are not only the first automatic watches but also the very first square chronograph watches to be water-resistant.
The original model came with a chromatic lettering on top of the dial with "Monaco" labelled at the bottom. This version's crown rested at the 9 o'clock position on a square case. It also had a pair of pushbuttons at the 2 and 4 o'clock positions. Meanwhile, the dials for the minute and hour counters were placed at the 3 and 9 o'clock positions respectively.
The production of this Monaco watch model ceased in the mid-1970s. Nevertheless, it relaunched with a new design in 1998 and went through another upgrade (with completely new mechanisms) in 2003.
Some of the famous TAG Heuer watches in the Monaco collection include Monaco 1133, Monaco 1533, Monaco 73633, Monaco 74033, Monaco CS2110/1 "Heuer Re-Edition," and Monaco Twenty Four. Each of them has a distinguished feature that grabs watch collectors' attention.
Partnership with Gulf
Recently released was a new member of the Monaco collection: the TAG Heuer Monaco Gulf 2018 Special Edition. This new watch officially launched at the 2018 Geneva car show.
This model launched in partnership with Gulf Oil International, one of the most prominent sponsors of motorsports. TAG Heuer and GOI's relationship goes way back to at least 1971. That year, the movie "Le Mans" starring Steve McQueen was released. The film helped garner Heuer publicity with Steve McQueen wearing a blue dial Heuer Monaco 1133B as he drove his famous Porsche 917K. In addition, his car bore the Gulf colours with light blue, orange and dark blue stripes.
When it comes to the automotive industry, Gulf has been considered a prominent player for the last 115 years. It is the first company to drill for oil below the sea and the first to open a petrol station.
TAG Heuer Monaco Gulf 2018 Special Edition
The TAG Heuer Monaco Gulf 2018 Special Edition watch is a bold and colourful variant of the former 2015 TAG Heuer Monaco Calibre 11 "Steve McQueen" CAW211P watch. The new watch features an exemplary 39mm x 39mm square-shaped case and a dial face with two contrasting stripes of blue and vivid orange.
The Gulf logo sits above the date window at the 6 o'clock position. The hands along with the 5-minute markers use bright red lacquer to further showcase the "Gulf-inspiration." Finally, a blue leather strap with orange stitching gives the watch a complete finish.
Additionally, this watch features a modern movement that is based on ETA. The sapphire crystal on its see-through case back also makes its operations visible.
TAG Heuer Formula 1 Gulf Special Edition
Another eye-catching model from the brand is the TAG Heuer Formula 1 Gulf Special Edition. It is a sports watch with a dynamic sporty design that holds strong performance capabilities. Undoubtedly, the racing watch model TAG Heuer's proof of a strong connection with the world of motorsports.
TAG Heuer Formula 1 Chronograph CAZ1010.FT8024
This watch comes with a perforated black rubber strap. Its black titanium carbide coated bezel and stainless steel lugs are just as impeccable. The metallic-raised tachymeter scale adds more detail to the design. In addition, the semi-matte black chronograph pushers on the watch give it an ideal look against the brushed stainless steel 43mm case.
This model also features stainless steel luminous hour markers and holds three sub-dials at the 3, 6, and 9 o'clock positions. A date window is visible as well at the 4 o'clock position.
TAG Heuer Formula 1 Chronograph CAZ1010.BA0842
This watch is similar to the previously-mentioned model, with a metal strap instead of a rubber one. Besides a stainless steel bracelet with a folding clasp and a safety latch, this watch shares all the same features with the CAZ1010.FT8024. Its stainless steel bracelet goes well with its 43mm-wide case size.
TAG Heuer Formula 1 Chronograph CAZ1014.BA0842
One of the features of this TAG Heuer Formula 1 chronograph watch is its additional colour alongside the blue dial. The hour markers are designed with stainless steel and a luminescent orange colour. The orange tinge is also used on the central chronograph hand and the tips of the sub-dial hands.
Conclusion
All of these TAG Heuer watches come with a 43mm case, TAG Heuer quartz movement, and water-resistance function of up to 200 metres. Therefore, if you're looking for a watch with the ability to make a powerful and striking statement, TAG Heuer is a must-have to add to your watch collection.
We're glad you enjoyed this article. For another interesting read, why not check out Chopard Ladies Watches For The Minimalist And The Luxuriant.