New & Feature
The Top 9 Oris Watches
Aug 20, 2019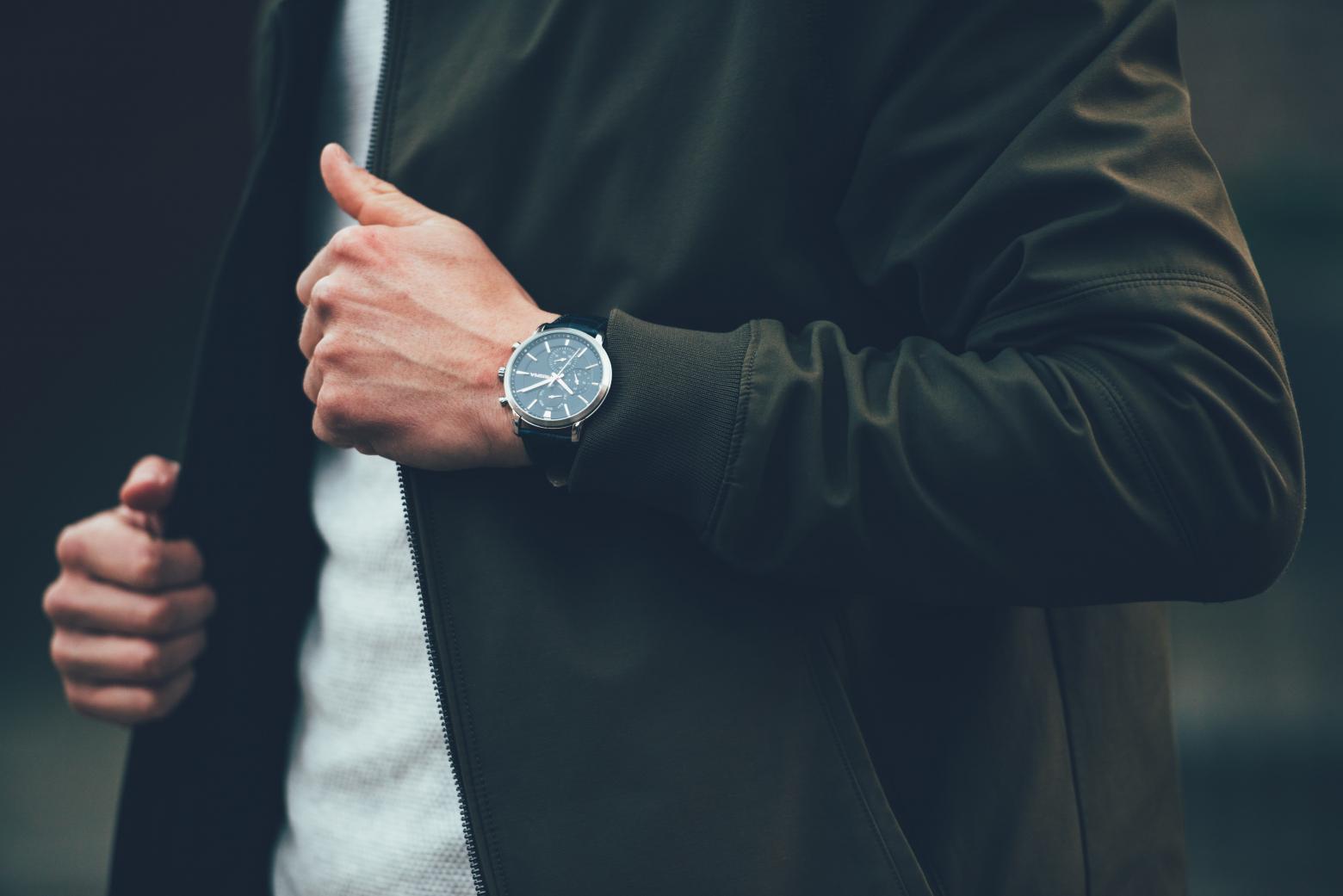 Since 1904, Oris has never ceased to enchant us with their inventions and innovations. It has a long history of high-quality, reasonably priced watches that come in a variety of styles, adapted to various needs and wants, and, most importantly, various models for each of us.
The most important question comes now: which watch is the best? Don't worry for here is a list of the top 9 best Oris Watches, all created with world-famous Swiss precision.
Best Oris Watches
1. Oris Diver Sixty-Five

Oris Diver is an iconic watch that was included in Oris's collection more than five decades ago. The Oris Diver Sixty-Five watch is a reminder and an update of their vintage version, with a retro design and classic construction. The watch has built-in technologies that take this vintage watch to a whole new level, combining retro-style with modern design.
This model is relatively faithful to its initial design. One major update would be the unidirectional bezel, which comes with a black aluminium inlay on a 60-minute scale. The original Oris Diver also had hands and indices filled with tritium. Meanwhile, the new Oris Diver Sixty-Five comes with light old radium super-luminova, which makes a beautiful contrast with the black background and ensures high legibility.
Features
Brushed case with a thin bezel
Crystal made from sapphire, resistant to scratches
A solid back that includes a vintage Oris logo for first-model lovers
Resistant to diving up to 100m
Stainless-steel construction with a size comparable to a vintage model
Price range
This watch's price range is between $1,200 and $1,750, depending on size and the number of functionalities. You might also find it at a discount if you are lucky.
Pros
Comfortable to wear, sit ergonomically, crown suits perfectly
Very faithful to original Oris Divers
Looks casual and can be worn in different situations
Lightweight and perfect for long-term wear
Cons
Date is not extremely pronounced
Crown is too firm
2. Oris Big Crown Pointer Date

Another vintage model on our list is the Oris Big Crown Pointer Date. This model blends in a vintage model; however, it is casual enough to be worn on any occasion. It packs in a subtle refinement and charm, which makes it stand out from the crowd.
The Big Crown Pointer Date is a must-have for those who appreciate comfort, yet desire a vintage luxury watch with a modern design. It has the classic coin-edge bezel and cathedral hands. However, it comes with a leather strap which can contour one's wrist. Lastly, some might consider it a tad chunky, due to its domed crystal. Nonetheless, it is still considered one of the best Oris Watches out there.
Features
Made from stainless steel
Automatic winding pointer date
Blue dial (in 40mm version only)
Leather strap
Sustainably produced and sourced
Price range
This watch comes at approximately $1,600, which might be reasonable for anyone looking to tap into the world of luxury watches.
Pros
Comes in both 40mm and 36mm sizes
Casual yet refined
Reinterpretation of the classic aesthetics of 1930s watches
Smoother domed crystal
Modern strap made from vegetable tanning
Vintage coin-edge bezel
Cons
36mm option does not come with a blue dial
40mm option not so vintage-looking as the 36mm size
Relatively thick built due to the domed crystal
3. Oris Aquis Date Blue Dial

Another highly notable model of the Oris watch lineup is the Oris Aquis, which is exceptionally well known. The original Oris Aquis was an excellent build; however, this reinterpreted Oris Aquis Date version is a fantastic choice, too. The new changes include toning of the angular lugs and the crown guard, which overall improves the flow of the watch design, and comes with a significantly slimmer and tapered, less bulky strap.
The Oris Aquis Date Blue is an incredible timepiece that keeps some of the original features of the watch, such as the case tapering toward the backside of the watch.
Features
Easy to use comfortable clasp
The clasp has an extension so you can fit it over a wet suit
Leather/rubber strap options
120-click unidirectional bezel
300m water resistance
Price range
This watch is priced anywhere between $1,675 and $1,800. However, you might also find some slightly cheaper ones which come in rubber-strapped versions (which may cost around $1,300 to $1,400).
Pros
Versatile modern dive watch
Relatively conservative but highly functional and stylish compared to most dive watches
Excellent construction quality
Thinner, more comfortable strap
Cons
Difficult to change straps
Rubber straps are not recommended; might need to be cut in order to fit
Reflective domed crystal
4. Oris Audi Sport Black Dial

The Oris Audi Sport Black Dial watch is always a must-have. This creative model comes with a luxurious titanium case and a bi-directional rotating bezel, a tamer scale, and a leather strap. The black dial has luminous hand indicators and date display. Additionally, it includes an anti-reflective sapphire crystal, which is extremely scratch-resistant.
This watch is sublime in its design, with a red central seconds hand and 25 jewel movement at an amazing 28,800 vph. However, this is a limited edition model sold only to commemorate Oris's partnership with Audi Sport.
Features
Titanium-made case measuring 44mm
22mm bandwidth
100m water resistance
Leather band
Bezel made from fixed black ceramic with tachymeter markings
Price range
This limited-edition watch is priced at around $1,795, significantly more expensive than other watches on this list. Nevertheless, it comes with all the luxury you will ever need.
Pros
This limited-edition watch is perfect for sport-lovers
Titanium-case offers a modern exquisite design and good resistance
Provides the buyer with top-notch accessories
Cons
5. Oris Force Recon GMT

Another high-end watch is the Oris Force Recon GMT. It comes with a black titanium casing, with a slightly wider diameter than other watches – 49mm. Additionally, the solid back casing is round with a fit that ensures it is firmly positioned on your wrist. Another feature is its sapphire crystal, which is uniquely built to resist scratches.
Features
More than 1,000-metre water resistant
Up to 38 hours of power reserve
26mm band
49mm diameter
Price range
The asking price ranges between $3,875 to $5,000.
Pros
Extremely comfortable with luminous hands
Scratch-resistant
Water-resistant up to 1,000 meters
Bezel designed with black ceramic inlay
Has a screw-down crown
Is foldable over clasp
Cons
Pricey
Limited availability
6. Oris Men's Analogue Display Swiss Automatic Silver Watch

Oris Men's Display Swiss Automatic Silver Watch is one of the best choices you can make if you prefer a watch more on the casual side. This watch is the perfect balance between sumptuous and luxurious, with a stainless steel bracelet that gives you a classic, confident appearance. The crystal window is scratch-resistant. A 14mm case also protects the watch.
This model also has luminous hands for extra legibility as well as a black dial. Despite the stainless-steel build, the watch is exceptionally light and measures 43mm in size, which only makes it a better choice.
Features
Unidirectional rotating bezel
Black dial and luminous hands
Stainless steel case and bracelet
Water-resistant up to 300m
43mm case diameter
Price range
Price varies from $1,580 to $2,180. But you might easily find discounts and bargains if you look around.
Pros
More casual look with luxurious qualities
Black ceramic unidirectional bezel
Luminescent hands and hour markers
Crown can be screwed down
Cons
The bracelet might need adjusting
7. Oris Artix GT Audi Sport Chronograph Black Leather

Carrying on with casual yet high-end watches, Oris Artix GT Audi Sport is a perfect choice if you want a comfortable and casual look with an elegant touch. The watch comes with a black titanium casing and a black leather strap.
What makes this model stand out are its design details and stitching, which makes it the perfect accessory for those who want to add a luxury accessory to their fashion style. Additionally, the fixed ceramic displays the tachymeter markings on the bezel. And below the scratch-resistant crystal, you will find classy black hands designed for tracking time.
Features
Automatic winding chronograph
Hand-stitched with beautiful design details on the strap
The overall design of the watch is exquisite
44mm diameter
Up to 100m water resistance
Lasts for more than 38 hours due to its self-winding power
Price range
The watch is priced between $1,795 and $1,894, although you might be able to find discounts if you look around.
Pros
Automatic high-end casual watch
Visually pleasing modern design with grey and black accents combining artfully with subtle red
Limited edition
The anti-reflective crystal which is scratch-resistant
Cons
Comes in only one size
Strap replacement might be difficult
8. Oris Men's BC3 Sportsman Day Date

If you are more into sports watches, this model might be perfect for you. This affordable timepiece combines refinery with affordability in a watch, costing less than $1,000. Extremely functional and useful, this watch has a great design and has numerous functions that are often found in high-end luxurious watches. It comes in a lightweight version but does not compromise on quality. It is also incredibly reliable and accurate.
Features
42mm diameter
Made of stainless steel
Stationary bezel
Scratch-resistant crystal
Transparent back case and an analogue display
Rubber strap which is comfortable and easily resizable
Price range
This watch comes at a great price range, varying between $800 and $1,000. It is therefore a fairly reasonable option for those who want excellent quality at an affordable price.
Pros
Classic look with a black day date dial
Pin buckle
100m water resistance
An elegant timepiece with high-end features
Affordable price
Cons
Not as luxurious as other models from Oris
Limited water resistance
The strap might be difficult to replace
9. Oris Men's Aquis Analogue Display

Last on this list is the Oris Men Aquis Analogue Display watch. This watch's brushed stainless steel is polished to such a high standard that it can easily rival the most expensive products on our list. It also has silver-tone markers that give you great legibility even in dark environments due to the luminous orange fill.
In addition to this, it also has the date displayed at 6 o'clock for easier reading. Apart from these outstanding features, there is another one worth mentioning: the strap. It is the high point of this watch due to its black rubber composition and its clasp deployment buckle.
Features
Stainless steel bezel with a black ceramic top ring
Scratch-resistant crystal made of sapphire
Easily resizable rubber strap
Has up to 38 hours power reserve
Amazing classical design
Unidirectional ceramic bezel
Price range
The product is priced at approximately $1,700. Though you might be able to find one at a discounted price if you dig around the marketplace.
Pros
Classic black dial
Orange hands for better legibility
Black adjustable rubber strap
Classy yet modern with luxurious touches
Cons
Issues reported regarding the pin on the side of the clasp
Wrapping Up: Are Oris Watches Worth It?
Overall, this article has introduced you to the top Oris watches out there. Whether you are passionate about scuba diving or not, you will definitely enjoy their line-up. Whether they are worth the prices or not is up to you.
Regardless, Oris is well known for the high quality of their watches. They are not known to use quartz movements in their watches, but instead use springs and mechanical calibres.
Genuine Swiss watches are unquestionably worth it. They are often considered a luxury brand and are accurate and reliable. But if ever you're concerned with price, look to Oris which provides some of the most affordable luxury watches on the market.
As for the value of Oris watches, you need to keep in mind that any product's value tends to depreciate over time. Moreover, some watches, regardless of how luxurious they are or not, might require maintenance from time to time.
Now that you know which of the top 9 Oris watches is best for you, be sure to check out The Best Watches Under $300.