New & Feature
Grand Seiko "Skyflake" SGBA407: The Perfect Winter Companion
Jan 06, 2022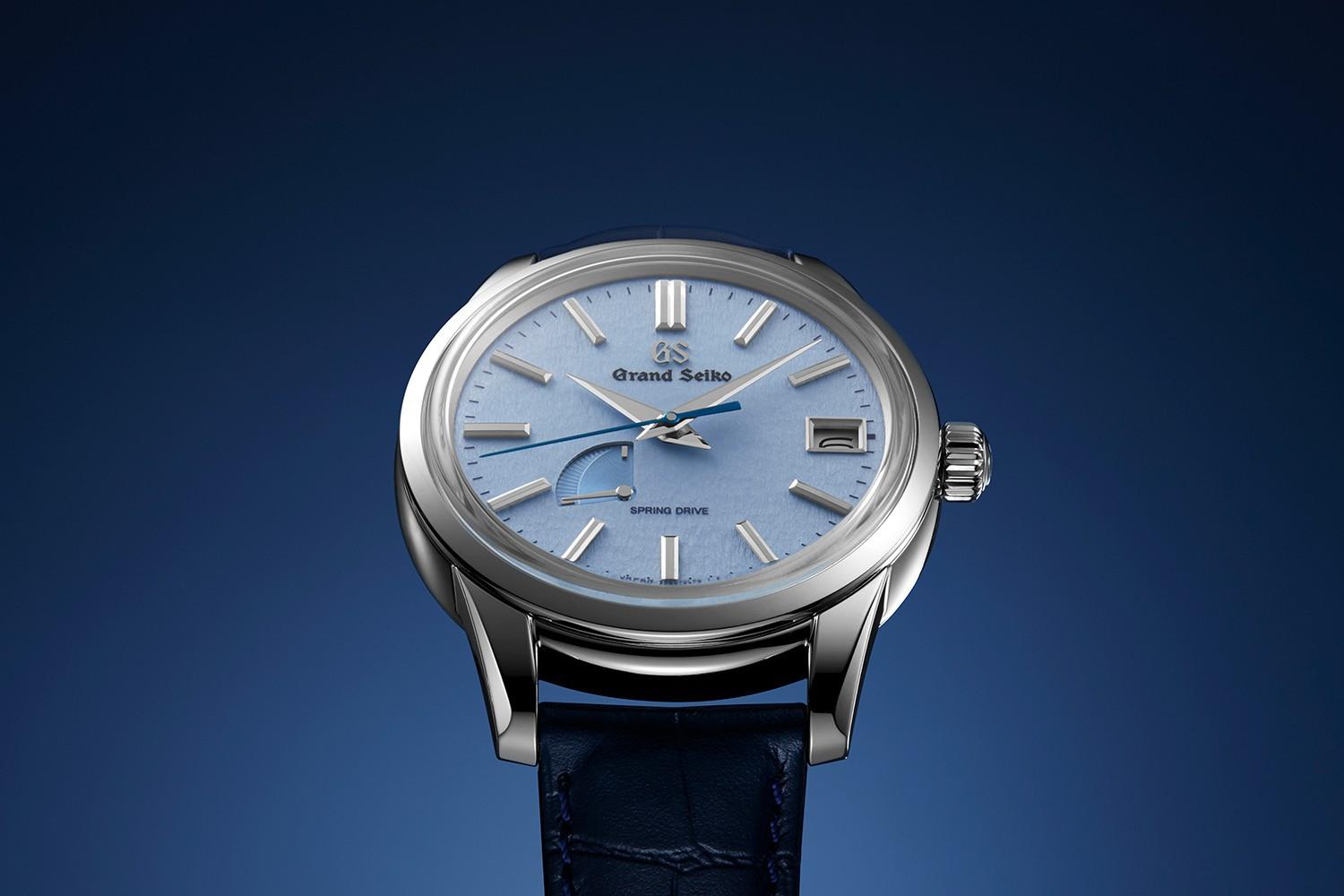 We all know Grand Seiko as one of the most well-established luxury watch brands in the industry. This Japanese company has years of horological history and experience under its belt, which is part of why it is so trusted and loved today.  Grand Seiko is known for producing numerous popular dress models, with famous names like the SBGA211 and the SBGY003, all of which are exquisitely and excellently crafted. Today, we will be taking a closer look at a watch that is also regarded as one of their most iconic pieces, memorably associated with the winter skies: the Grand Seiko "Skyflake" SGBA407.
Brief History of the Grand Seiko Skyflake

Before the SGBA407 came into existence, Grand Seiko released what is perhaps their most renowned model, the SBGA211, also known as the Grand Seiko Snowflake. While the SBGA211 was first released in 2005, right before winter, its history dates back to as early as 1971. It first existed as a dial sample for the Grand Seiko 56GS, which bears a similar watch face design. The SBGA211 would later go on to serve as the predecessor of all future Grand Seiko Snowflake and Skyflake watches.
The original SBGA211 Snowflake showcased elegant, luxurious aesthetics that immediately caught the attention of collectors and patrons. Given its immense popularity from the get-go, it is no surprise that the brand decided to build on this particular design, releasing different adaptations of the SBGA211 in the years that followed. This eventually led to the release of the SGBA407 Blue Snowflake, which is also dubbed the "Skyflake" by some watch enthusiasts.
A Closer Look at the SGBA407 

The SGBA407 is part of Grand Seiko's Elegance line. True to the collection's theme, the SGBA407 is inspired by the beautiful winter season in Shinshu (Iwate, Japan), which is typically covered in snow. Aside from the abundance of ice and snow, this time of the year also brings an extraordinary landscape to Shinshu, with enthralling blue skies that create an optical illusion on the snow-covered mountains, like a true winter wonderland. This image is exactly what the Grand Seiko team saw outside their headquarters, and it became the very foundation of the gorgeous Snowflake and Skyflake models.
Case 
The SGBA407 Skyflake comes in a sleek 40.2 mm stainless steel case, with a standard thickness of 12.8mm that guarantees it will fit well on wrists of any size. Like the watch's shaped lugs, the case features fine Zaratsu polishing, giving the Skyflake an impeccable lustre that shines under the winter skies.
Fitted on top of the case is a luxurious box-shaped sapphire crystal that keeps the watch face safe from scratches and impacts. On the underside of the Skyflake is a layer of translucent sapphire crystal that, in keeping with the watch's name, comes in an alluring blue hue. This caseback gives you an up-close and personal view of the watch's elaborate mechanisms and movement.
Bracelet
Moving on to the bracelet, the Grand Seiko Skyflake has a classic black crocodile leather strap with handsome dark blue stitching to add a bit more character to the watch. This strap is equipped with a three-fold clasp that has a push-button release, making sure that the watch not only rests securely on your wrist but can also be removed with just the push of a button. On the whole, this leather band adds a touch of sophistication that balances against the delicate watch face.
Dial

Moving on to the star of this watch, the Skyflake comes with a beautiful dial that is inspired by Shinshu, Japan's winter utopia. It boasts a unique snow-textured design in blue that is reminiscent of the very landscape it was based on. Another cool thing about the Skyflake is that it was built with the interplay of light and shadow in mind. Depending on the varying angles from which you look at the watch and the ways the light hits its face, you are bound to discover new things about the Skyflake's dial.
The Skyflake also has a very quintessential and straightforward dress watch dial design. It is adorned with slim rectangular indices, silver dauphine hands with a darker blue seconds hand to contrast against the sky-blue dial, and a date window at 3 o'clock that is outlined with silver. You can also find a small power reserve indicator on the left side of the dial, shaped like an elegant hand fan.
Movement  
Other than its striking and memorable designs, Grand Seiko is also best known for its impressive technological innovations when it comes to movements. This applies to the SGBA407 Skyflake as well. The Skyflake is equipped with the 9R65 calibre which is an automatic spring drive movement. This means that all of its functions are powered by only a mainspring rather than an external power source, which makes it more efficient.
This 9R65 movement is known for its incredible accuracy of ±1 second per day, which is remarkable for a spring-driven piece. In addition, it comprises 30 jewels and boasts a whopping 72-hour power reserve.
Price 
The SGBA407 Skyflake has a price tag of around $6,030 USD, which is a fairly reasonable price for such a highly-regarded timepiece. Depending on the retailer, you can possibly get it for a slightly lower price, around $5,800 USD. That said, you can rest assured that the Skyflake is one of those watches that will retain its value in the years to come. 
Why should you get the SGBA407?
If you still are not sure whether to get this watch or not, here are some reasons why you should really consider purchasing it. 
One of Grand Seiko's Signature Models. Most of the big watch brands have a core model or collection that is a staple piece for every collector and enthusiast. Indeed, the SGBA407 is one of Grand Seiko's signature watches that serve as a must-have for fans of said brand. As such, if you are truly set on buying a Grand Seiko timepiece, you simply cannot go wrong with the Skyflake. 
Good Investment Value. Those of us who enjoy investing in timepieces will be concerned over a watch's ability to retain or even appreciate its value. In the vast majority of cases, the watches we buy at full price lose their value as soon as we swipe our cards, with rare exceptions such as pieces from Rolex or Patek Philippe. The SGBA407 Skyflake, however, stands out as one of Grand Seiko's most popular models and can be difficult to acquire. As such, there is a sense of exclusivity around it that allows it to hold its value better than most other timepieces.
Elegant, Intricate Aesthetics. This is probably one of the most popular reasons why people go for the Skyflake. Its elegant, gorgeous design are things that would take a lot of time and skill to replicate. From the snow-textured dial to the exquisite Zaratsu polish, each and every element present has been chosen to bring out the sophistication of the watch face. If you want a dress watch that will be the perfect companion to all your formal affairs, then the SGBA407 Skyflake is your best bet.
Impressive Spring Drive Technology. In all honesty, this point applies to most, if not all, of the Grand Seiko watches. With the development of this impressive spring drive technology, Grand Seiko has proven once again that they have truly mastered the craft of watchmaking. In addition, creating such an intricate and precise calibre definitely helps in boosting the reputation of Grand Seiko's timepieces. The SGBA407 Skyflake is the best of both worlds, as it comes with a beautiful design and is equipped with an impressive movement.
Who should get this watch?
Japanese Watch Enthusiasts. If you are a fan of watches made in the Land of the Rising Sun, this is one of the models that you simply have to own. It is the pinnacle of Japanese craftsmanship in terms of both aesthetics and engineering. Its design captures a charming landscape of snowy Shinshu whilst the movement is the result of years of innovation and dedication to Japanese watchmaking. 
Collectors of Classic Models. The Grand Seiko Skyflake is a dressy model that definitely belongs in a collection of classic watches. It follows quintessential design codes, from the straightforward display to the lovely leather strap, and the snow-textured dial simply adds to the classic vibe of the whole watch. It is also considered a staple from Grand Seiko, which means that it is not just a trendy piece that will go out of style in a few years. The SGBA407 can transcend the boundaries of time, making it the perfect classic watch to add to your collection. 
Grand Seiko Patrons. If you are a true fan of Grand Seiko, you already know how much credibility the Skyflake will give you in the Grand Seiko community. As previously mentioned, this is one of the most highly-regarded models created by said Japanese brand. Much as how the Pepsi GMT-Master II and the Daytona Ref. 116500 are must-haves for every Rolex fan, the SGBA407 is an essential model for Grand Seiko patrons. 
Alternative Models to the Grand Seiko SGBA407 Skyflake 
If you cannot seem to get your hands on the Grand Seiko Skyflake, here are some alternative models with a similar aesthetic or vibe. Just a disclaimer: no other watch can truly replicate the SGBA407, but the suggestions below come the closest in capturing the magic of the Skyflake. 
1. Grand Seiko Elegance SBGA211 

The first piece on our list is the Grand Seiko Elegance SBGA211, also known as the Snowflake. Technically speaking, this can be considered a sister watch to the SGBA407 Skyflake. Born out of the same concept and originating from the same collection, the Snowflake is inspired by a different gorgeous Japanese landscape: the Hotaka mountains.
The SBGA211 Snowflake is presented in a 41mm high-intensity, lightweight titanium case and bracelet with a beautiful snow-textured dial in white. Its dial follows the same layout as the Skyflake, with slightly thicker rectangular hour markers, silver dauphine hands and a jet-black seconds hand that stands out against the snowy dial, a date window, and a hand fan-shaped power reserve indicator. As with the Skyflake, this watch is powered by a 9R65 spring drive moment.
If you want another watch that is truly representative of high-level Japanese craftsmanship and innovation, the SBGA211 Snowflake makes for a great alternative to the Skyflake. You can get your hands on this piece for around $5,900 USD.
2. Garmin Vivomove 3S Ref. 010-02238-00

Up next, we have the Garmin Vivomove 3S Ref. 010-02238-00, which is the only non-Seiko timepiece on this list. This piece stands out for being a hybrid watch that showcases both an analogue and a digital display. It comes in a 39 mm fibre-reinforced polymer case paired with a comfortable silicone strap in grey. As a hybrid watch, it also features a multitude of handy functions, from sensors and health monitoring to activity tracking. 
This Garmin watch deserves a spot on this list because of its unique, granite blue dial that is as reminiscent of snowy landscapes as the Skyflake is. Although this watch has a much more casual vibe than the Grand Seiko Skyflake, it is a good option for those who want a sportier, multi-functional piece with a similarly-textured watch face. The best part is that you can get this for just $200 USD.
3. Seiko Presage SRPE19J1

Lastly, we have the Seiko Presage SRPE19J1 which is a gorgeous dress watch with a design highly reminiscent of the Grand Seiko Skyflake. Like the Skyflake, this watch is a perfect representation of Japanese artistry. As part of the Seiko Cocktail Time range, this watch also has a very clever inspiration, specifically, the Skydiving cocktail drink.
This Seiko Presage watch comes in a 40.5mm stainless steel case and bracelet. This is paired with a beautifully-patterned sunburst dial in a light blue hue that is very similar to the Skyflake's dial. As a typical dress watch, this piece's dial also has a simple layout, with a three-hand system and date display that are both of which are powered by a self-winding 4R36 calibre. In addition, this movement is equipped with a 41-hour power reserve.
Since it has the same timeless, dressy vibe and aesthetic as the SGBA407, the Seiko Presage SRPE19J1 serves as a good alternative for those who want a timepiece similar to the Skyflake, but at a significantly lower cost. This particular model is priced at just $356 USD, which is much more budget-friendly than the Skyflake.
Final Thoughts 
The Grand Seiko SGBA407 is one of the most beautiful Japanese-crafted timepieces out there. Every time you look at the dial, it is as if you are taken to the snow-covered mountains and lake of Shinshu, which was the inspiration behind this watch's design. Ultimately, it is difficult to put into words how extraordinary this watch really is. Indeed, all we can say is that it is something enthusiasts and collectors should definitely check out.
Photo Credits: Grand Seiko Site and The Watch Company 
If you want more guides and reviews, make sure to read our article on the Iconic Rolex Bluesy.