New & Feature
An In-Depth Look At The Grand Seiko White Birch
Oct 04, 2022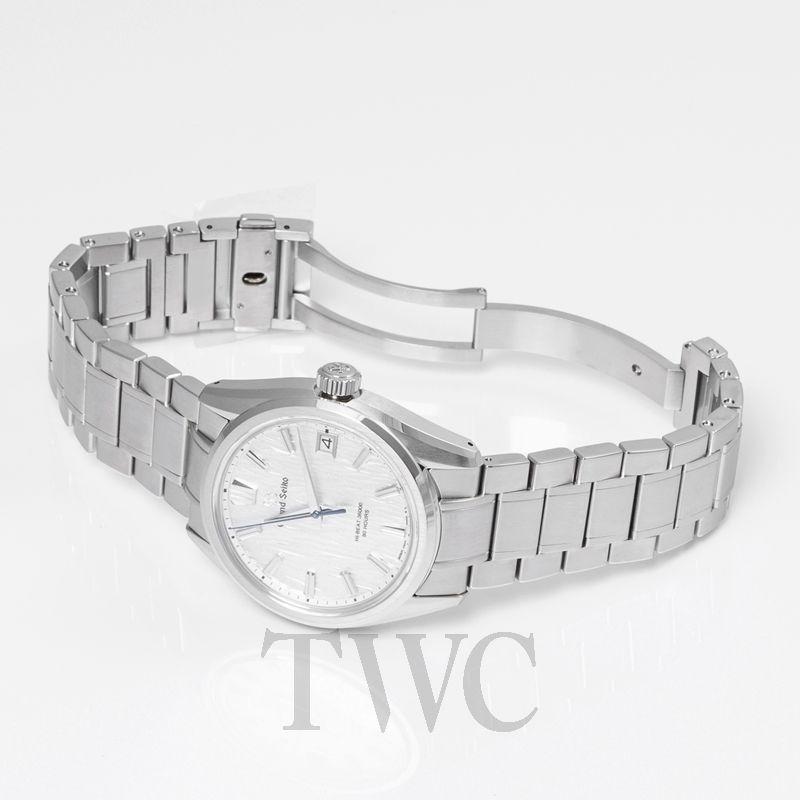 Dress watches are offered by almost all watch brands worldwide – but to wear a truly elegant one that can make you stand out in the midst of a crowd is always the goal for many. The Japanese luxury brand Grand Seiko is home to a massive collection of dress watches, such as the powerful 9R Spring Drive series and the retro-inspired Heritage range. 
Hailing from the Heritage lineup, one of Grand Seiko's most recent releases is the talk-of-the-town luxury watch: the Grand Seiko White Birch. Stick around as we explore more about the Grand Seiko White Birch, including its specifications, how it got its name, and just what makes it so special. 
Grand Seiko White Birch: What is It?
Released recently in 2021, the Grand Seiko Heritage Ref. SLGH005 is a sophisticated dress watch that encapsulates what it means to be a simple yet majestic luxury timepiece. This watch is popularly known as the "Grand Seiko White Birch," as it draws inspiration from the white birch trees that are located near Grand Seiko's studio in Shizukuishi, Japan. This is the same studio in Japan where all of Grand Seiko's luxurious timepieces are meticulously created. 
The exquisite design of the Grand Seiko White Birch evokes a certain, peaceful feeling of seeing the white birch forest trees in person and also being one with nature. In its entirety, this watch is a sentimental homage to the earthly elements that guide us as we go about our daily lives and continue to strive for better futures ahead.
Anatomy of the Grand Seiko White Birch
Case and Caseback

The Grand Seiko White Birch is presented in a round 40mm solid stainless steel case which measures 11.7mm in thickness. It has a lug-to-lug measurement of 47mm, which makes it a rather compact luxury watch. The slim size of this timepiece makes it very suitable to wear for those with small-to-medium-sized wrists. This case showcases a beautiful satin-brushed finish, while its sides and bezel are all treated with the brand's unique Zaratsu polishing technique. This Zaratsu finish creates an almost mirror-like look on the surface of the watch, giving the Grand Seiko White Birch an impeccable lustre, especially when it is held under the light. 
The caseback of the Grand Seiko White Birch shows off a subtle print of Grand Seiko's recognisable lion emblem. Since this is a see-through caseback made of sapphire crystal, you are also treated to a view of the intricate in-house movement utilised by the watch. The stainless steel surfaces that surround the thick layer of sapphire crystal are also enhanced with the Zaratsu polished finish, further magnifying the beauty of the Grand Seiko White Birch. Although you cannot really admire all of these features in the caseback when the watch is being worn, it is a clear demonstration of Grand Seiko's attention to even the smallest of the details.
Dial
As with most Grand Seiko watches, one element that really stands out the most from the Grand Seiko White Birch is its enchanting dial. This stunning white dial is decorated with a textured pattern meant to mimic the rough bark surface of white birch trees and it is honestly quite difficult to not get lost in its aesthetic charm. 
This dial is also adorned with polished silver-tone applique indices, with grooves in the centre that add to the watch face's classiness. Like the indices, the watch's silver dauphine hands are carefully bevelled and polished with the brand's Zaratsu technique, ensuring that even the Grand Seiko White Birch's dial maintains the watch's sharp, mirror-like silver surfaces.
An added bit of fun is the deep blue tones of the second hand, which serves as a nice bit of contrast against this silver-and-white watch face, adding a cooler vibe to the serious demeanour of this timepiece. Finally, a date display, outlined in silver, is also located at 3 o'clock to help you keep track of the day. 
Fitted on top of the Grand Seiko White Birch's dial is a layer of box-shaped sapphire crystal. As the most expensive type of watch crystal, sapphire crystal is extremely durable and resistant to impacts and scratches. Indeed, from Grand Seiko's use of high-quality sapphire crystal, you can already see the quality that Grand Seiko has laid out for this particular alluring watch. Since sapphire crystal can be highly reflective, the Grand Seiko White Birch's crystal is also treated with an anti-reflective inner coating. This helps prevent any light glares or distortions, providing wearers with a clear and unhindered view of the watch face. 
Crown
On the right side of the watch sits a large crown made from solid stainless steel. Embossed on the top of the crown are applied "GS" initials, which is the insignia of the Grand Seiko brand. The crown has deep, grooved edges and is unguarded, which makes it easier for wearers to grip and turn the crown. 
Aside from being used to wind the Grand Seiko White Birch, this screw-down crown also serves to protect the inner mechanisms of the watch from any external damages brought about by dust or moisture. Thanks to the crown and the screw-down caseback, the Grand Seiko White Birch has a solid water resistance capacity of 100 metres. 
Bracelet

Finishing off the robust, elegant look of the Grand Seiko White Birch is a three-link bracelet made of solid stainless steel. The double buckle of this bracelet's folding clasp keeps it firmly secured on your wrist and makes it really easy to wear or remove this bracelet. An applied "GS" logo can also be seen on the clasp of the bracelet, adding to the watch's air of subtle refinement. 
Like the watch's case, the bracelet shows off alternately satin-brushed surfaces and Zaratsu-polished sides. The bracelet's interplay of textures brings out a beautiful combination of both matte and shiny veneers, bolstering the aesthetic appeal of the Grand Seiko White Birch. 
Movement

The Grand Seiko White Birch is also notable for being the first of its kind to be powered by Grand Seiko's in-house 9SA5 Hi-Beat automatic movement. Grand Seiko has always been known for its powerful, impressively accurate movements, with renowned achievements like the Seiko Spring Drive calibre, and the 9SA5 Hi-Beat movement is no different. 
Held together by 47 jewels, this movement has an incredibly beat frequency of 36,000 vibrations per hour (5Hz). When fully wound, it can last up to an incredible 80 hours. This watch also has an excellent accuracy rating of +5/-3 seconds per day, which is very precise for a mechanical watch. Finally, the 9SA5 Hi-Beat movement is 15% thinner than its predecessor, which contributes to the Grand Seiko White Birch's slim profile. There is no doubt that this timepiece delivers high-quality performance and utmost functionality to those who wear it.
Price
As mentioned before, the Grand Seiko White Birch hails from a highly-regarded luxury brand and is made using exceptionally expensive, first-rate materials. As such, it is no surprise that it retails at a reasonably high price. This dashing luxury watch sells at approximately $9,100 USD. 
Alternatives to Grand Seiko White Birch
1. Grand Seiko Snowflake Ref. SBGA211

The Grand Seiko 9R Spring Drive Snowflake Ref. SBGA211, otherwise known as just the Grand Seiko Snowflake, is a popular alternative to the Grand Seiko White Birch. One of Grand Seiko's most iconic timepieces, this watch utilises a 41mm high-intensity titanium case paired with a three-link bracelet made of the same material. This is Grand Seiko's own version of titanium material, which is much more durable, more resistant to scratches, and weighs much less. Thanks to its high-intensity titanium construction, the Grand Seiko Snowflake wears extremely light on the wrist.  
Like the Grand Seiko White Birch, the dial of the Grand Seiko Snowflake is easily the star of the show. It boasts a textured, snow-white dial, which references the beautiful snow-covered mountains of Hotaka that surround Grand Seiko's studio in the Nagano Prefecture. This dial is furnished with a date display outlined in silver, rectangular and trapezoidal applique indices, and slender dauphine hands, all of which are smoothly polished. On the bottom left of the dial, you can find a power receive indicator that is cleverly crafted into the shape of a Japanese fan, subtly paying homage to traditional Japanese culture. 
The Grand Seiko Snowflake runs on the brand's in-house Calibre 9R65. This is an automatic Spring Drive movement, known for providing exceptionally precise timekeeping. Held together by 30 jewels, this movement has an unparalleled accuracy rate of +/-1 second per day and an extended 72-hour power supply. 
The luxurious Grand Seiko Snowflake is priced at $5,800 USD, making it slightly more affordable than the Grand Seiko White Birch. 
2. Citizen The Citizen Ref. AQ4020-54Y

Much like Grand Seiko, the Japanese brand Citizen is also known for offering a wide number of dress watches. The Exceed, XC, and The Citizen series are some well-known dress collections that many watch enthusiasts love. If you are looking for a cheaper alternative to the Grand Seiko White Birch and Grand Seiko Snowflake, you might want to check out the Citizen The Citizen Ref. AQ4020-54Y.
This Citizen watch is housed in a slim 37.5mm titanium case paired with a matching three-link titanium bracelet. Its compact size and lightweight titanium build make this watch extremely comfortable to wear and carry around. The minimalist makeup of its soft white dial comprises just thin rectangular hour indices, long and polished dauphine hands that sweep across the dial, and a date aperture, outlined in silver, at 3 o'clock. All of these elements blend well together with the watch's all-white theme. Fitted on top of the dial is a sapphire crystal that protects the watch face from any scratches and impacts. 
Inside this watch, you can find Citizen's in-house Calibre A060. This is a solar quartz movement, which means that it can be charged using any light source, artificial or natural. It is incredibly handy for those who do not want the hassle of having to wind a watch after it has ceased moving or to replace the battery after a given period of time. 
This efficient Citizen watch retails at just $2,700 USD. 
Final Thoughts
The Grand Seiko White Birch has got to be one of the most pleasing luxury dress watches in the whole history of watchmaking. The involvement of white birch trees in the design of its dial showcases an important part of Gand Seiko's philosophy: to celebrate and revere the blooming elements of nature that exist in the same place as its studio. The lovely Grand Seiko White Birch highlights the fact that the exquisite art of watchmaking sometimes involves not only the value of time, but also the worldly elements of Earth that make up our life experiences. 
All images are courtesy of The Watch Company, unless otherwise stated.
Photo credits: Grand Seiko.
If you're searching for another brand of luxury timepiece, check out our article on the Bulova Accutron Spaceview 2020.