New & Feature
Mido Ocean Star GMT: One of the Best Value-For-Money Dive Watches
Aug 15, 2022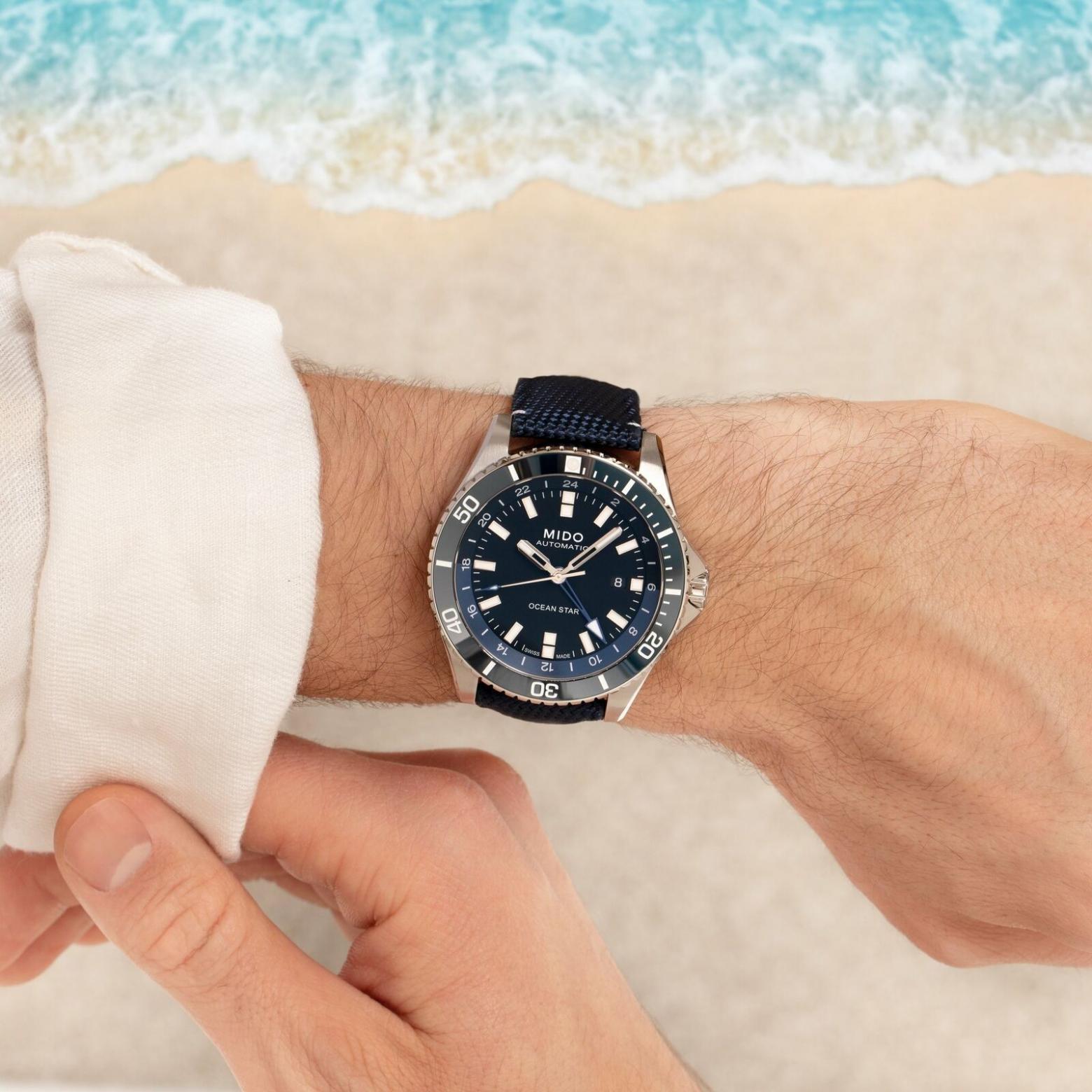 Hailing from Switzerland, Mido is one of the oldest members of the industry-leading Swatch Group, yet still remains a surprisingly underrated brand in the watch market. This Swiss company is best known for its enormous collection of durable and reliable timepieces, all of which boast well-built, architectural stylings. In addition, Mido is also amongst the watchmakers recognised for setting a general standard when it comes to crafting mechanical and waterproof watches. 
In 2020, the brand hit upon massive success with its release of the groovy and colourful Mido Star Decompression Timer 1961, which was a modern, updated version of an older, vintage dive piece. Mido took this as a sign to return once again to the mainstream of the horological world, introducing a new, more contemporary dive watch: the Mido Ocean Star GMT.
As the latest addition to Mido's constantly growing catalogue, the Mido Ocean Star GMT is a state-of-the-art dive watch. It delivers superior functionality and is capable of withstanding the harshest underwater conditions imaginable. Without further ado, let us get to know more about the incredible features of the Mido Ocean Star GMT and everything it has to offer.
First Impressions

The Mido Ocean Star collection consists of a long list of hardy dive watches that offer great utility, and the newest Mido Ocean Star GMT is no different. At a glance, you can immediately discern this watch as a dive piece, with its robust build and essential features that every dive watch needs to handle an underwater trip.
What makes the Mido Ocean Star GMT stand out from its dive watch peers, however, is the fact that it is capable of tracking a second timezone. Effectively functioning as both a GMT watch and a dive piece, the Mido Ocean Star GMT is a top-tier tool watch that can escort you through all sorts of adventures.
Anatomy of the Mido Ocean Star GMT

The Mido Ocean Star GMT was introduced in three different models. In this section, we will review all three versions, including any differences that help distinguish each Mido Ocean Star GMT piece.
Mido Ocean Star GMT Models: An Overview
As mentioned, Mido introduced three different variants of the Mido Ocean Star GMT. These three models primarily differ in terms of their colourways and straps used. The first model, the Mido Ocean Star Ref. M026.629.11.051.01, is most recommended for those who prefer robust and masculine dive watches. It showcases a sleek stainless steel case and bracelet, along with a serious black ceramic bezel. 
The second model available is the Mido Ocean Star Ref. M026.629.22.051.00, which is the perfect watch for those seeking an exquisite timepiece to bring to their next dinner party. This watch is presented in a stainless steel case with a rose gold PVD coating and a black ceramic bezel. This is coupled with a two-tone bracelet that shows off rose g0ld-tone centre links and silver stainless steel outer links. The lovely rose gold accents give the watch a more luxurious look, elevating its elegant style. 
Finally, we have the Mido Ocean Star GMT Ref. M026.629.17.051.00. This watch stays truest to its dive watch roots, as can be seen from its dark blue ocean-inspired motif. This timepiece sports a stainless steel case coupled with a handsome blue ceramic bezel and a matching, rugged blue textile strap. If you want a casual, everyday watch that can accompany you in all your daily routines, then this model is a wonderful choice. 
Case

The Mido Ocean Star GMT is an extremely well-built watch, showcasing a chic design and high-quality materials. The design of its case is faithful to that of other modern Ocean Star watches. However, instead of the regular 42mm case diameter that is adopted by other Ocean Star timepieces, the Mido Ocean Star GMT instead sports a chunkier 44mm case. This increase in size was implemented so that the Mido Ocean Star GMT would be able to fit its newly-integrated 24-hour flange between the dial and the dive bezel.
The Mido Ocean Star GMT's case is built from stainless steel, which is an extremely durable material that is often utilised in the watch industry. On top of being highly resistant to scratches and impacts, this stainless steel case is also non-magnetic and able to withstand corrosive forces, allowing this watch to survive all sorts of wear and tear. The case is also embellished with a clean, polished finish, giving the Mido Ocean Star GMT a gleaming, lustrous look.
Bezel and Caseback

On top of the Mido Ocean Star GMT's case is a unidirectional rotating bezel, made from scratch-resistant ceramic. This glossy dive bezel showcases thick, highly legible indicators for its elapsed time scale. Wearers can use it to safely keep track of the amount of time they have spent underwater.
Flipping the Mido Ocean Star GMT over, you will see a screw-down caseback that, like the rest of the case, is also made from stainless steel. The majority of the caseback is taken up by a clean engraving of a GMT timezone display. This display showcases clean, geometric lines and indicators for the timezones of 24 different cities. Aside from that, this caseback also bears some information on the watch and its capabilities, including its reference number, depth rating, materials used, and more. All of these details can be found carved onto the rim of the caseback.
Dial
As a dive watch, the Mido Ocean Star GMT has a very well-organised, straightforward black dial that prioritises legibility. This dial comprises rectangular applique hour indices and thick, skeletal sword hands, along with a compact date aperture at 3 o'clock. The hands and indices are all generously coated with Super-LumiNova, which lights up the watch face and allows for optimal readability in low-light conditions.
In order to facilitate the watch's GMT feature, each Mido Ocean Star GMT also comes with a fourth GMT hand, which can be distinguished by its thicker, arrow-headed shape. This GMT hand indicates a second timezone by pointing towards the 24-hour flange, which can be found on the slanting rim of the dial.
Although the dials of all Mido Ocean Star GMT watches come in black, each model does offer a different colourway and different accents. For instance, the Mido Ocean Star Ref. M026.629.11.051.01's dial is highlighted by vibrant orange accents, which can be found on the flange's indicators and the two arrow-headed hands. These orange accents add a pop of vibrancy to the watch face, giving this timepiece a livelier aesthetic. The Mido Ocean Star Ref. M026.629.22.051.00, on the other hand, takes a simpler tack. It has rose gold highlights peppered all around its dial and bezel. This exquisitely complements the watch's silver and rose gold exterior.
Finally, the Mido Ocean Star GMT Ref. M026.629.17.051.00 is probably the most unique of the three models. Blue accents can be found on this watch's hands and flange, matching the rest of the watch's blue motif. In particular, this model's flange is divided into a dark blue upper half and a lighter blue lower half, as a clever shorthand indicating the daylight and nighttime hours. 
Movement

The Mido Ocean Star GMT is driven by a robust in-house Mido Calibre 80. Hailing from the Powermatic family, this automatic calibre is based on the ETA C07.661 movement. It is held together by 25 jewels and offers an outstanding 80-hour power reserve. In addition, it beats at an efficient frequency of 28,800 vibrations per hour (4Hz) and possesses an excellent accuracy rate of +/-7 seconds per day. 
Water Resistance
As we have mentioned, the Mido Ocean Star GMT was designed as a dive watch. As such, the Mido Ocean Star GMT offers a useful depth rating of 200 metres. This depth rating exceeds the ISO 6425 standard for dive watches and is quite impressive considering the price range this watch comes at.
Price
While the price range of the Mido Ocean Star GMT is quite narrow, the three models of the Ocean Star GMT each come at different prices. The most budget-friendly option is the Mido Ocean Star Ref. M026.629.11.051.01, which is available at $1,070 USD. The rugged Mido Ocean Star GMT Ref. M026.629.17.051.00 is priced at around $1,139 USD, while the refined Mido Ocean Star Ref. M026.629.22.051.00 is the most exorbitant model, selling at about $1,299 USD. 
Final Thoughts
All in all, the Mido Ocean Star GMT is a sturdily-built dive piece built to withstand underwater challenges. With the Mido Ocean Star GMT, Mido offers you three different watches, each with the same robust dive watch build and impressive functions, but with very different styles and looks. Simply pick the model that best suits your needs, and you will have a new, highly competent dive watch to add to your collection. 
All images are courtesy of TWC unless otherwise stated.
Featured image courtesy of eBay.com
If you are now searching for the best dive watches that can survive any underwater adventures, then spare some time to read our article on the 17 Best Waterproof Watches.