New & Feature
Russian Watches: Should You Get One?  
Aug 05, 2020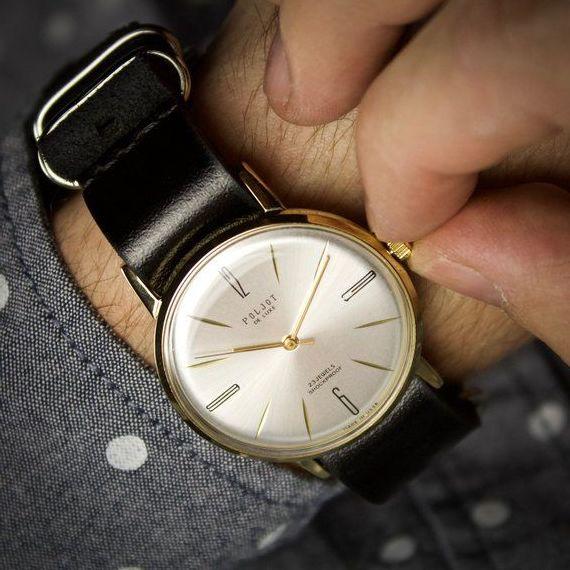 Russian watches aren't usually on our radar when we think of buying timepieces. We either go for Swiss, Japanese, or even German watches — but rarely Russian watches. Well, it's understandable, given that the few Russian watch brands around are not really big on marketing.
Believe it or not, Russia used to have a booming watch scene, producing complex and unique watches that enthusiasts nowadays can only dream of. However, this was during the golden era of the former Soviet Union. Today, Russian watches cater to a tiny, niche market of vintage and unique watch lovers.

A Glimpse into the History of Russian Horology
While Swiss and American watchmakers like Rolex and Hamilton were already prospering in the horology industry as early as the 1800s, Russia only established its first watch brands in 1930.
The then-ruler of the Soviet Union, Joseph Stalin, thought it was best to produce their own watches to limit the import of Western goods. Hence, the 'First Moscow Watch Factory' — the flagship brand of the USSR watch industry — was established under Stalin's direct order. It was Russia's first large-scale watch manufacturer, meant to produce watches for the Soviet Army.
In 1929, the Soviet government purchased two American watch companies — Ansonia Clock Company and Dueber-Hampden Watch Company. They completely moved the machinery all the way to Russia using 28 freight cars.

In order to train the Russian watchmakers, the Soviet Government brought over 21 watchmakers, horologists, and engravers from the US. Despite World War II and the evacuations that ensued, the Soviet watch factory endured. And in 1944, when the Germans retreated and the Soviets won the Battle of Berlin, the factory was moved back to Moscow.
Through the years, millions of Russian watches were manufactured by different watchmakers and trademarks. However, just like the rest of the watchmaking industry all over the world, the Russian watchmaking industry was also hugely affected by the global 'Quartz Crisis'.
Iconic Russian Watches
In 1951, the company's production reached millions. At first, the majority of these watches were only available to the military. It was only in the later years that the general public was able to purchase them.
Some of the most iconic Russian watches are those from brands Pobeda, Sturmanskie, and Poljot, to name a few — all produced by the same USSR flagship watch company, the First Moscow Watch Factory.

Pobeda Watches
Stalin himself gave the name Pobeda or 'victory' in Russian to this brand. Pobeda watches were launched in 1945, just in time for the celebration of the first anniversary of its victory against Germany. The watches were not available for the public at first. It was only a year later in 1946 when the models for the general public were introduced.

Sturmanskie Watches
Launched in 1949, Sturmanskie was designed exclusively for the Russian military and navy troops. Therefore, the watches were not only reliable and durable but they were also designed with serious navigating and survival features. In fact, it was a Sturmanskie watch that Russian Cosmonaut Yuri Gagarin wore when he orbited the space in 1961. We will get to this story later.

Poljot Watches
Another brand of watches produced by the First Moscow Watch Factory was Poljot. First produced in 1964, these watches were used by Soviet military pilots at the time. After WWII, the Soviet government decided to give all pilot watches produced by the First Moscow Watch Factory the brand name 'Poljot' — an apt name that means 'flight' in Russian.
During this time, in the '60s, Russian watches were being manufactured at a much faster pace, with incredible designs. Pilot watches, chronographs, and alarm watches — you name it, they have it. They even started exporting their watches primarily to the US. However, during the '70s and '80s, the quality of the watches started to suffer.
And after the fall of the Soviet Union in 1991, there were only a handful of factories left. Some went bankrupt, while others changed ownership.
The First Watch in Space 
As mentioned above, when Russian Cosmonaut Yuri Gagarin first ventured into space in April 1961 onboard the Vostok 1, he wore a Sturmanskie watch. Unlike Omega's trip to the moon, there was no marketing strategy or endorsement partnership that happened for this iconic moment. The Sturmanskie watch simply happened to be Yuri Gagarin's personal watch, which he chose to wear for this space trip.

He got the watch when he graduated from military flight school. The Sturmanskie watch was 36mm powered by a manual automatic movement. The watch survived the space travel with Gagarin which lasted 108 minutes, completing one orbit of the earth.
Gagarin's Sturmanskie watch not only made history; it also put Russian watches on the map.
Best Russian Watches to Explore
Granted Russian watches may not be among most younger enthusiasts' top must-have watches, they still command respect and appreciation among true-blue watch aficionados. Some even go to great lengths in scouring the Internet and vintage watch shops to get one. Some even customise the watches to their taste.
So, to help you with your quest, we have curated some of the best Russian watches available online.

Vostok Amphibia
With a water resistance of 200m, the Vostok Amphibia (Model No. 710640) is a reliable dive watch with a rich Soviet heritage. It comes in a 41mm stainless steel case with a black nylon strap. The black dial features a mix of luminous index hour markers and Arabic numerals. It also has a white minute and hour hands, a red second hand, as well as a date window at 3 o'clock.
Powered by an automatic movement, the watch has a power reserve of 31 hours. It boasts a screw-down crown and caseback for better water resistance. Another plus point for this watch? It costs less than a hundred bucks!
Some enthusiasts prefer a vintage Vostok, while others are happy to own the recent models. Either way, the Vostok Amphibia won't disappoint.

Sturmanskie Gagarin
If you want a piece of history on your wrist, then look no further than Sturmanskie – the same brand of watch that Yuri Gagarin wore to space.
The Sturmanskie Gagarin Automatic (Model no. 2426/4571144) watch is the closest thing to the first watch in space you can ever own. Coming in big at 44mm, this watch features an all-black ensemble with a stainless steel case, thin bezel, a black dial, and a matching black leather strap. The dial displays thin index hour markers, except for the 12-hour marker, which is in Arabic numeral. It also has a 24-hour indicator, a second-time zone through the outer ring of the dial, and is adjusted by the second crown located at 10 o'clock, as well as a date window at 3 o'clock.
This watch runs on an automatic movement with 31 hours of power reserve. It has a screw-down crown and caseback, and has a water resistance of 100 metres.

Poljot Aviator
This limited-edition vintage Poljot Aviator watch has a playful vibe to it with its green and black colourways. It features a 40mm stainless steel case with a black dial and a matching black strap with green stitching. The green 24-hour Roman numeral markers and white and red hands stand out against the black dial.
This customised watch is still equipped with the original automatic movement but is fitted with a new case, dial, and strap.

Raketa Polar 
Another customised watch, this Raketa Polar 24-Hour watch features the original mechanism and is equipped with a new case. It has a 30mm stainless steel case with a yellow bezel, blue dial, and a blue leather strap. Although the dial looks a bit busy with its 24-hour Arabic numeral markers, it is still very easy to read the time. The watch runs on an automatic movement, which is the original movement of the watch.
Originally, Raketa watches were produced for the Soviet Army for arctic expeditions, so the watch's DNA is anchored on reliability and durability.

Luch One-Hand Watch
Although Luch watches are manufactured in Belarus, one of the former Slavic republics of the Soviet Union, this watch is considered by many as Russian at heart. The Luch One-Hand watch comes in a 38mm stainless case with a brown leather strap. Its white dial displays the iconic one-hand-only feature with Arabic numerals.
Trendy and unique in its own right, the watch runs on a mechanical hand-winding movement. Perfect as an everyday watch, you can also wear it with a suit and tie for a more formal event.

Vostok Kommanderskie
Another best-seller from Vostok, the Kommanderskie is one of the reliable Russian watches around, not to mention affordable. This Vostok Kommaderskie watch looks elegant and very professional in a 42mm stainless steel case and a matching stainless steel case bracelet. It has a black dial with 24-hour Arabic numeral markers, grey hour and minute hands, a red second hand, and a small date window at 6 o'clock.
It runs on an automatic movement that can last up to 31 hours. The watch features luminous hands and hour markers and has a water resistance of 200m for some serious diving.

Raketa Copernicus
With its all-blue ensemble, this Raketa Copernicus is a refreshing watch to behold. Its charms lie on its blue granular dial, featuring spherical hands and thin indexes. The circular hands would sometimes overlap showing an eclipse, which is totally cool. The watch comes in a 40mm stainless steel case with a blue leather strap that bears white stitching.
At its heart beats an in-house automatic movement. It is water-resistant to 50m, keeping it safe from occasional water exposure.

Slava Chronograph 
Sleek and elegant, the Slava Chronograph features a rose gold-plated 40mm case with a matching rose gold-plated bracelet. The deep-blue dial highlights three sub-dials for 24 hours, calendar, and day of the week features. It has a mineral glass crystal and two pushers at 2 and 4 o'clock positions.
Powered by a Japanese quartz movement, this watch is highly precise and reliable, not to mention impact resistant and durable. What's more, it is water-resistant up to 30 metres.

Konstantin Chaykin Joker Watch
Independent Russian watchmaker Konstantin Chaykin is establishing his own name in the industry. His Joker watch, for example, is one of the favourites among unique-watch enthusiasts. The limited-edition timepiece comes in a 42mm stainless steel case and a black leather strap. The centre of attention, of course, is its dial with the Joker's face. On his forehead, you'll see the logo. The eyes serve as the hour (left) and minute (right) indicators. Meanwhile, you have the Joker's manic smile to showcase the moon phase, with the red moon as the tongue. Needless to say, the dial is as engaging as it is entertaining to watch.
Running on a Swiss-made mechanical automatic movement, the watch boasts a power reserve of 38 hours when fully wound.
Vintage & Historical 
Russian watches are no doubt unique and rich in history. Whether you're a die-hard Russian watches aficionado who loves to collect vintage models, or you simply appreciate the individuality and Soviet heritage that come with each of these timepieces, Russian watches are definitely worthy to be part of your collection.
In the market for a vintage high-end watch? Check out our guide to buying a vintage Rolex here.