New & Feature
10 Most Expensive Watches — Over $1 Million Price Tags
Dec 21, 2020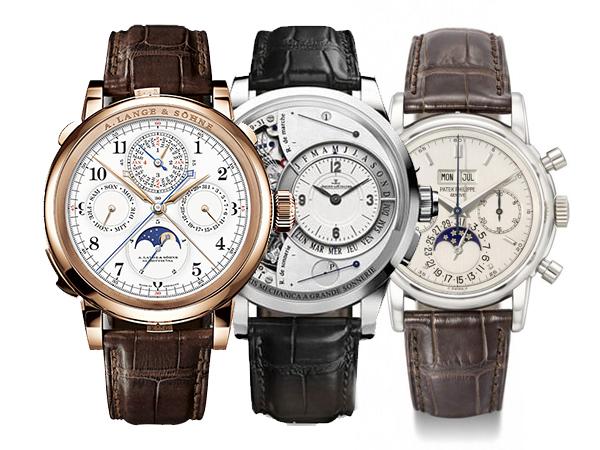 The saying "time is gold" is, perhaps, generally one of the most overused phrases everywhere. It means time is our most valuable resource because it is finite. Watch brands like Rolex, Omega, and Breguet, however, take this saying quite literally. How so? Through million-dollar timepieces that top the list of the world's most expensive watches.
Yes, you read that right. We're talking seven-figure price tags on watches. You've heard about them before and perhaps dreamed of owning one. So, whether you're hunting down the most expensive watch to add to your collection or simply window shopping for some, we put together a list of expensive watches priced over $1 million USD each.
From blinged-out customised watches to the most complicated watches in history, we're giving you a wide selection to inspire or give you an idea of what you're in for when we say million-dollar watches. So, strap in and have a glass of water prepared as we thirst over these fascinating watches worth over a million dollars each.
Behind the Million-Dollar Price Tag
A lot of factors play when pricing these million-dollar watches. Here are a few things that make these watches extremely expensive.
1. Brand
There's no denying that even just the brand name can hike the price of any watch, especially if it's a luxury watch brand like Patek Philippe or Vacheron Constantin. It's no secret that the weight these brand names give a timepiece definitely adds value to the watch. After all, these luxury watch brands are affiliated with opulence more than anything.
2. Heritage
We're not only talking about the heritage of the watch brand but also the watches themselves. Some brands have a wonderful history behind them that instantly makes their timepiece coveted, thus pulling the price higher than usual. Case in point: the Paul Newman Rolex Cosmograph Daytona Reference 6239, or simply the Paul Newman Daytona.
At Phillips New York in 2017, the hammered down price of this timepiece reached a whopping $17,752,500. This far exceeds the $1 million to $2 million estimated price that experts put on the watch. While it's not a very unique watch in itself, the story behind it plus Paul Newman's name attached to it definitely helped dictate the value of the watch.

3. Research & Development
Watches are engineering marvels that root from long research and tedious development. A lot of watch brands spend time on research and development before they can come up with a new model or even a new and improved version of already existing collections or series of watches. That's why it's not so surprising how watches become so expensive, given the many tests and probing it takes to release one. We have, for instance, the Bulgari Octo that took a lot of time in research before being deemed the thinnest watch in the world with incredible accuracy.
4. Materials
Given that these watches take a lot of time in research and development, it's only rightful for them to also possess only the finest materials. It's not cheap or easy to manufacture a watch, especially if it has precious metals and gems incorporated in it. We're talking gold, diamonds, and even the brands' own patented materials like Ceragold, which is a blend of ceramic and 18K gold crafted by Omega; or the Cermet (a combination of ceramic and metal) and Hublonium, a magnesium and aluminium alloy, produced by — you guessed it — Hublot.

5. Complications
A watch can also be judged by the complications it possesses. Complications refer to the other functions of a watch apart from its time-telling features (the central hour, hand, and minutes). For instance, a perpetual calendar as seen on the Patek Philippe Grand Complication watches or a moon phase window like in some Jaquet Droz Grande Seconde watches. The more complicated the watch is, the more expensive it can be. Just take it from the Vacheron Constantin Reference 57260 with 57 complications.
6. Rarity
Most luxury watch brands don't mass produce their watches. This doesn't only help them focus on the quality control of their watches but also to give their watches rarity, thus commanding even higher value. With most collectors cramming to get the newest from luxury watch brands, the high demand alongside the lack of supply automatically hikes the price of the watches. A perfect example would be the Patek Philippe Nautilus. One has to wait for about 10 years before they can get their hands on a new Patek Philippe Nautilus ref. 5711!
7. Other Factors (Labour, Marketing, etc.)
Of course, there are other factors that dictate a watch's price such as the professional labour required to produce it. Manufactures only hire experts to craft and assemble their timepieces, given that watches are delicate and specific to the last detail. How a model is marketed also should be considered. Albeit most luxury watches don't necessarily use grand marketing ploys, some brands still do it the traditional way by employing celebrity brand ambassadors and holding various events. Bonus points if the watch is present in a certain historical event, like the Omega Speedmaster Professional, the first watch worn on the moon.
Importance of Million-Dollar Watches
It's essential to keep in mind that it's not bad to own or to want to own a million-dollar watch. Aside from them being a status symbol, these watches are also great investments. Investing in an expensive watch can definitely be an excellent way to up your net worth. These watches, especially the vintage ones, can have an incredible resale value that could be put to good use after a while. The value of most luxury watches appreciates over time and that's what most collectors vie for more than anything.
Picking a Watch with a Good Resale Value
It sounds easy but picking a watch with a promising resale value can be quite tricky. So, let us guide you through a foolproof means of finding one.
Firstly, it's best to look at the brand name. Most luxury watch brands have watches that tend to appreciate in value. Cartier, Jaeger LeCoultre, and Tudor are just the first few that come to mind.
Secondly, keep an eye on watch trends. Learn how to track what kinds of watches appreciate and depreciate over time. Like any other investment, a watch's value can take a dive and some can skyrocket without any warning. However, some of the watch models that are on a constant rise include classics like the TAG Heuer Monaco or the Audemars Piguet Royal Oak. With that said, keep in mind that the watch market presents just as much risk as any other market. It can also give you certain rewards so invest wisely!
10 Million-Dollar Watches Worth Investing In
Time truly is priceless, but if you add in a million-dollar watch to the equation, you might just have an idea of what time is actually worth. In the case of these watches, it's $1 million USD or more. From complicated watches to ones crusted with the most expensive precious stones, here are 15 million-dollar watches worth investing in!
1. Ulysse Nardin Royal Blue Tourbillion | $1 million USD

Only 30 pieces of this watch were ever made, and this kind of rarity adds weight to the million-dollar price tag on this timepiece. The Ulysse Nardin Royal Blue Tourbillion is a platinum limited-edition watch with 568 baguette-cut Top Wesselton diamonds. These Top Wesselton diamonds will blind you at 33.8 carats. But these aren't the only precious stones you can find in the watch. There are 234 more baguette-cut blue 16.79ct sapphires that add value to this watch. A lot of watch connoisseurs look to this watch as one of the most intricately detailed and precious timepieces by Ulysse Nardin. The set gems, the skeletonised dial, and of course, the platinum material of this watch make it extremely valuable. While it's not something you can take any deeper than 30 metres underwater, we doubt you'd want to risk a $1 million watch sinking under the sea either!
2. Hublot Big Bang Tourbillon Croco | $1 million USD

If you've ever heard of the word "extra", then the Hublot Big Bang watch could be a great example of it. Hublot launched the Big Bang Tourbillon Croco High Jewelry watch set worth $1 million USD in 2018. This timepiece doesn't only come with 380 baguette-cut diamonds all over its case but also a matching jacket to complete your look.
Hublot strategically placed the diamonds all over the watch to resemble the scales of a crocodile. The diamonds are studded all around the case, the dial, and even the clasp. In fact, the dial alone has 102 baguette diamonds. What's more, the aperture at 6 o'clock gives you a view of the self-winding calibre HUB6016 movement, which balances its aesthetic. But the diamonds aren't the only thing that makes this watch ultra-expensive. The gems are merely accessories to glam up the already precious 45mm white gold case. Inside, the watch is just as valuable. It runs on an in-house movement that provides the timepiece with a power reserve of 115 hours.
While we're at it, let's take a look at the jacket that comes with the watch, as it also boosts the set's price. Just like the timepiece, the bomber jacket is made from crocodile leather. The jacket's Carbon aramid fabric makes the watch resistant to powerful projectiles. If this set doesn't scream movie star, then we don't know what does.
3. Richard Mille RM 56-02 Sapphire | $2 million USD

Richard Mille's catalogue is no stranger to expensive watches. The independent watch brand goes beyond anybody's expectations when it comes to its watches. The experimental new materials really bring out the millions in its price tag. While everyone else is busy creating their own materials for this generation, Richard Mille looks beyond the future. Introduced in 2011, the Richard Mille RM 056 was an engineering marvel in itself with a complex case design and an intricate movement mostly made in sapphire. Later, the RM 56-01 was launched with the baseplate, bridges, and the third wheel also made from sapphire. It was further improved with the launch of the RM 56-02 Sapphire.
The Richard Mille RM 56-02 Sapphire includes a new movement with an architecture inspired by the RM 27-01 Rafael Nadal. The baseplate of the RM 56-02 also amps up in material with a grade 5 titanium – suspended by a .35mm single-braided cable. This makes the timepiece truly transparent.
The sapphire that made this watch came from subjecting aluminium oxide crystals (Al2O3) to an environment with high pressures and temperature. Its pure transparency comes from the purity of its composition and has a hardness of 1800 Vickers (9 Mohs ). Thus, a scratch-resistant, extremely transparent case. Not to mention, this watch only has 10 editions released, making it truly a collector's must-have.
4. Jacob & Co Astronomia Flawless Imperial Dragon | $1.5 million USD

Jacob & Co. knows how to truly turn up the dial when it comes to timepiece prices. The brand often crusts its watches with marvellous gemstones plus complications, hiking the prices to the million-dollar scale. Just like the previously discussed Richard Mille 56-02 Sapphire watch, Jacob & Co. also dips its foot in sapphire watches with the Astronomia watch. This watch looks completely like a work of art not only with its sapphire case but also with the sculpted imperial dragon tangled with the watch's movement.
But Jacob & Co. didn't stop at that. The dragon isn't just any other dragon but an 18K gold one, hand-sculpted and hand-painted. This part of the watch alone takes more than three months to sculpt and paint, separated into four pieces. The dragon that loops around the movement also protects its 400 parts, including that of a double-axis tourbillon. To further the watch's visual appeal, rotating around the dial is a 288-facet Jacob-cut diamond.
5. Vacheron Constantin Tour de I'Ile | $1,538,160 USD

Vacheron Constantin has its fair share of million-dollar greatness recorded in history. The company holds the record for producing the most complicated watch ever made with the Reference 57260. This watch fetched $24 million USD in an auction, making it one of the most expensive watches ever sold. But since we're talking about wristwatches, let's hit the brakes and focus on one of Vacheron Constantin's million-dollar offers, the Tour de l'Ile.
The Vacheron Constantin Tour de l'Ile was launched in 2005, in celebration of the brand's 250th year since establishment. This commemorative watch also held the position as the most complicated wristwatch in the world. Among its complications include a minute repeater, perpetual calendar, sunrise and sunset times, a moon phase window, and dual time zones. The watch's complications alone put its price at $1.5 million USD.
6. Rolex 1942 Antimagnetique Ref. 4113 | $2.4 Million USD

It's not a million-dollar watch list without a Rolex watch. You might have caught our mention of the Paul Newman Rolex Cosmograph Daytona Reference 6239 sold for $17 million. But it's not the only Rolex deserving a mention. This 1942 Rolex Antimagnetique Ref. 4113 sold for 2,405,000 Swiss Francs or $2.4 million USD at a Phillips auction in 2016. This watch, surprisingly, doesn't have any special material to boost its price. Instead, rarity comes into play for this watch's astronomical price.
Instead of having a precious metal make up the watch's case, this watch is made of stainless steel instead. This 44mm manually wound split-seconds chronograph watch is only one of 12 to exist. The Ref. 4113 is also the largest Rolex ever made setting another record for this timepiece.
7. Jaeger LeCoultre Hybris Mechanica Grande Sonnerie | $2.5 million USD

There's a lot to unpack with the Jaeger LeCoultre Hybris Mechanica Grande Sonnerie. Given its price point and name, you can guess what this brand boasts: complications. Yes, just like the Vacheron Constantin Tour de I'Ile, this one also enjoyed a time as the world's most complicated watch. If we don't start telling you about the many features of this watch, we might never find an end to it at all. With 26 complications, this $2.5 million watch comes with a perpetual calendar that displays the day, date, month, and is made to keep up with a leap year. It also comes with a chiming mechanism — thus, the word 'sonnerie' in its name — with three different chimes. Furthermore, this watch also has a minute repeater and not one but two power reserve indicators. The hour hand uses the jumping hour mechanism.  It also features a tourbillon balance wheel and escapement that can be seen through the exhibition caseback of the watch.
8. A. Lange & Söhne Grand Complication | $2.6 million USD

We're on a roll with complicated watches. Just like the last two entries on our list, A. Lange & Söhne also launched a watch that held the title as the world's most complicated watch in 2013. The Grand Complication became one of the most complicated and most expensive watches of all time priced at $2.6 million.
Among the functions of this watch include a grand and small strike, a minute repeater, a perpetual calendar, and a rattrapante chronograph function with flying seconds. This watch is so complicated that it takes a year to be crafted. It has a whopping 867 parts encased in its 50mm pink gold case. So far, there have only been six editions of this watch in the world.
9. Franck Muller Aeternitas Mega 4 | $2.7 million USD

We know we've said it over and over, but we have another entry to the most complicated wristwatch category. The Franck Muller Aeternitas Mega 4 has 36 complications as seen on its 23 indications via 18 hands and five discs, making it the reigning most complicated wristwatch in the world. With this many complications, it only makes sense that it has 1,483 components that put a lot of watch aficionados in awe. It truly is a wonderful watch to own and definitely one worth investing in.
The watch's name, Aeternitas, is of Latin roots, meaning eternity. It refers to the eternal calendar in the Aeternitas Mega that goes through a 1000-year cycle renewable to infinity. Moreover, the watch also has a minute repeater, moon phase window, rettrapante hand, dual time, and a fly-back chronograph. At $2.7 million USD, you're definitely getting a lot more than you've paid for.
10. Patek Philippe 1939 Platinum World Time | $4 million USD

Patek Philippe is no stranger to million-dollar watches. This brand boasts numerous watches that surpass not only the millionth mark but even 10 times more. We're talking eight-digit value on its watches. For instance, the Patek Philippe and Henry Graves sold for $11 million at a Sotheby's auction. While most people would expect us to list the $11 million Patek Philippe Ref. 1518 in stainless steel, we opted to share the one of a kind Patek that became the centre of attention at a 2002 auction. We give you, the Patek Philippe 1939 Platinum World Time.
While the Patek Philippe World Time collection boasts a wide selection of timepieces readily available within the five to six-digit values, this World Time watch is truly one of a kind, and we mean that literally. According to experts, this original 1939 edition is only one of its kind, thus pushing the watch's price to a little over $4 million!
5 Millionaires and their Million-Dollar Watches
These watches can't wear themselves. And to inspire you even more to grab your own million-dollar watches or to perhaps give you an idea who you'll be up on the market with, here are five celebrities and athletes with the most expensive watches!
1. Rafael Nadal | Richard Mille RM 27-04 Tourbillon Rafael Nadal — $1,050,000 USD

Rafael Nadal is a known ambassador of Richard Mille watches. To celebrate the brand's 10-year partnership with the tennis legend, Richard Mille launched the RM 27-04 Tourbillon Rafael Nadal. Priced at $1,050,000, this watch takes inspiration from a tennis racquet, making it the perfect choice for the athlete. The tennis superstar has been seen wearing this watch in one of his most important games.
2. Christiano Ronaldo | Franck Muller Round — $1.5 million USD

Another superstar in the world of sports, football legend Christiano Ronaldo can be seen sporting a Franck Muller Round priced at $1.5 million. Just by the looks of this watch, the price would already be justified. Set gems plus a tourbillon — what more can you ask for?
3. Eric Clapton | Patek Philippe 2499 — $3.5 million USD

Rock legend Eric Clapton is one of the private collectors well-known in the industry. Once part of his collection, Clapton unloaded a Patek Philippe 2499 at Christie's Geneva. This watch is a unique timepiece given that it's made of platinum, a shift from the typical gold watches from Patek Philippe. It also features a perpetual calendar and moon phase window. Clapton put the watch up for auction, which makes it a first for this watch to be publicly available for purchase!
4. Jay-Z | Hublot Big Bang — $5 million USD

Rappers are no stranger when it comes to blinged-out watches. Jay-Z, a rap legend himself, is not new to this. This Hublot Big Bang watch, worth $5 million, is just one of his many expensive watches. He was also seen with a Richard Mille Blueprint, the most expensive timepiece from the brand. Jay-Z's diamond-encrusted Big Bang has about 1,300 diamonds.
5. Floyd Mayweather | Jacob & Co Billionaire — $18 million USD

Floyd Mayweather doesn't only rule the boxing ring but also the watch collecting industry. Mayweather boasts his very own Jacob & Co. Billionaire watch on Instagram, priced at $18 million. The watch has an 18K white gold case crusted with 260 carats of white diamonds. By the looks of this watch, you'd think it's a piece of jewellery more than a watch but what do you expect from the boxing legend himself?
Final Thoughts
Million-dollar watches boast not only gold, diamonds, and precious gemstones, but also the stories that come with them. As the list proves, the most expensive watches usually have the most complications, turning up the dial on its price range. We can't deny how complications make the watches the true engineering masterpieces that they are. Given that these complicated watches take time and expertise to manufacture and assemble, it only makes sense that they all are rare pieces.
Whatever it is that makes these watches truly expensive, we assure you that purchasing one won't only give you an asset but also a sense of satisfaction for having a piece of history right where your collection sits.
---
Can't get enough of expensive watches? Check out our list of the most expensive watches in 2020!