New & Feature
A Comprehensive Guide to Every Rolex Bracelet Ever Made
Nov 11, 2020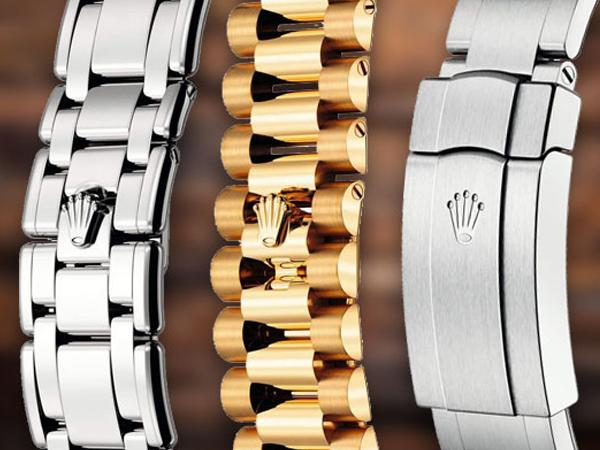 Rolex offers an array of iconic watch models that everyone — even non-enthusiasts — recognises. Case in point: ask someone if he knows about Rolex Submariner or simply bring up "Paul Newman watch", and you'll surely get a reaction. Watch models often get the spotlight, don't they?
It's not so surprising given that the whole package is, after all, what we're in for. However, Rolex further upped the game by naming its bracelets! Every Rolex bracelet that ever rolled out carries a name and legacy, popular to many collectors and enthusiasts in more ways than one. The thing is, Rolex never runs out of ways to add flair to its selection of already reliable watches. Every watch — be it a dress watch or a tool watch — has a unique offering. They're specialised watches for distinctive functions.
From the explorers of the deepest seas to the conquerors of the darkest caves, there's a Rolex watch for everyone. (In case you're curious, we suggest you take a look at the Rolex Submariner and the Rolex Explorer II.) To further the selection's diversity, Rolex introduced various bracelets that changed the way straps are treated at all in the industry.
Importance of Watch Bracelets
Watch bracelets hold more importance than one would think. Of course, the main star of each timepiece is the movement — the vibrations, accuracy, complications. There's no denying that! However, watches wouldn't be what they are today without the convenience of bracelets.
A person's comfort always comes first. Bracelets must not be too tight, too heavy, or too wiggly. That's why an excellent bracelet matter so much in a watch. A timepiece can only fulfil its duty if it's securely and comfortably attached to your wrist.
Bracelets also help in asserting a watch's function. It only makes sense that dive watches have rubber straps. The same goes for other tool watches that require rigid and rugged bracelets that could last expeditions. You wouldn't want to be stopped in the middle of a dive because of a little scratch on your gold bracelet, would you?
Watches, at the end of the day, are still accessories. While they're more functional, fashionability doesn't hurt when it comes to timepieces. That's why watch companies, like Rolex, take great care and consideration when it comes to straps and bracelets. True enough, Rolex bracelets don't only represent the brand's craftsmanship but also show how they can cater to various styles.
So, what sets each Rolex bracelet apart? Read on to find out.
Every Rolex Bracelet Ever Made
Rolex bracelets have evolved just as well as the brand's watches did. Rolex holds great pride in its bracelets just as much as well — from Jubilee to President and Oyster. You'll also learn more about the Pearlmaster, the Integrated bracelets, and of course, the Oysterflex. What do these bracelets have in common and which watches do they come with?
1. Rolex Jubilee Bracelet

The Jubilee is a classic bracelet that any watch enthusiast knows about. It's not only a popular Rolex choice but also something that even other brands use. First seen in 1945, the Jubilee bracelet made its debut alongside the Rolex Datejust. The new timepiece and bracelet marked the 40th anniversary of the brand. Today, we know the Datejust as the world's first chronometer wristwatch with a date window featured on the dial. You can guess where the bracelet's name came from.
Aside from this, the Jubilee also became Rolex's first in-house bracelet and therefore jumpstarted the brand's overall in-house production of bracelets. While most brands source bracelets from bracelet manufacturers or suppliers, Rolex upped the game by making their own. However, the company outsourced some parts of the overall composition from specialists, even to this day. We can find Jubilee bracelets made in countries such as Mexico or the USA. They usually come with oval-shaped links.
The bracelet appears with a five-link piece design with three rows of small centre links and two rows of larger links on either side. The bracelet looks grand that it fits the dressier timepieces such as the Rolex Datejust. If you compare the first Jubilee to the modern-day iteration of the bracelet, you wouldn't find much of a difference. Some of the most notable improvements made throughout its existence include the oval link, folded links, solid links, and D-shaped links.
It launched in solid gold but today, it comes with various material or metal options and even sizes. Aside from steel, the bracelet is also available in rose gold and steel, yellow gold and steel, rose gold, platinum, yellow gold, as well as white gold. You can find Rolex Datejust watches or the Rolex GMT Master attached to a Jubilee bracelet.
Jubilee Bracelet Codes
2. Rolex President Bracelet

Rolex continued to produce dress watches that collectors and enthusiasts vie for. After the success of the Datejust, it was only timely to release the Rolex Day-Date in 1956. The Day-Date proved itself iconic for its design. The watch is the first automatic watch to have a date window and a day window spelt out on the dial. It easily became Rolex's new flagship watch that immediately met with great success. The watch screamed opulence from every angle: the precious metals and of course the new bracelet that came with it — the Rolex President bracelet.
The President bracelet can be seen as a three-piece link metal bracelet with its links shaped in a circular manner. The centre links look wider with two thinner rows on each side. It can only be seen on the Day-Date watches of today as well as on the Rolex Lady-Datejust and mid-size Datejust timepieces. You can find a President Rolex bracelet in yellow gold, rose gold, white gold, as well as platinum.
President Bracelet Codes
3. Rolex Oyster Bracelet

The Rolex Oyster Bracelet has been Rolex's pride since the 1930s and to this day proves to be the most popular bracelet from the brand. It's impossible not to associate the Oyster to Rolex as the brand patented the design as early as 1947. A year later, in 1948, the bracelet made its official Rolex launch. However, its beginnings — as mentioned — didn't all start at Rolex's home base. In fact, it began with Rolex's bracelet manufacturer Gay Frères.
Up until 1998, Gay Frères manufactured bracelets for Rolex. Then, Rolex bought the company to take full control of its manufacture from movement to bracelets. Upon its launch, the Oyster wasn't as popular as expected. Even Rolex knows that it's not as grand as the other bracelets in its catalogue.
The modern-day Oyster bracelet looks pretty different from its predecessor. Arguably, it now looks more polished and grander than ever. The bracelet is a three-piece link metal bracelet with a wider row of centre links with two rows of thinner links on each side. It's not circular in shape like the Presidential bracelet. It, in fact, has always been flat. The evolutions didn't change that.
The Rolex Oyster bracelet can be seen in most Rolex sports watches including the Rolex Oyster Perpetual collection. Aside from this, other tool watches used the Oyster as the bracelet. However, as time and evolution required it, the Oyster bracelet began donning the watch heads of the Datejust, Day-Date as well as the Rolex Sky-Dweller timepieces. Every Rolex clasp you can think of fits the bracelet, that's why a lot of people find it easy to use — Oysterclasp, Oysterlock, and even Crownclasp. Not to mention, the Easylink comfort extension makes it easier to use even with a wet suit on. To further the bracelet's flexibility, even various clasp versions, are made available for use on the Oyster bracelet.
It's available in steel, various gold, as well as two-tone steel and gold combinations and even platinum.
Oyster Bracelet Codes
70130: 13mm in width as seen on Rolex Oyster Perpetual 26
70160: 16mm in width as seen on Rolex Oyster Perpetual 31
70190: 19mm in width as seen on Rolex Oyster Perpetual 34
70200: 20mm in width as seen on Rolex Oyster Perpetual 36
70400: 20mm in width as seen on Rolex Oyster Perpetual 39
72130, 72131, 72133: 13mm in width as seen on Rolex Lady-Datejust 26
72340, 72341, 72343: 14mm in width as seen on Rolex Lady-Datejust 28
72160, 72161—, 2163: 16mm in width as seen on Rolex Datejust 31
73168: 16mm in width as seen on Rolex Datejust 31
72190: 19mm in width as seen on Rolex Oyster Perpetual Date 34
72600, 72601, 72603: 20mm in width as seen on Rolex Datejust 36
72801, 72803, 72800: 20mm in width as seen on Rolex Datejust 36
72210,  72213: 21mm in width as seen on Rolex Datejust II
72610, 72611: 21mm in width as seen on Rolex Datejust 41
73205, 73208, 73209: 20mm  in width as seen on Rolex Day-Date 36
73605: 20mm in width as seen on Rolex Day-Date 36
72415, 72418, 72419, 72223, 72220: 21mm in width as seen on Rolex Sky-Dweller
72400: 20mm in width as seen on Rolex Milgauss
77200: 20mm in width as seen on Rolex Explorer 39
77210: 21mm in width as seen on Rolex Explorer II
71200: 20mm  in width as seen on Rolex Air-King 40
78200, 78203, 78208, 78209, 79201, 79205: 20mm in width as seen on Rolex GMT-Master II
78210, 78211, 78218, 78219: 21mm in width as seen on Rolex Yacht-Master II
78590, 78593, 78595, 78596, 78598, 78599: 20mm  in width as seen on Rolex Daytona
78740, 78743, 78750, 78753: 17mm in width as seen on Rolex Yacht-Master 35
78763, 78800: 20mm in width as seen on Rolex Yacht-Master 40
97200: 20mm in width as seen on Rolex Submariner
97200, 97203, 97208, 97209: 20mm in width as seen on Rolex Submariner Date
97400: 20mm in width as seen on Rolex Sea-Dweller 40
97220, 97223: 22mm in width as seen on Rolex Sea-Dweller 43
98210: 21mm in width as seen on Rolex Deepsea
98220: 22mm in width as seen on Rolex Deepsea
4. Rolex Pearlmaster Bracelet

The Rolex Pearlmaster watch was launched in 1992 and together with it, the Pearlmaster bracelet was introduced as well. It's a five-piece link metal bracelet that is slightly rounded despite being described as flat. Two slimmer links sandwich the larger centre links.
The beautiful thing about the Rolex Pearlmaster bracelet is the usual diamonds or gemstones set on platinum or gold. It can be seen, as aforementioned, on the Pearlmaster watch but some Day-Date Masterpiece also dons the bracelet. That's why most people refer to this bracelet as the Masterpiece bracelet.
Pearlmaster Bracelet Codes
72845, 72848, 72849: 17mm in width as seen on Rolex Pearlmaster 34
44745, 42745, 42749: 20mm in width as seen on Rolex Pearlmaster 39
5. Rolex Oysterflex Bracelet

Everyone paid attention as the brand rolled out the new Rolex Yacht-Master watch in Everose gold at the Baselworld back in 2015. Aside from the stunning proprietary pink gold alloy's launch, Rolex also introduced with it a new bracelet that we know today as the Oysterflex.
It may look like your usual rubber strap but the Oysterflex is a complex bracelet in itself. Firstly, it has titanium as well as nickel alloy metal blade in its core. Wrapped around that is the black elastomer. This makes the bracelet just as light and comfortable as a rubber strap but with more airflow as well as durability and stability.
The Oysterflex comes in six different lengths — categorised from C to H — and two different widths. Right now, you'll be able to pair your Rolex Oysterflex with the gold versions of the Yacht-Master and the Rolex Daytona.
Oysterflex Bracelet Codes
Final Thoughts
Rolex bracelets are part of the brand's legacy. They're one of the reasons why fans and enthusiasts adore the brand. They're comfortable and provide just as much elegance as the watch heads. It's also important to know the codes on each watch to help you know whether you're holding a genuine Rolex in your hand. These little numbers don't just come randomly with the bracelet. If you're new to buying pre-loved Rolexes, it's best to consult a specialist or take a quick look at the list on this page for reference.
---
We can't get enough of Rolex and we understand how you can't, too. If you're a fan of the vintage, check out our guide to buying a vintage Rolex watch.