New & Feature
Bell and Ross: A Guide to the French Brand's Swiss-Made Watches
Dec 09, 2020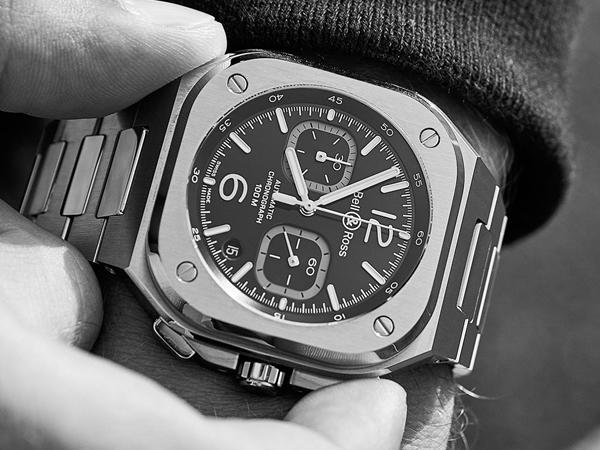 Bell and Ross constantly make the headlines whenever they release a new timepiece. Other times, they'll just pop up on the best of the best lists that are available everywhere. This shouldn't be news if you're a fan of the brand or a collector well-versed in the brand's identity. However, a lot of people new to the industry can be quite sceptical about the brand. While the brand also boasts the Swiss-made tag on its watches, Bell and Ross remains a steady and quiet player in the industry, unlike brands such as Rolex or Omega.
Taking inspiration from aviation and the military, Bell and Ross constantly releases cutting-edge timepieces. With this, it makes it easy to associate the brand with durability and classic designs. As we take a deeper look at the brand and its heritage, we will find out, however, that the brand is more than just that. Before we head on and discuss the brand's main collections, let's take a quick look at its history and everything there is to be expected of its watches.
A Quick Look at Bell and Ross

Despite being a French brand, Bell and Ross produce Swiss-made timepieces. We know it can be confusing but hear us out. The brand Bell and Ross designate France as its headquarters, specifically the country's capital Paris. However, the manufacture of the brand is located in a popular watchmaking region in Switzerland. If you're fond of watches, you'd have guessed it correctly. Yes, all of its watches are made in La Chaux-de-Fonds in Switzerland.
Founded in 1992, Bell and Ross is a product of two friend's university project. Bruno Belamich and Carlos Rosillo launched the brand with humble hopes and beginnings. The brand's name takes from their own — 'Bell' coming from Belamich and 'Ross' taken from Rosillo. The two divided the labour in the brand for an efficient system. Belamich designed the timepieces with utmost curiosity and aesthetic appreciation. Rosillo, on the other hand, took over the operations, meaning he spearheaded the sales and marketing, as well as the overall management of the brand.
A lot of watch historians would come to claim that some of Bell and Ross's first watches fell on the lap of German watchmaker, Sinn. As the times called it then, their watches were designed with a general idea in mind, which later gets rebranded by their clients which are bigger distributing platforms. For a while, Bell and Ross focused on this business model. They later graduated to crafting their own designs while Sinn manufactures their timepieces. It took the brand more than a decade to shift in a different direction.
The New Era of Bell and Ross

In 2005, the brand began a new era as they launched the BR 01 instrument. If you're familiar with this peculiar watch, you'd also describe it as one of a kind. The model now proves itself a vital part of Bell and Ross's development with its square case and round dial.
Like many other watch manufacturers, Bell and Ross take inspiration from aviation and military specifications back in the era of conflict. That means legible and durable timepieces with a vintage feel and look to them. As the brand looks back on the history of flying and war, they crafted timepieces made by specialists. They began producing watches with a team of designers, as well as aeronautical control panel specialists to perfectly translate the idea of aviation to a timepiece. Generally, the team envisions a line of watches that are not just utilitarian in nature but also durable and reliable that can withstand the toughest conditions. Among those include high and low temperatures and even erosions and other external environmental impacts.
From there, the brand built on a timepiece that fits not only the professional setting but also the outdoors. They're made for the person on the go, especially those who love utilitarian design. While the brand also has watch models that fall on the more typical design scale, the brand is mostly known for the same design the BR 01 instrument has. Today, the brand boasts a line of timepieces that caters not only to the lover of vintage and retro look but also to those who appreciate more elaborate and grand designs.
What to Expect from Bell and Ross Watches
If you're looking for an expensive timepiece from a popular brand, you might as well turn your head away from this point on. But if you're looking for quality watches from underrated brands, Bell and Ross could be the one for you. Firstly, the brand isn't as popular as other luxury watch brands especially those that boast the Swiss-made tag. Bell and Ross remains a humble player in the game, but they're not here just for the sake of letting the brand survive. It does have a niche following that allows it to keep a steady performance after all these years.
Come to think of it, Bell and Ross isn't expected to carry the same weight as brands whose history dates back to the 1800s. It's a fairly young brand born in the latter part of the watchmaking history, way after the Quartz Crisis, too. Without the story of surviving such a tremendous change in the industry, it certainly won't pick up the same reputation. However, it remains a name to remember especially with the reputation of its timepieces (more on this later!).
The great thing about Bell and Ross is that it doesn't rely on the star factor when it comes to promoting its watches. Not to put down other watch brands that employ the names of storied celebrities and those with great influence, but Bell and Ross don't even dare touch that part. The brand simply puts its designs on the frontline and lets its watches speak for themselves in performance.
When it comes to pricing, Bell and Ross may not be the most affordable watch out there. In fact, it lies on the more expensive side of the scale — it averages $2000 USD. However, there are great reasons for this and you're about to find out why.
The Lowdown on the Bell and Ross Collections
This brand keeps it simple by having only three main collections, each with sub-families worth exploring. But for ease of understanding, you only have to remember Bell and Ross's Vintage, Instrument, and Experimental collections. You probably already have an idea of what each collection entails, so, without further ado, let's take a closer look!
Vintage
The Bell and Ross Vintage collection nod at the classic military watches that changed the world of watchmaking for good. There are three main designs for the Vintage collection being BR V1 with its typical 3-hand design, and the BR V2 and BR V3 that are both chronographs.
BR V1

The Bell and Ross BR V1 comes with the usual 3-hand dial design and is minimal at best. It features a pretty muted dial on a satin-polished stainless steel case that measures 38.5 mm. This automatic timepiece has five iterations available that differ mostly in dial colours. However, all remain similar in their workings. The BR V1 uses the Bell and Ross Calibre BR-CAL.302 to power itself. This movement is automatic and mechanical with hours, minutes, and central seconds as functions. In addition, it also has a date function at 4 o'clock. Protecting its dial is an ultra-curved sapphire crystal with an anti-reflective coating. To further its features, it also comes with a depth rating of 100 metres! This is the most basic timepiece among the three as BR V2 and BR V3 amps it up with chronograph functions and more.
BR V2

BR V2 in itself is a wide selection of timepieces with sub-families such as the Bell and Ross BR V2-92, the Bell and Ross BR V2-93, which are GMT watches, and the Bell and Ross BR V2-94. The main difference between the three lies in their function, albeit all are chronograph watches. BR V2-92 comes with a 60-click unidirectional rotating bezel, while the BR V2-93 comes with a GMT hand that works independently from the others. As you'd expect, the latter is perfect for constant travellers! However, both V2-92 and V2-93 don't come with a chronograph function. Meanwhile, the BR-V2-94 may either come with a tachymetric bezel or a 60-click bezel with a chronograph function.
BR V3

Perhaps the sportiest among the three, the Bell and Ross BR V3 only has six models under its name. Specifically named BR-V3-94, this sub-collection features watches that come with a three-subdial chronograph function, as well as a 60-click bezel. If you compare it to the other two, they're more inspired by the motorsport industry rather than military designs.
Experimental

As its name suggests, the Experimental collection spans a line of watches that aren't of the norm. Sure, its functions may be similar to those that come from other brands, but not to Bell and Ross. Keep in mind that the brand mainly focuses on utilitarian designs, so anything more than that falls in this category. All the watches on the Bell and Ross Experimental collection carry the form of the BR 01 with a square-shaped case and a circular dial. Aside from that, however, there isn't much difference.
There are two main sub-families for this collection, mainly BR-X1 and BR-X2. Both carry curious redesigns of the original BR 01 that stems from adding a tourbillon feature in the form of BR-X1 Tourbillon or a skeleton design such as with the BR-X2 Skeleton Tourbillon Micro-Rotor.
Instruments
Perhaps the collection Bell and Ross is most notable for, Bell and Ross Instruments timepieces take timekeeping to a new level of form and function. In total, the collection includes five main sub-families namely the pioneer BR 01, BR 03, BR S, BR 03-92 Driver, and the BR 05. How does each one differ? If you look at it from afar, not much but the devil is in the detail on these timepieces.
BR 01

BR 01 is the pioneering watch that put Bell and Ross on the map as an independent manufacturer of timepieces. This timepiece comes in a 46mm square case with a round dial. The dial features Arabic numerals for 12, 3, 6, and 9 o'clock, a common design for most Bell and Ross watches. This very watch inspired other iterations, including a Concept Skull edition that takes away the usual look of the watch for a skull dial.
BR 03 and BR 03-92

The BR-03 collection is far more extensive than the BR 01 with iterations that include features such as a power reserve indicator, head-up display or HUD, a GMT hand, compass, chronograph, and even a fully illuminated watch including its straps, to name a few. In relation to this, the Bell and Ross BR 03-92 features a 60-click bezel for a sportier look and 300m of depth rating. Both collections also don't fall short on the aesthetic department, given the many colours and combinations to choose from. From a complete black-out timepiece to a full-on camouflage look, this collection has a wide array of design options. And did we mention the illuminating straps? I'm pretty sure some of you might like that!
BR S

People with more delicate wrists need not worry about not being able to wear the iconic square-shaped cases of Bell and Ross. Thankfully, the brand also released a collection of timepieces that measure about 39mm. Just as with the BR-03, the designs of the BR S spans from the simplest ones to extremes. You get the typical look borrowed from the BR 01 and even ones studded with diamonds, as well as camouflage designs. They also come in either quartz or automatic versions, offering a more affordable option available for everyone.
BR 05

The BR 05 carries more of an octagonal shape rather than a square one. With the very rounded edges of the square dial, the case ends up looking more like an octagon. However, other than that, the designs available for the BR 05 remain almost similar to the BR 01 and BR 03. Its watches have various design options to offer, including a chronograph function, as well as a skeleton dial. It also comes with a special gold collection with various colours that complement the — you guessed it — the gold dial and bracelet.
Final Thoughts
Despite its collection that's more focused than other watch brands, Bell and Ross sure is a lot to unpack as a brand. The peculiarity of its timepieces isn't the only thing to point out why the brand became a favourite among collectors. They surely design timepieces with professionals in mind and rely on the durability and functions of their watches rather than any marketing strategy. It's never too early to say that Bell and Ross is now a modern classic that a lot of collectors invest in. With the innovations the brand presents to its clientele, it's easy to say that the only way to go for this brand is up.
---
Can't get enough of Bell and Ross? Check out these 12 Bell and Ross watches for your next adventure!
All photos courtesy of Bell and Ross.