New & Feature
12 Bell & Ross Watches For Your Next Adventure
Dec 16, 2019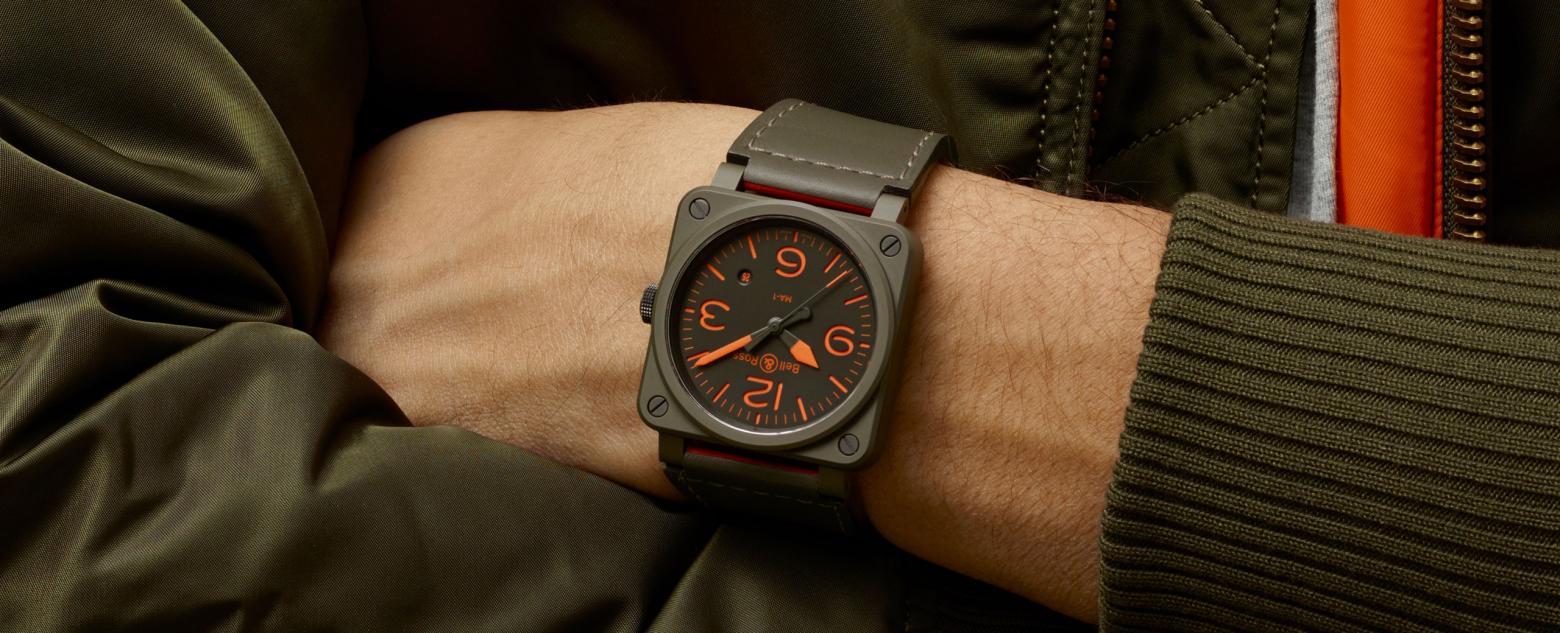 Looking for a unique and renowned timepiece for your daily office wear? You should check out these iconic Bell & Ross watches. These are professional timepieces trusted by soldiers, astronauts, and deep-sea divers. Learn more about these finely-crafted timepieces by reading about its history.
The Brainchild of Two Friends
This French company dates way back in 1992 and started as a university project. Yes, the name might make you think they're an American brand but they are in fact, French. The two masterminds were lifelong friends Bruno Belamich (Bell) and Carlos A. Rosillo (Ross).
Both Belamich and Rosillo shared the same vision. That is to produce timepieces that not only function well but also look great. Thus, "function shapes form" are the words the company lives by.
They wanted two things. One was to produce watches that can withstand extreme conditions of professional use. The second was to craft them at par with Swiss-made ones. Thus, Bell & Ross watches came to being.
Indeed, the brand isn't as old as some household names. But they have carved a unique niche to serve and continue to uphold high standards. In the world of horology, this brand is known to make timepieces that are perfect in a professional setting.
Function Meets Form
Bell & Ross watches draw inspiration from aviation history and military specifications. This goes back to the simple idea that function shapes form. As such, every timepiece features incredible visual and performance qualities.
From their La Chaux-de-Fonds headquarters in Switzerland, Bell & Ross provides top-pick wristwatches. They make timepieces for astronauts, divers, pilots, and bomb disposal experts, among others.
One characteristic of Bell & Ross watches that exhibits their military inspiration is their shape. If you would skim through the list, you would notice that all of the watches feature a round dial with a square case. This was derived from the instruments found on the dashboard of fighter planes.
Breaking World Records
Their Space 1 and Bomb Disposal Type timepieces both exhibit the aviation and military roots of the brand. The former was the original automatic chronometer to go to space. It was even worn by astronaut Reinhart Furrer during the Spacelab mission in 1983. 
On the other hand, the Bomb Disposal Type proved to be of big help to bomb diffusers. It had an anti-magnetic, A-magnetic case. Bell & Ross watches proved to be reliable enough to be used by the bomb disposal unit of the French Security Services.
Bell & Ross watches didn't only excel in space and land. They also conquered the sea. In 1997, the Hydro Challenger broke the world's water resistance record. The watch reached a depth of 11,000 metres underwater.
Well-Deserved Recognition
Simply put, Bell & Ross watches continue to be outstanding. It was only a matter of time before enthusiasts all over the world recognised their name.
Their watches come with a unique set of advanced features. To give you a headstart, here are 12 of our picks. You can never go wrong with having one or two of these Bell & Ross watches in your collection.

1. Instruments BR03-94 Blue Steel
This beauty right here is one of the premium Bell & Ross watches from the Instruments collection. The Instruments BR03-94 Blue Steel is a full package from its aesthetic design up to its efficient performance. Its luxury blue calfskin and ultra-resilient synthetic fabric offer a sturdy material to handle different kinds of weather and elements. 
Its deep blue dial isn't just for show. It features other goodies — a 30-min timer, a central chronograph, and a tachymeter scale on the flange.
On the outside, they made it look big to fit the rugged aesthetic. Its 42-mm steel case gives it a very masculine look.

2. Instruments BR05 Grey Steel
If you're looking for a simpler alternative to the BR03-94, this is your answer. Like the previous one, this is also an exquisite watch with impeccable features. 
The Instruments BR05 Grey Steel is like the BR03 collection sans the subdials. The clean dial makes it easy to read the time.
It boasts the brand's signature "Round in a Square" dial that gives Bell & Ross watches a distinct character. When it comes to function, it features an integrated case. It fuses the bracelet and the case to make it sturdy.
This model is perfect for those who are after the urban look and feel.

3. Instruments BR05 Blue Steel
The Instruments BR05 Blue Steel looks a lot like the BR03-94 Blue Steel. The difference is that the grey metallic case extends into the bracelet. The blue dial features appliqué numerals coated in Superluminova to help you read time in the darkest places.
Like most Bell & Ross watches, the BR05 Blue Steel has a water resistance of up to 100 metres. This means that you don't have to worry about damaging it while swimming, in case you forget to take it off before going for a dip at the pool.
Whether you're going on a date night or running errands, this model will feel at home on your wrist.

4. Instruments BR05 Black Steel
The BR05 Black Steel is another elegant timepiece for military functionality. Just like the BR05 Blue Steel, this model sports a very simple and clean dial.  It is also fitted with a calibre BR-CAL.321 automatic mechanical movement. This high-quality technology provides precise and accurate timekeeping.
This model comes in a black rubber strap which can be dressed up or down. It is also slimmer than the other Bell & Ross watches so it wouldn't look out of place under a dress shirt.

5. Instrument BR03-94 Black Matte
The BR0394 Black Matte is one of those Bell & Ross watches that have jam-packed features. Its strap and case feature an elegant matte black colour to make it look sleek.
On its face, it has two subdials. The one on the three o'clock features the small seconds, while the one on the 9 o'clock features a 30-minute chronograph timer. It even has a minute track on the flange.
Its sleek black exterior makes it appropriate for both office wear and outdoor use.

6. Instrument BR S Quartz Desert 39mm
Staying true to its name, the BR S Quartz Desert can withstand extreme situations. Its military specifications include a 39mm matte black ceramic case and a beige dial. Its subdial on top of the 6th-hour mark helps you track the small seconds.
Like most Bell & Ross watches, its hands are filled with Superluminova for easy readability even in the dark. It's useful just in case you find yourself inside a cave!
Meanwhile, the beige calfskin strap matches the dial for aesthetics purposes. Its neutral colour will match most of your outfits.

7. Instruments BR 03-94 Horolum
The BR 03-94 Horolum is another perfect option for anyone looking for a lightweight, legible aviation wristwatch. Yes, we really mean it when we said legible. Its name comes from "horo",  the concept of using matte micro-blasted steel on the boxes and dials. Bell & Ross watches use this to provide optimal readability.
The green Superluminova coating on the hands and hour markings make it easy for you to read the time. If it reminds you of aeroplanes taking off, you are not mistaken. This timepiece gets inspiration from the airports and uses the same luminescent colour used to light up runways.
Other features include a sapphire-protected dial, 30-minute chronograph, tachymeter scale, and 100-metre water resistance.

8. Instruments BR 03-92 MA-1
Think aviator glasses, fighter planes, and bomber jackets. If you're into that kind of stuff, then you'll adore the BR 03-92 MA-1. Its design takes cues from the US Air Force's now-legendary MA-1 flight or 'bomber' jacket of 1958.
Its bright contrasting colours are not just for show. It also serves the purpose to provide high readability even in darkness — a trademark of Bell & Ross watches.
This wristwatch features hands covered in Superluminova and two overlapping inserts. Meanwhile, its solid black colour and square shape complement the 42mm diameter and calfskin leather straps.
This watch is perfect for adding a pop of colour to your casual outfit.

9. Instruments BR 03-92 Blue Steel
The BR 03-92 is another classic aviation wristwatch that offers high performance and efficiency. Its blue-and-white dial is easy on the eyes and makes it easy to read. The stainless steel case complements the blue calfskin leather strap to give it an elegant look.
Aside from telling time, it also has a date function. The date window is strategically placed between the 4th-hour and 5th-hour markers to keep the dial clean.
The neutral colour of this watch makes it blend well with different outfits. With that said, it is perfect for a regular day out.

10. Instruments BR S-92 Black Steel
Need to go to the office in the morning but have an adventure after work? The BR S-92 Black Steel is your guy.
Its 39mm diameter will perfectly fit under a dress shirt sleeve. Meanwhile, the metal indexes and hands give it an elegant look that will make heads turn.
This watch's exterior is coupled with a tough interior.  Like the other Bell & Ross watches, this, too, has a water resistance of 100 metres and simple automatic chronology movement. Its automatic mechanical movement ensures that it keeps accurate time.

11. BR 03-92 Bi-Compass
The BR 03-92 Bi-Compass stays true to the philosophy of Bell & Ross watches. This model will make checking your wrist feel like looking into an aeroplane cockpit.
As its name suggests, the Bi-Compass looks like a vintage radio compass. If you look closely, it seems like it's missing the hour hand. You're right, It doesn't have one. But how do you tell the time without it? 
The disc in the middle is painted with a blue-green triangle. As time passes by, it rotates to tell which hour it is. Meanwhile, the middle circle features the indexes and the numerals that are printed in the same bright colour as the triangle.
The outer level features numerals and minute markers in an off-white colour. This colour scheme resembles that of a vintage military aircraft radio compass used by the military. 

12. BR 03-92 Phantom
Have you ever opened your wardrobe and found only black outfits? Now, that monochromatic get-ups are really trendy and we got the perfect watch for you. Why don't you check out the BR 03-92 Phantom as an accessory for your OOTD?
Living up to its name, the BR 03-92 Phantom is made with matte black ceramic from head to toe. From its strap to its dial, and even its hour markers. 
Its monochromatic aesthetic looks elegant without suffering readability. This is because of the photo-luminescent coating of the hands.
This is perfect for the adventurer who wants to keep their watches minimalistic. Bell & Ross watches are indeed stylish.
Conclusion
These Bell & Ross watches may differ in appearance but they all have a few things in common. These are high-quality in terms of mechanical movements, legibility, and optimal water resistance. These are the gears that drive Bell & Ross' principle that function should meet form. As a result, this brand is trusted by dozens of astronauts, divers, racecar drivers, and other adventure-seekers.
Whichever timepiece you choose, you are sure that Bell & Ross watches will never let you down.
Love going on adventures with your watch? Then find out what James Bond wears during his missions!