New & Feature
Breguet: The Epitome of Fine Watchmaking 
May 20, 2020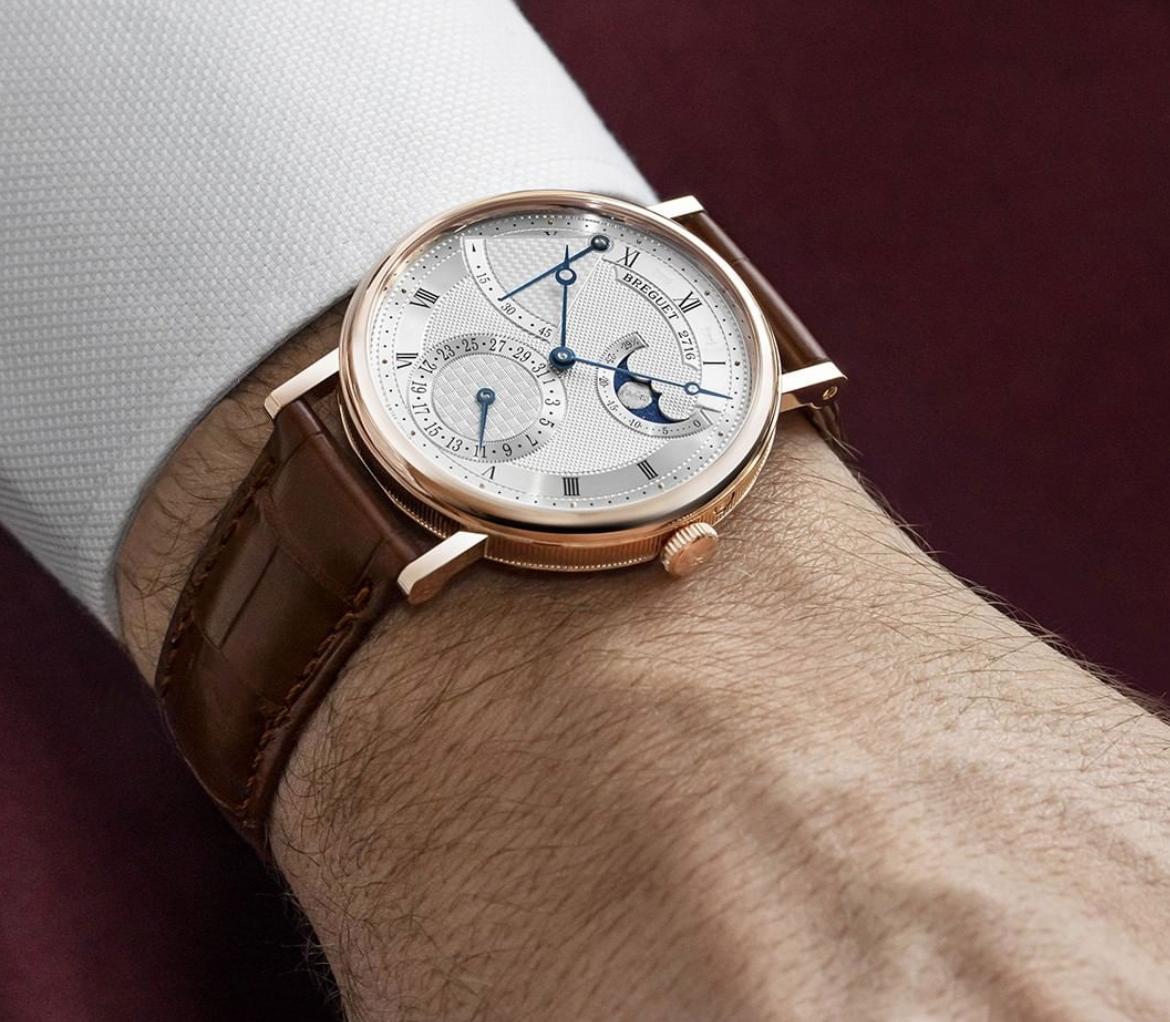 For fine watch enthusiasts, nothing compares to Breguet. With its timeless and classic aesthetics backed by a lineup of horological innovations, the luxury watch brand has been fundamental in the development of modern watchmaking. 
Its rich history enchants not just watch connoisseurs but also those who appreciate passion and craftsmanship. And Breguet, in particular, its founder — Abraham-Louis Breguet — had both. 
The Pioneering Spirit of Abraham-Louis Breguet
Arguably one of the most important personalities in the watch industry, Abraham-Louis Breguet was born in 1747 in Neuchâtel, a town in Switzerland. As a young man, he studied watchmaking under influential French master watchmakers before he decided to put up his own company in 1775 in Paris. He was only 28 at that time.

His company flourished with the help of his connections as an apprentice of two well-respected watchmakers in France — Jean-Antoine Lépine and Ferdinand Berthoud. Among his early and important patrons were King Louis XVI and Queen Marie Antoinette, who became one of the muses of his masterpieces. It was said that a Queen's friend and lover commissioned the young watchmaker to create an extraordinary watch as a gift to Marie Antoinette. That said, the watch turned out to be one of Breguet's most iconic creations yet, the Marie Antoinette Pocket Watch, which features every single watch complication known at the time. We will talk about this watch in detail later. 

During his time, Abraham-Louis Breguet managed to get patents for over 200 of his innovations, including the first tourbillon, the first wristwatch, self-winder, perpetual calendar, and the chronograph. These inventions were fundamental and important milestones in the evolution of modern horology. 
Fast forward to the present — since 1999, Breguet has been a subsidiary of the Swiss Swatch Group with headquarters in L'Abbaye, Switzerland. And for almost 250 years, the company has retained the pioneering and innovative spirit of its founder, creating masterpieces that reflect Abraham-Louis Breguet's ingenuity and creativity.
Breguet's Legendary Muses
Influential women of his time were among Breguet's biggest fans. As mentioned above, Breguet has had its fair share of iconic muses that to this day are still being written about and gushed over in every nook and cranny of the watch industry. Here are a few of them:
Marie Antoinette, Queen of France
During her time, Queen Marie-Antoinette has acquired a number of Breguet's creations. But the most iconic of her associations with the luxury watchmaker is perhaps the Marie Antoinette Pocket Watch Perpétuelle, also known as Breguet No. 160 Grand Complication.
Ironically, it was one that she has never ever seen. It was said that in 1783, Count Hans Axel von Fersen, an alleged lover of the Queen, commissioned Breguet to create this legendary watch, which took over 40 years to complete. 

Breguet started working on the watch in 1782, but it was only completed in 1827, four years after his death. It was his son, who actually completed the masterpiece — 34 years after the death of Marie Antoinette. The Queen was executed in 1793 for treason during the French Revolution. 
To this day, the watch is considered iconic by many horologists. The Marie-Antoinette Pocket Watch is self-winding. It has a minute repeater, a full perpetual calendar, jumping hours, a chronograph, a 48-hour power-reserve indicator, and a bimetallic thermometer, among others. The watch was stolen in 1983 but was recovered in 2007. Today, it is valued at more than $30 million.
Caroline Murat, Queen of Naples
If you're familiar with one of Breguet's famous ladies' collections, the Reine de Naples, then you know its story. The Reine de Naples collection was designed after a watch that Caroline Murat commissioned Breguet in 1810. Caroline was the younger sister of Napoleon Bonaparte and Queen of Naples from 1808 to 1815. 

The said watch was known as Breguet No. 2639. The Queen of Naples ordered the watch in 1810 which was delivered two years later in 1812. The innovative watch was shaped like an egg, it was an ultra-thin repeater featuring a thermometer. What was remarkable about it was that it was attached to a wristlet made of hair and gold thread. At the time when pocket watches were all the rage, here was Breguet, presenting the Queen with the world's first-ever wristwatch! It was a masterpiece like no other. And to this day, we see its progeny in the beautiful Reine de Naples collection.
Besides the iconic bracelet watch, Caroline Murat also famously owned more than 30 different clocks and watches from Breguet.
Victoria, Queen of England
Although there was not a lot of entries in history about the details of Breguet watches that Queen Victoria owned, it is worth noting that she was also one of Breguet's most famous and powerful patrons in his times. 

In 1838, shortly after coming to power, Queen Victoria was said to have bought a Breguet watch. The thin, small and simple watch was known as Breguet No. 5102.
Breguet's Most Important Innovations
As mentioned above, Breguet acquired more than 200 patents for his inventions and innovations. More than two centuries later, his legacy still lives on. Below — at a glance — are just some of his important inventions and contributions to the watchmaking industry during his lifetime.
1780 — Improved his automatic winding invention which he used in his perpetual calendar watches.
1783 — Invented the gong mechanism for his minute repeater watches, which, prior to this invention still used bells.
1783 — Also in the same year, Breguet introduced the now-iconic Breguet hands with hollow, moon tips.
1787 — Breguet improved the use of lever escapement.
1790 — He invented the pare-chute system, a shock absorption system that protects the pivots of the balance wheel, thus retaining the watch's accuracy no matter the outside 'blows'.
1793 — He created a small clock that showed the equation of time, or the difference between mean solar time (or our conventional time based on 24-hour period) and the true solar time. 
1794 — Breguet invented a retrograde display mechanism. This mechanism allows hands to sweep a segment of a circle before springing back to their initial position to begin their movement again.
1799 — Breguet invented the tact watch, which made it possible to be read by feeling it in the dark or in the pocket without looking at it.
1801 — He patented the tourbillon escapement, which he developed in 1795.
1810 — He introduced the first wristwatch, commissioned by the Queen of Naples. 
1820 — Breguet developed the chronomètre à doubles secondes, dit d'observation, which allowed the measurement of the length of time taken by two separate and simultaneous events. This was the mother of the modern chronograph.
Abraham-Louis Breguet died in 1823. But his company continued to introduce various watchmaking innovations that helped shape the industry today. 
Breguet's Iconic Collections
1. Breguet Tradition
Perhaps the epitome of all Breguet watches, the Tradition collection stays true to the vision of its founder: traditional in aesthetics yet modern in design and functionality.

Breguet Tradition GMT
The Tradition GMT 7067BR/G1/9W6 watch is a force to be reckoned with in its 40mm 18K rose gold case and a rich brown leather strap. The busy dial features a second time-zone as well as a day and night indicator. The main sub-dial is in white with Roman numerals and blue Breguet hands. The caseback is a sapphire crystal, which also features the power reserve indicator. And it is water-resistant up to 30 metres. 
Powered by the hand-winding Calibre 507 DRF movement featuring 40 jewels, the watch has a robust power reserve of 50 hours. To give fans more style options, it is also available in white gold.
2. Breguet Classique
The Classique collection illustrates Breguet's watchmaking standards with its sophistication and precision. The classic lines and elegant forms are coupled with refined complications that delight even the most discerning of watch enthusiasts.

Breguet Classique Chronométrie
This Classique Chronométrie 7727BR/12/9WU features a 41mm 18K rose gold case with a matching elegant brown leather strap. It has a silvered gold dial with hand-engraved patterns. The thin, black Roman numerals and blue Breguet hands blend in very well with sub-dials displaying 1/10th of a second and power-reserve indicator.
The hand-winding Calibre 574DR movement with running seconds powers this extraordinary timepiece, giving it a power reserve of 60 hours! You can view its powerful mechanism through its sapphire crystal caseback. Water-resistant up to 30 metres, this timepiece is also available in a white gold option.
3. Breguet Classique Complications
The Breguet Classique Complications collection pays tribute to Abraham-Louis Breguet's innovative spirit. It proudly showcases the brand's more than two-centuries-old watchmaking prowess.

Breguet Classique Complications Tourbillon
The Breguet Classique Complications Tourbillon, particularly model 3797BR/1E/9WU, features a manually-wound movement with tourbillon and perpetual calendar. The suave complications are housed in a 41mm 18K rose gold case with an elegant thin rose gold bezel and finished with a rich brown leather strap. The silvered 18K gold dial displays four different patterns and four different sub-dials, each fulfilling a sophisticated function. There's the retrograde date indicator at 12 o'clock, a day aperture at 9 o'clock, and a month and leap year window at 3 o'clock. At 6 o'clock, you'll find its small seconds on the tourbillon axis. 
As mentioned above, the manual-winding Calibre 558QP2 movement runs this ultra-sophisticated watch with a frequency of 2,5Hz. It has a power reserve of 50 days and a water-resistance of 30 metres. Besides the rose gold option, this timepiece is also available in platinum. 
4. Breguet Marine
The Marine collection is a line of sports watches that doesn't veer away from its elegant and traditional aesthetics. Utilising Breguet's time-honoured watchmaking heritage and blending it with contemporary designs give the watches in this collection its cutting-edge yet sophisticated appeal. 

Breguet Marine 'Grande Complication'
This Marine 'Grande Complication' 5887BR/G2/9WV model features a perpetual calendar and tourbillon with a 'running equation of time' function. It comes in a 43.9mm 18K rose gold case with an elegant brown leather strap. The gold dial in silver and brown hues features a whole gamut of functions, namely: day, retrograde date, month, and leap year. It also has a power-reserve indicator, as well as a solar minute hand with a facetted golden sun. At 5 o'clock you'll see a tourbillon carriage in titanium with small seconds and equation cam. The rose gold hands and Roman numerals complete the extraordinary dial. 
Beneath its sophisticated aesthetic runs the self-winding Calibre 581DPE movement with 563 components. This gives the watch a robust power reserve of 80 hours! Not to mention, it has a sapphire crystal caseback and water-resistance of up to 100 metres. Another nice design option of this watch comes in platinum with a blue dial and a matching blue leather strap. 
5. Breguet Heritage
Most notable for its tonneau shape, the Heritage collection is Breguet's take on unconventional designs. Yet despite its unique and modern aesthetic, these watches remain distinctly Breguet in every aspect.

Breguet Heritage Big Date
This Breguet Heritage Big Date 5410BR/12/9VV watch enchants at first sight with its 42mm 18K rose gold tonneau-shaped case. The curved dial made of silvered 18K gold with nice patterns features large, luminescent Roman numerals and blue, luminescent Breguet hands. At 6 o'clock sits the small seconds sub-dial, while at 12 o'clock, you'll see the date window.
At the heart of this elegant watch runs the self-winding Breguet Calibre 516GG movement with a balance frequency of 4Hz and composed of 30 jewels. It has a power reserve of 65 hours and a water-resistance of 30 metres. This nice dress watch comes with an equally elegant brown leather strap. What's more, it's also available in 18K white gold for those who prefer it in a more muted colour scheme. 
6. Breguet Type XX
An ode to the 1950's watch designed for the French naval air army, the Type XX collection gives Breguet's civilian fans a glimpse of the tough watches of those times. Perhaps the most robust-looking watches in all of Breguet's offerings, these timepieces are all equipped with a self-winding movement and a resilient spirit.

Breguet Type XXI Chronograph
The Breguet Type XXI 3817BR/Z2/3ZU Chronograph features a 42mm stainless steel case with a sapphire-crystal caseback. It has a bidirectional rotating bezel with a screw-locked crown, which gives it a water-resistance of up to 100 metres. The slate grey dial displays luminescent Arabic numerals, dots, and hands. It also features a day and night indicator at 3 o'clock, a 12-hour totaliser, a date aperture at 6 o'clock, a small seconds sub-dial at 9 o'clock, as well as a central minute totaliser. 
The self-winding Calibre 584Q/2 features a chronograph with a flyback function. The movement has  26 jewels, a silicon balance-spring, and a balance frequency of 4Hz. It gives the watch a maximum of 48 hours of power reserve. To finish its look, the watch's light brown calfskin leather strap gives it a more robust appeal. 
7. Breguet Reine de Naples
As mentioned earlier, the iconic Reine de Naples collection is inspired by an early bracelet watch commissioned by the Queen of Naples, Caroline Murat. Ever since, it has been a symbol of Breguet's exemplary watchmaking prowess in creating fine watches for women.

Breguet Reine de Naples
This extraordinary model, Reine de Naples 8965BR/5W/986, is an elegant classic. Housed in a 35mm 18K rose gold case with a beautiful egg shape, this model subtly displays 83 brilliant-cut diamonds on its bezel and lugs. Look closely and you'll see that the crown also highlights an inverted diamond! The white mother-of-pearl dial features a simple design. In fact, it is almost bare albeit beautifully — with only the Roman numerals in rose gold at 6 and 12 o'clock, the iconic Breguet hands in rose gold, and the individually numbered and signed Breguet logo adorning it. 
On its sapphire-crystal caseback, you'll see the mechanism of the self-winding Breguet Calibre  591C movement powering the watch. It is water-resistant to 30 metres and has a power reserve of 38 hours. A nice alligator leather strap set with 29 brilliant-cut diamonds completes the elegant design. For more design options, this watch also comes in a rose gold bracelet option set with diamonds, of course!
8. Breguet High Jewellery Watches
Another tribute to the ladies who know how to appreciate beauty and functionality in watches is the Breguet High Jewellery Watches.

Breguet Perles de Imperiales
Beautiful, opulent yet understated, this Perles de Imperiales GJ29BB8924/5D58 watch features a 28.7mm 18K white gold case. The oblong-shaped case is set with 24 brilliant-cut diamonds. Not to mention, brilliant-cut diamonds, totalling 4.12 carats, completely surround the bezel. A beautiful Akoya pearl hangs near the 6 o'clock position, while another 66 brilliant-cut diamonds set the flange. As if these are not enough, the crown also features a briolette diamond! Meanwhile, its natural mother-of-pearl dial highlights the Breguet medallion at 12 o'clock, diamond hour markers at 3, 6, 9, and 12 o'clock positions, as well as the Breguet hands in blued steel.
Inside, this watch is equally beautiful. It runs on the self-winding Breguet Calibre 586/1 movement with 29 jewels, a balance frequency of 3Hz, and a power reserve of 38 hours. You can view its mechanism up close via its sapphire-crystal caseback. Last but not least, a nice, burgundy satin strap set with 26 brilliant-cut diamonds finishes its opulent design.
The Epitome of Fine Watchmaking
For true-blue watch aficionados, Breguet represents not just a rich heritage in watchmaking, but most especially, it epitomises the art of fine horology. To own one is a life-long dream of many. As for the rest of us, however, understanding the brand's rich heritage and history, and admiring it from a scholarly point of view, is as good as owning one.
Ever wondered what's behind the story of the nickname Rolex Batman? Find out its history and buying guide in our comprehensive guide.