New & Feature
Ultimate Guide to the Classic TAG Heuer Autavia
Jul 14, 2020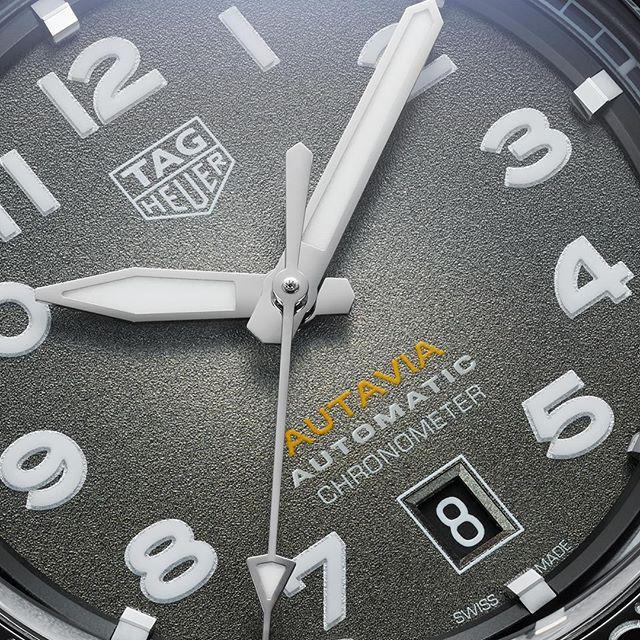 An interesting watch with an interesting name — that's a typical initial reaction for the TAG Heuer Autavia. What some people might not know, though, is that the Autavia has already had its time in the past. And now, it is ready to step into the future.
This guide will cover everything you need to know about the latest reissue of the TAG Heuer Autavia. We'll examine every aspect of this watch and even briefly discuss its history. So, without further ado, let's get into it.
The TAG Heuer Precision
TAG Heuer has been showcasing its avant-garde Swiss watchmaking since its formation in 1860. The brand's rich and long history definitely plays a big role in its success. Its over a century and a half experience allowed the company to acquire the deep and rich knowledge of Swiss watchmaking and hone this skill to produce excellent timepieces.
The company believes in the power of time, even down to the smallest fraction of a second. For TAG Heuer, the choices we make in every fraction of a second contributes to our victories. And thus, the company has made it part of its mission to deliver accurate timekeeping down to microseconds. This commitment to high-precision timing is why TAG Heuer has become a prominent name in the world of motorsports and aviation.

The TAG Heuer Autavia Up Close
It was in 1933 that Heuer introduced the name Autavia. At the time, the Autavia referred to Heuer's 12-hour stopwatch dashboard timer. Heuer gave it this name since it was a combination of "AUTomobile" and "AVIAtion" and the Autavia met both the toughest automotive and aviation requirements of that time. Since its introduction, the Autavia has continued to be a part of the Heuer catalogue. In fact, the Autavia became the first Heuer chronograph with a collection name in 1962. And in 1969, Autavia joined the Heuer Carrera and Monaco models as the world's first automatic chronographs. Decades later, the Autavia makes a comeback, so to speak. In 2017, TAG Heuer reissued the Autavia with new and improved aspects.
1. The Case
To start off, let's talk about the case. Now, the TAG Heuer Autavia collection comes in two variations of cases. One is a steel case and the other is a beautiful bronze. Both have a nice, fine brushed finish. For the steel case, it has a matching steel caseback but plain. Meanwhile, the bronze cases are paired with a strong grade two titanium caseback.

One of the most important things when it comes to purchasing something for your wardrobe is getting the right fit. Unfortunately, it is one of the things you don't really think about when it comes to watches. People underestimate the importance of having a watch that feels right on your wrist. The TAG Heuer Autavia has a diameter of 42mm, which is above the average size for men's watches, but is just about right when it comes to sports watches. So, if you don't mind a slightly larger watch, then the TAG Heuer Autavia will fit just nicely and comfortably on your wrist.

Now, let's talk about the turning bezel. For the base, it's either in handsome bronze or classic steel, depending on which variant of the TAG Heuer Autavia you've got. This bezel has nice ridges going around the side for added grip when turning. In addition to the bronze or steel base, we've got a beautiful ceramic that comes in brown, blue, and black.

2. The Dial
One of the great things about this watch is it doesn't try too hard. It doesn't have an abundance of extra features or kooky designs. Instead, it brings us back to the basics with a clean dial design.
In this section, we'll talk more in-depth about the aspects of the dial such as the crystal, hour markers, and hands. But first, let's talk about the general look of this watch.
The TAG Heuer Autavia offers a pretty minimalistic look. Each dial makes use of only one colour but features it in a gradient design rather than a solid colour. The dial is lighter at the centre and as the ripple expands, the colour darkens until it reaches the rim. Speaking of colours, the Autavia comes in four colours: black, brown, blue, and green.

One of the overlooked aspects of a watch is the crystal. But actually, it is incredibly important to consider the quality of your watch's crystal because a damaged or scratched crystal will obscure your view of the dial. And what is the point of a watch if you're unable to read it, right?
Luckily, the TAG Heuer Autavia has a sapphire crystal, which is probably one of the most ideal crystals for a watch. To understand how sturdy a sapphire crystal is, we need a quick lesson on the Mohs scale of mineral hardness.
The Mohs scale of mineral hardness is a qualitative scale that portrays the scratch resistance of materials. Sapphire is a 9 on the scale. Now, what does this mean? Well, the highest on the list is the diamond which is a 10. So that means only a couple of materials could scratch the sapphire crystal. This is good news if you have an Autavia since it is not likely to accumulate scratches. Just make sure that when storing your watch, you do not have it near jewellery, especially ones with diamonds on them.
Fundamentally, a watch is there to tell you the time. Sometimes, watchmakers can get overboard with the dial design that it can be overwhelming for some and might even make reading the time difficult. The TAG Heuer Autavia strips away the non-essentials, focusing more on a clean and readable design.
The Autavia features short but thick white hour markers. Accompanying these markers are large white Arabic numerals. The only numeral missing is number 6, and that's because in its place is a small date window.

We've mentioned the importance of readability. And that implies being able to read the time in any given condition. Often, people forget the need to be able to read their watch at night or even just in dim lighting. Luminescence is definitely a wanted plus when it comes to watches. Fortunately, the Autavia has luminescent hour markers and numerals for optimum readability at night.

Finally, we've reached the last aspect of the dial. This, of course, is what makes an analogue clock what it is: its hands. The Autavia has a thick hour and minute hands with a pointed end. Its second hand, however, is much thinner, but with a pronounced arrowhead tip. Again, to provide ample readability at night, the watch hands are also luminescent.

3. The Movement
For casual watch buyers, the movement isn't really something they think about. But watch connoisseurs and enthusiasts know that a timepiece's movement is its heart and soul. And that is in a somewhat literal sense since the movement is what gives the watch its ticking life.
The TAG Heuer Autavia runs on an automatic movement. All automatic movements from TAG Heuer are Swiss-made and must comply with strict precision criteria. Of course, a high-end company such as TAG Heuer would ensure that all their watches meet the high standards they've set and had excellent mechanical precision. In fact, a lot of TAG Heuer's movements are awarded a COSC or Official Swiss Chronometer Control Certificate. This is the highest recognition for precision and reliability in watches.

All TAG Heuer Autavia watches run on the COSC-certified Calibre 5 Movement. The Calibre 5 is a 26mm automatic calibre movement, which has around 25 to 26 rubies. It has a balance frequency of 28,800 vibrations per hour or 4 Hz.
What Is an Automatic Movement?
Now, let's talk about automatic movements for a second. Typically, watches get their power from batteries. Once the battery is drained, you'll have to open up the watch and replace the old battery with a new one. This is not the case for automatic movements. Unlike the typical battery-powered watch, automatic movements don't rely on batteries to function. Basically, automatic watches get their power from the movements your wrist makes when you wear it. So what about when you don't wear it? Well, automatic movements have a power reserve. The Autavia has a power reserve of 38 hours. This means that when the power reserve is full, it can go 38 hours without you having to wear it. After that, though, the ticking will stop and you'd need to turn the crown a couple of times to bring it back up to speed.
4. The Strap
One of the things people nitpick when it comes to watches is their strap. For some, it's aesthetic, while for others, it's the feel on the wrist. That's why when creating collections, it's best to have a variation of materials for those who like the design and quality but prefer a different strap. For the Autavia, there are two types of straps: a leather band and a classic stainless steel bracelet.

Let's talk about the leather strap first. The straps are made from genuine leather and carry quite a simple design. It's not too flashy. It doesn't have that smoothness and shine that some leather straps may have. Instead, it is textured and you can really feel the leather. As mentioned, the straps have a minimalistic look and just have neat white stitching for an added pop. Depending on the case material, the pin buckle could either be alternate steel or fine brushed bronze. For the colour, you could either have brown or black. It is important to note, though, that the black strap somewhat looks a bit green. This is perhaps due to the dial colour being green, thus having that greenish effect. On the official site, though, it is labeled as a black leather strap.

The stainless steel bracelet is pretty simple. In terms of design, it basically sticks with the classic look of the traditional stainless steel bracelet. It has a pretty good width of 22mm, which is appropriate for its case size. As with all link bracelets, you can add or remove links so that the watch will fit snugly on your wrist. So, you don't need to worry about the watch being too loose or tight for your liking. For the details, the watch has a pin buckle made of polished steel, and the rest of the bracelet also incorporates that polished or fine-brushed finish.
5. Water-resistance
Another thing people seem to forget when purchasing a watch is its water-resistance. Not all watches are built to handle water, even if it's just getting it accidentally wet when you're washing your hands. In order to properly take care of your watch, you must understand the level of exposure it can withstand when it comes to water.
The TAG Heuer Autavia has a water-resistance of 100 metres, which is pretty good for a non-dive watch. Dive watches usually start at a 200m water-resistance. On the other hand, the least water-resistant watch would have 30m water-resistance. That type of watch could only handle some splashing.
But what does it mean when a watch has a water-resistance of 100 metres? Well, the indicated water-resistance in watches usually describes the limit of water-related activities you can do while wearing that watch. A watch with a 100m water-resistance will definitely survive splashing and getting wet in the rain, and can be worn while in the shower. You could also definitely take this watch out when engaging in recreational swimming or snorkeling. This watch, however, should not be worn while diving or doing more extreme water activities.
Taking Care of the Watch in the Water
There are a few things that you should keep in mind when using these watches in the water. If the watch is in the water, do not click the crown. This will allow water to enter the watch. And once there is water inside, it'll cause the crystal to fog up. It could also lead to some damage to the internal mechanisms.

Speaking of damage, although these watches are made with high-quality material, it is still advisable to be careful when using them in saltwater. Saltwater has corrosive properties and if you continuously expose the watch to saltwater, it could lead to some damage. This, however, does not mean you shouldn't take it out on a swim in the ocean. It just means that every time you expose the watch to saltwater, you have to clean it afterward with warm soapy water and a gentle brush. This goes the same for pool water since the chlorine could also harm the watch. After gently cleaning, rinse with water and dry it out with a soft cloth.
Where to Buy TAG Heuer Autavia?
If by now you're interested in getting an Autavia for yourself, you're probably wondering where you could possibly get one. Well, if you want to physically shop at a store, you can check out TAG Heuer's store locator on their website. To use this, you could either click the geolocate button to use your device's location or you could also manually type it in the search box. Once you enter your location, the site will show you a map with the store locations pinned on the right and the details of the stores on the left. The website includes the exact address of the store and the options to contact them via phone or email.
Now, if you prefer online shopping, TAG Heuer has got you covered. The company has an online store where you can browse through their collections and add to cart. You could also find some Autavia watches on The Watch Company shop or Amazon if you're looking for deals. Below are some of the best TAG Heuer Autavia you can find online.
Tag Heuer Autavia Isograph

Tag Heuer Autavia Automatic Brown Dial (Certified Pre-Owned)

Tag Heuer Autavia Automatic Khaki Dial (Certified Pre-Owned)

TAG Heuer Autavia Calibre 5

Final Thoughts
There is definitely a reason why TAG Heuer has decided to bring back this classic collection. The original Autavia definitely was popular in its time and was a spectacular timepiece. But as any watchmaking company knows, time moves forward. Although a great collection initially, the Autavia definitely needed a rebirth that would showcase more modern technology and looks. In our opinion, TAG Heuer has succeeded in the reissue of the Autavia. It has brought this classic series into the modern world and we are definitely here for it.
If you want more ultimate guides of watch brands and collections, we've got you covered. Check out our ultimate guide on Glashutte Original right here.