New & Feature
Zenith Elite: A Guide To the Brand's Underrated Collection
Apr 09, 2021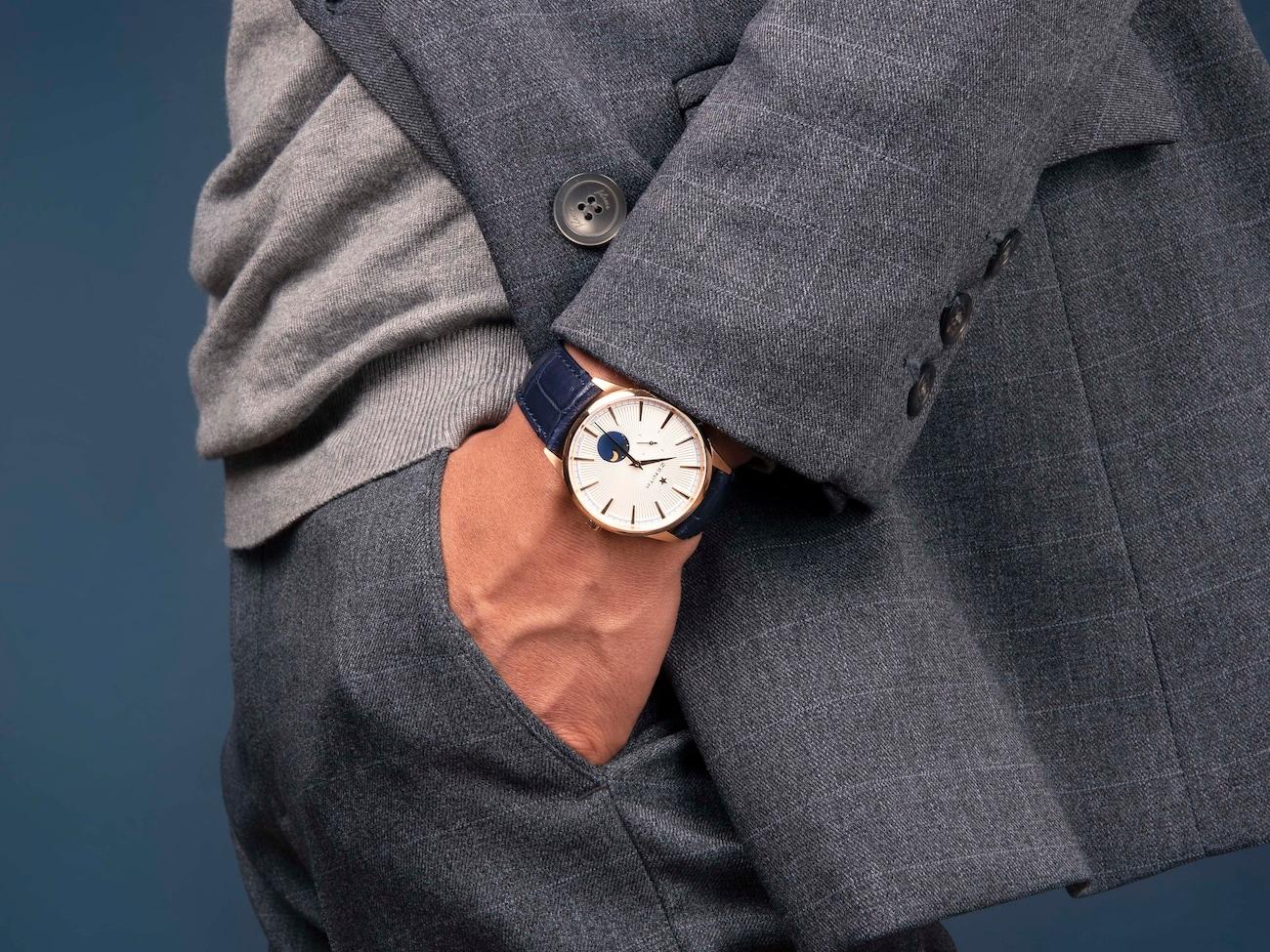 One of the biggest mysteries about the luxury watchmaking industry is just how big it actually is. I don't think people really understand how many luxury timepiece manufacturers are out there in the market right now. Honestly, it is pretty understandable especially since the spotlight is usually on the big names such as Rolex, TAG Heuer, Tudor, Omega, and the like. However, true watch connoisseurs know that there is a whole new realm beyond what the general public is aware of. This article will focus on one of the "hidden" gems of luxury watchmaking, Zenith, specifically the Zenith Elite collection. 
All About Zenith
It all began in 1865 when a young man called George Favre-Jacot decided to establish a brand of his own. He was motivated by the idea of fusing together the past, the present, and the future through innovation in watchmaking. Much like most founders, George Favre-Jacot had the ambition to back him up in trying to create 'the perfect watch'. He knew that he needed to step up his game if he wanted to successfully build an empire, so he did just that. His journey officially started when he asked his workshop to be built connected to Le Locle train station. This was done in order to have easier access to the raw materials needed for watchmaking. This may seem too much or unnecessary to some, but it just shows how committed Favre-Jacot was in seeing his vision come to life. Today, that very same place might as well be considered as a watchmaking heritage site. 
Fifty six years after its establishment, Zenith has been consistently pursuing Favre-Jacot's dream. They understand that the idea of a perfect watch is bound to change as time goes by, which is why they continue to innovate each day. Over the years, Zenith's philosophy has evolved into being a brand that allows people to break free from any adversity and fearlessly conquer greater heights. This can clearly be seen on the notable people who have achieved their goals with a Zenith watch as their companion. At present, Zenith has four collections in their current catalogue: Zenith Defy, Zenith Chronomaster, Zenith Pilot and, of course, Zenith Elite. Each series has a different idea and concept behind it, ranging from simple to innovative.  
A Closer Look at the Zenith Elite Collection 
The Zenith Elite range is the brand's selection of watches focused on refined and timeless yet contemporary pieces. Most of the models in this collection offer a chic and classic look that epitomise luxury. The way Zenith is able to incorporate simplicity in their elegant pieces is clearly seen in this collection. Furthermore, this series makes use of the brand's in-house calibre, called Elite, which adds utmost precision without having to compromise style. 
Selling Points
Classic yet contemporary. Some of the best watches to ever exist are a perfect combination of heritage and modernity. A lot of Zenith Elite models are embodiments of that concept. Being able to fuse timelessness and modernism is a difficult task that only seasoned watch manufacturers can do. A Zenith Elite watch can help you break free from the restrictions of time through a classic yet contemporary timepiece. 
Top-tier precision and reliability. One does not simply become a luxury brand just because of the way their timepieces look or because its expensive. Luxury watchmaking is all about quality craftsmanship in structure, design, composition, and specifications. Zenith Elite watches are not just visually appealing but also impressively accurate. The Elite in-house calibre is the one of the key points of the entire collection. There is no doubt that a Zenith Elite watch is both beautiful and high performance. 
Relatively affordable. I mean, you do have to know that Zenith is a brand under LVMH, so the prices are still on the more expesive side. However, in comparison with other brands, Zenith timepieces fall on the middle to high part of the luxury spectrum. This means that there is a relatively wide price range for the different Zenith models. Also, if you're looking into buying pre-owned pieces then Zenith watches also tend to be sold at lower costs unlike other brands with high resale value. 
Best Zenith Elite Watches 
After delving into the history of the brand and getting to know the collection, we have curated a list of  our Zenith Elite watch picks that you can get in the market right now.  
1. Zenith Elite Moonphase (Ref. 18.3100.692/01.C922) 

What better way to start this list than with a beautiful Zenith Elite Moonphase watch. This piece is actually a part of the brand's current catalogue, making it one of their relatively newer models. Now, I know moonphase watches are either a hit or miss for many people, but there is just something different about this one. Everything about this timepiece screams artistry and sophistication, from the colour combination to the materials used. This is definitely one of the most classy moonphase watches out there. 
This Zenith Elite Moonphase comes in a 40mm rose gold case and an alligator leather strap in blue. Meanwhile, the dial follows a sunburst pattern, which includes hands and hour markers in rose gold. It also features a very subtle seconds display at 9 o'clock and a blue moon phase indicator at 6 o'clock. For technical specifications, this piece runs on an Elegance Elite Calibre 692 and has a power reserve of 50 hours. Overall, this Zenith Elite Moonphase is a very a posh and stylish piece, perfect for men who wish to up their fashion game. For the ladies version, this Zenith Elite Lady Moonphase watch is just perfect for your better half. 
2. Zenith Elite Automatic (Ref. 03.2272.6150/51.C700) 

Next up, we have this vibrant yet simple Zenith Elite Automatic piece. If I were to describe this watch in one word, I would choose "straightforward." What you see is what you get. Some people like busy-looking timepieces while some prefer less complicated ones, and this definitely falls in the latter category. It is the type of watch that is so visually appealing because of how extremely simple it is. 
This watch comes in a 42mm stainless steel case paired with a blue leather strap. The dial, which also comes in blue, includes only silver hour markers, hands, and the brand logo. Lastly, it follows an automatic movement and has a water resistance of up to 50 meters. As mentioned, this Zenith Elite Automatic is one of the perfect examples of an uncomplicated watch. The vibrance of the colour blue balances out the directness of the entire piece, making it not plain and not pretentious as well. 
3. Zenith Elite Captain Central (Ref. 51.2020.670/01.M2020) 

The Zenith Elite Captain Central is yet another sophisticated and classic watch. It is the perfect companion for both everyday use and special occasions. Simplicity is the best way to go when it comes to luxury watches, which is exactly what this piece is all about. It is an uncomplicated watch that oozes luxury. 
It comes in a 42mm case and a bracelet both of which are made out of rose gold and stainless steel. The slightly dark silver dial has rose gold indexes and hands along with a date component at 6 o'clock. Overall, if you're the type of person who prefers versatile watches, then this is a good option to check out. 
4. Zenith Elite Moonphase (Ref 03.3100.692/03.C923) 

This Zenith Elite Moonphase in grey is a similar model to the first one but it has a completely different vibe in comparison. If the previous moon phase watch had a vibrant and sophisticated feel to it, then this one is a lot more calm and subtle. The artistry is still very much present. However, it is just the type of watch that catches people's attention silently. 
It comes in a 40mm steel case paired with a grey alligator leather strap. Furthermore, the grey sunburst-pattern dial includes indexes, hands, a seconds display, and a blue moon phase indicator. The Zenith Elite Moonphase follows an automatic movement, which runs on an in-house Elite calibre. Lastly, it boasts ultra-thin components with a power reserve of 50 hours. This watch is mostly in the colour grey which explains why it exudes such a curious yet calm vibe. If you want a more monochromatic timepiece that has an air of mystery and gentleness around it then this is the perfect Zenith Elite watch for you. 
5. Zenith Elite Ultra Thin (Ref. 03.2010.681/01.C493) 

One of my favourite things about this particular watch is how it has such a masculine vibe without being overly bulky. I think a lot of rugged-looking timepieces have the tendency to seem humongous, but the Zenith Elite Ultra Thin is the exact opposite. This watch has a very classic and polished look, a perfect accessory to your suit and tie. 
It comes in a 40mm stainless steel case paired with an alligator leather strap in black. The silver sunray dial consists of hour markers, hands, and a seconds display, all of which are in silver colour as well. Moreover, it follows a Swiss automatic movement and has a water resistance of up to 50 metres. This Zenith Elite Ultra Thin is a great watch for men who prefer more compact and sophisticated timepieces. 
6. Zenith Elite Moonphase (Ref. 16.3200.692/01.C832) 

Here we have another moon phase watch, but this time catered towards the ladies. Truthfully speaking, this is one of the prettiest watches in the Elite collection. Just with a single glance, it immediately gives off a gentle and sophisticated vibe because of its overall design. This Zenith Elite Moonphase is an aesthetically pleasing option for the ladies out there who enjoy light/pastel coloured accessories. 
It comes in a 36mm case in stainless steel studded with diamonds and paired with a powder blue alligator leather strap. The sunburst-patterned dial features a seconds component at 9 o'clock, a moon phase display at 6 o'clock, and hands/markers in rose gold. Furthermore, this Zenith Elite Moonphase runs on an Elite calibre movement and has a power reserve of 50 hours. If you enjoy luxury and a pop of colour in your watches then don't miss out on this gorgeous timepiece. 
7. Zenith Elite Rose Gold (Ref 18.2010.681/01.C498) 

This particular piece is the same model as the Zenith Elite Ultra Thin but in a different colour. The reason why we're featuring it again is that it has a completely different vibe compared to the other. The previous watch had quite a masculine feel to it, while this piece has a more vintage aura around it. 
It comes in a 40mm case in rose gold paired with a brown leather strap. The dial is very straightforward, with hands, hour markers, and a seconds display in rose gold as well. For technical details, this piece follows an automatic movement and has a water resistance of up to 50 meters. This Zenith Elite Ultra Thin Rose Gold is a classic piece, perfect for any vintage lover. 
8. Zenith Elite Classic (Ref. 16.3200.670/02.C832)

Lastly, we have this beautiful and vibrant Zenith Elite Classic piece. If you are a fan of blue, diamonds, and elegance, then this is the perfect one for you. With this watch, there is no denying that it is a luxury piece but, at the same time, it is still subtle enough for everyday use. Most people think that only monochrome watches can be versatile, but this piece proves that wrong. 
It comes in a 36 mm steel case, a diamond-studded bezel, and a blue jean alligator leather strap. The blue dial follows a sunray pattern, which has silver hands/hour markers and a date component at 6 o'clock. Lastly, it runs on an automatic Elite calibre and has a minimum of 50 hours of power reserve. Indeed, this is definitely a great piece for all the luxury ladies out there. 
Final Thoughts
Overall, Zenith is an underrated luxury watch brand. They have numerous timepieces that all boast utmost precision and artful designs. What started out as a quest to make the perfect watch eventually became an empire of equally ambitious timepieces. The Zenith Elite range, in particular, consists of sophisticated, elegant, and contemporary watches bound to make anyone fall in love with the brand. It is a great starter collection for those who don't want to get too crazy with their first luxury buy. This collection is truly a hidden gem that deserves more recognition. 
If you're interested in Zenith watches, check out this article on the Zenith El Primero.
Photo credits: Zenith Official Website