New & Feature
Omega Speedmaster Reduced Ref. 3510.50: A Comprehensive Review
Apr 13, 2021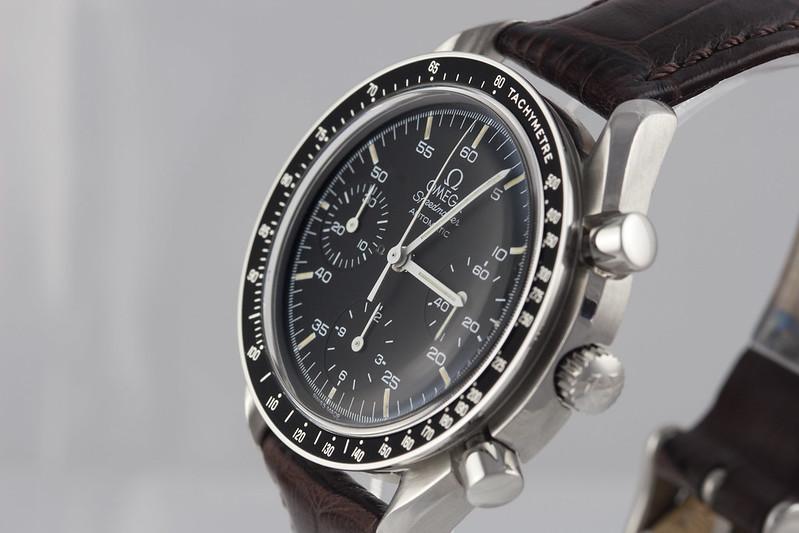 Watch connoisseurs often opt for luxury brands for many reasons. Besides the fact that the companies falling under the said category provide potential owners character and distinction, they also ensure that the style and quality of the watches they release are never compromised. The good investment value that luxury watches bring is also a major bonus, especially if collectors go for the discontinued, rare, and highly sought-after models.
Among the notable and acclaimed names in the luxury watchmaking industry is Omega. If you are not entirely familiar with it or have not heard of this brand before, you are probably new to the watch realm. Experts in the field have repeatedly expressed their admiration for the brand over the past years because it has continuously proved that there is so much more in their arsenal than creating mere watches. Even though it is included in the A-list watch companies in the world, Omega still appeals even to the general public with its affordable yet reliable pieces. One of these is called the Omega Speedmaster Reduced.
Omega: A Celebrated Brand
Hailing from the capital of horology — Switzerland, Omega produces high-quality and robust timepieces that last for years to come. Not to mention, the watches the company comes up with are also unique, classy, and stylish. Despite its dedication to preserving its rich and extensive history in terms of the design and mechanism of its masterpieces, Omega still does not forget to add modern touches so that men today can fully appreciate what it has to offer.
Omega has proved continuously over the past decades that their pieces are no ordinary. From exploring the ends of space, accompanying troopers during wars, and starring in several films alongside famous actors, the watches the brand has produced brought them to the top of the watchmaking game. In fact, one may feel intimidated around these timeless pieces at first because they each carry a story that reflects the brand's illustrious image, built with more than 170 years of hard work, perseverance, and strong commitment.
Other than its renowned and prominent collections, namely the Omega Special, Omega Seamaster, and Omega De Ville, it is no doubt that the brand also assumes fame through its flagship line, the Omega Speedmaster. Unknown to many, the collection carries a particular model that just goes beyond expectations. Called the Omega Speedmaster Reduced, this automatic watch is not only a sight to behold. It also carries wonderful specifications and that people should witness and appreciate more. Read on to find out why this rare gem deserves your attention and why it should be the next cult-favourite.
How the Omega Speedmaster Reduced Came To Life
While chronographs have started to attain popularity during the late 1800s, Omega plunged into the trend a bit late with the launch of its Speedmaster series. Accompanying the two other lines, namely the Seamaster and the Railmaster, the Omega Speedmaster was first released back in 1957. Originally devised as a sports and racing chronograph, this watch honours Omega's reputation of being an official Olympics partner. Eventually, it also became one of the official watches that astronauts would carry in their extreme space expeditions, the emergence of its lauded nickname "Moonwatch".
The pioneering piece from the line called the "Broad Arrow" is truly magnificent because of its attractive dial layout, bright hour-markers, and accessible crown. Since then, Omega has consistently enhanced the technicalities of the watches under the collection. They made sure that wearers would be able to carry timepieces around that reflect the brand's admirable journey.
The Omega Speedmaster Automatic, popularly known as the Omega Speedmaster Reduced or Speedy Reduced, is one of the models that reflects the brand's efforts to innovate the Speedmaster. First unveiled to the general public in 1988, the watch has its reputation of being the affordable and smaller option for the original Speedmaster Moonwatch. Often mentioned in every watch-related conversation, the Omega Speedmaster Reduced also created several controversies due to the brand's move of naming and marketing this watch as part of the Speedmaster Professional collection. This only proves that it is also a watch that bears a certain prestige. Although seldom put in the limelight, the watch has exquisite charms, making it a good addition to any watch lover's collection.
A Watch That Brings Benefits
Looking closely, the Omega Speedmaster Reduced is not just an ordinary version of the iconic Moonwatch that everyone has been raving about. Instead, it offers great functionalities and characteristics that differ from what the latter has been showcasing over the past years. What makes this watch special is the convenience it gives to wearers. Because of its relatively small shape and size, the watch would fit any type of wrists, particularly those thin ones. Compared to bigger watches, the Speedmaster Reduced is more comfortable to wear and parade around, despite the incorporation of a stainless steel bracelet.
An Outstanding Automatic Watch
Despite putting a permanent stop to its booming production in 2009, the Omega Speedmaster Reduced also became known for its usage of automatic movement. Unlike its sibling, this one boasts a fully precise self-winding movement, made to ease the process of timekeeping. By incorporating the automatic movement, users need not worry about having to manually wind their watches before actually putting them on. This will save you a massive amount of time and effort, especially if you are the type of person who is always on the go.

While some may argue that hand-wound watches are still the best types, especially if you are concerned with technicalities and their performance, one should still not disregard the wonders of automatic watches. In the end, choosing between the two kinds of mechanical movements is just a matter of perception. Whether you are fond of having direct interaction with your watch or you just prefer to make things easier, the choice of what type of watch is right and appropriate for your lifestyle comes down to your personal preference.
With the aforementioned special features of the Omega Speedmaster Reduced, watch collectors, even the novice ones, are becoming eager to try out the great serviceability the timepiece brings onto the table. Despite a few tweaks in its calibre and structures during its magnificent 21-year run, the Omega Speedmaster Reduced stays as one of Omega's eminent lines as it celebrates the brand's superb craftsmanship and mastery.
Up Close with the Omega Speedmaster Reduced Ref. 3510.50
The 3510.50 version of the Omega Speedmaster Reduced is one of the most coveted watches of the brand.  This model was formerly identified with reference number 375.0032. However, due to changes in Omega's naming system, the watch is widely recognised today with the 3510.50 reference number. Aside from its sturdy characteristics, the Omega Speedmaster Reduced 3510.50 has a classic and lavish vibe to it that makes every watch connoisseurs drool. From its flawless dial to the well-executed crown and tachymetric scale design, everything about this watch screams perfection.
As mentioned earlier, the production of the entire Speedmaster Reduced line has now been discontinued, that is why it has become harder for people nowadays to get their hands on the aforementioned iconic watch. Below are the specs you should familiarise yourself with if you are planning to give the Speedmaster Reduced 3510.50 a shot.
Anatomy of the Omega Speedmaster Reduced Ref. 3510.50

Case material: Stainless Steel
Case dimension: 39mm
Movement: Automatic
Power reserve: 40 hours
Water resistance: 30m
Case
The primary reason why the Omega Speedmaster Reduced 3510.50 is such a collectible and a great buy overall is because of its stunning case. Unlike other famous Speedmaster models, this watch features a case size of 39mm with a wide structure, which makes it the epitome of a 'just right' watch. This is good news for people who prioritise comfortability rather than the overall aesthetics. Lug-to-lug, the watch measures about 44mm with twisted lug widths of 18mm each, giving it a symmetrical and well-balanced look. Furthermore, it is only about 12mm thick and 44.5 mm in height, making it the ideal watch to carry almost everywhere. You certainly won't have a hard time squeezing this watch under your shirt's cuffs as its proportions are of the right measurements.
With its nicely brushed top and accessible crowns at the 4 o'clock position, this timepiece has an insanely luxurious and elegant vibe. The shiny sides of the watch also give it more character than it already has. However, unlike other sports watches in the market, this intricate watch can only withstand water pressure of up to 30 metres. This means that you cannot bring it to your beach trips and water sports activities. Moreover, the caseback of the watch is polished, with the brand's official signature and hippocampus logo sitting nicely on the surface. While it does not give us a glimpse of the watch's solid movement, the simple and secured structure will protect the caseback against all kinds of threats.
Material and Bezel
In terms of longevity, you do not have to worry as the timepiece is made out of a durable stainless steel material that will most likely handle slight impacts. The gorgeous and uncomplicated appearance of the tachymetric scale, embedded in the bezel, also adds up to the attractiveness of the watch. Matching the dial, the bezel sports a black colour, allowing a more masculine and straightforward atmosphere. If you are into racing or your profession requires meticulous tracking of time, particularly speed and distance, then this piece will help you get by. Indeed, this watch is a minimalist accessory that serves a great purpose.
Dial

At first glance, you would probably confuse the Omega Speedmaster Reduced 3510.50 with the Omega Speedmaster Professional Moonwatch because of their dials. This is also the reason why the two models are often compared to one another, especially in terms of their tough exteriors and overall aesthetics. However, upon a deeper and closer look, you will realise that the Speedmaster Reduced 3510.50 is a distinct timepiece on its own.
Firstly, the chronograph watch's dial is in cool black colour, with hands and hour-markers all exhibiting a crisp and clean white look. Specifically, both hour hand and minute hand are in sword form, giving the watch a more high-tech aura. Meanwhile, the second hand only follows a simple stick layout that goes all the way to the end. Following an unconventional layout, the hour-markers are numberless but labeled with striking minute-markers in 5-minute increments just below their main placements. Moreover, all the indexes and hands also feature luminous elements, powered by the Tritium technology, for better visibility, especially in dim light conditions.
Sub-Dials
One thing worth emphasizing though is that the corresponding hour-markers, where you can find the sub-dials, are slightly shorter than the rest. This is mainly because the counters are swept far away from each other towards the bezel, while still providing a symmetrical illusion. However, this detail does not create a massive distraction and confusion at all.
Swaying away from complexities, this timepiece is also equipped with a small seconds counter at 3 o'clock and a 30-minute totaliser at 9 o'clock. Peeking through the middle of 4 o'clock and 5 o'clock positions, you will also find a 60-minute indicator. All the Arabic numbers you see in the sub-dials follow the same font as the minute-markers in the main dial and the "Automatic" text in the signature.
Crystal
As if the design is not enough, the watch features a domed Hesalite crystal. This is one of Omega's primary protection barriers that is used in most of its timepieces. Significantly, Hesalite is made out of tough plastic, which is usually used as a component in making eyeglasses and display containers, among others. Omega decided to incorporate this crystal into their watches because it can be transformed easily to whatever shape you want to create. In other words, this material is flexible to the point that in the event you accidentally drop your watch, the glass exterior would not be shattered but would most likely create only a crack on its surface.
However, there are also things you need to remember when you purchase the Omega Speedmaster Reduced 3510.50. Compared to other crystals from other manufacturers, Hesalite is not good at resisting scratches. Subsequent marks will also cause hindrance to the overall visibility of the watch. This is why you need to be extra careful in handling your watch despite the case being heavy-duty, as mentioned earlier. To avoid such unfortunate events, you might want to avoid using the timepiece on extreme outdoor activities such as rock climbing and hiking.
Movement

When it comes to its core, you can only expect the best from this model. It uses the groundbreaking Omega 3220 automatic movement, which is based on ETA's 2890-A2 calibre, with a Dubois-Dépraz 2020 chronograph module mounted at its peak. Watch enthusiasts call the movement mechanisms' stacked appearance as "piggyback." Notably, the addition of the module gave the caseback a bulging appearance despite the sleek and compact arrangement of the movement. The pushers at the side of the watch are also higher than the crown, leading to a slight misalignment that is almost unnoticeable. If you are a perfectionist, then there is a high chance that the detail will bother you. The frequent need for service and repair can also be a hassle to the wearer. However, overall, this watch does not have any deep problems with regards to the capabilities of the premier Omega movement.
It should be noted that the continuous upgrade of the calibres in Speedmaster Reduced watches caused confusion among watch lovers. Despite this, all movements are technically the same in appearance, with just minor tweaks and improvements on the side.
Moving on, the movement runs with a whopping power reserve of 40 hours and a frequency of 28,800 vibrations per hour. It also features a rhodium material, giving it a gleaming effect. Known for its long-lasting properties, rhodium also protects the insides of your watch from any possible damage. Despite the lack of a power reserve indicator that aids in easier time tracking, this watch will surely accompany you for generations to come.
Bracelet
Matching its case, the Omega Speedmaster Reduced 3510.50's bracelet is made with steel. This gives the versatile timepiece an even more vigorous and potent design.  Those who are fond of small details will surely like the clasp's aesthetics. Particularly, the clasp has the classic Omega logo, as well as the Speedmaster text on its bottom. With the dials and bezel sporting a black-and-white theme, you can turn this watch into whatever fits your lifestyle and personality by replacing the bracelet. Doing this can also give your watch more distinction. From black or brown leather bands to ceramic straps, there are a lot of options out there you can choose from.
Other Versions of the Omega Speedmaster Reduced
If you are already on a hunt for your own Omega Speedmaster Reduced, it is important to remember that all models under the line sport the same small case. Certain features were just added such as leather straps and yellow-gold accents on the dials and crowns. Moreover, Omega also released Speedy Reduced versions with date, day-date, and moonphase indicators to give the collection more variety. Here are some of the other models you can add to your must-have list:
1. Omega Speedmaster Reduced Ref. 3810.61.41

Looking for something to pair with your daring and quirky personality? The Omega Speedmaster Reduced Ref. 3810.61.41 might just be the perfect one for you. This timepiece is a show-stopper, thanks to its bold and appealing colour. Like the Speedmaster Reduced model mentioned earlier, this watch has a 39mm case made out of steel. Released in 1996 as part of the Michael Schumacher collection, it also has a black tachymeter scale that compliments well with the hue of the dial and the strap.
It is not very difficult to differentiate this one with the classic Speedmaster Reduced in 3510.50 variant. While it also has a power reserve of up to 40 hours, this one runs on an Omega 1143 automatic movement. Moreover, this watch is water-resistant up to 50m, which makes it suitable for activities in shallow water. In terms of style, we have a blood-red dial and domed sapphire crystal glass with an anti-reflective coating on both sides. The placement of the sub-dials, as well as the hands' style, is just the same as the aforenoted model. However, the second hand is in an orange hue and the lugs and crowns are in silver. There is also chess-like imagery on the edges of the watch and the indexes and hour markers are luminescent, which makes it a closet essential.
Another difference is a bit more obvious: the strap. This one has a red strap with gorgeous white stitchings on both sides. If you are more of the adventurous type, this head-turning model also comes in blue-coloured and yellow-coloured dials and straps.
2. Omega Speedmaster Reduced Ref. 175.0043-1

Here we have another dress watch guaranteed to steal your attention. Right off the bat, this is a conversational piece that bears a different look than the Omega Speedmaster Reduced 3510.50. The Omega Speedmaster Reduced Ref. 175.0043-1 with the calibre Omega 1155 suits people whose motto in life is to always keep it basic.
Unlike the previous model, this one has a lot of differences from the 3510.50 watch. For one, its detailed bezel is in silver, which has a stiff and industrial feel to it. While the main dial is in black, the sub-dials boast a white colour with a different layout. Instead of a 3-6-9 position, the sub-dials are in a 6-9-12 arrangement, with hands all in black tone. Moreover, the well-made platinum-coloured hands complement the panda presentation of the watch.
However, the key point of this watch lies in the middle of 2 o'clock and 4 o'clock. It has a nice and subtle date window, with a font that is pleasing to the eye. Bringing its sophisticated look altogether, it also comes with a patterned black leather strap, with two bumpy line details on the surface. The signature adjacent to the date indicator makes the appearance of the dial well-synchronized. With these facts presented, you can never go wrong with this Speedmaster Reduced model.
Why Buy An Omega Speedmaster Reduced?
It has a reasonable price. As mentioned above, this watch is the best alternative to the Omega Speedmaster Professional Moonwatch. Therefore, expect that this watch will have a slightly affordable price than its sibling. However, since Omega no longer creates brand-new models of the Speedmaster Reduced, the only option you have now is to rely on several authorised online websites.
It is a great piece to own. Need we say more? Despite the few minor flaws in its structure, it is hard not to fall in love with this watch for it offers practicality. While keeping up with the trend can make you more stylish and modern, it is also great to occasionally step out of your comfort zone by going for a watch that is quite uncommon yet has fantastic value. The Speedmaster Reduced is the perfect example of this, and it is a timepiece that reflects Omega's devotion to its consumers and its artistry.
A Quick Look At Omega's History
Omega's humble roots can be traced back to 1848 when Louis Brandt decided to institute a small workshop in La Chaux-de-Fonds, Switzerland, where he could improve and hone his skills in watchmaking. Afterward, spectators started recognizing Brandt's incredible talent through his invention of key-wound precision pocket watches made out of locally produced parts. This particular event brought him massive market success not just only in Switzerland, but also in other parts of Europe such as England and Italy. It also proved not only Brandt's loyalty to his homeland but also his dedication to honouring the Swiss watchmaking field.
While Brandt's sudden death in 1879 brought a huge shock to the industry, Omega continued to flourish and attain glory. In just a year after their induction to the company as the newest persons-in-charge, Louis-Paul and César were able to move the company then called Louis Brandt & Fils and its activities to Biel/Bienne, where most factories and production houses were located. This signaled the start of Brand's new legacy — one that is not only limited to Europe but throughout the world.

Among the significant horological innovations Louis-Paul and César came up with is the wristwatch that has a minute-repeating ability. Perfect even for people with visual impairments, the watch houses a powerful calibre, coupled with an aesthetically-pleasing composition. However, if there is one thing that can ultimately define the brand, it is Brandt's sons' 19-ligne calibre invention that brought the company to greater heights. Above all, this circumstance prompted the birth of the iconic name Omega.
Final Thoughts
The Omega Speedmaster Reduced was, indeed, the perfect way to reach out to regular consumers, who wanted a timepiece that could accompany them in their daily activities. Although its features often go unappreciated, this automatic watch is truly a gem for its excellent aspects and fancy appeal. With the increasing curiosity for this model, it will be quite interesting to see whether Omega will bring it back to the market. Despite the brand's expansion of its automatic watch offerings, the Speedmaster Reduced will always remain as an extraordinary piece among Omega's wonderful lineup.
Can't get enough of Omega watches? Check out our articles about the Omega Speedmaster Professional and the Omega Railmaster. 
Featured image courtesy by Quintin Smiths on Flickr. Other photos are from the Omega official website.