New & Feature
All You Need To Know About the Exciting Gorilla Watches
Sep 27, 2021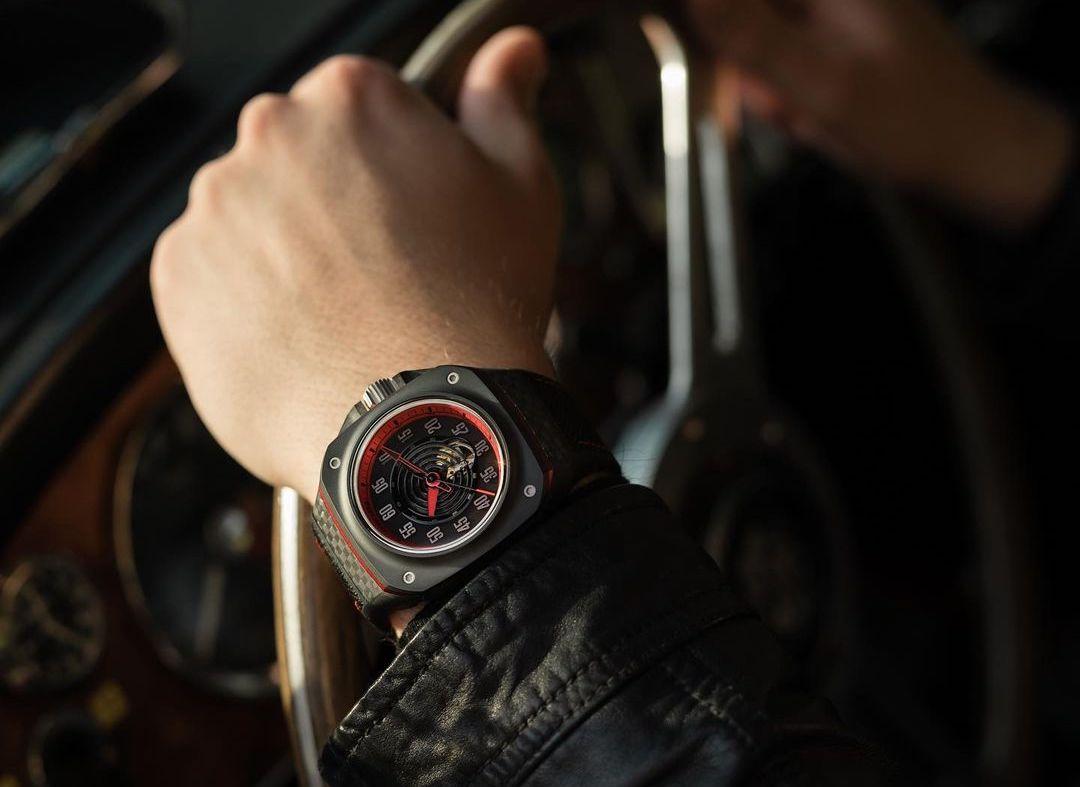 When we think of motorsports and racing-inspired timepieces, Tag Heuer, Omega, Breitling, Panerai, and Hublot tend to be the first names that ring a bell. That said, there are many other dependable and talented sports watch brands that provide the same level of expertise and mastery, and one of them is Gorilla. Hailing from the land of horology, Switzerland, the brand is home to many unique and cutting-edge timepieces that are inspired by iconic luxury sports cars. As the brainchild of a former Audemars Piguet head designer, you can already expect Gorilla watches to excel in terms of both appearance and performance.
Many of you most likely have not heard of this brand, especially those who are new to watch collecting. However, Gorilla has been slowly conquering the industry with its creative approach to timekeeping. What makes Gorilla stand out among its close competitors? How do Gorilla watches compare against the global watch giants? Read on to learn more about Gorilla and how it has paved its way into becoming one of the rising Swiss watchmakers.
Gorilla Watches Collections
At present, the brand houses a total of three collections. Unlike other brands, Gorilla's collections do not have sub-families, which is why their concepts and the differences between them are easier to understand, even for the newbies. From time-only pieces and fully-functional chronograph models to watches with skeletonised dials, Gorilla has definitely got your needs covered. Without further ado, here are the main Gorilla watch collections.
1. Complications Collection
As its name suggests, the Complications collection features watches that have additional features apart from their built-in time-telling capabilities. These include the common chronograph functions as well as the intriguing wandering hours complication, which lets you track time through an arc. In addition, the Gorilla models in this collection come in vibrant shades of blue, yellow, orange, and green, and use high-performing ETA movements. They also have water resistance ratings of at least 100-metres, which is enough for snorkeling and swimming. Apart from its innovative technology, the Complications series is also known for its strategic dial design that is reminiscent of car rims and wheels.
2. Fastback Collection
Looking for time-only pieces with aesthetics that sway away from the norm? Then you better check out Gorilla's Fastback collection. While they do not have any complex complications, the Gorilla watches under this line are some of the best and stylish motorsports-inspired watches in the market today. Their colour combinations are quite flexible, with the majority leaning towards quintessential black and white tones. As such, you will not have any problems pairing Fastback watches with most of your outfits. Apart from bearing forged carbon cases and ceramic bezels, these watches also provide legibility and comfort, thanks to their Super-LumiNova coatings, and FKM Rubber & Cordura™ straps.
3. Fastback GT Collection
For a more enjoyable time-telling experience, the Gorilla Fastback GT collection has straightforward timekeepers that allow wearers to admire their movement from both the front and back. These Gorilla watches are perfect for people who want to learn more about the technicalities of watchmaking, or just admire how these mechanisms beat and work. Bearing cases and crowns made out of forged carbon and titanium, all Fastback GT models have exquisite skeletonised dials.
Gorilla Watches: Our 7 Best Picks
Gorilla is one of the few young watch brands today that pays great attention to producing breathtaking and high-quality watch designs. Often compared to brands like Richard Mille and SevenFriday, this company is certainly not afraid to take great risks. With a diversity of fun, automotive-inspired models to choose from, it can be hard to select just a few perfect pieces to add to your collection. To help you make up your mind, here are a few Gorilla watches worth checking out.
1. Gorilla Fastback Original

Specifications:
Case material: Forged carbon
Case dimension: 44mm
Movement: Automatic
Power reserve: 42 hours
Water resistance: 100 metres
It would only be right to start this list with a flagship model from the brand. Gorilla likes to use not just one but numerous materials to craft its watches' exteriors. That is why the Gorilla Fastback Original comes in a 44mm square-shaped forged carbon case and a sturdy titanium caseback. The addition of a brushed ceramic bezel with four visible screws on each side gives the watch a high-tech feel. The watch also boasts a red and black colour scheme that enhances its sporty and fierce appeal. All men, regardless of their status and profession, will surely appreciate the details of this timepiece.
The dial of the Gorilla Fastback Original is extremely reminiscent of luxury sports cars. The minute track on the rim of the dial especially resembles the dashboards of sports cars. Boasting a minimalist yet jaw-dropping look, this dial comes in a cool black tone that contrasts well with the luminescent white Arabic numeral hour markers. Rather than the standard 12-hour layout, the indices of this Gorilla watch come in five-minute increments instead. This allows wearers to read the time quickly and accurately. The skeletonised minute hand is a vibrant red, adding a splash of colour to this otherwise monochrome dial. All the hands are also coated with luminous material for greater readability in low-light conditions.
Powering the Gorilla Fastback Original is the Miyota 8215 automatic movement. Aside from boasting a power reserve of 42 hours, it also beats a frequency of 21,600 vibrations per hour (vph). The bold, masculine look of this watch is completed by a black leather strap with red stitchings on both sides and a pin buckle made out of titanium. Priced at around $4,000 USD, the Gorilla Fastback Original is a sleek sports watch bound to leave everyone in awe.
2. Gorilla Fastback GT Drift

Specifications:
Case material: Layered forged carbon
Case dimension: 44mm
Movement: Automatic
Power reserve: 38 hours
Water resistance: 100 metres
The Gorilla Fastback FT Drift looks a lot like the previous model. From the colour combinations and structure down to the materials used, there is a great deal similar to the Gorilla Fastback Original. Indeed, new collectors and the unacquainted might have a hard time telling them apart. However, when you inspect its parts and specs sheet closely, you will realise that it is a distinct piece after all. It has the same futuristic look as all the other Gorilla watches, but the Gorilla Fastback FT Drift was specifically created in collaboration with top Swiss movement manufacturer Vaucher Manufacture Fleurier. As such, this piece runs on an advanced and fully engineered mechanism that no other brands could replicate.
Bringing the word "chic" to life, the Gorilla Fastback GT Drift comes in a 44mm forged carbon case and a Viton rubber strap in black and red. Its dial boasts an arrow-shaped hour hand, a seconds hand in a simple stick format, and luminescent hour disks and indices. There are also railroad-like markings on the rim of the dial and screws on the ceramic bezel for greater security. However, what makes this Gorilla watch truly unique is the G-5238 wandering hours complication that it comes with. Though considered a fairly old feature, it is very visually appealing and useful to those who want to know more about watches. Originally devised for Pope Alexander XII, this complication consists of rotating discs that show hours and an arc-shaped track that displays the minutes.
Powered by a base 2824-2 automatic calibre created by ETA, the Gorilla Fastback Drift beats at 28,800 vph and has 38 hours of power reserve. This movement also provides the watch with a handy stop-seconds function. Finally, the Gorilla Fastback Drift, which retails at around $3,200 USD, comes with a water resistance capacity of 100 metres. With this Gorilla timepiece, you could easily visit the beach in style.
3. Gorilla Thunderbolt

Specifications:
Case material: DLC coated Grade 5 Titanium
Case dimension: 44mm
Movement: Manual, winding
Power reserve: 42 hours
Water resistance: 100 metres
Right off the bat, you will notice that the Gorilla Thunderbolt has a very flamboyant yet sophisticated appeal. Looking at it will remind you of Ford's Mercury Cougar muscle car from the late 1960s. Indeed, it is another notable example of an automotive-inspired watch from the brand, perfect for those who want a splash of colour in their lives. Crafted in partnership with talented movement manufacturer Dubois Dépraz, it has additional complications apart from its precise time-telling function.
The unusual face of this watch is sure to draw your eyes immediately, with its galvanic black skeletonised dial. Apart from having a sapphire crystal as its main protective barrier, the face of the Gorilla Thunderbolt also features thick hour and minute hands, and legible indices in five-minute increments that are all coated with advanced X1 Super-LumiNova. Reading time in the dark will not be a problem as long as you have the Gorilla Thunderbolt to keep you company. In addition, this model is the only timepiece in the Gorilla catalog to be equipped with a chronograph function. As such, its dial also boasts two sub-dials in black, neon orange, and powder blue tones, which add to the subtle complexity of this watch.
Beneath the dial of this watch is a bi-directional winding movement called the ETA 2892-A2. It has 21 jewels and beats at a frequency of 28,800 vph. It also has an anti-shock system and can power the watch for at least 42 hours. With only 99 pieces ever produced, this is the most expensive Gorilla watch on the market today, costing around $8,500 USD per piece. This is truly a must-have piece if you value utility and are looking for a Gorilla model that could be an instant looker.
4. Gorilla Bandit

Specifications:
Case material: Layered forged carbon
Case dimension: 44mm
Movement: Automatic
Power reserve: 42 hours
Water resistance: 100 metres
This entry from the Fastback GT collection is an actual stunner because of its gorgeous colour combination and mesmerising dial. While it may not be as expensive as the Gorilla Thunderbolt, the Gorilla Bandit has its own charms. Inspired by the famous 1977 product of Pontiac Trans Am called the Firebird Bandit, the watch has rose-gold elements all over its anodised aluminium pinstripe, strap, and dial. These rose-gold accents perfectly complement the lovely muted black of the forged carbon case.
Retailing at $1,350 USD, the 44mm gorgeous Gorilla piece in question comes with a matte black dial. The dial boasts rose-gold applied hour markers and a skeletonised hour disc with black outlines and white markers at the centre. Between 5 o'clock and 6 o'clock is an aperture that allows you to see the small but mighty movement in action. While this watch does not have any additional complications, the open caseback makes up for it, as it gives the wearer a peek at the complex motions of its inner mechanisms.
Just like the car that inspired this watch, the Gorilla Bandit is heavy-duty in every way. It features an anti-reflective and scratch-resistant sapphire crystal, while its bezel is made out of extremely hard, well-polished ceramic. This model is powered by a Japanese Miyota 90S5 movement. Vibrating at 28,800 vph, it also has a stop-seconds function that helps in maintaining its accuracy. If you want a multifaceted watch that you can match with just about any outfit, then the Gorilla Bandit is your best bet.
5. Gorilla Truffelhunter

Specifications:
Case material: Woven forged carbon
Case dimension: 44mm
Movement: Automatic
Power reserve: 42 hours
Water resistance: 100
The Gorilla Truffelhunter bears a similar layout as the Gorilla Bandit but comes in a softer and light-coloured body instead. This Gorilla timepiece is a tribute to the Porsche 917/20, a classic sports car that was used as a test vehicle in the 1971 Le Mans race. Though it may come off as feminine with its matte pink, red, and black theme, everything about this watch is classy and luscious.
Like the previous models mentioned above, the Gorilla Truffelhunter comes in a 44mm woven forged carbon case. However, its bi-colour Viton rubber strap has muted pink and red hues instead. It is powered by the same Miyota 90S5 automatic movement as the Gorilla Bandit, and its dial has a similar skeletonised layout. To add a more industrial feel to this watch, Gorilla utilised gunmetal-grey rhodium to create the indices. These indices contrast well with the bright red of the dial's rim, minutes hand, and seconds hand. Nicknamed the "Pink Pig"—the same nickname given to the Porsche 917/20 back in the day—this watch boasts a 100-metre water resistance rating, a titanium screw-down crown, and an open titanium case back engraved with the model name. Truly, this exquisite model that caters to both men and women is one of the most well-loved Gorilla watches available, costing $1,350 USD only.
6. Gorilla Svipe

Specifications:
Case material: Titanium
Case dimension: 44mm
Movement: Automatic
Power reserve: 42 hours
Water resistance: 100 metres
Next up is the Gorilla Svipe, which boasts automotive design elements and a bold hue that make it stand out. Made in collaboration with Alejandro Salomon, a famous producer and businessman in the United States, everything about this Gorilla watch just screams character and lavishness. Salomon's McLaren 730S was Gorilla's blueprint in creating this particular timepiece.
Priced at only $950 USD, the Gorilla Svipe is notable for being the first model from the brand to have a titanium case. The bead-blasted titanium case and Viton rubber strap both come with violet-coloured accents that correspond to the colour theme of Salomon's McLaren 730S. Deviating from the layouts of most Gorilla watches, this timepiece does not have an aperture between the 5 o'clock and 6 o'clock markers. Nevertheless, it still has the anodised aluminium flange at the centre and a sleek hour disc to complete its modern vibe. All the hands are coated with Super-LumiNova for improved readability at any time of the day. Under the hood of the Gorilla Svipe, we can find a Miyota movement that beats at 28,800 vph. With its decent specifications and truly beguiling colour scheme, the Gorilla Svipe is definitely a watch worthy of attention.
7. Gorilla Galaxy Blue

Specifications:
Case material: Layered forged carbon
Case dimension: 44mm
Movement: Automatic
Power reserve: 42 hours
Water resistance: 100
As a member of the Fastback line, the Gorilla Galaxy Blue looks divine. It is a testament to both Lukas Copp and Octavio Garcia's love for Muscle cars.  The alluring blue accents that highlight this automotive-inspired watch are eye-catching and breathtaking, making this a watch perfect for the dinner table.
Starting with the watch's exterior, the Gorilla Galaxy Blue comes in a 44mm titanium case that matches well with its FKM rubber & Cordura™ hybrid strap. The use of titanium makes this a rather lightweight watch that is easy to carry around compared to other luxurious sports watches that are made out of heavier stainless steel. As with the other Gorilla watches, the hands and indices of this timepiece are coated with Super-LumiNova. However, the Gorilla Galaxy Blue does not have a transparent caseback. As a high-performing sports watch, this model can resist water pressures of up to 100 metres, and has an anti-reflective sapphire crystal protecting the dial.
Lastly, the Calibre Miyota 8215 is what keeps this Gorilla watch up and running. It beats at 21,600 vph and has a power reserve of up to 42 hours. It even has a solid accuracy rating of -10~+30 sec per day, which further solidifies the Gorilla Galaxy Blue as a delightful model worth getting. This piece will set you back by only $880 USD, making it one of the cheapest offerings by the brand.
Price Range of Gorilla Watches
The majority of the Gorilla watches have similar price tags, which is great if you are planning to collect watches from this brand. As a company that prioritises the satisfaction of its customers, Gorilla ensures that its products are accessible to men from different walks of life. While they are not as affordable as brands like Seiko, the prices of Gorilla watches are definitely not too over the top either.
Gorilla watches retail at around $880 USD to $8,500 USD, depending on the specific model you are looking at. The prices vary depending on the materials used, the type of movement, and the complications offered. If you prefer Gorilla watches with straightforward time-telling functions, then the price tag is quite affordable. However, if you want extremely complicated timepieces or models made using expensive materials, then be prepared to shell out upwards of $3,000 USD per piece. Gorilla watches made in collaboration with known personalities, car brands, and other watch and movement manufacturers are also quite expensive, costing several thousand dollars each. That said, these collaborative pieces feature Gorilla's expertise in racing-inspired watches and serve as a testament to the company's passion for pure workmanship. Hence, they are certainly worth the price.
Do note that these Gorilla watches are made in limited quantities only. Monthly restocks are rare, and often never happen at all. A lot of Gorilla fanatics wait patiently for them to be released, so you can expect some pretty heavy competition for these Gorilla watches. Nevertheless, it will all be worth it once you finally get ahold of your own Gorilla timepiece.
Gorilla's Interesting Beginnings
Now that we've discussed the nitty-gritty of the brand, let us take a brief glance at Gorilla's fruitful and inspiring history. It all began in 2016 when the former head designer of Audemars Piguet, Octavio Garcia, decided to open his own company with his close friend and business partner, Lukas Gopp. Octavio Garcia felt that Audemars Piguet has already reached the pinnacle of its success with his leadership. As such, he decided that it was time for him to leave the company and start a brand with Gopp that both of them could proudly call their own. They chose to name their venture Gorilla in order to leave a huge and unforgettable impression among members of the watch community.

Today, the two dedicated designers work together to create stunning, attractive, and avant-garde timekeepers that continuously change and challenge the watchmaking industry. The experience Octavio Garcia and Lukas Gopp have accumulated in their previous careers with other top watchmakers is what makes Gorilla a brand full of great potential. Meanwhile, their shared passion for design is also what has led the company into becoming one of the up-and-coming Swiss watch manufacturers to look out for today. Though they still have a long way to go, Gorilla watches are definitely one to keep an eye out for.
Who Should Wear Gorilla Watches?

You do not need to be a racing, motorsports, or car enthusiast to see the appeal of a prestigious Gorilla watch. Anyone who wants bold, colourful, and easy-to-use timepieces would surely appreciate the watches from this brand. Aside from their rugged and masculine looks, these Gorilla watches can also make you instantly stand out from the crowd with their striking sophistication. Inspired by classic American Muscle cars, these Gorilla watches are true statement pieces that you can treasure for a lifetime.
On the whole, Gorilla is a brand perfect for watch enthusiasts who appreciates peculiar designs and compelling layouts. Gorilla watches are not as celebrated as the products of long-standing brands like Rolex, Patek Philippe, and Vacheron Constantin but they can definitely match them in terms of aesthetics, longevity, and value for money.
Final Thoughts
Pioneering, reliable, and extraordinary — these are the words that best describe Gorilla and its vast lineup of watches. The products offered by the brand prove how important the role of design is in watchmaking. Gorilla was able to show through their pieces that form and function should go hand in hand. It is this philosophy that has made them a respected name in the watchmaking field. Indeed, it is no surprise why they are consistently at the top of their game despite only having 5 years of experience under their belt.
If you are after innovative racing-inspired timepieces capable of showing you the future of horology, then choosing Gorilla is the way to go. Gorilla watches may not be everyone's cup of tea with their loud layouts, but they will surely make you appreciate the wonders of watchmaking. With the brand's continuous efforts to establish a bigger name in the industry, it will be interesting to see how Gorilla watches will evolve in the years to come. Regardless of where the future takes them, Gorilla can be regarded as one of the best modern watchmakers today, bringing performance, quality, and artistry with every one of their timepieces.
Want to know more about other underrated brands? Make sure to check out our articles on the 10 Best Seven Friday for Dress-Down Fridays, the 12 Best Certina Watches for Sports Fans and the Top 11 Shinola Watches With A Classic Design as well as our guide to the French brand Bell and Ross. 
Photos from Gorilla's official website unless stated otherwise