New & Feature
Grand Seiko SBGW231 Review: Your Elegant Stainless Steel Dress Watch
Sep 24, 2021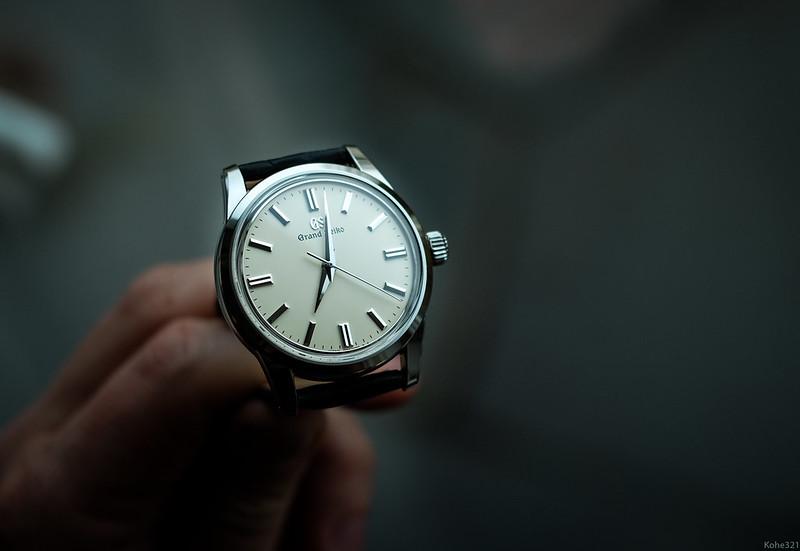 True watch connoisseurs who are always on the hunt for stylish, promising, and reasonably priced timepieces of high quality often resort and go for the Japanese brand, Grand Seiko. Though often hidden in the limelight of its incredible parent company, Seiko, the label is a notable watchmaker in its own right. Grand Seiko takes its craftsmanship and Haute Horlogerie seriously, with an elegant quintessential unmatched by many other brands.
One dress watch that stands out amongst Grand Seiko's offerings is the Grand Seiko SBGW231. It bears a classic design, with neat elements in the case, dial, and strap that effortlessly make it desirable for everyone. What's more, it also houses a manual-winding movement made using the finest materials—something that only the most capable luxury watch brands could pull off.
Why do many fanatics call the Grand Seiko SBGW231 the "true dress watch?" What are its other noteworthy aspects and feature that people should pay close attention to? Read on to find out more about why the Grand Seiko SBGW231 deserves a spot on your must-have watches list.
Grand Seiko SBGW231: The Perfect Epitome of a Classic Dress Watch

First Impressions
Right off the bat, it is relatively easy to see that the Grand Seiko SBGW231 is a watch of high quality. With its straightforward appearance, it is undeniably one of Grand Seiko's best, as it perfectly reflects the brand's signature nine tenets for the "ideal watch."
The SSBGW321 itself is not overly ornate but its minimalist, professional exterior made from stainless steel is undeniably luxurious. After all, it would not be part of the Elegance collection if it did not impress with its aesthetics, right? As far as first impressions go, this watch looks cleanly designed and robustly built from the dial, lugs, and strap down to the movement, caseback, and crown.
Grand Seiko SBGW231 Review

Now that we are done with first impressions, we will now delve deeper into what Grand Seiko SBGW231 truly has to offer. The following are the magnificent specifications and other important details about this watch that you should take note of.
Case: Stainless Steel
Case dimension: 37.3mm
Movement: Mechanical, Manual Winding
Power reserve: Approximately 72 hours (3 days)
Water resistance: Splash-resistant only
Case
The SBGW231 boasts a decent case size of 37.3mm with a thickness of 11.6mm. Most people like to use this as a daily watch instead, given its wide yet sleek appearance. To add, the watch weighs exactly 61 grams, which is quite light for a piece made out of high-quality stainless steel. Furthermore, the case's equal proportions also perfectly complement the well-polished lugs. The well-balanced proportions of both the case and the 19mm lugs allow you to easily slip this Grand Seiko dress watch under your formal shirt's cuffs.
That said, what makes this watch truly stand out among its other close competitors is the finishing of the case and lugs. Even without the presence of any patterns, precious stones, or other fancy ornamentations, its shiny, mirror-like finish makes it more enticing to own. This type of look can only be achieved through Seiko's signature Zaratsu polishing.
The Zaratsu polishing machine uses the front of the rotating disc to polish the surfaces of the watch instead of its sides. The extraordinary technique was used to give the cases well-defined edges and a mirror-like appearance. In fact, any wearer can see their faces clearly just by looking at the case, without any kinds of distortions at all. Many of you may think that any watchmaker can achieve this look just by buying the same machine. However, in reality, not every label can perfectly achieve and execute the same kind of finish, which is why it has now become a trademark of the Grand Seiko brand. The process of Zaratsu polishing is so meticulous, it requires at least three years of training before a craftsman from the brand can master this skill.
In terms of durability, you do not have to worry as the case is made out of tough stainless steel. Aside from being cheaper and easier to source, this metal can withstand major scratches, dents, and accidental impacts better compared to its titanium and platinum counterparts. This is why the SBGW231 is perfect not only for formal events but also for your daily commutes to work, where close contact with people is inevitable. While it is not as lightweight or rare and valuable as titanium and platinum, stainless steel ensures that the movement and other parts of the watch are protected from any kind of external threats, such as dust and moisture, which could otherwise affect its smooth operation.
Crown, Caseback, and Crystal
Another stunning feature of the SBGW231 is the crown. Screwed down using six screws, it is marked with the official emblem of the brand and has vertical-teeth edges that provide an easy grip. With the letters "G" and "S", the emblem gives off a grand feel and is the perfect symbolization of Grand Seiko's prestige and excellence. Although not protected by any crown guards, the crown is large enough to give any wearer the utmost convenience. The watch also has a water resistance rating of 30 metres. This number is pretty much understandable since the SBGW231 is a dress watch after all. While it can withstand some light splashes and rain, it is not advised that you bring this precious timekeeper to any water sports adventure.
When it comes to the caseback, Grand Seiko implemented a transparent sapphire crystal, almost as clear as water, that allows wearers to see and admire how the SBGW231's beautiful hand-wound mechanical movement beats under its surface. This sort of exhibition-style caseback is used only by popular luxury watch brands. This just goes to show how passionate Grand Seiko is when it comes to providing everyone with a memorable and unmatched timekeeping experience.
Sapphire crystal is also used to protect the SBGW231's dial. Sapphire crystal is the top choice of luxury brands, as it is strong enough to withstand all sorts of scratches and impacts. In addition, the sapphire crystal also comes with a pristine and clearer look, as opposed to its acrylic glass counterpart that has a more faded and vintage vibe. You just need to remember that if your sapphire crystal gets damaged, your only option is to replace it entirely with a new one, which can be quite pricey.
Dial

The classic dial of the Grand Seiko SBGW231 comes in an exquisite cream colour. It boasts baton-style indices, and dauphine hour and minute hands, all made out of pure stainless steel to match the watch's silver case and lugs. What's more, the indices and hands all have the same finish produced by Zaratsu polishing, for a cohesive and consistent look. The polishing gives the indices and hands a distinct, mirr0r-like sheen that allows for great contrast and legibility despite the lack of any luminous elements in this timepiece.
You may not notice it immediately, but the rectangular-shaped hour markers are also not simply placed to surround the dial. The 3 o'clock, 6 o'clock, 9 o'clock, and 12 o'clock markers have double baton markings for greater definition. They also stretch out all the way to the minute markings that provide balance. This design follows that of the 44GS, which was the first watch to utilise the Grand Seiko style. The brand further enhances the look of the dial by adding a stick-shaped stainless steel seconds hand. At the end of the seconds hand curves downwards, almost touching the dial, which is a nice and interesting touch.
As a straightforward timekeeper, the SBGW231 does not come with any fancy complications. Instead, it boasts a minimalistic style, with just a Grand Seiko signature sitting below the 12 o'clock marker to add to the watch's distinguished aura. Apart from its medium sizing, the delicate engraving of the logo and the texts sitting below are detailed and visually pleasing, enough that it could steal anyone's heart in just a second.
Movement

Other than its fantastic Zaratsu polishing and lovely dial layout, another highlight of the Grand Seiko SBGW231 is its powerful movement. The SBGW231 specifically uses a 24-jewel manually-wound mechanical calibre called the 9S64 movement. This same mechanism is also used in other versatile and more expensive dress watches by the brand, such as the SBGW235, SBGW262, and SBGW263. The surface of the 9S64 movement proudly presents a Grand Seiko logo at the top portion, while all of its parts, from the hairsprings and escape wheels down to the bridges and balance wheel, are crafted in-house with the use of various innovative technologies. Proving that it is indeed a remarkable engine, the Calibre 9S64 is one of the few hand-wound movements by the brand that is an ode to its chronometer-certified predecessor, the Calibre 3180.
In terms of technicalities, the 9S64 movement, which was introduced in a few Grand Seiko models in 2011, beats at a frequency of around 28,800 vph and has an astounding power reserve of approximately 72 hours. What's more, it is equipped with a thin mainspring made out of Seiko's own anti-magnetic alloy material called the SPRON510, and boasts an outstanding accuracy rating of -1 to +10 seconds per day. However, when the timepiece is static, the movement can be adjusted into six different stances and will be accurate from-3 to +5 seconds per day, which is still quite impressive. Such precision effortlessly exceeds the standards of other big watch brands and is more than enough to satisfy the mechanical timepiece junkies out there. For a mechanical watch with a fairly reasonable price point, these details are truly impressive.
Strap

We have given much praise to Grand Seiko SBGW231's sleek finish, exquisite dial, and powerful movement, but unfortunately, there is not much to say about its strap. It is a simple, quintessential crocodile leather band, which is a typical attribute of many luxury watches. Since the strap and its stitching on both sides come in a cool black, you will not have any problem matching this timekeeper with most of your ensembles, whether casual, formal, or business-themed. The tough pin-buckle, made from stainless steel, also ensures that the watch will stay glued to your wrist all day.
You do have the option of changing the strap into something more graceful and luscious, such as a stainless steel bracelet. However, finding the perfect replacement might be a challenge, since the Seiko SBGW231 has a lug width of 19mm, and there are not many 19mm straps available in the market. That said, if you do find a band design that perfectly suits your lifestyle and personality, make sure to seek an authorised repairman's help when you are replacing the strap of your SBGW231, so you do not risk damaging the watch in the process.
Price and Availability of the Grand Seiko SBGW231
The Grand Seiko SBGW231 is not hard to get your hands on since it is not a limited edition piece. Simply visit an authorised store in your area, or go to the official e-commerce platform of Grand Seiko, and check if they offer this model. For a more convenient shopping experience, you can even visit trusted online watch e-commerce sites and secondhand markets. Just be careful about counterfeit watches as Seiko, including Grand Seiko watches, are often the major targets of fake manufacturers. To save you time, we also have our own shopping website, which you can check from time to time to see if we have an SBGW231 watch in stock.
As of right now, a Grand Seiko SBGW231 has a retail price of around $4,475 USD. If you opt for secondhand pieces, expect them to come with slightly higher price tags because of tax and other important factors. However, there are still a few resellers who will sell the SBGW231 at below the retail price, but you should exercise caution before actually purchasing one. Make sure to check the condition of the watch through pictures, or ask for a certificate of authenticity to ensure it is a genuine Grand Seiko SGBW231 timepiece.
All About the Grand Seiko Elegance Collection
In 2017, Grand Seiko became an independent brand after Seiko decided to let go of its rights and let it shine on its own. This resulted in the removal of the "Seiko" signature from all of the label's products. As part of its efforts to expand its business and its reach, Grand Seiko divided its premier offerings into different collections for easier distinction. The Heritage line is home to intricate, glamorous pieces that truly define what Grand Seiko is all about, while the Masterpiece collection houses limited edition watches that showcase the brand's utmost dedication to fine workmanship. Meanwhile, the Sport series has a commanding yet sleek timepieces equipped with complications that are perfect for traveling, diving, and racing, among others. However, what stands out the most among the company's modern lines is the Elegance collection, which offers watches full of glamour, fanciness, and unique character that no other company in the industry could ever imitate.
The Elegance line was created in order to demonstrate Grand Seiko's mastery when it comes to its Japanese horological craft. Just like the other series in the brand's catalog, it draws inspiration from older Grand Seiko models whilst also incorporating modern touches in the watches' parts and movements. For instance, the pieces under the Elegance collection come with oversized crowns, sturdy cases made out of platinum, gold, or stainless steel, as well as dauphine style hour and minute hands.
Emphasising their distinct and minimalistic designs, the indices of these Elegance watches are almost all numberless and come in a baton-style, with the exception of few models which have diamond-studded hour markers. The subtlety of the signature below the 12 o'clock marker is also something worth noting. It is not distracting at all, allowing you to really appreciate the strategic and beautiful dial layout.
As dress watches, you can expect that most of these Elegance models are only splash-resistant. Nonetheless, they still charm everyone since the majority of these pieces come with additional useful complications such as a date window, a GMT function, a power reserve display, and a small seconds hand. Most of the Elegance watches rely on in-house automatic and Spring Drive movements for optimal performance. However, there are also still a few limited models that utilise cheaper yet trusty quartz movements, resulting in a major drop in price.
And just when you thought that the Grand Seiko Elegance collection could not get any better, the brand stunned everyone by releasing their sophisticated lineup of time-only watches. These may be a hit or miss for many considering how fast-paced our world is right now and how it is trendy to have watches with a ton of complications. Nonetheless, the brand still created these timekeepers as proof of their desire to continuously create ideal watches that embody grace and functionality all at once. Simple yet chic, these watches inherit vintage design cues from the very first Grand Seiko models released during the '60s. Indeed, one of these watches is the star of this article, the Grand Seiko SBGW231. It has quickly become one of the sought-after pieces among seasoned collectors and other members of the vast watch community.
Should you get a Grand Seiko SBGW231?
If you are looking for an entry-level luxury piece or you are fond of three-hand watches with no overly fancy complications cluttering the dial, then the Grand Seiko SBGW231 should be at the top of your list. It is a great watch to carry and use, especially if you are new to the world of Grand Seiko watches. There is no doubt that you will be the center of horological conversations once you purchase this watch. Not to mention, you will get a great bang for your buck with its powerful movement and exquisite Zaratsu finishing.
Final Notes
Handy, promising, and versatile — the Grand Seiko SBGW231 is certainly one for the books. It is another model worth adding to the brand's list of iconic timepieces and serves as proof that you do not need to shell out a huge amount of money to own a solidly-built, elegant dress watch. Moreover, it attests to how Japanese watchmaking also has its own level of prestige and does not equate to cheapness and poor quality. The SBGW231 model serves as a great eye-opener for everyone who is still questioning the reputation and abilities of Grand Seiko as a reputable brand. If you are looking for a decent dress watch to anchor your collection, and to accompany you to any of your daily, business, or formal endeavours, the Grand Seiko SBGW231 is undoubtedly the right choice for you.
Want to know more about Grand Seiko, its parent company, and the other admirable products they boast? Then do not forget to check out our comprehensive review on the Grand Seiko Snowflake as well as our articles on the Seiko 6105, Seiko Baby Tuna, and Seiko SRPB41.
Featured image by Kohe321 on Flickr
Other photos from Grand Seiko's website unless noted otherwise