New & Feature
Luminox Recon: An In-Depth Review of the Brand's Best Tactical Watch
Nov 12, 2021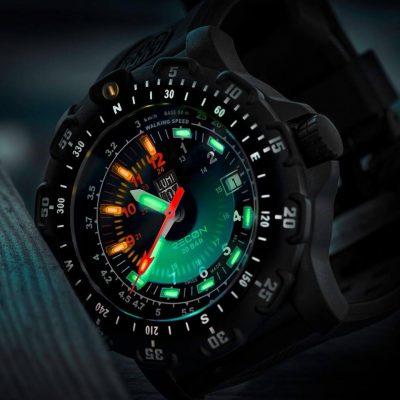 Rugged, stylish, and reliable — these are three words that best describe Luminox, the world's most trusted watch brand among elite forces professionals.  This Swiss watchmaker is always committed to its goal of only producing timepieces that are functional and of high quality.
Luminox's outstanding Land series is the result of Luminox's strong ties to and collaboration with law enforcement, particularly with Andrea Micheli, a former Swiss Army Military Security Non-Commissioned Officer. It is a collection of stylish, rugged, and multifunctional tactical watches made to withstand the harshest of conditions. These are the perfect outdoor watches for all your adventures. Of the whole Land collection, one of the best tactical timepieces in this collection is probably the Luminox Recon. Without further ado, let us dive into the Luminox Recon to see just why it is so impressive. 
Up Close with Luminox Recon Watch

Case: CARBONOX™
Case Diameter: 45mm-50mm
Dial: Black
Movement: Swiss Quartz
Water Resistance: 200 metres
Case and Crown
Luminox crafted the Luminox Recon's case to be sturdy and durable as possible. It boasts a casing made out of scratch-resistant stainless steel and CARBONOX™, which is known to be both extremely strong and lightweight. Luminox Recon models have sizes that range between 45mm-50mm in diameter. This makes the Luminox Recon ideal for someone who has an average-large sized wrist, or those who just love to wear bigger watches. 
In addition, the Luminox Recon comes with an oversized crown at 3 o'clock, which is protected by two large crown guards. This crown is equipped with a double security gasket. It seals the crown more securely and ensures that no moisture or dust can get into the watch so that its inner mechanisms remain safe from any damage. 
Dial and Bezel
The highlight of this Luminox Recon piece is, without a doubt, its stunning black dial, which comes with a bevy of tactical features. This field watch boasts striking silver hour and minutes hands that contrast against a vibrant orange seconds hand. The dial also features white Arabic numeral hour markers. From 9 to 12 o'clock, there is a countdown zone that can be utilised for time maneuvering. In order to better distinguish it, the numerals in this zone come in orange as well.
Aside from that, the dial is also furnished with Luminox's very own self-powered tritium gas tubes, which are fitted into the hour markers and handset. These tritium gas tubes give off bright orange and green glows and ensure that the dial of the Luminox Recon is readable even in poor lighting conditions.
Another fascinating feature of the dial is that it comes with a walking speed scale located around the rim of the dial, also known as a walking tachymeter. This allows users to measure and convert elapsed time.
Finally, this watch comes with a unidirectional ratcheting bezel in black. Made from titanium, this rugged bezel has protruding edges, which allow wearers to grip and turn the bezel more easily. It is also marked with a compass and a scale that allows wearers to record additional data, such as gravity, oscillation, and more. Indeed, the Luminox Recon is a versatile and functional navigation tool that is well-equipped for any adventure.
Movement 
Aside from its tactical functions, this Luminox Recon is also a sought-after piece due to the superb precision it offers. A top-notch Swiss-made quartz movement powers each Recon watch. It possesses a 42-hour power reserve and has a battery life that can last up to 60 months. Depending on the specific model you are looking at, it can offer a water resistance capacity between 100 metres to 200 metres.
Bracelet/Strap
The Luminox Recon is paired with a sturdy black rubber strap, which perfectly complements the watch's whole rugged look. This black rubber bracelet is exclusively designed by the brand to offer comfort to the wearer's wrist.
Price
What is great about the Luminox Recon is that you can get all of its outstanding tactical functions at a very affordable price of just $520 USD. If you are an outdoorsy person looking for a timepiece to be your companion on your next adventure, but you are working with a budget, the Luminox Recon is a great option. 
Four Reasons Why Luminox Recon Is a Must-Have Watch
Luminox has always been excellent in designing and creating top-notch and robust sports and tool watches perfect for elite force professionals across the globe. The Luminox Recon, in particular, is a very distinctive timepiece that has become a favourite of working military professionals. Pricing aside, there is a long list of reasons why opting to buy a Luminox Recon is the best deal you could ever make.
1. Durability
Luminox never fails to accomplish its goal of designing robust tactical pieces that are built to last. Of course, the Luminox Recon from the Luminox Land series is no exemption. With its stainless steel and CARBONOX™ exterior, this watch is crafted to withstand any harsh environment.
As a watch that is both strong and highly scratch- and impact-resistant, you can easily use the Luminox Recon for jogging, running, hiking. It is also waterproof to a certain degree, so you could even bring it for a swim. In addition, the lightweight profile of this  CARBONOX™ watch means that you can wear it on your wrist all day without feeling too much discomfort. 
2. Self-Powered Illumination
One highlight of any Luminox watch is its self-powered illumination system. The brand uses powerful tritium tubes that give its watches a vibrant glow that can last up to 25 years. This technology allows you to read the watch even in low-light conditions.
As previously mentioned, the hands, hour indices, and pip of the Luminox Recon are all generously fitted with tritium tubes. These tritium tubes come in bright orange, green, and red colours, which stand out well against the black dial and case and give the watch some playful variety.
3. 200-Metre Water Resistance Rating
All Luminox Recon watches are water-resistant up to depths of at least 100 metres. Some models even surpass that with 200-metre water resistance capacities. For a tactical watch that is not a dive piece, this is quite substantial, and you would be hard-pressed to find similar waterproof ratings in its competitors. 
4. Swiss-made Quartz Movement
Luminox placed a powerful and highly-accurate Swiss-made quartz movement underneath the Luminox Recon's core. Each timepiece from this series is designed and crafted to provide the best tactical time-telling experience for military forces and outdoor enthusiasts.
Best Selections of Luminox Recon Watch 
1. Luminox Land Recon Nav Spc Ref. 8831.KM

The first watch on the list of Luminox Recon alternatives stands out as a superb navigational tool. The Luminox Land Recon Nav SPC Ref. 8831.KM is a rugged tool watch that boasts a CARBONOX™ case, a solid black dial, and a matching black rubber strap.
The dial is furnished with green and white-toned hands and markers, making it easily recognisable from its counterparts. These colourful accents also serve to add a quirky vibe to this watch. Another thing that makes this Luminox Recon model stand out is the handy removable compass that can be found on its strap. In addition, it is also equipped with a walking tachymetric scale in kilometres, a unidirectional ratcheting bezel with a 24-hour titanium ring for its second time zone.
2. Luminox Recon Team Leader Chronograph Ref. 8841.KM

Next up, this Luminox Recon Team Leader Chronograph Ref. 8841.KM is a larger model, boasting a 48 mm diameter size. It features a CARBONOX™ case with a 316L stainless steel caseback. It also has the Recon's standard black rubber strap and a black dial. In this case, however, this model of the Luminox Recon is furnished with yellow and white-tone hands and markers.
This Luminox Recon piece stands out for being a chronograph watch. You can find three sub-dials dedicated to the chronograph functions at the 3, 6, and 9 o'clock positions. In addition, this watch is also equipped with a date display, a daily alarm, and a stopwatch. The $795 USD Luminox Recon 8841.KM is a durable and functional tool that would serve you well for any outdoor sport.
3. Luminox Recon Point Man Ref. 8825.KM

Last but not least, this Luminox Recon Point Man Ref. 8825.KM is famous among military personnel and watch enthusiasts because of its unusual look that stands out from the rest of the Luminox Recon series. Unlike most pieces in this collection that boast black rubber straps, this version offers a green NATO webbing strap that perfectly complements its 45mm CARBONOX™ case. Its black dial is furnished with white, green, and yellow-tone hands and markers, making it distinct from other versions.
This Luminox Recon model is also equipped with a unidirectional rotating, a date display, and a whopping 200-metre water resistance rating. This versatile watch is available for only $461 USD.
Alternatives to the Luminox Recon
Obviously, everyone has their own style and preferences when it comes to watches. Although the Luminox Recon is famous for its ruggedness and reliability in timekeeping, it might not be to everyone's tastes. As such, we have listed some of the top tactical watches that can work as alternatives to the Luminox Recon. 
1. Casio G-Shock GIZE Ref. GS-1400B-1AJF

Right off the bat, this Casio G-Shock GIZE Ref. GS-1400B-1AJF stands out as a rugged and sophisticated field watch. It features an oversized 49.88m black resin case and a sleek black resin strap. These perfectly match the black dial, which is furnished with silver-tone hands and stick indices. In addition, this watch comes with three chronograph subdials, which function as a full auto-calendar, a stopwatch, and a day and date display.
When it comes to performance, this Casio G-Shock is powered by solar technology, so you never have to worry about it running out of battery. If you are looking for a green timepiece that can keep with all your outdoor adventures, this Casio watch is an excellent option. It retails at a budget-friendly price of just $265 USD.
2. Garmin Fenix 6X Ref. 010-02157-14

If you are looking for a more innovative and modern tactical watch that separates itself from the pack, then you should check out this Garmin Fenix 6X Ref. 010-02157-14. Unlike most traditional tactical watches, this is a multifunctional smartwatch that is designed to be tough and reliable.
This Garmin piece has a large 51mm made of black DLC titanium, which pairs well with the striking black dial and light brown leather strap. It boasts a mix of digital and analog layouts, featuring traditional hands and hour markers on its LED display.
Moreover, what makes this watch truly stand out is the practical features it comes with, which include a multi-GNSS support app, ABC (altimeter, barometer, and compass) sensors, oxygen sensor, topographic ski maps, navigation apps, and many more. It also comes with numerous sports apps that allow for wrist-based heart rate tracking, hydration tracking, body battery energy monitoring, and so on. 
Retailing at $869 USD, this Garmin smartwatch is the ultimate user-friendly tactical watch.
3. Hamilton Khaki Field Ref. H69439111

If you enjoy minimalist styles, and you are looking for a tough and straightforward timekeeper, look no further. The Hamilton Khaki Field Ref. H69439111 is one of the most quintessential tactical watches you can get. This Hamilton piece comes in all-white, with a 38mm stainless steel case and bracelet that perfectly complement its exquisite white dial. In addition, this dial is simple and very easy to read, with only black Arabic numerals in a 24-hour layout and syringe-shaped luminous hands. 
In addition, this Hamilton Khaki Field watch is powered by a top-notch calibre H-50 movement with a whopping 80-hour power reserve. It is also equipped with a 50-metre water resistance rating, which means that this watch can easily survive a few accidental splashes. This understated watch can be purchased at just $629 USD.
Final Thoughts
Luminox is one of the most reputable Swiss brands in horology. The brand has long been the main manufacturer of robust and tactical tools watches for professional elite forces, which is a testament to the quality and reliability of its watches. 
The Luminox Recon, in particular, is designed to meet the needs of military professionals. It possesses the characteristics of a rugged and robust tactical watch and offers outstanding features that any sportsman or military individual would find useful. Without a doubt, the Luminox Recon watch is indeed one of the best options for outdoor enthusiasts.
Featured image from Luminox Official Instagram account.
All images courtesy of Luminox Official Website.
Want to discover other best tactical watches in the horology market and add to your growing collections? Why not spare some time to check our article about the 15 Best Tactical Watches.