Watch Guide
Hardlex Crystal: How Does It Compare To Other Crystals?
Mar 09, 2021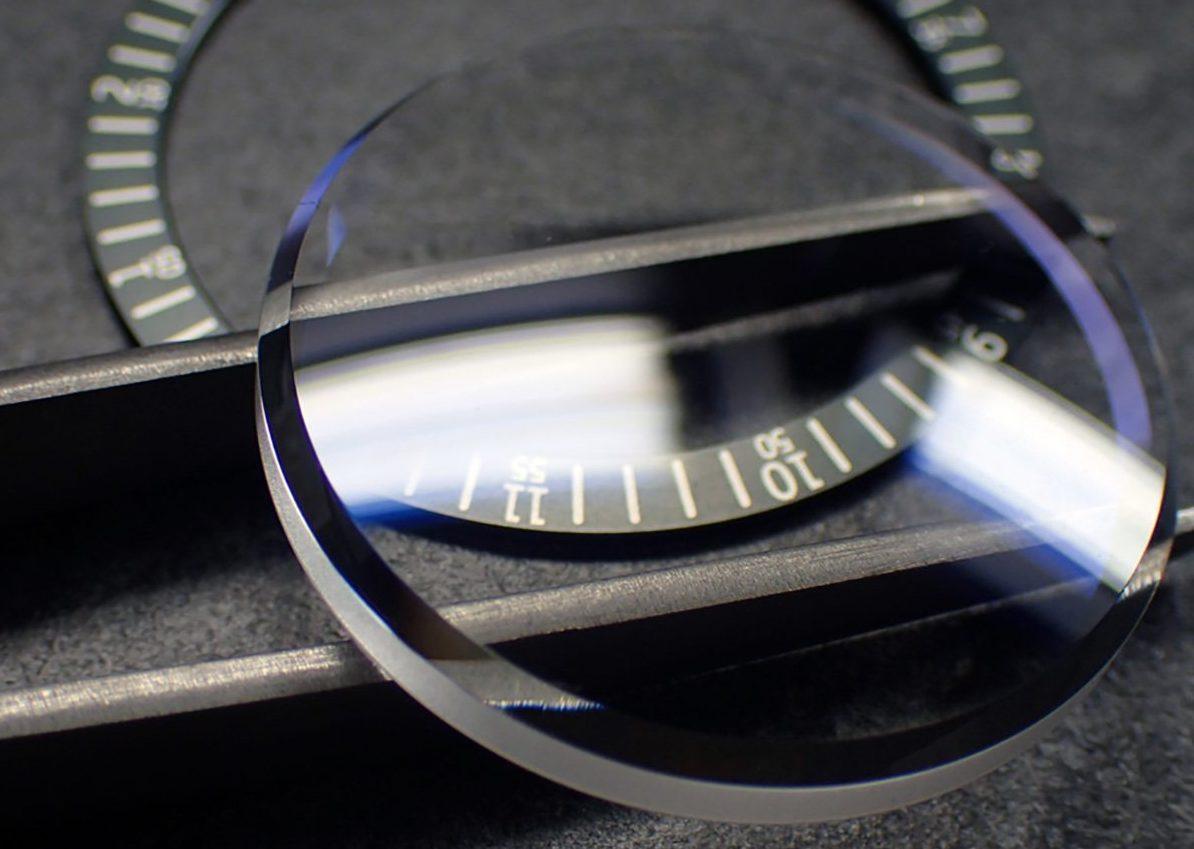 One of Seiko's most important creations is the Hardlex crystal. Ever since its creation, it has been used in many Seiko models. Read on to find out how this one compares to other popular watch glasses in the market.
What is Hardlex crystal?
Simply put, Hardlex crystal is a proprietary watch crystal made by Seiko for some of their watches. Depending on the model, the Hardlex crystal may or may not come with an anti-reflective (AR) coating.
Hardlex is made by heating and chemically treating ordinary glass. These modifications increase the mineral's resistance to scratches and shatters. To add, Hardlex crystal is mostly seen in entry-level Seiko watches like the Seiko 5 series.
Hardlex Crystal vs Acrylic
Acrylic crystal is one of the oldest options on this list. In fact, it can be seen in many vintage watches like the Rolex Datejust and Rolex Day-Date. One major downside of this type of crystal is that it is weaker compared to Hardlex. In fact, it is one of the weakest types of watch glass. On the upside, acrylic can be polished to look brand new again. To add, these are easier and cheaper to replace compared to other types of crystals.
Hardlex Crystal vs Sapphire Crystal

When you look at the universal scale of hardness, the only thing above sapphire is diamond. That being said, watches with sapphire crystals are significantly more scratch-resistant than those with Hardlex. However, being scratch-resistant and shatter-resistant are two things. During a strong impact, a sapphire crystal will more likely shatter compared to Hardlex crystal. Furthermore, sapphire is also more expensive compared to Hardlex.
When to choose Hardlex crystal?
1. If you're getting a tool watch.
As mentioned above, Hardlex crystal does not shatter under heavy impact, unlike sapphire crystal. That being said, this type of watch glass is a good match if you're going to use the watch in adventures like diving, hiking, etc.
2. If you're tight on budget.
One way to shave a few dollars off a watch's price tag is to use cheaper materials — Hardlex crystal. So, if your budget is limited and you need something durable, check out watches with a Hardlex crystal as they are more likely to be cheaper compared with watches with sapphire crystal. Many people would say that Hardlex is the perfect combination of durability and cost-effectiveness.
Best Watches with Hardlex Crystal
1. Seiko SKX007

Specs:
Case material: Stainless steel
Case dimension: 40mm
Movement: Automatic
Water resistance: 200m
The Seiko SKX007 has always been a cult classic for its looks and reliability. Indeed, this robust little dive watch is often recommended whether you're still starting or if you're already a seasoned watch collector.
In terms of aesthetics, the Seiko SKX007 is a fairly minimalistic watch that a lot of fans admire. Its dial has only the things you need for a dive and nothing more. The indexes and hands are thick and applied with lume so you can easily read time in the dark. Furthermore, it has a classic black and white colourway so it will easily work well with most of your wardrobe.
Another reason why this watch is well-loved is because of its price. For those who do not know, it costs less than $600, which is tempting for a dive watch. Seiko was able to shave a few dollars off its price tag by using cost-effective materials like the Hardlex crystal. Many enthusiasts think that the Hardlex crystal is perfect for the watch because it blends in well with the flat bezel insert.
All in all, you can never go wrong with the Seiko SKX007. Its reliable movement, as well as its sturdy Hardlex crystal, will serve you for years. There's a good reason why this watch remains an icon.
2. Seiko SNK803

Specs:
Case material: Stainless steel
Case dimension: 37mm
Movement: Automatic
Power reserve: 41 hours
Water resistance: 100m
Speaking of fan favourites, another one to look out for is the Seiko SNK803. But instead of a dive watch, this comes in the form of a field watch. On the dial, you get the typical two-ringed layout with the outer ring indicating the minutes, while the inner indicates the hours. At the 3 o'clock position is the day-date windows. And, of course, the whole dial is protected by Seiko's own Hardlex crystal.
Meanwhile, the back of the watch is see-through so you can admire the movement in all its glory. To be specific, it runs on the Seiko 7S26B, which is self-winding and has a power reserve of up to 41 hours. However, this does not include goodies like a hand-winding feature nor hacking seconds. But with its price (less than $100), it is easy to forgive the Seiko SNK803's shortcomings.
To stay true to the military theme, this watch comes with a NATO strap. Originally, the SNK803 comes with a beige strap but you can easily change it in an instant without using any tools. Thanks to its versatile dial, this watch will work with most, if not all, kinds of strap designs.
If you're on the hunt for a budget military watch, the Seiko SNK803 should be on your list. It is very affordable yet solidly built, so you can never go wrong with it.
3. Seiko Presage SRPE47J1 "Tequila Sunset"

Specs:
Case material: Stainless steel
Case dimension: 38.5mm
Movement: Automatic
Power reserve: 41 hours
Water resistance: 50m
Moving on to dress watches, we have the Seiko Presage SRPE47J1 which is sometimes referred to as the "Tequila Sunset". Staying true to its nickname, it has a pinkish dial that will remind you of the sweet cocktail. Furthermore, it has an interesting pattern that complements the minimalist dial. On top, it is protected by a Hardlex crystal that will surely keep it from being scratched.
Inside, it runs on the 4R35 calibre, which is mechanical and has an accuracy rating of -35/+45 seconds per day. It beats at a frequency of 21,600bph and can power the watch for up to 41 hours. You'll also be delighted to hear that it is equipped with Seiko's anti-shock system called the Diashock, so you wouldn't have to worry about dropping the watch.
This dress watch from the Seiko Presage collection comes with a stainless steel mesh bracelet. Aesthetically speaking, it blends in properly as its mesh pattern mixes well with the pattern on the dial. Overall, it gives off a distinctly Japanese look that Seiko is known for.
If you're on the lookout for an interesting dress watch, the Seiko Presage SRPE47J1 should be on top of your list. This watch will surely make heads turn.
4. Seiko Alpinist

Specs:
Case material: Stainless steel
Case dimension: 38mm
Movement: Automatic
Power reserve: 50 hours
Water resistance: 200m
The brand made the Seiko Alpinist with mountaineers in mind. That's why despite its slightly elegant dial, it is a robust tool watch that you can count on for an adventure. This makes it one of the most popular Seiko models in the market today.
Firstly, the Seiko Alpinist SBDC091 watch from the Seiko Prospex collection is known for its olive green and gold colour scheme. This may seem an unusual combination at first, but it definitely works on this watch. The hour markers alternate from Arabic numerals to triangular indexes, offering a clean look on the dial. Moreover, the watch uses cathedral hands for that vintage vibe.
While the dial sports sapphire crystal, its caseback uses Hardlex crystal. This allows you to admire the 6R15 automatic mechanical movement inside the watch. It beats at 21,600 bph and has an impressive power reserve of 50 hours. Another thing to be delighted about is its inclusion of hacking seconds and a hand-winding feature.
To complete the look, the watch comes with a leather brown strap with a crocodile pattern. Brown is an interesting choice and blends in well with the whole colour scheme. Moreover, it increases its elegance to make the Alpinist appropriate even when wearing a sport coat or blazer.
5. Seiko Turtle PADI

Specs:
Case material: Stainless steel
Case dimension: 45mm
Movement: Automatic
Power reserve: 41 hours
Water resistance: 200m
Apart from the SKX007, the Seiko Turtle PADI also gets so much love in the dive watch community. In fact, this model from the Seiko Prospex line was made in partnership with the Professional Association of Diving Instructors (PADI). To the unacquainted, it is one of the biggest scuba diver training organisations.
On the dial, it has an intriguing Pepsi colourway that's also useful for timing dives. The blue part of the unidirectional bezel means it's still safe to stay underwater. But once your minute hand reaches the red part, it means you have to return to the surface. Of course, the dial is protected by none other than Seiko's Hardlex crystal.
Inside, it runs on the 4R36 calibre which is automatic. To add, it has a manual winding system that many people will find useful. It has a total of 24 jewels and a power reserve of 41 hours. Moreover, the watch comes in a comfortable three-fold clasp with a secure lock and a push-button release with an extender. This makes it comfortable for the wearer while diving.
To make things more special, the watch's caseback has the words "Special Edition" written at the back. The watch's design, together with its features, will convince you that it is one of the most bang-for-buck dive watches around. 
6. Seiko 5 SNKL 48

Specs:
Case material: Stainless steel
Case dimension: 39mm
Movement: Automatic
Power reserve: 41 hours
Water resistance: 30m
If you're a fan of gold "baller" watches, check out the Seiko 5 SNKL48. This model is often dubbed as a cheap alternative to the Rolex Datejust or even the Rolex Day-Date. True enough, it shares the same gold colourway as well as the minimalistic dial.
This watch runs on the calibre 7S26 which is automatic. Unfortunately, it doesn't have the non-hacking and non-winding mechanism that some Seiko models have. But for its price, it's so easy to overlook this watch's shortcomings. Moreover, this movement can power the watch for up to 41 hours.
Overall, the Seiko 5 SNKL 48 is a no-frills watch that can keep accurate time. It is perfect for those who need an elegant watch that doesn't cost an arm and a leg.
Final Notes
Although Hardlex crystal is mostly found in entry-level watches, it doesn't mean that the material is sub-par. It can handle a few bumps and is still a good choice if you're on a budget.
Want to join the oversized watch trend? Here are 25 big watches for you!