New & Feature
Orient Kamasu: What Makes This Affordable Diver Distinct?
Sep 04, 2020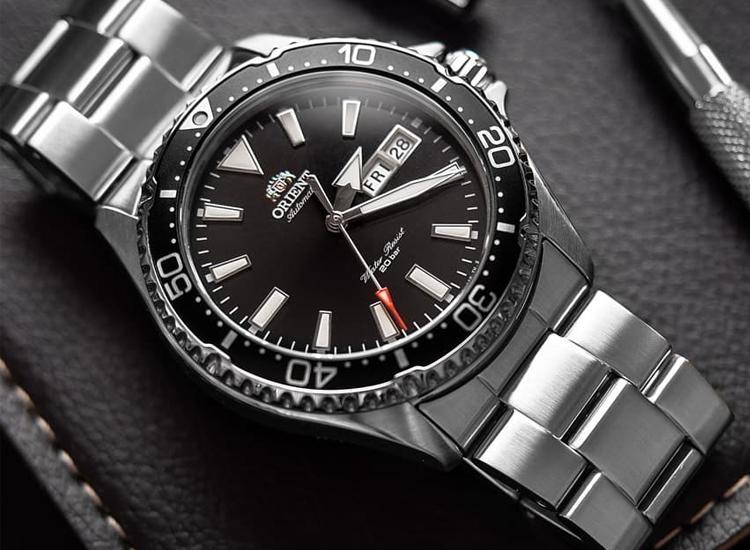 Orient certainly excels in bringing forth quality divers at a fairly reasonable price range. In fact, the brand remains one of the top choices for entry-level divers. Collectors and enthusiasts alike often recommend the brand and its great line-up of sports watches to first-time watch collectors.
The Orient Mako established itself as the flagship timepiece for the brand. However, a fairly new model from the brand itself overwhelms the forums with various questions. Upon its reveal, the Orient Kamasu surely attracted the crowd's attention. From the wild confusion of this timepiece as the Orient Mako III, the Kamasu strives to prove its merits to this day. So, what exactly sets the Kamasu apart from the Mako series?
In this guide, we'll dive a bit deeper into the utterly complex world of Orient watches. Are Orient and Seiko affiliated with each other? How do all these affect the way the Kamasu came about? Let's find out.

Orient Isn't a Seiko Affiliate, at all.
A common misconception surrounding the Orient Watch Co. refers to it being Seiko Watch Corporation's younger brother. Anyone would get confused especially since both Orient and Seiko are, in fact, under the Seiko Group. But the companies' affiliation with each other doesn't work that way. A lot of factors come into play when it comes to how these brands are or aren't connected to each other. In truth, the connection between the companies ends at that. They're nothing but brands under the same group of companies.
Companies Under Seiko Group
Seiko Group consists of three major or core companies.  Seiko Holdings Corporation, headquartered in Tokyo, handles Seiko Watch Corp. as well as other tech and lifestyle brands. Seiko Instruments Inc. or SII is a subsidiary of Seiko Holdings but functions in its own authority. Meanwhile, Seiko Epson Corp., headquartered in Suwa, Nagano, handles well-known brands such as printer brand Epson as well as Orient Watch Co.
In essence, Seiko and Orient function under different managements and, therefore, directives. Sharing only select similarities such as shareholders like the Hattori family, Seiko Holdings, and Seiko Epson have nothing else in common. Accordingly, Seiko and Orient must be treated as two separate brands and if possible refrain from associating them with each other.
With this in mind, yes, Seiko and Orient go on as equal competitors when it comes to affordable automatic sports watches.

Orient Watch Co.
Orient operates as a subsidiary of Orient Watch Company, Ltd. However, in 2009, Seiko Epson bought the company's assets and functioned as a subsidiary of the said company since. Later in 2017, Orient Watch Co. Ltd. dissolved and Seiko Epson absorbed its assets as its parent company.
Moreover, before it gets even more confusing for people, Orient has two functioning websites. Both of these are heavily referenced by a lot of enthusiasts when it comes to releases. These sites, more often than not, refer to various models differently. For instance, Orient Mako and Orient Mako USA are two different timepieces. This pattern applies to the famed Mako III and its existence. Now, one question remains: is the Orient Mako III what today we know as Orient Kamasu?
Orient Mako III Isn't the Orient Kamasu
Frankly, Orient just knows how to spark a conversation about their watches simply by naming or not naming them. You'll seldom find a number of enthusiasts argue about the existence of the Mako III. Some people would say that the Kamasu, indeed, possesses the makings of a Mako. However, the existence of Kamasu as a series of timepieces in itself proves that it isn't the Mako III and perhaps never was.
Mako, a popular line of affordable timepieces took over the world with its promising features. Over the years, it became a favourite among watch collectors given that it's way cheaper than Seiko automatics. With the additional updates like having a sapphire crystal or a different movement, the brand still keeps its price range reasonable. Through the years, Mako was relaunched under various names such as the Mako II, Mako USA, and even Mako USA II.
Unofficially, though, as fans point out, one watch fairly stands out from an unnamed mechanical sports watch on Orient's website. A lot of enthusiasts refer to the RA-AA0008B as the Orient Mako III. As Orient USA functions on its own, the watch did not appear on the website until recently. However, before its release in the US market, the RA-AA0008B would only be referred to as "44mm Mechanical Sports Watch". Only until recently that Orient USA named the timepiece the Orient Kanno.
The Orient Mako III might as well be non-existent at this point, but the theories remained in watch forums given the similarities of the Kamasu and Mako watches. Moreover, there's no denying how Kamasu watches appear alongside Mako watches when you look up 'Mako' on Orient USA's website. It's a shot in the dark but also gives a lot of watch theorists the evidence to build upon.

Codename: Kamasu
While Mako remained just a nickname that the fans gave the series of watches and was later adopted by the brand, the Kamasu came out directly from Orient itself. A shortfin mako shark will surely give you chills just by the mere thought of it, but a barracuda turns out just as scary, if not more terrifying than, as the shortfin mako shark.
'Kamasu' or barracuda refers to a very fast predatory fish. Its speed goes faster than 150km per hour. This fish also grows up to five feet in length. With a slightly longer under jaw than the upper jaw and a very sharp set of teeth, its imagery comes straight from nightmares.
Orient takes the most terrifying traits of a Kamasu and applies it to this watch. The teeth-like hands and 12 o'clock marker are sharp as its movement while its sapphire crystal proves resilient even in stressful situations. Just like the barracuda, the Orient Kamasu is one fearsome timepiece giant.
Orient Kamasu Watches
Orient Kamasu stands out for its bold design with little addition of luxurious details on the side of select models. So far, there have been 7 Kamasu models available for purchase. Here are their serial numbers and respective colourways for easier reference.
RA-AA0001B19A features a black dial and bezel with a silver stainless steel case and bracelet.
RA-AA0002L19A features a blue dial and bezel with a silver stainless steel case and bracelet.
RA-AA0003R19A features a red dial and black bezel with a silver stainless steel case and bracelet.
RA-AA0004E19A features a green dial and bezel with a silver stainless steel case and bracelet.
RA-AA0005B19A features a black dial and case with a black-and-gold bezel as well as a silicone strap.
RA-AA0006L19A features a blue dial and bezel with a silver stainless steel case as well as a silicone strap.
RA-AA0007A09A, a limited edition Kamasu, features a blue pearl-like dial on a silver stainless steel case and bracelet with a blue-and-rose gold bezel.
With that out of the way, let's now check out the great features of the Orient Kamasu.

Case
All Orient Kamasu watches feature a stainless steel case with the RA-AA0005B19A standing out due to its black PVD coating. However, all Kamasu cases measure 41.8mm in diameter without crown and 46.8mm lug to lug. It sits at 12.8mm in thickness. Hence, this watch should sit comfortably on your wrist. The 22mm lug width also makes it easier for anyone to change its straps to a more comfortable fit, depending on which one they prefer.
There's a mix of brushed and polished finish available for the timepiece. This surely adds a level of sophistication to the watch. Independent from the bracelet or strap, even the movement or dial design, Kamasu's case gives off a deluxe feel to it. In addition, it also has a signed screwed-down crown that definitely ups the watch's worth by a notch without having to apply it to the actual price. Not to mention, the sapphire crystal comes with great scratch resistance for better protection.
Given this detail, the watch's water resistance rating rests at 200m or 660 feet. This promising feature hits the nail right on the head. The Kamasu is a dive watch, alright? Don't be afraid to take it for a swim or a dive!
Bezel
The unidirectional bezel features an aluminium inlay with 120 clicks. All Orient Kamasu watches have stainless steel bezels with different variations when it comes to colourways. Most Kamasu bezels, as with RA-AA0001B19A and RA-AA0003R19A, come in silver/black colourways. Meanwhile, RA-AA0002L19A and RA-AA0006L19A feature a silver/blue bezel. On the other hand, the RA-AA0004E19A comes with a green bezel to match its dial. Standing out from the designs, the RA-AA0005B19A features a black-and-gold bezel. On the other hand, the Kamasu LE (limited edition) also has a gold bezel but on the rose gold shade.
The bezel includes a dotted pattern in between bold numerals, considered to be the design highlight of the watch. There's also an easy grip on the bezel so working with it shouldn't be at all challenging.

Dial
As stated earlier, the Kamasu takes inspiration from the barracuda when it comes to its design. The 12 o'clock marker, as well as the hands, demonstrates incredible sharpness. The hour markers from 1 o'clock up to 11 o'clock appear to have a slightly trapezoidal shape with the 6 o'clock marker slightly bigger. At 3 o'clock, you'll find a day/date window easily balanced by the inscription in the watch. At the upper part of the dial, the Orient logo and the word 'Automatic' brands the watch. Meanwhile, on the lower part, 'Water Resist 20 bar' boasts its depth rating.
The sharp hands make for easier reading with a bright lume that also applies to the hour indexes as well as the bezel.
The dial's colours vary depending on the model. The most popular lean on safer choices such as black and blue, but there are also bold colours such as red and green to break the design mould. Noticeably, the red dial model's (RA-AA0003R19A) second-hand doesn't have a red outline to stand out from its background. Meanwhile, the Kamasu LE features what appears to be a pearl-like texture to its blue dial to up its opulence game.
Bracelet or Strap
By default, most Orient Kamasu watches feature an oyster-style stainless steel bracelet that sits comfortably around the wrist. The fold-over, double push-button safety clasp further provide security and comfort. It's quite hefty but just right for a watch this big. Other models such as the RA-AA0005B19A and RA-AA0006L19A come with silicone bands with buckle clasps. More preferably used by divers due to their sturdy nature and the comfort it provides underwater, the silicone band proves popular.

Movement
Powered by the Orient Calibre F6922, this timepiece holds efficient energy for a modestly-priced watch. This automatic movement includes 22 jewels and vibrates at 21,600 beats per hour. This hand-winding and hacking movement is an in-house movement with a promising future and a rich history behind it.
With a power reserve of more than 40 hours, it remains on the efficient side of the range. To achieve full power reserve, winding the crown 30 times does the trick. Moreover, this movement has an accuracy that works within -15 seconds – +25 seconds per day. According to Orient's manual, wearing the watch for at least 8 hours a day assures and maintains its accuracy. The same movement powers the Mako II and the Ray II.
Difference from the Orient Mako
Given all these amazing features, one theory stands that the Kamasu was supposedly the Mako III. There's weight to that claim especially with all the similarities they have. For instance, as recently mentioned, they both function with the Orient Calibre F6922 automatic movement. But that's just a reach at this point since Ray II also uses the same Calibre.
However, there's a departure when it comes to the watches' dial designs especially between the Orient Kamasu, the Mako, and the Mako II. The Mako and Mako II both have Arabic numeral hour indexes at 6, 9, and 12 o'clock. On the other hand, the Mako USA and Mako USA II don't have Arabic indexes, but the shapes are close to the trapezoidal indexes of the Kamasu; however, still very different. Moreover, the hands of the Orient Kamasu are slimmer and sharper compared to the Mako.
Other than these differences, the case shape and materials remain similar between the two.

Pricing
Slightly more expensive than the Mako, the Kamasu sits between $200 and $300. However, this is still a pretty reasonable price for an automatic watch with sapphire crystal and a 200-metre depth rating. The retail price sits at $380 while the MSRP sits at $460.
One of Orient's Best Yet
The specs that come with this watch at its current price point beats everything else from the competitor's side. While the Mako remains to be the mainstream and perhaps the best Orient watch out there, the Kamasu is definitely worth considering as well. Don't sleep on this giant as it could be a historical piece in the making.
---
Can't get enough of Orient watches? Check out our guide to the Orient Bambino, Triton, and Mako.