Watch Guide
Rolex Prices: How Much Is A Rolex Watch?
May 13, 2019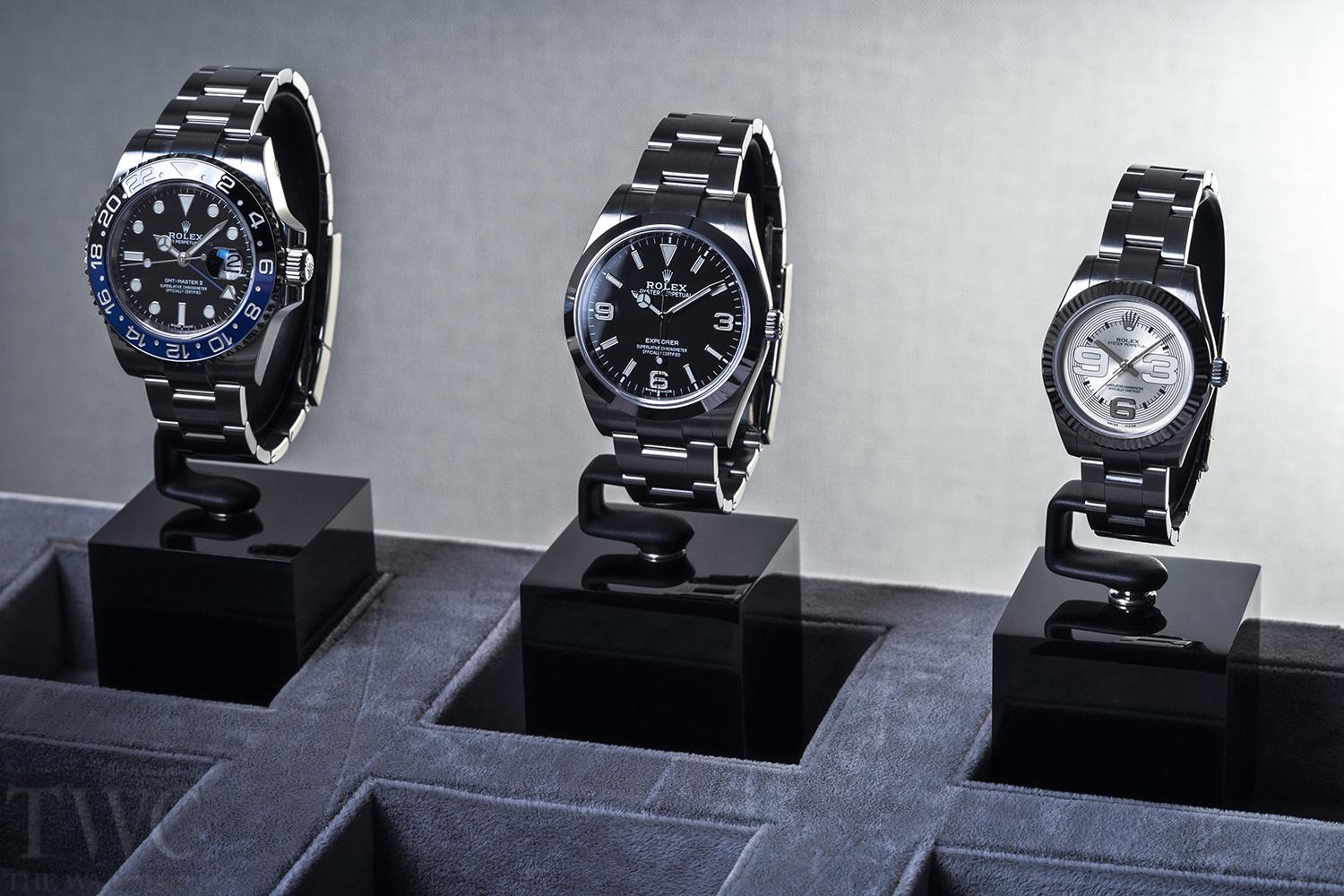 Rolex watches are the most globally recognized luxury brand in the world. People perceive the name Rolex as synonymous with 'pricey' and 'unaffordable'. Many don't even bother asking about the price. They assume that it's expensive. But in reality, how much is a Rolex? Is there anything like the cheapest Rolex?
The perception associated with Rolex is the work of Rolex itself. You need to take a look at the effective marketing expertise of the brand. It definitely leaves nothing to the imagination. From the onset, Rolex has always created a perception of achievement and success. And neither of these two comes cheap. No doubt, owning a Rolex piece is a statement of success and achievement. And if you are successful, you sure can afford the luxury.
Interestingly, the reaction to the name of Rolex and its prices is often exaggerated. It is a fact that Rolex watches have never and can never come cheap. However, people get surprised when they discover that Rolex watches can be affordable.

Luxury vs. Price
The Oyster Perpetual is the lowest-priced model of Rolex and it comes at a little over $5,000. It is important to understand that this is an entry-level price for the wristwatch. Of course, you may consider this as a whole lot of money for a watch. The rational thought is that this price can get you an entry-level car. However, the entry-level idea of the cheapest Rolex is different from the idea of a car. An entry-level car will be a basic model. For a Rolex, the cheapest Rolex is still a Rolex. There is nothing more and nothing less. Indeed, the Rolex name comes with a perception of luxury, success, and achievement. Price is not an issue for all these.
A Cursory Look at the Cheapest Rolex
The entry price of the Oyster Perpetual is a little over $5,000. This model is a simple masterpiece. It doesn't come with the extra features that are synonymous with the luxury brand. However, it is still a Rolex and a great wristwatch in every sense of the word. You can trace the lineage of the Oyster Perpetual to some ninety years of Original Oyster. It is important to mention that the Oyster is the first-ever waterproof wristwatch in the world. Now, we are talking of nine decades of continuous improvement and refinement. 
Today's Oyster wristwatch is the perfect archetypal luxury of an iconic watch. It is most loved for its versatility and reliability. It comes in a range of sizes which include 26, 31, 34, 36, and 39mm. This comes with a wide range of colored dial choices. The Oyster Perpetual watch is perfect for men and women of different classes and races. With this watch, anything goes.
Essentially, Rolex includes similar features to its expensive Rolex in the Oyster Perpetual. And this is what makes all Rolex watches Rolex. It comes with the same 904L steel as all the other collections. Additionally, it also features the Rolex signature in-house caliber. There are also chronometers. No doubt, these have passed the stringent standards set by Rolex itself. This 'cheap Rolex' has gone through the same rigor of tests for precision and reliability. The implication of this is that Rolex doesn't create a sub-standard watch. With any Rolex watch, you get the same quality, irrespective of the price. As a matter of fact, you get an 18 karat white gold on the indices and hands on the Oyster Perpetual.

Value vs. Money
As mentioned, the Oyster Perpetual at a little above $5,000 USD is the entry-level watch for the brand. This means you can spend much more to buy a Rolex. You need to go through the official website of Rolex. This will help you understand how much is how much of a Rolex wristwatch. You will find some prices that will make your heart palpitate. There are also some peculiar models that have "prices on request" on them. This means that these sets of watches can cost more than the high prices you find on their website.
You are likely thinking that Rolex is expensive but hold on a bit. When you think of value for money, are Rolex watches that expensive? You must understand that their quality ensures their durability and longevity. In fact, a Rolex has the ability to outlast its owner. And this comes apart from its unmatchable reputation, design, and origin. A Rolex is one of the very few luxury pieces that maintain its values. It doesn't matter what the economic situation is. In some cases, the value actually appreciates. For instance, the Rolex Daytona has significantly appreciated over the years.

What are Pre-Owned Rolex Watches?
The demand for pre-owned Rolex watches is huge. Just like many expensive articles, depreciation is non-negotiable. Every new Rolex experiences a level of depreciation after it goes off the shelf. However, with the brand's pedigree, there is a limit to how low the price can go. Additionally, some models have better value than others. This is due to their supreme classic design. Other models in this category are the GMT-Master II and the Daytona.
To buy a pre-owned model means you are buying the wristwatch after someone has taken the brunt of the depreciation. This reduces the total cost of owning your watch. And the great thing about the watch is that you can buy it today and sell it for the same amount or more at a later date. You can actually buy a pre-owned Submariner and sell it for about the same price you bought it after ten years. If you put inflation into it, you are likely to make a tidy profit from it. Now, this is what we call great value for money. There are few wristwatches that offer you this much!
When you find the perfect model, keep it long enough and you can sell it for better. There are many references that appreciate significantly in value over time. These include the more peculiar models that Rolex created in limited editions. Now, this applies to both men and women Rolex watches. There is no difference in the performance level, quality, or manufacture level. No doubt, the smaller models of the women's collections come at lower prices when compared to the male watches. However, they still maintain their value all the same.
The ladies' watches generally fluctuate in value even though they come with gemstones and precious metals. However, the prices of pre-owned Rolex models remain by and large constant.
So, how much does a Rolex cost?
Irrespective of whether you want to buy a pre-owned or a new Rolex, there is always a model that fits almost every budget. No doubt, owning a Rolex is an exciting possibility. You can liken it to driving your brand new car out of a showroom. The only difference is that your Rolex maintains its value almost forever. You can't say this much for your brand new car. The story is also a world apart between pre-owned Rolex and a pre-owned car. 
However, if you are really particular about the prices of Rolex watches, let's look at five affordable Rolex watches that are popular. 
Five Affordable Rolex Watches
Here, we take a cursory look at five of the most popular Rolex models in the market today. You can buy any of these watches for under $10,000 USD.

Rolex Oyster Perpetual
They call it quintessential Oyster. It is the most untainted expression of the concept of Oyster. This watch is the entry point for Rolex watches and it comes with some of the best technological development you can imagine. Featuring a 36mm 904L stainless steel case, the watch is water-resistant to 100 meters. They created the core of the case out of a sturdy block of steel, making it a solid watch. 
Meanwhile, the sapphire crystal is practically scratchproof. The crown also uses a Twinlock system for protection. The Oyster Perpetual is powered by Rolex signature caliber 3130. It also comes with the official chronometer certification. Now, this exquisite piece is famous for its reliability and precision. Its blue Parachrom hairspring also provides an exceptional fortification against temperature variations. It also protects against magnetic fields and shocks. This masterpiece goes for $5,400 USD.

Rolex Explorer
The Rolex Explorer is a true representation of ruggedness, precision, and reliability. Indeed, it is a real icon of class. It has a very rich history. They have spoken about this history over and over again. After a long time, the watch came back into the market in 2010. Since its re-launch, it has remained true to its heritage that goes as far back as 1953. The 39mm Oyster case, sapphire crystal, and Twinlock crown protect the movement against any harm. The blue chromalight hand and hour markers also ensure perfect visibility under any light condition. This Rolex presidential comes with a caliber 3132 self-winding movement that highlights high precision and reliability. 
Like other Rolex watches, the Rolex Explorer is chronometer-certified. Its blue parachrom hairspring enables high precision and accurate timekeeping. Its bracelet also comes with the Oysterlock clasp and Easylink comfort system. This allows the wearer to adjust the bracelet to fit. The Rolex Explorer comes at a price of $6,550.

Rolex Datejust II
This is the perfect watch for any occasion. It goes well with a suit or with jeans. The watch is a true definition of versatility. Rolex introduced the Datejust II in 2009 after the different series of its predecessor, the Datejust. Featuring a 41mm diameter, the Rolex Datejust surpasses the expectation of watch enthusiasts. No doubt, it is the perfect watch for making a bold statement. The watch comes with Rolex 904L stainless steel Oyster case and fluted bezel. It also sports a self-winding caliber 3136 movement that features the Chronometer title. Other features of this unique watch include Parachrom balance spring and Paraflex shock absorbers. It also sports a Microstella variable inertia balance, among others. The Rolex Datejust II sells for $9,000.

Rolex Submariner
When you spot a Rolex Submariner, you can take the world in a sweep. The watch epitomizes everything that is known for precision. It also comes with a feel of adventure. It is critical to mention that this is the first waterproof wristwatch designed for a depth of 100 meters. The watch features the signature 904L stainless steel Oyster case offering water resistance up to 1,000 feet. It also comes with a blue chromalight display. A sapphire crystal acts as a cover for the display and also ensures great visibility at all times. The watch sports the signature Triplock crown and rotatable 60-minute bezel. And still doesn't leave out the Cerachrom ceramic insert for scratchproof. 
The Oyster bracelet also fits perfectly with the Glidelock system for optimal adjustment of length. The Rolex Submariner prides itself in its precision timekeeping, which is exceptionally important underwater. Its self-winding caliber 3130 movement arouses confidence. And the blue Parachrom hairspring offers high-level stability when you expose it. It has the capacity to resist vibration, temperature changes, magnetic fields, and shock. The Rolex Submariner comes at a starting price of $7,500 USD.

Rolex Milgauss
The Rolex Milgauss is designed for technicians and engineers who are regularly exposed to magnetic fields at work. Usually, magnetic fields affect the performance of standard mechanical watches. However, with Rolex Milgauss, you have a magnetic shield that can resist fields up to 1000 gauss. Suffice to mention that gauss is the unit that measures the strength of magnetic fields. In 2007, Rolex unveiled the new Milgauss, incorporating all technological expertise of Rolex. The watch is no longer within the circle of scientists. It has grown to become a favorite of many. 
By the way, magnetic fields are present almost everywhere today, which means Rolex Milgauss is ideal for anyone. It is fashioned out of ferromagnetic allows, which protects the movement. Another protective measure put in place is the escape wheel, made from an anti-magnetic nickel phosphorous. There is also the 904L stainless steel Oyster case, as well as the Twinlock crown seal. These offer water resistance up to 100 meters. Its caliber 3131 movement is a Swiss-certified chronometer. For wrist comfort, the Oyster bracelet comes with an Easylink system. This is designed to enable the wearer to adjust the bracelet accordingly. This great piece sells for $7,650.
Conclusion
For Rolex owners, it is a thing of joy to possess the purchasing power to buy a piece of Rolex wristwatch. A Rolex has the capability to retain its original value. This is due to the legacy of technological advancement of the brand. And it also has to do with the pedigree that has consistently sustained the quality of the models. In this case, the real value of the watch is in the mind of the owner. It really doesn't matter the price you have paid for it. Your choice of Rolex has a lot to do with your personality. And of course, the statement you want to make per time. Rolex is a statement maker. It goes beyond the financial investment that is involved. When you handle your model well, you can pass it on to the next generation. This is what we call great value for money.