New & Feature
Dive Into the Ocean With the Powerful Seiko SLA017
Nov 17, 2021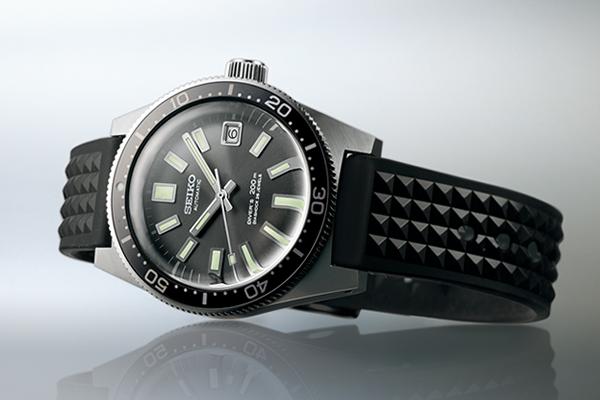 Seiko is home to some of the most iconic diving timepieces, producing a wide variety of gilt-edged diver's watches. One famous Seiko dive watch collection is the Seiko Prospex. The collection, which stands for "Professional Specifications", is popular among Seikoholics and watch enthusiasts across the globe. This is largely thanks to the exceptional features and the whopping 200-metre water resistance capacity that all Prospex members offer.
The Prospex collection offers an array of iconic models. For instance, you might have heard of names like the Shogun, Turtle, or Samurai, which are a few of the more popular watches in the Seiko Prospex line. Today, however, we are going to be looking specifically at the popular Seiko SLA017.
The Seiko SLA017 is a modern reinterpretation version of Seiko's first-ever diving timepiece released in 1965. Like many Prospex diving watches, it can handle high pressures and harsh conditions underwater. But what makes this such a must-have diving piece? How does it stand out from its fellow Seiko divers? Read on to find out all the answers to these questions!
History of Seiko Prospex SLA017

Seiko introduced Japan's first-ever diver's watch back in 1965. This first version was powered by a top-notch automatic mechanical calibre 6217, allowing it to offer a substantial 150-metre water resistance capacity. Seiko designed this watch to be used by Antarctic explorers, and thus gave it a superb resistance to extreme temperatures. As a testament to the reliability of this diver watch, it was used by the Japanese Antarctic Research Expedition in their missions for three years, from 1966 up to 1969. The watch functioned excellently on every expedition, proving the excellence of Seiko and its watches. 
Years later, Seiko decided to recreate its classic Prospex 1965 diver's watch. This modern reinterpretation, the Seiko SLA017, was to have features similar to the original design, but with some added modern tweaks. As part of this process, Seiko hired Nobuhiro Kosugi, recipient of the prestigious Medal with Yellow Ribbon and Contemporary Master Artisan awards, to help redesign the Seiko SLA017 while also keeping it true to its 1965 inspiration. 
In 2017, the Japanese watchmaker launched the Seiko Prospex SLA017, available in a limited 2,000 pieces. As part of its improvements, the rehashed Seiko SLA017 was now equipped with a high-performing in-house calibre 8L35, a first-class movement skillfully crafted by Seiko's engineering team in Morioka, Japan. 
A Quick Comparison Between the 1965 version and the Prospex SLA017
Before going through in detail all the impressive features of the Seiko SLA017, let us start with a quick comparison between the original and the reissue. This way, you can instantly distinguish the uniqueness and differing qualities of the two diver's watches.
 The 1965 Version
 Seiko SLA017
37mm case size 39.9mm case size 150-metre water resistance capacity 200-metre water resistance capacity 6217 in-house calibre movement 8L35 in-house calibre movement 32-hour power reserve 50-hour power reserve No hand-winding feature Hand-winding feature is available 18,000 beats per hour 28,800 beats per hour No screw-down crown With a screw-down crown Equipped with plexiglass crystal Equipped with AR-coated sapphire crystal No anti-magnetic resistance Anti-magnetic resistance up to 4,800 A/m No hacking feature
With a hacking feature
Anatomy of the Seiko SLA017

Case: Stainless steel 
Case diameter: 39.9 mm
Dial: Black
Movement: Calibre 8L35
Strap: Stainless steel and silicon rubber
Water resistance: 200 metres
Case, Caseback, and Crystal
As mentioned, the Seiko SLA017 looks quite similar to the original 1965 diver's watch. It features a sturdy cushion-shaped case with an oversized screw-down crown for a better and more secure fit on your wrist. Like the original version, this modern Seiko SLA017 also has the iconic dolphin emblem engraved on its caseback. However, what distinguishes this Seiko SLA017 is its 39.9mm diameter size, which is almost 3mm larger than the 1965 version. This allows the updated Seiko SLA017 to fit better on small-to-average-sized wrists.
In addition, the Seiko SLA017 is fitted with a layer of super-hard sapphire crystal, which has been treated with anti-reflective coatings. This sapphire crystal is much harder and more scratch-resistant than the plexiglass crystal used in the 1965 diver. The anti-reflective coating on the sapphire crystal also keeps it glare-free, so you can easily view the watch face without any obstructions. 
Another notable feature of the Seiko SLA017 is its water-resistance capacity, which has now been improved to a whopping 200 metres in depth. This is much better than the 150-metre capacity that the 1965 Seiko diver was equipped with. 
Dial
Most people would agree that the highlight of the Seiko SLA017 is its stunning dial. It boasts a striking anthracite sunray dial, with dark and light grey hues that play well with the light. Like the original 1965 Seiko diver, the Seiko SLA017 features large, stick-shaped grey hands and oversized rectangular hour markers. These hands and hour markers are also generously applied with lume, giving the watch improved legibility in poor lighting conditions. At 3 o'clock, you can also find a small date aperture, outlined in silver.
What makes the Seiko SLA017 stand out from the original model is the text printed on its dial. The Seiko SLA017 has a printed and raised logo applied in grey on its dial, right under the 12 o'clock marker. The watch's improved 200-metre water resistance rating is also spelled out on the dial, at the 6 o'clock position.
Movement
If there is one feature the Seiko SLA017 has that is an immense improvement on the original, it is its upgraded automatic movement. Where the original 1965 diver was equipped by the in-house 6217 calibre movement, the Seiko SLA017 is powered by Seiko's modern calibre 8L35. This new movement was designed exclusively for divers' use. It has an impressive 50-hour power reserve and beats at a frequency of 28,800 vibrations per hour. This mechanism is considered one of the first-class calibre movements in the market. 
Bracelet
Seiko offers two strap options with the Seiko SLA017. You can choose between a stainless steel bracelet or a silicon rubber strap. The stainless steel bracelet gives you a more professional look and is perfect for the office. The silicon rubber band, on the other hand, possesses a unique, protruding waffle-like pattern. It is sporty, flexible, and comfortable to wear, and is the better choice for those who enjoy frequent outdoor adventures. Simply pick the band option which best suits your lifestyle.
Price Range
Seiko has always been known for the affordability of its watches, and the Seiko SLA017 is no exception. As a reliable, limited edition diver's watch with only 2,000 pieces available, the Seiko SLA017 retails at $5,500 USD. 
Reasons Why the Seiko SLA017 is Worth-Buying
Pricing aside, there are numerous other reasons why a Seiko Prospex SLA017 diver's watch is worth investing in. The Japanese watch brand made this updated version of the 1965 dive watch with a greater value. It offers very impressive features and is made with high-quality, premium materials. Seiko also uses only its own modern in-house calibre movement to power this Seiko SLA017 diver, which gives it a power reserve that can last up to 50 hours. 
The Japanese brand also aesthetically redesigned the watch in order to meet the needs of its modern patrons while still staying true to its identity as a vintage-inspired tribute piece. Equipped with a 200-metre water resistance capacity, the Seiko SLA017 is indeed the diver's best buddy. 
Other Modern Re-interpretation of the 1965 Diver's Watch
1. Seiko Prospex Ref. SPB147J1

One great alternative to the Seiko SLA017 is the Seiko Prospex Ref. SPB147J1. This Seiko Prospex piece is easily recognisable, with its grandiose dark brown sunray dial that offers a retro vibe. This watch features a 40.5mm stainless steel case and a smooth black silicone strap, much like the Seiko SLA017. It also comes with the same sharp integrated lugs and unprotected oversized crown.
If there is one feature of the Ref. SPB147J1 that patrons love the most, it is the powerful in-house calibre 6R35 that powers the watch inside. It offers an incredible 70 hours of power reserve, with an accuracy rating of +25/-15 seconds per day. This modern reinvention is also equipped with a 200-metre resistance capacity. Retailing at just $879 USD, you can never go wrong with this top-tier diver watch.
2. Seiko Prospex Ref. SPB149J1

Next up, take a look at the Seiko Prospex Ref. SPB149J1, which is a classy and sophisticated alternative to the Seiko SLA017. This piece has a more modern look to it, with its elegant sunray-brushed blue dial and sleek silver hands and hour indices. This watch comes in a 40.5mm stainless steel case and a matching three-link bracelet. It is also equipped with the brand's LumiBrite technology on the hands and indices, providing excellent illumination in the dark. In addition, this watch is furnished with an AR-coated sapphire crystal that adds an extra layer of security to the dial.
As with the previous model, the Ref. SPB149J1 is powered by a top-notch in-house calibre 6R35 movement. It is also equipped with a 200-metre water resistance rating. Priced at $1,350 USD, this versatile diver's watch is perfect for both the underwater world and for your next dinner party.
3. Seiko Prospex Ref. SBDC083

Last but not least, we have the Seiko Prospex Ref. SBDC083. This is a high-end diving watch that deserves to be on your radar. It features a larger 45mm stainless steel case and a matching stainless steel bracelet. The larger case size makes this watch better suited to those with bigger wrists, or to those who just prefer heftier watches.
Like many other Prospex watches, this timepiece is also powered by a first-class calibre 6R35 movement, which beats at 21,600 vibrations per hour. Furthermore, this Seiko diver's piece is waterproof up to depths of 200 metres. You can purchase this piece for just $1,277 USD. 
Final Thoughts
All in all, there is no doubt that Seiko is capable of producing top-notch diving watches in the horology market. They never fail to meet the needs of any diver exploring the beauty of the abyssal world. One of their most remarkable creations is the Seiko Prospex SL1A017, a modern variant of the Japanese brand's first-ever diver's watch released in 1965.
This recreated Seiko SLA017 offers distinctive updated features, such as advanced movement and improved luminosity and water-resistance capacities. Ultimately, it comes as no surprise that this vintage-inspired Seiko SLA017 is a top pick amongst Seikoholics and regular watch enthusiasts. 
All images courtesy of Seiko's official website unless otherwise stated.
Featured image from Seiko Official Website.
Can't get enough of Seiko's diver watches? Why not consider checking our articles about the iconic Seiko 6105 and Seiko Baby Tuna.