New & Feature
15 Best Carbon Fiber Watches in the Market
Nov 16, 2021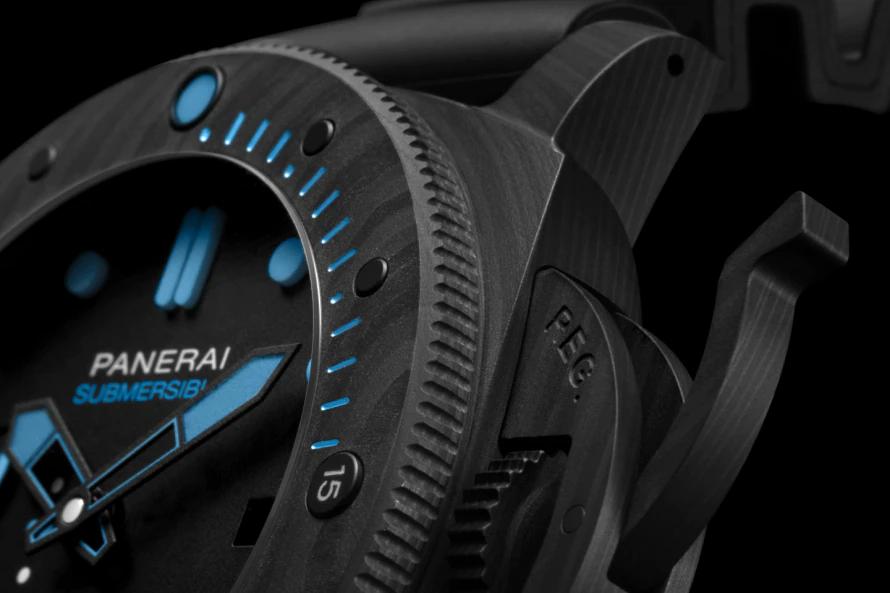 Carbon has been proven to be a very versatile element. Notably, it is because of carbon that we can develop the composite material known as "carbon fiber." Every day, we see many things in our daily lives that make use of this strong  composite material. Some examples of carbon fiber products include bikes, helmets, car parts, and phone cases.
If you you go out a lot or are friends with a watch enthusiast, chances are, you have probably heard or seen someone with a carbon fiber watch. After all, many of these carbon fiber watches carry unique designs that exude ruggedness, charisma, and style, which makes them favourites of many in the watch community. In this article, we will be taking a more detailed look at what carbon fiber is, why watchmakers love using them in their watches, and 15 of the best carbon fiber watches available today. 
What is Carbon Fiber?
Invented in 1860 by Joseph Wilson Swan, the base of carbon fiber composite is essentially a fiber made out of carbon. However, these fibers are only the foundation of what carbon fiber truly is. To reach its full potential, the carbon fibers need to be woven together and melded with an organic polymer, forming the composite material we are familiar with.
Although carbon fibers resemble strand of hairs, they actually desmonstrate incredible stiffness, excellent tensile strength, and a low weight to strength ratio when intertwined into a mesh. On top of that, carbon fiber is also resistant to chemicals, extreme temperatures, and corrosion. Its properties have made it the ideal manufacturing material in aerospace, military, civil engineering, racing, and other competitive sports. Carbon fiber is also commonly referred to as graphite fiber.
Carbon Fiber Watches
Before carbon fiber can be used in a watch, it must first be turned into forged carbon. Forged carbon uses a different process compared to traditionally-made carbon fiber. Instead of using long chains of organized carbon fiber, forged carbon transforms the fibers into a paste-like substance. When the paste forms, it is then mixed with epoxy resin. After the blend homogenises, it is squeezed into molds, where it is heated and pressurised. The result is a forged carbon fiber composite, with the same properties as conventionally-made carbon fiber but created in a much shorter amount of time. This forged composite material is what is used to craft carbon fiber watches. 
Benefits of Using Carbon Fiber in a Watch
While carbon fiber is typically used in the fields mentioned above, that does not stop watchmakers from using this composite material for their own timepieces. Innovations in the watch industry have made it possible to create watches out of carbon fiber. But is there any benefit to owning a timepiece made from carbon fiber? Below are a few reasons why you should invest in carbon fiber watches.
Extremely Durable and Lightweight
Exactly how strong is carbon fiber? To be specific, carbon fiber is five times as strong and twice as stiff as stainless steel. But despite its durability and toughness, it is also much lighter than steel, making it very easy to wear. When bringing a wristwatch around, you would not want a timekeeper that is too cumbersome on the wrist. Carbon fiber watches are excellent options for those who want a rugged, sturdy timepiece that is effortless to carry.
Sleek and Sporty Design
Apart from its strength and resilience, carbon fiber is also used for its design. Just like stainless steel, carbon fiber has its own allure that makes it stand out. It carries a distinct and sporty aesthetic that can make any watch look robust and stylish at the same time. Any watch enthusiast who is a big fan of the color black should definitely consider owning carbon fiber watches.
15 Best Carbon Fiber Watches
As the watchmaking industry continues to adapt and innovate, watch brands around the world have started to understand the benefits of using carbon fiber in their timepieces. If you want to see what these watchmakers have to offer, here are 15 of the best carbon fiber watches you can find in the market today. As you go through this list, you will notice that each brand has its own interpretation of what carbon fiber watches are, giving you quite a wide variety to choose from.
1. Victorinox I.N.O.X. Carbon (241861) – $720 USD

Our first entry comes from a line of watches renowned for their unyielding toughness. The Victorinox I.N.O.X. Carbon Ref. 241861 is an exemplary model that showcases just how tough carbon fiber can be. Before being released, an I.N.O.X timepiece must first go through a total of 130 homologations tests. These tests involve a 10-meter drop, temperature, torsion, traction, vibration-resistance tests, and getting run over by an 8-ton tank — proving that this Victorinox piece can handle just about anything you throw at it.
The watch itself comes in a 43mm carbon fiber case topped with a triple AR-coated sapphire glass. Coupled with a multi-purpose paracord strap, the Victorinox I.N.O.X. Carbon has a water resistance of 200m. Its dial features neon green hour numerals, dauphine hands, and the Luminox insignia, all applied with a generous treatment of Super-LumiNova. Right between the 4th and 5th-hour marker is a date window with black numerals and white background. Operating underneath the dial is a Swiss quartz movement safely secured by a screw-in caseback.
2. Luminox Original Navy SEAL 3001 Military Dive Watch (XS.3001.F) – $395 USD

As one of the official timepieces of the US Navy SEALs, the Luminox Original Navy SEAL 3001 is a watch that is as rugged and elite as the soldiers who wear them. Made with Luminox's patented CARBONOX material, this 200m water-resistant Navy Seal wristwatch shows off a bulky black case paired with hardened mineral glass and a unidirectional rotating diver bezel. On the right side of the watch is a guarded double gasket crown that ensures no water enters the timepiece.
The watch face of this Luminox piece is pretty simple in design. With its 24-hour layout, luminous syringe hands, and a date complication at 3 o'clock, the dial is straightforward and easy to read. On its outer rim of the dial are tritium gas tubes, which serve as hour markers that provide illumination in the dark. Underneath the dial is a Swiss quartz movement equipped with a battery that can keep the Luminox Original Navy SEAL 3001 running for years.
3. Panerai Submersible Carbotech (PAM01616) – $14,140 USD

Panerai is no stranger to diving watches. In fact, its timepieces were once used by the Italian Navy, a testament to their reliable quality. A modern carbon fiber variant, the Panerai Submersible Carbotech, is a resilient and stylish timekeeper that will never let you down. Its attractive carbon fiber case bears an exclusive squarish look and is water-resistant up to depths 300 meters. The crown on its side comes with a unique, oversized half-circle crown guard that keeps the watch sealed, similar to a screw-down knob. 
Looking at this Submersible piece, one of the first things that will catch your eye is the blue lume that is generously applied on the hour markers, hands, and bezel. During the day, this attractive blue colour stands out nicely from the jet-black surface of the case, dial, and bezel. At night, the blue hues fade to green and help illuminate the watch, allowing wearers to view the time clearly even in total darkness. Ticking under the watch face is a P.9010 automatic caliber equipped with thirty-one jewels and a power supply that can last up to 3 days.
4. Casio G-Shock Gravitymaster (GWR-B1000-1AJF) – $790 USD

We all know that the G-Shock series is home to some of the most daring wristwatches ever made. In March 2019, Casio announced the release of the G-Shock GWR-B1000 Gravitymaster. With its Carbon Core Guard Structure, this carbon fiber Gravitymaster brings a whole new level of toughness that even exceeds previous G-Shock options. Apart from being extremely durable, this watch's carbon monocoque case has a depth rating of 200m and is resistant to rust, vibrations, centrifugal force, and shocks. 
Protected by a layer of sapphire glass, the dial of this G-Shock watch contains an integrated solar panel that allows wearers to charge the timepiece while on the go. On a full charge, its battery can last for approximately two years. The Casio Gravitymaster is also equipped with numerous handy functions. Some of its features include Multi-Band 6 radio reception, a power-save function, a stopwatch, a countdown timer, and a fully automated calendar.
5. Oris Williams Valtteri Bottas Limited Edition Chronograph – $4,320 USD

In collaboration with Williams Racing, Oris developed a sleek and rigid sports watch known as the Oris William Valtteri Bottas Limited Edition Chronograph. Made out of carbon fiber and titanium, its 44m case has been plated with black DLC-coating to further boost its robustness. This titanium and carbon fiber watch also comes with 100m of water resistance, enabling wearers to don this sporty Oris piece whether they are walking, driving, or swimming. 
The layer of sapphire glass on top of the watch's dial has been treated with an anti-reflective coating to give wearers a pristine and glare-free view of the carbon fiber dial. Taking its inspiration from the race track, the dial contains a mix of italicised minute markers and pronounced hour markers for a unique and stylish look. With three handy chronograph subdials, this limited edition Oris piece has everything a wearer needs to keep track of time. Powering this watch is an ETA 7750-based Oris 674 calibre. It produces 28,800 vibrations per hour and has a power reserve of 48 hours when fully wound. 
6. Hublot Classic Fusion Ferrari GT Unico 3D (526.QB.0124.VR) – $20,710 USD

We all know Hublot for its bold and brash watches. Their unusual designs are somewhat of an acquired taste, which is why not everyone is a fan of Hublot. That said, the Hublot Classic Fusion Ferrari GT Unico 3D is one watch we can all agree is exceptionally sturdy and reliable. Developed in collaboration with Ferrari, this Hublot Classic Fusion watch comprises two cases: a carbon fiber outer case and a titanium inner case.
Water-resistant up to depths of 100m, the dual cases secure and complement the watch's 3-dimensional skeleton dial. With its refined numerals, cantilever-shaped indices, and speedometer-like chronograph registers, this skeleton dial is certainly a spectacle to look at. The movement underneath it is an automatic HUB1280 caliber, which wearers can view through the watch's see-through caseback. To complete the whole sporty and stylish look, Hublot pairs this carbon fiber watch with a traditional black rubber strap.
7. Tag Heuer Carrera Automatic Chronograph (CBG2016.FT6143) – $7,260 USD

You can find a whole lot of impressive racing-inspired timepieces in Tag Heuer's Carrera lineup. But if you are looking for something more durable and more exclusive in design, there is no option that can fit the bill better than the Carrera Automatic Chronograph. Made from carbon fiber and steel and finished with a black PVD coating, its 43mm case is as tough as it is stylish.
The dial of this watch is skeletonised, with a carbon fiber frame that holds the chronograph subdials, silver hands, and applied indices in place. It runs on an in-house Caliber HEUER02 Automatic movement equipped with an 80-hour power reserve. Accompanied by a black rubber strap, this carbon fiber Tag Heuer watch is water-resistant up to depths of 100m.
8. Omega Speedmaster HB-SIA Anniversary Series (321.90.44.52.01.001) – $7,580 USD

Having been a part of six lunar landings, the Speedmaster stands as one of the most iconic watches ever made. While this model is not exactly the iconic Moonwatch itself, the Omega Speedmaster HB-SIA carries the same adventurous and innovative spirit that the Speedmaster collection is known to always have. Its dial features a textured black carbon fiber face that, when paired with its Grade 2 titanium case, makes this Speedmaster piece look as sporty as it has ever been.
This Omega watch is also equipped with a GMT feature that proves useful for wearers who want to keep track of time in two different time zones. Operating underneath the carbon fiber surface is a chronometer-certified Omega Co-Axial Calibre 3603. This self-winding movement comes with thirty-seven jewels and has a power reserve that can keep the watch ticking for up to 52 hours. 
9. Longines Conquest V.H.P. (L37172669) – $1,825 USD

Utterly reliable and highly accurate, the Longines Conquest V.H.P. is a timekeeper that guarantees you will not miss a single second. This Longines watch comes in a stainless steel case coated in black PVD. Coupled with a black rubber strap, this Longines Conquest piece has a water resistance of 50m.
Like the Omega Speedmaster HB-SIA, the Longines Conquest V.H.P. uses a watch dial made of carbon fiber. With its distinct criss-crossing pattern, the carbon fiber dial boasts a dark and sporty look that is both pleasing and easy to look at. The L289.2 calibre that powers the watch lives up to the "very high precision" promise the brand makes, as it has an accuracy rate of +/- 5 seconds per year.
10. Zenith Defy El Primero 21 1/100th (10.9000.9004/96.R921) – $12,850 USD

With its 44mm case crafted entirely from carbon fiber, the Zenith Defy El Primero 21 1/100th is one of the toughest and lightest Zenith watches ever made. Its open-worked dial showcases the 293 components of the Zenith Calibre El Primero 9004 in its full glory. And with its 100m depth rating, you will not need to worry about water entering this Zenith Defy piece and damaging its movement.
Enclosed in a layer of sapphire glass and an exhibition-style caseback, the open-heart dial contains several chronograph sub-dials, including a central chronograph hand that, when activated, rotates around the watch for every second that passes. The Caliber 9004 that runs the inner machinations of the timepiece produces 36,000 vibrations per hour (5Hz) and has a power reserve that can last up to 50 hours.
11. Luminox Leatherback Sea Turtle (XS.0301.BO.L) – $325 USD

As one of the best rugged carbon fiber watches, the Luminox Leatherback Sea Turtle is the ideal timepiece for wearers with a daring and adventurous spirit. Its carbon compound case is paired a tempered, scratch-resistant mineral glass and has a depth rating of 100m, allowing wearers to wear the Leatherback on land or in the water.
Although the dial comes in all dark shades, it is actually quite legible. In order to provide superb and constant readability even at night, the watch is equipped with tritium gas tubes that light up in green and orange glows in the dark. In addition, the unidirectional bezel on top also has a Super-LumiNova pip at 12 o'clock for better visibility. This Luminox wristwatch comes with a black signature polyurethane strap that is not only comfortable but also complements the watch's all-black design.
12. Longines Conquest V.H.P. (L37282666) – $1,475 USD

This version of the Longines V.H.P. features a carbon fiber dial and a smooth black PVD-coated stainless steel case that is water-resistant up to 50m. On its dial, you can find applied silver hour markers and sword hands accompanied by a subtle red minute track and a date aperture at 3 o'clock. There is also an additional red-tipped arrow hand that indicates the second time zone on the 24-hour index chapter ring.
Below the carbon watch face is an ETA E56.411-based L287.2 quartz movement, which is sealed by a screw-down caseback. On the whole, this Longines watch measures 43mm in diameter, which is a size that would fit nicely on most wrists. It is paired with a stylish and cool black PVD-coated stainless steel bracelet.
13. Luminox Master Carbon SEAL (XS.3813.L) – $725 USD

With its patented CARBONOX material, Luminox is certainly no stranger to carbon fiber watches. Even then, the Luminox Master Carbon SEAL is a particular standout. Six times lighter than steel and waterproof up to depths of 300m, the Luminox Master Carbon SEAL is a resilient tactical timekeeper that will last for years to come. Paired with a grey rubber strap, this watch's CARBONOX case is topped with a layer of anti-reflective sapphire glass. From its elapsed time bezel to its military-inspired navy green dial, the carbon fiber watch is quite simple but also highly legible.
On the dial of this Luminox watch are black military-style numerals that nicely contrast the green surface of the watch face. Tritium gas tubes inhabit the outer rim of the dial and are also fitted on the watch's syringe-shaped hands. With a Swiss-made quartz movement underneath, you can rest assured that this carbon fiber watch's accuracy will always be on-point.
14. Hamilton Khaki Aviation X-Wind Auto Chrono (H77696793) – $1,580 USD

If you are looking for carbon fiber watches that can deliver everything a pilot needs, have a look at the gorgeous Hamilton Khaki Aviation X-Wind Auto Chrono. Coated in a layer of red gold PVD, its 44mm stainless steel case oozes sleekness and luxury. Hamilton pairs this with a black calfskin leather strap that neatly matches the carbon fiber dial and pilot's bezel fixed on top of the case.
The dial, along with its rose gold indices, hands, and other complications, brings forth a classy and snazzy look that is capable of upping anyone's style. Ticking inside the watch is an H-21 automatic movement that features a beat frequency of 28,800 vibrations per hour, twenty-five jewels, and an extended 60-hour power reserve. This caliber can be admired through the carbon fiber watch's unique open caseback.
15. Victorinox I.N.O.X. Carbon Limited Edition (241927.1) – $885 USD

Whether it is in terms of unfailing reliability or style points, the Victorinox I.N.O.X. Carbon Limited Edition is a tank of a timepiece that will not let you down. Contained in a 43mm carbon fiber case and a layer of anti-reflective sapphire glass, this watch has a depth rating of 200m and is impervious to scratches. The watch only weighs around 90g — a testament to how durable yet lightweight carbon fiber is. 
The dial of this watch showcases a woodlands-themed camouflage look, coated with Super-LumiNova for improved visibility in low-light conditions. The hours, minutes, seconds, and date functions are all run by the Swiss Ronda 715 quartz movement inside the watch. Victorinox usually pairs this I.N.O.X. piece with three different straps. However, the fan-favorite is the standard camouflage paracord strap that it comes with.
Final Thoughts
So, there it is; the 15 best carbon fiber watches in the market. Honestly, it is a marvel just how durable, light, and stylish these models are. Perfect for multiple occasions, carbon fiber watches are the ideal timepiece for enthusiasts that need something really reliable and versatile.
Whether you are on a budget or are willing to splurge on a high-end watch, there are many kinds of carbon fiber watches to choose from. There is simply no going wrong with a carbon fiber timepiece. But, as with every other wristwatch, make sure to do a bit of research of your own into carbon fiber watches, so that you know what exactly you are paying for.
Featured Image by: Panerai
Need a strong watch for all your outdoor adventures? Here is a list of 15 Altimeter watches that you could literally bring anywhere.