New & Feature
5 Best Seiko Chronograph Watches For Every Lifestyle
Feb 24, 2021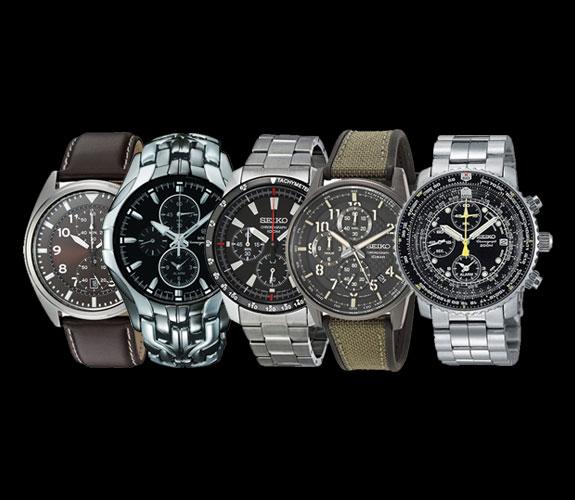 Seiko's vast collection of watches make them one of the most prominent names in the industry. The brand made a name by releasing the first-ever quartz wristwatch, the Seiko Astron. Since then, Seiko continues to innovate with its timepieces. Today, the company boasts a robust line of timepieces like no other. This time, we're highlighting the best Seiko chronograph watches you should get your hands on.
We all already know the stories behind Seiko's most iconic watches like the Seiko Shogun, Seiko Sea Urchin, Seiko Turtle, Seiko Monster, Seiko Sumo, Seiko Samurai and a whole lot more. Each of these collections offers a chronograph version that many professionals rely on. However, there's more to these watches than just a chronograph function. It could be a unique movement, solar power, durable materials, or even unique bezel configurations.
It can be hard and confusing to find the right Seiko chronograph watch if you start to dive deep into its vast selection right away. So, we gathered the best chronographs from Seiko — timeless, reliable, robust timepieces that won't let you down. Here are the best Seiko chronographs just for you.
5 Best Seiko Chronograph Watches
1. Seiko SNN241 — The Classic Seiko Chronograph Watch

The great thing about the Seiko SNN241 is that it's a simple choice. There's nothing complicated about this watch. It's a chronograph and that's all it is. We'd say that this timepiece is the best choice if you're looking for an everyday chronograph that you can rely on. It's sporty, yet casual at the same time. It's something you can wear from your nine-to-five to a night out with your friends.
Case
Firstly, this watch comes in a 42mm stainless steel case that's 11mm thick. It can be bigger, but this size works just fine for an everyday timepiece. It also fits medium to large wrists without worrying if it's too small or too big for you.
The satin-brushed lugs look magnificent for the watch's price point. At purchase, it usually comes with a brown leather strap. However, you can easily replace this with any bracelet you want without a hitch.
Moving on to the bezel, you can expect it to look just as great. The fixed bezel comes in thin steel so there's more room for the dial. Therefore, making the dial larger and a lot legible than your usual timepiece.
The sides of the case come polished. At 3 o'clock, the crown sits without a crown guard. On either side of the crown are the chronograph pushers that are reliable enough for use. They don't wiggle and they seem high-quality for a watch at such a price.
The watch's overall look has a retro feel to it. It's almost like the classic Heuer chronographs you can still see on the market today. However, this timepiece is a lot more affordable than that.
Protecting the dial is Seiko's proprietary Hardlex crystal. For a Seiko watch in this price range, this is normal. A lot of Seiko users turn to customisation by replacing Hardlex with sapphire crystal instead.
Dial
Right at first glance, the dial appears large due to the thin bezel. That makes the markers even more legible versus other chronograph watches.
The chronograph comes as two sub-dials located at 6 and 12 o'clock. The 6 o'clock sub-dial measures seconds while the 12 o'clock sub-dial measures minutes. The chronograph measures up to 60 minutes.
There's also nothing extravagant about the markers of this watch. They come in simple bars and a triangle for 12 o'clock. The date window located in the middle of the 6 o'clock sub-dial, perhaps, isn't the smartest choice. However, they serve the purpose just fine and it's a unique addition to this watch.
If you're planning to take this watch into the dark, worry not for it comes with Lumibrite on the markers and hands. It's a great contrast against the brown dial. Generally, the dial looks balanced with odd choices here and there.
Movement
Powering the watch is the Seiko quartz Calibre 7T94. This battery-powered movement also works for other Seiko watches. It has a proven track record so you're sure that this watch will work as hard as you do. It's a simple movement for a simple watch. Not to mention, it's just as accurate and not that difficult to maintain.
2. Seiko SSC139 Excelsior — Most Stylish Seiko Chronograph Watch

The Seiko SSC139 Excelsior is one of the most unique timepieces from the brand. It comes with a three-sub-dial chronograph, as well as a date window. Aside from that, it doesn't share the same design DNA as other Seiko watches. It doesn't look like your typical sports watch and it completely defies the way you'd look at chronographs.
Generally, this watch carries a very futuristic look. With the curves and weaves on the band and case, it's a watch that would remind you of a sci-fi movie at first glance. We're talking Terminator or even MIB. Let's take a look at the Seiko SSC139 Excelsior watch.
Case
The case alone of the SSC193 is a delight to look at. It comes with four silver crescents on the corners of the fixed gunmetal bezel. As it bulges out, it meets the large silver crown that also comes with gunmetal-finished crown guards.
The two silver pushers on either side of the crown work to operate the chronograph. It's a tough case with a really intricate design, made from stainless steel.
Turning the watch upside down, you can find its screwed-down silver-finished caseback. It comes up to 100m of water-resistance. So, it's okay to use when you're bound to wet your hands and watch in the process. However, it doesn't work well for any activities with prolonged exposure to water like scuba diving.
Dial
It's not too far off to assume that designers at Seiko really took their time in getting their sci-fi know-how before sketching this watch. The overall design of the dial can be really polarizing. Personally, I think it's a little too crowded so it could use a little diminishing of details here and there. However, it's still a good-looking watch. It's something you can wear for a night out more like an accessory rather than a functional piece.
That said, the black dial looks wonderful as it is. It's elegant but with a busy layout. You can see three sub-dials on the watch, featuring an alarm, a seconds counter, and a 60-minute chronograph timer. It measures about 60 minutes, which can always be improved by Seiko.
It's easy to miss the date window at 3 o'clock as it's really small and sits too close to the inscription on the dial. The markers also make it look a lot smaller than it should. On the side, the inscriptions don't determine much about the watch. However, it assures you that it's a solar-powered chronograph. As expected, we get a Hardlex crystal to protect all these.
On the flip side, it's easy to read the time even in the dark with the generous Lumibrite on the hands and markers of the watch.
Movement
Powering this watch is Seiko's Calibre V172. This Japanese quartz movement is solar-powered so you can assure that whenever there's light, it will keep on ticking. And we're talking about any type of light source, not just the sun! Once fully charged, you can assure that the watch will work for six long months before needing another charge.
3. Seiko SSB031 — Best Everyday Seiko Chronograph Watch

The Seiko SSB031 is another everyday chronograph watch that has everything you need and more. A lot of Seiko watches come with various functions like an alarm or even a second time zone. This watch takes from that principle and comes with a tachymeter on the bezel. The tachymeter is a function originally used by airmen to measure speed. Today, it's still a functional feature to have for sports watches.
As expected, this watch comes at a pretty reasonable price. It features your usual buttons and sub-dials with a design that fits everyday use. Let's examine the Seiko SSB031.
Case
At 40mm, the SSB031 comes in a stainless steel case. It has a lug-to-lug measurement of 47mm. It's not nearly as large as a Seiko diver, but it provides the same presence as any sports watch.
With brushed lugs and polished sides, the case of the watch has a contrasting mark to it. It looks pretty expensive for a watch at this price point. It also adds to the sporty nature of this watch. Moreover, the different angles of the lugs are definitely a trait to watch out for. This adds a certain flair to the case.
The crown at 3 o'clock has a crown guard. On each of its side, you can see the chronograph pushers. They're not hard to operate. In fact, they click when there's pressure so you're sure they function well. However, these aren't screw-down crowns or pushers. The most you can get for its water-resistance is 100 metres. That's not bad for an everyday watch.
This watch also has a solid metal caseback. In front, you get a Hardlex crystal as usual.
Now, for the highlight, this watch has a tachymeter scale on the bezel. It's big enough that you can read the numerals printed in white. The bezel, made from steel, is ion-plated to give it a black finish and a ceramic vibe to the watch.
Dial
This watch would easily remind you of a vintage motorsport watch. The colours on the dial are only black, red, and white. With a black dial and a black chapter ring, it easily blends with the bezel that makes it look like one whole piece.
The chronograph dials sit at the 3, 6, and 9 o'clock positions that's very common for most chronographs. This layout gives the watch a certain symmetry, making it a great option if you're looking for a well-balanced chronograph. The sub-dials show a 24-hour display, a 60-minute chronograph, and a seconds counter.
Between 4 and 5 o'clock is the date window that's strategically placed. It's not obtrusive but it can be hard to find. It's a practical feature to place in quite an inconvenient position. However, if you're not that reliant on the feature or if you get used to the watch, it's not hard to refer to anymore.
Movement
Powered by the Seiko Calibre 6T63, this watch is accurate and affordable enough. You can rest assured that this watch won't let you down as its battery lasts for about three years.
The Calibre 6T63 is a mecha-quartz movement. This means that it's technically a quartz movement but its features are similar to that of a mechanical movement. That said, you can expect a chronograph that ticks five times per second. This gives it a sweeping motion that you can see on automatic watches.
With a flyback function, you can expect the chronograph to have no visual effect when reset.
4. Seiko SSB373 — Best Outdoor Seiko Chronograph Watch

Do you love the outdoors? Does your job require you to be on the field most of the time? If yes, then this watch is for you. The Seiko SSB373 is easily one of the best Seiko watches you can get for outdoor use. Many users back it up for its functions as a field watch.
Generally, it looks like a typical military watch. However, it's more than just aesthetic. It's a very reliable watch with great chronograph functions.
Case
Right off the bat, you'll notice the rugged design of this watch. It's truly made for the outdoors so you won't get stressed out about scratching or ruining it while you're working.
It comes with a 42.7mm stainless steel case with a black ion finish. This gives the watch the ultimate field watch look alongside the khaki green silicone and nylon hybrid strap. The case is not as big, but the way it's designed makes it look just as legible as watches bigger than it is. It also comes with a tachymeter on the outer dial ring for easier reference. It's easy to use and works well on all occasions.
This watch comes with a large crown and pushers. All of which functions greatly and don't wobble even for the watch's price point. It's truly a reliable watch to carry on stressful situations.
That said, you can expect the watch to take brief encounters with water with its 100m water-resistance. However, don't take it for a dive or during prolonged exposures to water as it could damage the watch.
Dial
The dial of the watch catches attention for its depth and three-dimensional quality. The pattern on the dial is a good sporty addition to the watch.
With its chronograph function, you can measure up to 12 hours of elapsed time in 1/5-second increments. You also get a minute and seconds function for the chronographs at the 12 and 3 o'clock positions, respectively. The date window sits in between 4 and 5 o'clock. But due to the design of the watch, it's a lot easier to spot versus the SSB031.
Moreover, you get generous LumiBrite on the hands, markers, and numerals of the watch. For a field watch, this is one of the most crucial features you should be on the lookout for.
Movement
The Calibre 8T67 provides three long years of function without a hitch. This is a quartz calibre from Seiko with a date, chronograph, and tachymetric functions. Its accuracy rate is at ±15 seconds per month so that's not bad for an affordable watch.
5. Seiko SNA411 Flightmaster — Best Seiko Pilot Chronograph Watch

The Seiko SNA411 watch is impressive, to say the least. You get more than just a chronograph function but also a great pilot watch. The Seiko SNA411 Flightmaster comes with a date window, alarm, and 200m of water-resistance. That's something that makes it stand out on our list.
A lot of people would think it's a little busy for a watch, but wait until you see its functions.
Case
Firstly, this watch comes up at 42mm in diameter with 13mm of thickness. It's not a lot but it's a good size that fits medium to large wrists. The case and bracelet both come in stainless steel with polished and brushed finishes. This watch immediately gives off the vibe of a luxury timepiece.
As expected, it comes with a Hardlex crystal that's more scratch-resistant than your run-off-the-mill mineral crystal. However, you can have this watch easily customised to replace Hardlex with sapphire crystal.
This watch comes with various functions that are more useful than just decorations. You can see that the stainless steel, gear-edged bezel is pretty busy. That's typical for the Flightmaster. On that bezel, you can find solutions to various mathematical and navigational calculations. This is called a slide rule. It figures out all your basic math functions such as multiplication, division, or square root calculations. You can even measure fuel consumption, speed, and flight climb computations with this bezel.
Moreover, this watch comes with a 200m water-resistance that's a lot more reliable than the other timepieces on the list. You can take it for a swim or even occasional dives.
Dial
The dial of the watch comes in black so that it contrasts with the white markers on the bezel and dial. They also prove luminous even in the dark. In addition, you can also rely on the bright yellow hand and yellow markings that tell direction. Overall, that simple striking colour adds to the sporty look of the watch.
At 3 o'clock you'll find a date window to keep track of the date with ease. While it's smaller, it's not as hard to see because of its natural placement.
The watch, of course, features three sub-dials. The first one is an alarm. You can measure 60 minutes in 1/5 increments for up to 12 hours on another subdial. Finally, the last dial is a seconds hand that works for quick and precise timekeeping.
Movement
Powering the watch is Seiko's Calibre 7T62. This is quartz and battery-powered movement. For a quartz movement, it's a very precise watch that works perfectly especially with the needs of a pilot. This movement is unique for its many functions that not all watches can have.
A Seiko Chronograph for Every Need
Whatever it is you're looking for in a watch, there is a Seiko chronograph for you. Seiko continues to bring only the best for its consumers, keeping in mind the lifestyle of its patrons. From everyday casual use to specialised requirements by professionals, Seiko has the perfect chronograph timepiece for you.
---
Looking for more Seiko watches to add to your must-haves? Check out our list of the 14 best Seiko 5 watches worth checking out!
Photo credit: All photos courtesy of Seiko Watches