New & Feature
15 Best Tactical Watches for Avid Outdoor Enthusiasts
Jun 04, 2020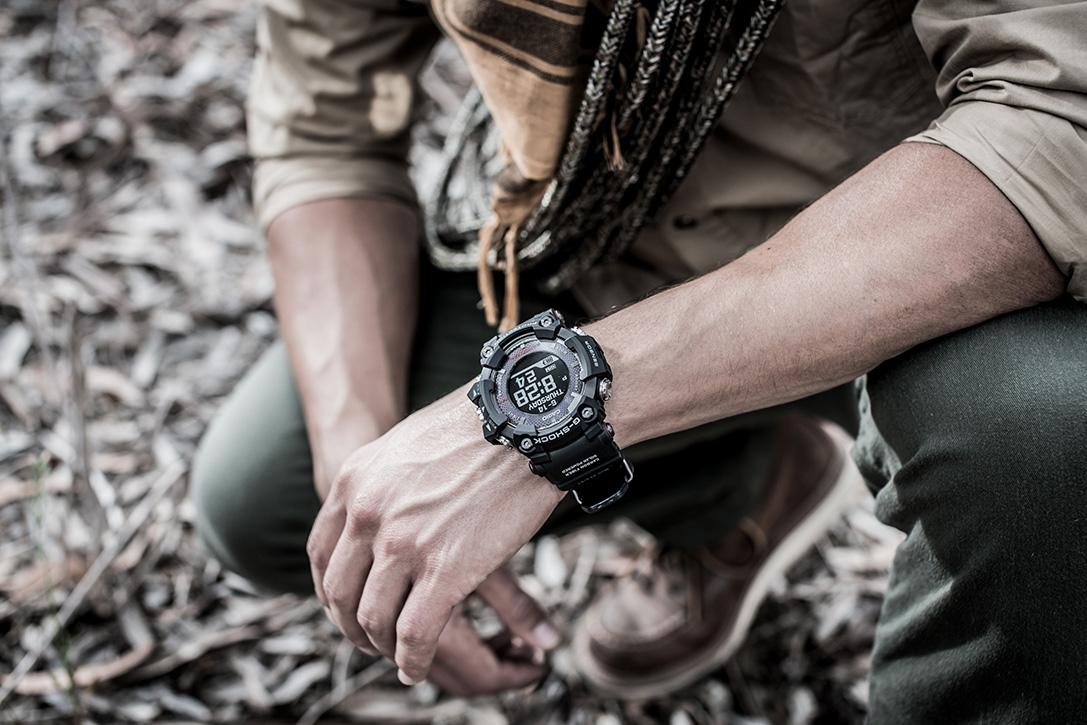 Whether you're a military man, an extreme sports junkie, or simply a guy who is passionate about camping and trekking, you are all too familiar with the importance of a good, reliable tactical watch. Tactical watches are tough watches designed to withstand extreme elements to meet the needs of military men and adventurous sportsmen or unforeseen circumstances while outdoors.  
To meet these tough requirements, tactical watches should have special features designed for rough outdoor conditions and extreme sports conditions. These tough features include shock- and water-resistance, chronometer, backlight and luminosity, solar capacity, GPS and satellite tracking, climate and weather tracking, and compass, among others.

More importantly, your tactical watches need to be reliable and readable. You need to make sure that you can depend on your tactical watch anytime, anywhere. Some people prefer to have a digital tactical watch for accuracy and easy reading. However, for others, there's nothing more than getting a sense of the time by seeing the hands of a watch move on the dial. That way, they can easily adjust their speed or momentum to be able to accomplish their objectives. 
Things to Look Out for in Tactical Watches
1. Reliability
When you're out hiking or on a mission deep in the forest where you need to be able to tell the time accurately, go for a tactical watch with a quartz movement. This way, you won't have to worry about your watch stopping in the middle of an activity, or rewinding it to start if you have a mechanical watch. Quartz watches are more accurate simply because they are less sensitive to changes in elements and temperature. Tactical watches that run on quartz movement can bear environmental and physical impacts better than mechanical watches. So, these shocks have little effect on the accuracy of the watch. 

2. Durability 
Tactical watches should be able to withstand not just environmental shocks and fluctuations but also regular wear and tear. This goes without saying that the case and body of your tactical watch need to be strong and highly durable. For the case, resin and stainless steel are preferred because they can protect the inside of the watch better. The strap should either be rubber, nylon, or stainless steel. As for the crystal used to protect the dial, sapphire is considered the most durable and scratch-resistant. You don't want your watch to have scratches on the dial because it will be difficult for you to read the time and information on it. Among the things that you should take note of is proof of tests done for its durability. 
3. Readability
One of the reasons you need a good tactical watch is for you to be able to tell the time easily even in the dark or difficult situations, such as in the middle of climbing a ravine or swimming in dark. So, you need your dial to be designed in such a way that you can get the information you need at a glance. At the same time, vital features such as the hand and hour markers need to be luminous in the dark. They should be coated with luminescent paint.
Most brands use Super-LumiNova, a fluorescent material that is used to make watch features glow in the dark for maximum legibility. This is a required feature for all tactical watches so that you'll be able to tell the time in the dark without using your other hand to switch any backlight buttons. When you're holding a gun, driving, or rappelling — you need to be able to tell the time or get information from your watch just by tilting your wrist towards you.

4. Discreet Functionality
Another thing about tactical watches is that they need to be discreet. Especially if you're in the military, you don't want your watch to be distracting you or drawing the attention of others towards you. Your watch should be dark and non-reflective so as to minimise the risk of divulging your location to others with the sun or light glinting off your shiny watch. If the watch is made of metal, it is normally coated with PVD, a durable coating that provides a scratch-resistant covering to the case. This is also why most tactical watches stay away from metallic straps and polished cases. Hence, you often see tactical watches in a black, grey, or military green case and straps.
5. Accuracy
The most important feature of a tactical watch is, of course, accuracy. In team sports or the army, you need to be able to rely on the accuracy of your watch to finish a task or coordinate with your teammates. As mentioned above, quartz watches are better suited for tactical watches because of their precision and accuracy, as well as their ability to withstand environmental and physical shocks. 

Other Helpful Features You Need in Tactical Watches 
Compass. A built-in compass in the watch helps you navigate and identify locations so you are able to find your way even in the middle of a forest, an unfamiliar location, or even in the dark or whiteout conditions.
GPS. With a GPS in your watch, you can customise your tactical watch to get the information you need, whether for specific sports or fitness goals or, in the case of the military, for accomplishing a specific mission. The built-in GPS can help you with navigation, data logging, fitness/movement tracking, and other specific sports assistance.
Altimeter. The altimeter or the altitude meter helps to measure your current elevation or altitude level, track your ascent or descent, and gauge your overall progress on a climb. If you're a mountaineer, trekker, skier, or military operative assigned to an extreme mission in the wilderness, this feature is essential for survival and for accomplishing your goals. 
Barometer. The barometer is used to measure air pressure in a certain environment, which allows you to forecast changes in the weather. If your watch has a built-in barometer, it will be easy for you to monitor air pressure changes to determine if there's any upcoming storm, etc.
15 Best Tactical Watches
Without further ado, here are 15 of our suggested tactical watches you can check out in the market — from high-end to affordable, in no particular order. 
1. Timex Expedition Gallatin TW4B03500 
A classic adventure watch, the Timex Expedition Gallatin comes in a 44mm black resin case with a rugged black dial and a nylon double-layer slip-thru strap. Inspired by the northern edge of the U.S. Rockies, this tactical watch features a raised top ring, Indigo night light, date, and 50m water-resistance.

The black matte dial has acrylic lens protection, 24-hour Arabic numerals, and luminous hands. It has a quartz movement and interchangeable straps for more style options. Lightweight and functional, this watch is ideal for any outdoor sports and adventure treks in the wilderness. 
2. Garmin Instinct Rugged GPS Watch
Built after US Military standards, the Garmin Instinct Rugged GPS Watch has specific tactical features. It is thermal, shock, and water-resistant. It also has a built-in 3-axis compass and barometric altimeter; features multiple global navigation satellite systems including GPS, GLONASS, and Galileo; as well as a number of fitness and sports-tracking functions. Since this is a smartwatch, you can stay connected with your smartphone while doing rigorous exercise, extreme sports, or military missions. For military personnel, this watch is particularly useful as it includes a stealth mode feature, dual-position GPS formatting, jumpmaster for detailed information on the speed of descent and altitude, as well as waypoint projection to allow you to set and save remote geographical positions.

What's more, its battery life can last up to 14 days in smartwatch mode, up to 16 hours in GPS mode, and up to a maximum of 40 hours in battery-saving mode. Aesthetic-wise, the Garmin Instinct Rugged GPS watch has a sturdy design with a hint of coolness. The 45mm beige fibre-reinforced polymer case is complemented with a matching strap and a black digital dial. Although it looks most at home in the wilderness, it will never look out of place in a casual setting, with a pair of jeans and a shirt, while you're sipping beer with your mates. 
3. Omega Seamaster Railmaster
The Omega Railmaster 220.12.40.20.01.001  comes in a 40mm brushed stainless steel case, a black matte dial, and a matching black textile strap. The Omega Railmaster is anti-magnetic — it can resist up to 15,000 Gauss. When you are out in the field, strong magnetic fields could sometimes affect the accuracy of your watch. So, it's good to have a watch that is anti-magnetic. 

As tough and rugged as the watch is inside, outside it looks sophisticated in its black and grey ensemble. It has a two-tone blackish-grey textile strap, complementing its black dial. The dial displays brushed stainless hands and hour markers which are, of course, coated with Super-Luminova for maximum legibility in the dark. Powering the chronometer watch is the Omega Co-Axial Master Chronometer Calibre 8806, which is METAS-certified and has 55 hours of power reserve. The watch is also water-resistant up to 150 metres. 
4. Casio G-Shock GA-700UC-5ACR
One look at the Casio G-Shock GA-700UC-5ACR and there's no mistaking that it is a strong and robust tactical watch. From its 53mm beige resin case to its matching resin strap, and black dual analogue-digital dial, the watch evokes durability and strength. And its functions only confirm that. The watch features Super Illuminator LED light, World Time with 31 time zones, daylight saving, four daily alarms, as well as an hourly time signal. 

The dual analogue-digital dial features multi-dimensional features with hour and minute hands, index hour markers, as well as various digital displays for easy reading. What's more, as with all G-Shock watches, the GA-700UC-5ACR is designed to resist mechanical impacts and vibrations. On top of it all, it has a 10m free-fall endurance, 200m water-resistance, and a battery life of up to 10 years! 
5. Nixon Regulus A1180-001
Very high-tech in its all-black design, the 46mm Nixon Regulus A1180-001 is called a "Basic Operation" watch as it was designed following inputs from US Special Ops personnel. So, you can rest assured that what you have on your wrist won't fail you in times of extreme situations — whether it's accomplishing intense work missions or sports goals. 

The Regulus features dual chronographs, an oversized LED backlight display, a silent mode option to help you keep undercover if needed, and a looper lock strap for comfort and security. In addition, it comes with five-year battery life, is shock-proof, and has a 100m water-resistance. Style-wise, this tactical watch looks great with a casual wardrobe or with your military uniform.
6. Garmin Foretrex 401 Hiking GPS
When you're out in the middle of nowhere, you need to make sure that you know where you are and where you're going. And the Garmin Foretrex 401 Hiking GPS comes in handy. Granted it is more of a GPS tool than a watch, The Foretrex 401 is also a GPS navigator, ideal for outdoor activities or extreme sports. Because it is a lightweight device, it is highly recommended for campers and skiers alike. It features a waterproof GPS receiver, electronic compass, and barometric altimeter. You can keep track of routes, tracks, and waypoints, as well as your heart rate. Using this device, you can also easily retrace your steps using the TracBack feature. Besides all these, this device also features sunrise/sunset times and even provides hunting/fishing information.

Another great thing about the Garmin Foretrex 401 is that whatever data you have in it can be easily transferred to your computer wirelessly or with a USB. To keep up with all its functions, the Garmin Foretrex comes with a powerful battery life of up to 17 hours.
7. Vostok Amphibian Military Diver 710650
As a watch brand favoured by the Soviet Union army, Vostok has a solid reputation in military and tactical watches. In 1965, Vostok was appointed as the official supplier of watches for the Defense Department of the Soviet Union. So, when you have a Vostok watch on when out in the woods, rest assured that you'll be taken care of. The Vostok Amphibian Military Diver 710650features a 41mm stainless-steel case that can withstand a depth of 200 metres. 

Powered by a self-winding movement, the watch has a power reserve of 31 hours. The black and red dial features luminous hands and a mix of Arabic and index hour markers. To match the dial, the watch has a black and red striped strap made of durable nylon. For a more discreet option, you can opt to switch the strap to an all-black version. 
8. Timex Tactic DGTL TW5M22600
The grey resin case and strap of this Timex Tactic DGTL watch look every inch the tactical watch you need for your outdoor activities. The case and dial are complemented with a matte finish and acrylic crystal lens. At 53mm, the case is huge enough to accommodate a dual analogue-digital dial that features a 24-hour chronograph with 1/100-second function, daily alarm, two time zones, day-date-month window, luminous hands, as well as index hour markers, among others. 

Its high-tech design gives it a rugged and sporty vibe that is both stylish and functional. The watch also has a 50m water resistance, a black negative digital display, as well an Indiglo backlight for maximum legibility in the dark. 
9. Seiko 5 SNK805 Military-Inspired Watch
Boasting a durable green fabric strap and a matte green dial enclosed in a 37mm stainless steel case, the Seiko 5 SNK805 Military-Inspired Watch is the accessory you need for any outdoor activities. The dial is easy to read with Arabic hour and minute markers and silver-tone hands. Another useful function is a day-date window which peeks at 3 o'clock. 

Running on the Seiko 7S26 calibre self-winding mechanical movement, the watch has a power reserve that can last up to 43 hours when fully wound. It is protected by a Hardlex crystal and has a water-resistance of 30 metres. Overall, this is a durable watch that won't let you down even in extreme situations. 
10. Citizen Chandler Eco-Drive Military Watch
When it comes to tactical watches, you'll never go wrong with the Citizen's Chandler Eco-Drive Military watch. It comes in a 43mm black ion-plated stainless steel case with a black dial and a dark-green Cordura strap. This analogue tactical watch features sub-dials that display the day, date and12/24-hour time functions. The big Arabic numerals and luminous hands make the time easy to read even in the dark.

Running on the Citizen Eco-Drive technology, this watch is powered by light — any kind of light. So, it does not need any battery or winding. This feature is very helpful in the outdoors, especially if you find yourself in the middle of nowhere where batteries or charging stations will not be easily available. 
11. Traser H3 P6600 Type 6 MIL-G Military Watch
Robust and reliable, the Traser H3 P6600 Type 6 MIL-G military watch is tough enough for the US military. Design-wise, its all-black ensemble makes it a favourite among extreme sports enthusiasts. It looks good with a casual wardrobe as it does with your sports gear or even military uniform. This tactical watch boasts a double-case construction with a steel inner container and carbon fibre outer case, protected by a sapphire crystal. Its bezel is likewise durable — it is made of black PVD-coated steel. It is also bidirectional rotating with Trigalight insert. 

On its black dial, you'll see luminous 24-hour Arabic numeral markers, hands, and a day-date window at 3 o'clock. The watch is powered by the Ronda 517.6 DD quartz movement with a life-span of more than 10 years. 
12. Breitling Cockpit B50 VB501019-C932-261S
Don't let the fun and playful design of this Breitling Cockpit B50 watch fool you. It is seriously tough and ruthless in the wilderness. This watch comes in a 46mm titanium case with a dual analogue-digital dial and a dark-blue rubber strap. The mother-of-pearl dial displays luminous Arabic numerals and index hour markers. It also boasts a perpetual day and date calendar. As for features that are helpful in the outdoors, the watch has a 1/100th-second chronograph with lap and flight timer, electronic tachymeter, end-of-life (EOL) indicator, flyback, daily alarms, GMT second time zone, UTC world time, as well as backlight, among others.    

Inside, this Breitling watch runs on a rechargeable, battery-operated SuperQuartz chronometer movement, which is COSC chronometer-certified. It has a push and pull crown, screw-down caseback, and protected by a sapphire crystal. These features allow the watch to be water-resistant up to 100 metres. 
13. Luminox NAVY SEAL Chronograph 3580-3581.EY
The Luminox Navy SEAL Chronograph 3580 3580-3581.EY is the latest and one of five models from the series. It boasts a chronograph function and comes in a 45mm new Carbonox case. It has a black case, black dial and bezel, and black rubber strap. This Luminox chronograph epitomises what tactical watches are all about. It is stealth, durable, reliable, lightweight, and highly functional. Its black dial features the chronograph functions, date, luminous hands, and hour markers. 

A quartz movement powers this watch, which ensures that it is precise and reliable at all times. It has a uni-directional bezel, hardened mineral crystal, screw-down caseback, and water-resistance of up to 200 metres! True to its name, this watch is worthy of any Navy Seal mission!
14. Hamilton Khaki Field Mechanical Watch H69439931
Cool and rugged, the Hamilton Khaki Field H69439931 is not only a stylish outdoor accessory but it is also a trusted ally when out in the field. The 38mm stainless steel case has a black dial and a green NATO strap. This goes well with every casual or sporty wardrobe you got. Its 38mm stainless steel case features a black dial with luminescent hands and Arabic hour markers for maximum legibility. Built to withstand any rough and tumble, this field watch boasts 24-hour military time. It also has durable sapphire crystal protection and water-resistance of up to 50 metres. 

At the heart of this handsome watch beats the H-50 movement, an exclusive calibre designed specifically for Hamilton hand-winding watches. The watch can last up to 80 days when fully wound. So, even if this tactical watch is mechanical, it still ensures maximum reliability outdoors. Truly an original soldier's watch. 
15. Victorinox Swiss Army Night Vision Chronograph
There's no mistaking what the Victorinox Swiss Army Night Vision Chronograph watch is made for. From its 42mm black PVD-coated stainless steel case to its black dial and black rubber strap — this watch evokes sleek ruggedness. The black dial displays luminescent hands and index hour markers and a date window at 6 o'clock. This Victorinox watch features three chronograph sub-dials displaying 60-second, 30-minute, and 12-hour functions. 

Running on a quartz movement, this tactical watch makes sure it stays precise and reliable at all times. Its scratch-resistant sapphire crystal is anti-reflective and sturdy. Meanwhile, its screw-down crown and solid caseback allow the watch to be water-resistant up to 50 metres. It is easy to read the time and any information you need on this watch even at night.
An Outdoors Buddy
When you are out trekking or trying to accomplish an important yet risky mission, it is necessary that you have someone or something to rely on. A good tactical watch should be able to do more for you than just tell the time. You need it to be sturdy, reliable, readable, and smart. From GPS to compass and altimeter, these extra features go a long way when in the woods. So, when choosing your next outdoors watch, make sure to keep all these helpful features in mind.
In the market for affordable dress watches? Check out our story on the elegant yet affordable Orient Bambino.