New & Feature
Check Out Bulova's Iconic Grammy Watch
Feb 24, 2022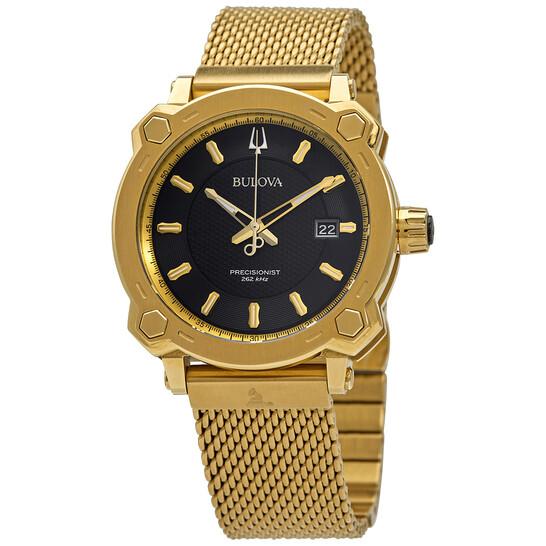 Surfboard, Computron, Devil Diver — these are just some of the iconic wristwatches that represent the brand of Bulova. Founded in 1875, Bulova is a prominent name in the realm of watchmaking. The timepieces it makes are very recognisable, thanks to their bold and striking designs. While American at heart, this brand demonstrates the watchmaking skills and know-how of a true Swiss watchmaker.
Quite frankly, there is a litany of Bulova watches we can talk about. There are many Bulova timepieces that make for great conversation starters, with their memorable looks and interesting influences. For today, however, we will be taking a look at none other than the sensational, gold-toned Bulova "Grammy Edition" Precisionist. Commonly known as the "Grammy Watch", this timepiece was created in collaboration with the Recording Academy, the organisation that holds the legendary annual Grammy Awards. Without further ado, let us check out Bulova's Grammy Watch and everything it has to offer. 
Bulova's Grammy Watch: the Bulova Grammy Edition Precisionist Ref. 97B163
Case, Caseback, Bezel, and Crown

Bulova "Grammy Edition" Precisionist comes in a polished, round stainless steel case treated with gold PVD. It measures 44mm in diameter and is 12.2mm thick. This is quite a substantial size, so this watch has no issue standing out on average-sized wrists. Wearers with relatively large wrists will also have no problem sporting this shiny, chunky Bulova piece. 
The watch's hefty build is bolstered by its unusual bezel. This gold-plated stainless steel bezel has protruding sides that give the watch face an unorthodox structure, similar to the base of a gramophone. This unique watch face is inspired by the awards given out at the Grammys, which are shaped like gramophones. On each side of the bezel is a honeycomb-shaped screw, tightly securing the bezel to the watch case while also adding to this watch's quirky personality.
On the underside of the Grammy Watch, you can find a caseback that flaunts the same unusual build as the bezel, with four protruding edges. Like the bezel, the caseback is tightly screwed down with four gold-tone honeycomb screws. This ensures that no moisture or dust can get into the watch and damage its inner mechanisms. The bezel also bears an engraving of the Grammy Awards' iconic logo, signifying this watch's ties to the popular music show awards.
On the right side of the Grammy Watch's case is a gold-tone push-pull crown crafted from stainless steel. This crown is also engraved with the Grammy Awards Insignia. Finally, at the top and bottom of the case, you can find the watch's lugs. These lugs are short and chunky, with screws on the sides that help hold the watch strap in place.
Despite not being a dive watch, the Bulova "Grammy Edition" Precisionist has a solid water resistance capacity of 100m. This allows you to easily bring your Grammy Watch with you into the shower or the rain without breaking a sweat. Keep in mind, however, that although the caseback of this watch is a screw-down variant, the crown is not. As such, swimming with this Bulova watch should be kept to a minimum, so you do not risk getting its inner mechanisms wet. 
Black Sector Dial

This Bulova Grammy Watch comes with a jet-black sector dial that strikingly contrasts against its all-gold exterior. Like the bezel, this dial bears visible influences from the prestigious Grammy Awards. Since this is a sector-type dial, it flaunts two different finishes. The outer ring of the dial showcases a set of linear grooves that imitate the pattern seen on vinyl records. It also comprises stylised gold-tone hour indices, a date window outlined in gold at 3 o'clock, and Bulova's signature prong-headed logo, which takes the place of the 12 o'clock marker.
The inner segment of the dial, on the other hand, features a texture reminiscent of the head of a microphone. It contains sweeping gold-tone watch hands that are filled with lume, allowing for optimal readability even in the dark. The two sectors of the dial are also segregated by a gold-tone ring, adding even more pizazz to this elegant watch face.
Flat Sapphire Crystal
Fitted on top of the Grammy Watch's case is a flat layer of sapphire glass. As many watch enthusiasts and collectors already know, sapphire crystals are famous for their exceptional scratch resistance and clarity. When tested on the Mohs scale of mineral hardness, sapphire glass has a rating of "9," making it incredibly tough. In fact, sapphire is so hard that the only thing that can possibly scratch it is a diamond.
Although sapphire crystals are extremely durable, they also tend to be highly reflective. Wearers who look at the crystal from certain angles may experience visual distortions due to the glass refracting light. In order to counter this problem, Bulova has treated its sapphire crystals with anti-reflective coatings, ensuring that wearers will have a clear and unhindered view of their watches' faces. 
Movement
The Bulova "Grammy Edition" Precisionist is powered by an analogue quartz movement. Compared to automatic calibres, quartz calibres are more affordable and more accurate. While automatic calibres have a beat frequency of 3Hz to 4Hz, quartz movements boast an incredible beat frequency of 32,786Hz. With such incredible timekeeping accuracy, you can rest assured that the Bulova "Grammy Edition" Precisionist lives up to its name. 
This quartz calibre is also battery-powered, so make sure to replace its battery when needed. When fully charged, the battery of this quartz movement can last for up to a year.
Stainless Steel Mesh Bracelet

Bulova pairs the Grammy Watch with a stainless steel mesh bracelet. Like the case, the strap has also been coated in a layer of gold PVD. The bracelet uses a butterfly clasp lock system, hiding its mechanism under the bracelet so that it looks well-built and sleek throughout. If you intend to wear this watch often, you may end up catching some dirt and grime between the tiny crevices of the butterfly clasp lock. Fret not, however, as you can easily clean it up with some dishwashing liquid and a toothbrush.  
Price
Originally, Bulova sold the Grammy Watch for $975 USD. However, this watch has since been discontinued. As such, your best bet of finding the Grammy Watch would be through second-hand markets, where it typically retails between $670 USD to $735 USD. Of course, the price will vary depending on the seller and the watch's overall condition. 
Alternatives to the Bulova Grammy Watch
Without a doubt, the Bulova "Grammy Edition" Precisionist is an impressive watch. With its lavish golden aesthetic and hardy stainless steel build, it is hard to go wrong with this watch. That said, since Bulova no longer produces this watch, your chances of finding a Bulova Grammy Precisionist piece are not high. If you want a dependable gold and black timepiece similar to the Bulova Grammy Precisionist, take a look at some of these top-notch alternatives. 
1. Hamilton American Classic RailRoad Auto Ref. H40505731

The first watch on this list is the Hamilton American Classic RailRoad Auto Ref. H40505731. Hailing from the brand's American Classic series, the American Classic RailRoad Auto utilises a 40mm stainless steel case coated with a layer of rose gold PVD, bolstering its scratch resistance and giving it a more refined look. Fitted on the front of the case is a layer of sapphire glass, while the rear is covered by a screw-down transparent caseback. Through this caseback, you can have a clear view of the watch's movement. 
On the right side of the watch's case, you can find a chunky crown. Also coated in rose gold PVD, this crown bears a carving of Hamilton's logo in its centre and has grooved sides, allowing wearers to grip and turn the crown more easily. Thanks to its screw-down crown and caseback, this watch has a water resistance capacity of 50m, which is more than enough to withstand some splashes and downpours. This watch also comes with a handsome black calf leather strap.
Like the Bulova Grammy Watch, this Hamilton timepiece has an elegant jet-black dial. It consists of long, slender rose gold-tone indices and leaf-shaped watch hands. Because of how the dial is designed, the shorter hour hand actually hovers over the hour marker it points to. The longer, sweeping minute hand points to the white minute markers positioned at the rim of the watch face instead. There is also an outlined date complication at 3 o'clock. Thanks to its contrasting black and rose gold hues, this dial is highly legible and easy to read.
Driving this watch is an automatic Hamilton H-10 calibre. This movement boasts a frequency of 21,600 vibrations per hour (3Hz) and an impressive power reserve that can run for approximately 80 hours.
The Hamilton American Classic Railroad Auto Ref. H40505731 sells at $760 USD.
2. Gucci G-Timeless Ref. YA126461A

Gucci is a name that many would associate with high class and luxury. When it comes to the latest trends in fashion, you can always count on this brand to keep your style up to date. This brand is most famous for its luxury products and fashion accessories which, of course, include watches. If you are looking for something that resembles the Bulova "Grammy Edition" Precisionist, check out the Gucci Ref. YA126461A from the brand's G-Timeless collection.
This fashion watch is presented in a 38mm yellow gold PVD stainless steel case accompanied by a matching yellow gold PVD stainless steel bracelet. Both the watch case and bracelet are well polished, giving the watch a gleaming, sleek look throughout. Like the Bulova "Grammy Edition" Precisionist, the bracelet of this watch also uses a butterfly clasp lock. Sealing the timepiece shut is a solid steel caseback, which also contributes to the watch's 50-metre depth rating. On the right side of the case is a small crown that has Gucci's signature "G" logo engraved on its centre. 
Showcased behind a layer of scratch-resistant sapphire glass, the dial of the Gucci G-Timeless is quite a spectacle. It flaunts a gold-tone, textured surface with triangular protrusions of different sizes in a unique and mesmerizing guilloche pattern. Bearing just a date display at 6 o'clock and long gold watch hands, this timepiece acts more as a bold fashion statement than a versatile timekeeper. Still, this is definitely a watch you can count on whenever you are out for a fancy event. 
Underneath this watch's exclusive dial is a Swiss-made quartz movement. As mentioned above, quartz calibres are incredibly accurate, so you will not have any trouble with this watch's ability to keep precise track of time.
This Gucci watch sells at around $700 USD.
3. Diesel Mr. Daddy 2.0 Ref. DZ7333

In recent years, oversized wristwatches have become incredibly popular with young fashion enthusiasts. While the chunky designs of big watches have their appeal, not everyone is able to pull them off, as some might have wrists that are too small for these watches. That said, if you are someone with wrists big enough to sport an oversized timepiece, then you are in luck. Diesel has one mind-blowing watch that is sure to turn heads. With its incredibly unique design, the Diesel Mr. Daddy 2.0 Ref. DZ7333 is a colossal timekeeper built unlike any other.
Measuring 57mm in diameter and 14mm in height, this titanic Diesel watch uses a gold PVD-coated stainless steel case coupled with a matching gold PVD strap. While most watches have one crown, this chronograph timepiece comes with a total of four crowns — three on the left and one on the right. Why would it need four crowns, you ask? That is because this Diesel watch can tell the time of four different places simultaneously. On the underside of the watch is a solid steel caseback engraved with the brand's logo. Unlike the rest of the case, this caseback is not coated in gold PVD. This watch also has a 30-metre depth rating. 
The highlight of this watch is easily its striking black watch face and with good reason. This dial is quite complex; as mentioned, it can tell the time of four different time zones at once. The main dial takes up the right side of the watch face, while three other customizable time zone sub-dials occupy the left. The Diesel also shows the time in a bunch of creative ways. While the main dial shows the time traditionally, the three sub-dials have their own unique way of telling time. The main dial is also adorned with gold-tone blunt hands, three chronograph sub-dials, and a small date aperture at 3 o'clock.
On the whole, this watch's dial design is quite unorthodox, but that is precisely why it makes for a great conversation starter. This watch is also powered by a quartz movement, so you will not have any troubles with its timekeeping precision. 
As the cheapest alternative to the Bulova Grammy Watch, this Diesel timepiece fetches a price of around $400 USD.
Final Thoughts
Despite being around for more than a hundred years, Bulova has always been regarded as an underrated watch brand. The "Bulova Grammy Edition" Precisionist is another win for this brand. It is a dazzling timepiece guaranteed to help you stand out. Although it does not quite have the reputation of the Devil Diver, the Computron, or the Surfboard chronograph, Bulova's Grammy Watch still has the essential qualities of a daring and reliable Bulova timekeeper. Through its distinct design and memorable build, this gold-toned Bulova timepiece is nothing short of eye-catching.
Featured Image By: Jomashop
Want a timepiece to show your love for Star Wars? Check out this Guide to Citizen's Awesome Star Wars collection and see if "The Force" is strong with one of these models.