New & Feature
A Complete Walkthrough of the Breezy Grand Seiko SBGH271
Jan 12, 2022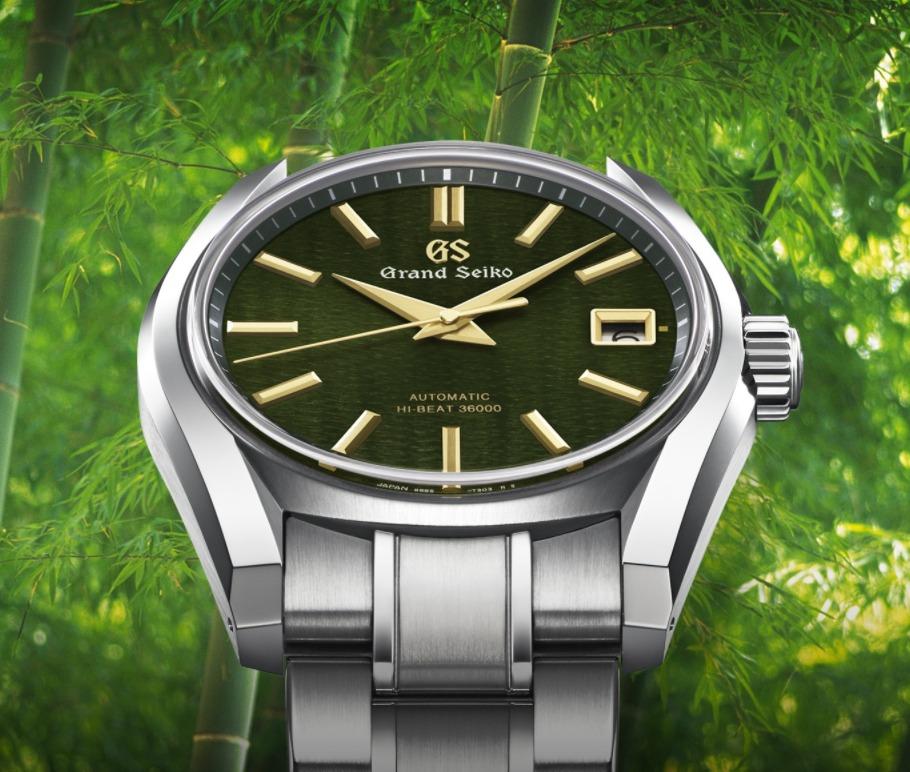 Many enthusiasts and collectors alike have long revered Grand Seiko for its top-of-the-line luxury watches. With their exquisite finishes, high-performance in-house movements, and exclusive looks, each Grand Seiko timepiece is a testament to the heritage and expertise of the legendary Japanese watchmaking brand. While the brand has numerous watches that are worth our time, one popular model that continues to generate a buzz in the community is the Grand Seiko SBGH271.
Also known as the Grand Seiko Rikka, the SBGH271 is one of the four models that make up the Four Seasons collection of Grand Seiko's Heritage series. With its beautiful design, refined concept, and impeccable pedigree, the Grand Seiko SBGH271 has become a must-have piece for many watch fanatics around the world. Join us as we get to know more about the wonderful Grand Seiko Rikka, its specifications, price, and timekeeping capabilities.
The Grand Seiko SBGH271 and the Grand Seiko Four Seasons Collection
In the summer of 2019, Grand Seiko released its Four Seasons Collection. This breathtaking series contains four different models that represent the four seasons of Japan: Shunbun – the Vernal Equinox, Rikka – the Early Summer, Shubun – the Autumnal Equinox, and Taisetsu – the Deep Snow of Winter. The four timepieces in this grand collection are all based on the 1967 Grand Seiko 62GS, which was the brand's first automatic wristwatch.
Although it was originally exclusive to the U.S., Grand Seiko later released its Four Seasons collection to the international audience. All of these models are marvellous in their own right. For today, however, we will be focusing on the qualities and characteristics of the Grand Seiko Rikka, otherwise known as the Grand Seiko SBGH271.
Grand Seiko SBGH271: Specifications

Stainless Steel Case
The Grand Seiko SBGH271 has case dimensions measuring 40mm in diameter and 12.9mm in thickness. Along with a standard 21mm lug width, this watch has a fairly average build and just the right amount of presence. It is able to fit comfortably on wrists of all sizes without looking too big or too small, or feeling too heavy on your wrist.
In terms of its structure, the Grand Seiko SBGH271 utilises a clean, bezel-free stainless steel case based on the 1960s Grand Seiko 62GS. Although this is definitely a heritage design, this watch shows off modern Zaratsu polishing techniques, giving it a brilliant sheen unlike any other.
In addition, if you look at the SBGH271 in its entirety, you can see clearly that this watch case does not have the standard tonneau-style shape. For artisans to achieve this design, watchmakers must carefully hold the watch case against a spinning milling surface. Apart from the mill, the watchmaker cannot use anything else. With its smoothly bevelled curves displaying alternately Zaratsu-polished and satin-finished surfaces, the SBGH271's complex symmetrical architecture is, without a doubt, a work of art in its own rights. This gives it a luxurious look that makes the SBGH271 truly befitting of its status as a luxury dress watch.
On the underside of the SBGH271, you can find a screwed-in exhibition-style caseback that bears a delicate engraving of the Grand Seiko logo. Although this bold lion emblem is nice, one potential issue is that it obstructs the wearer's full view of the SBGH271's movement. For those who want to be able to admire the Grand Seiko Rikka's calibre unhindered, this can be rather annoying. The case is also paired with a grooved screw-down crown, which gives the SBGH271 has a depth rating of 100m, so wearers can easily bring the Grand Seiko Rikka for a swim.
Deep Green "Kunpu" Dial
The term "Kunpu" refers to the gentle breeze that moves freely during the summer. As a model from the brand's Four Seasons collection, the Grand Seiko Rikka's Kunpu dial represents the passage of time from spring to summer in Japan. During this period, the foliage in Japan grows profusely and healthily, effectively changing the landscape to lush green. The atmosphere is pleasant and is accompanied by a refreshing summer breeze that blows coolly over the fields of greenery. All of this gorgeous imagery is wonderfully captured by the SBGH271's deep green dial with its unique and handsomely-finished texture. 
Crafted entirely by hand, the SGBH271's watch face is also adorned with rectangular hour indices and sleek dauphine hands made of luxurious yellow gold that has been satinised and polished. It also bears an applique of the Grand Seiko's logo at 12 o'clock and a date aperture outlined in gold at 6 o'clock. Below the golden minute and hour hands, you can also find a clean typeface neatly spelling out the watch's movement specifications in a darker shade of gold.
Box-shaped Sapphire Glass
Sitting on top of the case and the dial is a layer of sapphire glass. Like most experienced watchmakers brands with their luxury timepieces, Grand Seiko chose to fit the SBGH271 with a sapphire crystal due to its incredible hardness and luxurious quality. With an incredible rating of "9" on the Mohs scale, you will find that virtually no object can cut through this durable watch crystal other than diamonds.
Some wearers might worry, however, because sapphire crystals are highly-reflective materials, and this can cause some visual distortions when viewing the timepiece at certain angles. However, that will not pose a problem with the SGBH271, as Grand Seiko was careful to treat the sapphire crystal of this watch with a layer of anti-reflective coating on its inner surface. As such, you are sure to have an unhindered view of the SBGH271's Kunpu dial in all its majestic glory. 
Grand Seiko Calibre 9S85

Powering the SBGH271 is the Grand Seiko Calibre 9S85. This is an automatic high-beat movement capable of running at an incredible 36,000 vibrations per hour (5Hz). In terms of precision and reliability, this Grand Seiko calibre has an excellent accuracy rate of +8/-1 seconds per day on normal usage. Held by thirty-seven jewels, the 9S85 comes equipped with a power reserve that, when fully wound, can last up to 55 hours.
Apart from that, this high-beat movement is also equipped with the Seiko-patented Diashock system and a Spron 610 hairspring, which gives it a greater degree of shock and impact resistance, allowing the SBGH271 to survive all sorts of tough conditions. Finally, although the Grand Seiko 9S85 is self-winding, it also supports manual winding and hacking capabilities.
Stainless Steel Bracelet
Like its case, the watch strap of the Grand Seiko Rikka is also made out of stainless steel. The top of its links is predominantly satin-finished with polished highlights on the sides of the center links. Along with polished flanks on the sides of its outer links, this watch strap displays a pattern of alternating satinised and shiny surfaces that is extremely pleasing to the eyes.
Moving on to its locking system, the bracelet of the SBGH271 uses a stainless steel three-fold deployment clasp engraved with the Grand Seiko logo that will keep this watch securely around your wrist. For wearers who do not like the hassle of having to add and remove links to size their watches, the Grand Seiko SBGH271 can also be paired with a very comfortable after-market brown alligator leather strap.
Price
Grand Seiko sells the elegant SBGH271 at around $6,300 USD, which is around the price range of entry-level Rolex Oyster Perpetual models. On the other hand, acquiring a pre-owned model from authorised dealers can cost between $5,295 USD to $5,940 USD, depending on the condition of the timepiece. If you are looking for a fairly accessible luxury wristwatch with a highly reliable movement, uniquely polished case, and a one-of-a-kind dial design, then the Grand Seiko Rikka is definitely worth considering. 
Alternatives to the Grand Seiko Rikka SBGH271
Although the price of the Grand Seiko SBGH271 is quite reasonable compared to some other luxury watches in the market, $6,300 USD is still a hefty price tag, and not everyone has the budget to afford it. If you want to scratch that Grand Seiko Rikka itch without having to spend a fortune, here are some affordable alternative watches that can possess style and performances similar to the SBGH271.
1. Seiko Prospex SPB121J1

Known as the modern recreation of the Seiko Alpinist SARB017, the Seiko Prospex SPB121J1 is a versatile and affordable piece that works as a great alternative to the Grand Seiko Rikka. With dimensions measuring 39.5mm in diameter and 13.2mm in thickness, the modern-day Alpinist is even pretty close to the Grand Seiko SBGH271 in size. 
Unlike the SBGH271, the Seiko Prospex SPB121J1 shows off a more casual aesthetic, coming in a stainless steel case coupled with a supple calfskin leather strap in brown. Although the case of the SPB121J1 does not have the marvellous profiling and sheen quality of the SBGH271, it does come with an improved depth rating of 200m, which is 100m more than what the Grand Seiko Rikka offers. This allows wearers to go for more extreme water activities such as deep diving. Fixed on the right side of the case is a screw-down crown and a knob, both of which are made out of stainless steel. Wearers can use the knob to access and control the internal rotating compass bezel.
Looking at the dial of this Seiko Prospex piece, its watch face showcases a green sunburst surface decorated with gold-tone indices, Arabic numeral markers, and cathedral-style hour and minute hands. Positioned at the 3rd-hour marker is a date complication that wearers can view clearly through the magnifier lens fixed on the watch's sapphire glass. Like the Grand Seiko SBGH271, the sapphire crystal of the SPB121J1 has also been treated with anti-reflective material to prevent any visual distortions when looking at the watch face. The gold indices and hands of the SPB121J1 are also generously coated with LumiBrite so wearers can read the time clearly even at night. 
Underneath the dark green dial of this Seiko watch is the automatic Seiko Calibre 6R35. This mechanical movement possesses manual winding and hacking capabilities as well as a beat frequency of 21,600 vibrations per hour (3Hz). While it has a slower beat rate than the SBGH271, the Calibre 6R35 offers a lengthier power reserve that can last for up to a whopping 70 hours.
All in all, the Seiko Prospex SPB121J1 is a robust and dependable wristwatch that is more than what it is worth. While its craftsmanship does not quite match up to the Grand Seiko SBGH271's, this Alpinist is much more accessible and still offers a whole lot of quality for its price. You can purchase the Seiko Alpinist for just $535 USD.
2. Longines Spirit Automatic L38104036 

Combining a vintage pilot watch design with modern-day innovations, the Longines Spirit Automatic L38104036 is a green-dial timepiece that pays tribute to the heritage and pioneering spirit that Longines is known for. The Longines Spirit Automatic L38104036 has a 42mm stainless steel case, making it slightly larger than the Grand Seiko Rikka. Its rear is made up of a solid steel caseback that, when paired with the stainless steel screw-down crown, gives this timepiece a solid depth rating of 100m. Fitted on top of the case is a flat, scratch-resistant sapphire crystal with numerous treatments of anti-reflective coatings on both sides. 
The old-school dial of this Longines Spirit watch shows off a dark military green surface. It is adorned with pronounced Arabic numerals in a thick typeface and silver sandblasted hands. In addition, the seconds hand has a red tip that adds a touch of vibrant colour to this green-and-silver dial. Both the hour markers and hands are generously coated with Super-LumiNova, providing optimal legibility in low-light conditions. Perched beside the 3 o'clock index is a scaled-down rectangular date window with black text and white background.
This watch is driven by the Longines Calibre L888.4. Based on the ETA A31.L11, the Longines L888.4 is a self-winding mechanical movement that beats at 25,200 vibrations per hour (3.5Hz). Kept together by 21 jewels, the L888.4 features a monocrystalline silicon balance spring and an extended power reserve that can run for up to an incredible 72 hours.
With its sleek looks and eye-catching military design, the Longines Spirit Automatic L38104036 is an impressive timepiece that will not do you wrong. It retails at approximately $1,905 USD.
3. Seiko Presage (SRPE45J1)

Who doesn't love a striking and unusual dial texture that simply stands out from the crowd? The Seiko Presage SRPE45J1 possesses just that, with a gorgeous sunburst green dial that shows off a sophisticated scale-like texture. With its dressy aesthetics, the Seiko Presage SRPE45J1 is a chic and refined timepiece that will look perfect at your next dinner party.
This Seiko Presage piece comes in a stainless steel case that measures 38.5mm by 11.8mm, making it slightly smaller than the Grand Seiko SBGH271. This is paired with a smooth, handsome calfskin leather strap in brown that enhances the watch's stylishness. On the underside of the watch, you can find a see-through caseback that is securely screwed in, giving the watch a water resistance capacity of up to 50m. This allows it to fend off any accidental splashes or even a trip to the shower.
Protecting the dial is a layer of Seiko's box-shaped Hardlex crystal. Although Hardlex glass is not quite as scratch-resistant as sapphire crystal, it is more impact-resistant and much more affordable. Topped with exquisite gold-tone indices and dauphine hands, the dial's mesmerising scaly-green pattern only grows more alluring the more you look at it. On the right of the dial, you can find a rectangular date window that is also outlined in gold.
This watch is powered by the automatic Seiko Calibre 4R35, complete with its 23 jewels and 41-hour power supply. Like the Calibre 6R35 that drives the Seiko SPB121J1, this Calibre 4R35 also comes with manual winding and hacking abilities. 
This Seiko Presage sells at an estimated price of $320 USD. 
Final Thoughts

With the durability of a hardy sports watch and the looks of a dressy timepiece, the Grand Seiko SBGH271 stands out as a jack-of-all-trades timekeeper. It is built to satisfy wearers with its high quality, luxurious feel, and impeccable design. Whether it is the pool, the ballroom, or a nearby park, the Grand Seiko SBGH271 is here to provide you with style, reliability, and precise timekeeping wherever you go.
One downside to note is that the Grand Seiko SBGH271 does not come with any luminescence. This can make it a little hard to read if you are in a dimly lit area. That said, if you are looking for a luxury timepiece with a nifty green dial and a stupendous high-beat movement, there are not many watches in the market that come close to the Grand Seiko Rikka SBGH271.
Featured Image By: Grand Seiko
Want a Luxury Timekeeper that is bound to make a statement? Take a look at the world-renowned Rolex "Bluesy" Submariner Date Ref. 126613 and see if this is the watch you're looking for.