New & Feature
Hamilton Khaki King Auto: The King of Entry-Level Swiss watches
Oct 13, 2021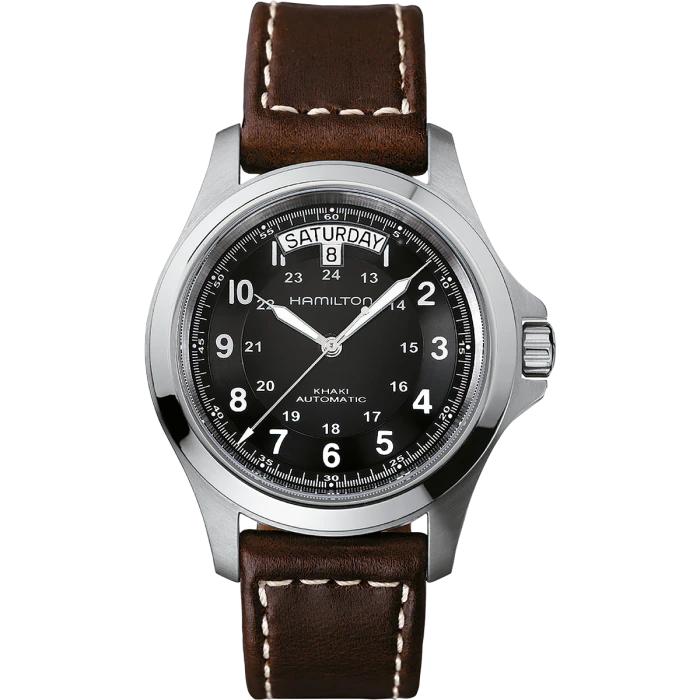 The Hamilton Khaki Field collection offers field watches that range from entry-level to mid-range. Each model from the Hamilton Khaki Field sports a vintage military-inspired design. They can be run by either a hand-wound, automatic, or quartz movement. Among all the Hamilton Khaki Field watches, today, we will be focusing on a specific model known as the Hamilton Khaki Field King Auto, often called the Hamilton Khaki King. With its signature crown-like day-and-date window, the watch community recognizes the Hamilton Khaki King as one of the best entry-level field watches in the market. It is admired for its looks, heritage, durability, and very affordable price. Let us see what makes this Khaki Field timepiece a "king." 
A Bit of Hamilton History: The Hamilton Khaki Field Collection

Hamilton has three collections inspired by the military: Khaki Navy, Khaki Aviation, and Khaki Field. The Hamilton Khaki Field, in particular, was a selection of field watches which the US Government later issued to the US Army. As with other American watch manufacturers that supplied the military, Hamilton had to abide by government-mandated military watch standards. In the 1960s, the government updated its military watch specifications. They now demanded larger wristwatches with more legible indices. Using this new template, Hamilton was able to create the Hamilton Ref. 9219. It had the 24-hour layout that many of us have grown familiar with, as well as durability and reliability that matched the criteria of a genuine military field watch. The Hamilton Ref. 9219 was an excellent military timepiece and Hamilton produced millions of it for soldiers to wear.
As war times came to a close, Hamilton no longer had to follow military-mandated designs. This gave the brand a lot more freedom in developing its Khaki Field watches. Today, the Hamilton Khaki Field comes in various case sizes, materials, dials, and straps. Some of their best-selling watches include the Hamilton Khaki Field Mechanical, Khaki Field Auto, Khaki Field Quartz, and, of course, the Khaki Field King Auto. Rugged, resilient, and stylish, Hamilton Khaki Field watches are built to withstand everything the great outdoors has to throw at them.
All About the Hamilton Khaki King Auto
There have been a few variations of the Hamilton Khaki King over the years. For this article, we will be focusing our attention on, specifically, the Hamilton Khaki King Ref. H64455533.

Case Dimensions
First, let us take a look at its size. The Hamilton Khaki King has a case diameter of 40mm. It has a lug width of 20mm, a lug-to-lug distance of 49mm, and weighs around 120g. Putting all these measurements together, the Hamilton Khaki King does come off as a rather sizable watch, especially for a 40mm timepiece. Still, it hits the goldilocks zone of wearability for many different wrist types and is relatively lightweight compared to most sports and diver models. Plus, its standard 20mm lug width allows wearers to change the Khaki King's strap very easily.
Stainless Steel Case
Containing the inner components of the Hamilton Khaki King is an asymmetrical stainless steel case. Stainless steel is a conventional and ideal material for making watch cases due to its strength, affordability, and unmistakably luxurious sheen. The Khaki King's case features brushed surfaces and a polished stainless steel bezel on top. On its side is a polished stainless steel crown with crown guards for protection. The knob itself is 6mm wide and quite easy to grip. Regrettably, however, it is not a screw-down crown, which would be more secure. Turn the watch over and you will see an exhibition-style caseback complete with the watch's general information engraved on its rim. Overall, Hamilton did rather well with the casing of the Khaki King. It has good curvature and an attractive mix of polished and brushed surfaces that are pleasing to look at.
The depth rating of the Hamilton Khaki King is not that impressive. It is water-resistant up to depths of 50m. This is good enough to withstand some splashes and raindrops, but not enough to allow you to bring the watch for a deep swim. Furthermore, since the Khaki King's crown is not screwed-down, the watch's water resistance capacity is not guaranteed. If you really need a watch to swim with, a diver model from the Khaki Navy collection would be more ideal.
Military-Inspired Black Dial
The dial of the Hamilton Khaki King holds all the characteristics you would expect of a genuine military-inspired field watch. It features a black surface divided into an inner ring and an outer ring. The outer ring consists of Arabic numerals, applied with lume, that count from 1 o'clock to 11 o'clock. Taking the 12-hour spot is an elongated, sectioned day-and-date window with black texts and white background. As the time hits 12 o'clock midnight, the window will instantly snap to the following day and date. If you are not fond of this crown-like day-and-date function, Hamilton also offers other variants of the Khaki King without this complication. Surrounding the edges of the outer ring are minute indices and luminescent pearls located under each hour marker.
The inner ring of the Hamilton Khaki King Ref. H64455533 boasts luminescent syringe-shaped minute and hour hands, and another set of white Arabic numerals that represent the 13th to the 24th hours of the timepiece. These extra numbers help tell military time. Unlike the numerals on the outer ring, the inner ring numeral markers are not coated in lume. The inner ring also has the Hamilton and Khaki Automatic signatures printed on the upper and lower sections.
Sapphire Crystal
Sheltering the handsome watch face is a layer of sapphire glass. Sapphire glass provides wearers of the Hamilton Khaki King with a neat and legible view of the military-inspired dial, while also ensuring that it does not get damaged. You will not have to worry about scratches, since crystal has the highest scratch resistance among all watch glasses. That said, the glass is vulnerable to shattering, so it would be advisable to keep the Hamilton Khaki King from receiving heavy impacts.
Sapphire crystals tend to be highly reflective. At certain angles, the light refracts, creating a glare that can be a bit of an annoyance for on-lookers. As a countermeasure, watchmakers would usually treat their sapphire glass with an anti-reflective coating. Unfortunately, the Hamilton Khaki King Ref. H64455533 does not come with such a treatment. However, for the most part, the Khaki King's sapphire crystal does its job well and adds a sense of luxury to the timepiece.
H-40 Automatic Movement

Operating underneath the watch face is a reliable Hamilton H-40 calibre. Based on the ETA 2834-2 movement, the H-40 calibre is an automatic movement with manual winding and hacking capabilities. Its 80-hour power reserve allows wearers to put the watch aside for the weekends without having to constantly wind the movement. The H-40 calibre produces 21,600 vibrations per hour and is held by twenty-five jewels. As stated previously, the watch uses an exhibition-style caseback which allows you to view the movement at work. For the most part, you will be seeing components you would usually find on an ETA 2834-2 movement. The main difference is that the H-40 calibre has an engraved Hamilton rotor. If you are looking for another watch with the H-40 calibre, Hamilton also utilizes this movement in numerous Khaki Field and Khaki Aviation models.
Brown Cow Leather Strap
Hamilton pairs the Khaki King with a stitched brown leather strap. The strap is made from cow leather and uses a pin buckle for fastening. In terms of looks, the cow leather strap definitely adds to the vintage aesthetic of the watch. Because of how universal leather straps have become, it definitely pushes the Hamilton Khaki King as a suitable accessory for both dressy occasions and everyday wear.
Price Range
A new/unworn Hamilton Khaki Field King Auto would typically cost around $600 USD, which is a pretty good price considering what it offers. If you don't mind owning a pre-loved model, there are wearers online who usually sell a used Khaki King Auto for approximately $425 USD — nearly 2/3 of the original price.
Alternatives to the Hamilton Khaki King 
Many people consider the Hamilton Khaki King to be one of the best Swiss entry-level watches in the market. However, some might disagree. If you are not a fan of the Khaki King Ref. H64455533, or simply prefer a timepiece with different looks, we have provided a few alternatives to the Hamilton Khaki King, along with their approximate prices. Keep in mind that the models are listed in no particular order. 
Seiko Neo Sports Automatic (SRPC89K1) – $305 USD

Starting off our list is the Seiko Neo Sports Automatic SRPC89K1. The Seiko SRPC89K1 is a black PVD-coated stainless steel field watch. It has a 43mm case diameter and a lug-to-lug distance of 50mm. This makes it considerably larger than the Hamilton Khaki King. It has a height of 13mm, so it is going to stand out prominently on your wrist. The watch's PVD coating gives it a charcoal satin-finished look, which matches nicely with the watch's textured black leather strap. Flipping the wristwatch over, the Neo Sports Automatic has a see-through case back that showcases its 4R35 automatic movement. 
Inside the watch is a black dial that boasts a similar pattern to the Khaki King. Its chapter ring contains pronounced Arabic numerals, while the inner circle features the hands, the other hour indexes, and the watch's signatures. The dial also has a date window, with some nice white outlining at 6 o'clock. The lume on this watch is primarily applied on its hands and pips. 
There are some things that the Seiko SRPC89K1 can do better than the Hamilton Khaki King. For instance, the Seiko SRPC89K1 is water-resistant up to depths of 100m — double that of the Khaki King's 50m water resistance. That said, there are also things that the SRPC89K1 cannot match. Unlike the Khaki King, the Seiko Neo Sports Automatic uses a Hardlex crystal. Although it does give ample protection, it is nowhere near as resistant to scratches as sapphire glass. Additionally, the calibre 4R35's power reserve only lasts up to 40 hours, making it less efficient than the 80-hour power supply of the Khaki King. 
Nevertheless, the Seiko Neo Sports Automatic SRPC89K1 stands as an excellent surrogate to the Hamilton Khaki King Auto. Furthermore, since this model is quite affordable, it is very accessible to many watch enthusiasts on a budget.
Luminox Atacama Field Automatic XL. 1902 – $990 USD

The Luminox Atacama Field Automatic XL. 1902 is a more modern take on a field watch. Its updated looks make it an exceptional timekeeper to wear on the field, in the office, or even in the ballroom. As part of the LAND series, the Atacama Field Automatic possesses all the necessary functions of a conventional field watch. It has a 44mm stainless steel case paired with a stainless steel bracelet. On its side is a screw-down crown that contributes to the timepiece's 200m water resistance rating. Fixed above its case is a layer of sapphire glass, which has been treated with an anti-reflective coating.
Moving on to the interior of the watch, the Atacama Field Automagic XL. 1902 has a very sporty dial. It boasts a silver ring that contains orange numerals from the 13th-hour to the 24th. Its sword-shaped hands and outer indices are fitted with tritium gas tubes that help illuminate the watch face in dark environments. Tritium gas tubes are a traditional form of watch luminescence, and they can last up to 25 years before needing to be replaced. Near the 3 o'clock marker is a day-and-date window with white texts and black background. Powering the watch is a Sellita SW220-1 movement. The SW220-1 is a self-winding caliber that runs at 28,800 vibrations per hour and has a 38-hour power reserve.
For the most part, this watch actually outperforms the Hamilton Khaki King. However, it does come at a much more expensive price. The Luminox Atacama Field Automatic XL. 1902 also comes out as the heftier watch, weighing around 200g. If you do not like the stainless steel bracelet, Luminox also offers the XL. 1902 with a leather strap.
Victorinox FieldForce Classic Chrono – $500 USD

Our last alternative is a chronograph model from Victorinox called the FieldForce Classic Chrono. In terms of design, this model looks handsome and sporty but also luxurious. The watch is something you can bring anywhere, and it will definitely help boost your style. The FieldForce Classic Chrono comes in a 42mm case of stainless steel, coupled with a brown leather strap. On the right side of the Classic Chrono are a crown and two pushers. These pushers are used to control the tachymetric scale and stopwatch functions. At the back of the timepiece is a solid steel case to ensure security and optimal water resistance. Thanks to its 100m depth rating, this watch can handle raindrops, splashes, and can even take a swim in the pool.
The dial of the Classic Chrono is gorgeous, to say the least. Its black surface contains sleek hour markers, silver sword hands, three subdials, a date window, and the Victorinox logo at 12 'o clock. Despite all that is happening on the watch face, the dial stays clean, uncluttered, and pleasing to the eyes. The lume quality is excellent since the watch has Super-LumiNova applied on its hands, hour markers, and pips. Below the chronograph dial is a dependable quartz movement.
Truthfully, the FieldForce Classic Chrono is a great substitute for the Hamilton Khaki King. It is resilient, reliable, and it has some additional complications for greater utility. The Victorinox FieldForce Classic Chrono has a thickness of 11.9mm and weighs around 95 grams. With its 42mm diameter, this watch does have some heft to it.
Final Thoughts
Honestly, it is hard to fault a watch this good. With its vintage looks, durable case, reliable Swiss automatic movement, and affordable price, you can definitely see why everyone is in love with the Hamilton Khaki King. Easy to wear and gorgeous to look at, you can sport it while walking in the park or dancing at the ball. It is true that the lume quality and water resistance capacity of the Hamilton Khaki King could have been better. Nevertheless, the title of "king" is absolutely fitting for such a great and reliable entry-level Swiss watch. The Hamilton Khaki Field King Auto H64455533 costs around $600 USD. If that is still a bit too expensive for you, fear not, for we are currently selling the same model for just $422 USD. 
Searching for more mechanical Swiss watches? Check out this article about the Sellita SW200 movement and 9 watches that have them.
Featured Image By: Hamilton Watch