New & Feature
Laco Watches: The Originator of the German Pilot Watch
Jul 20, 2022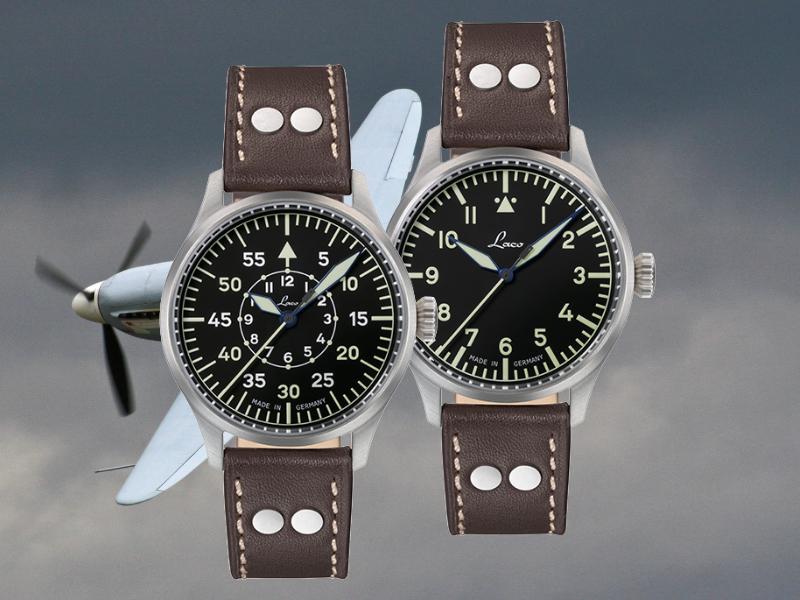 German pilot watches, also known as Flieger watches, are a very specific market in the watchmaking industry. There are a number of brands that immediately come to mind when it comes to top-notch Flieger Watches. This includes the likes of IWC and Stowa Watches. However, a list of Flieger watch manufacturers would not be complete without Laco.
Laco is an icon in the industry for its robust line of German pilot watches. The company confidently boasts its title as the creator of the "Original German Pilot Watch". So, what exactly makes Laco watches stand out? Let us take a deeper look into Laco, its history, and the best Laco watches that you can add to your collection.
History of Laco Watches

For almost a century, Laco has been a major player not just in the history of German pilot watches, but also in the world of horology. Overcoming one of the most catastrophic events in human history, Laco has managed to weather many challenges to become a well-established and well-respected German watch brand. Despite everything it has faced, the brand has managed to survive and continues to produce highly reliable Laco watches today.
Before the War: Laco Watches' Humble Beginnings
In 1925, Frieda Lacher and Ludwig Hummel created Laco under the name Lacher & Co. The portmanteau "Laco" was cleverly derived from this original name. It was founded in Pforzheim, a town in southwestern Germany.
During this time, it was a common practice for many watchmakers to import watch parts and components from other manufacturers. The assembly of their watches would occur later, in the watchmakers' respective factories. However, Laco wanted to set itself apart from these other watchmakers. As such, it decided that importing from Swiss component manufacturers was not enough. However, since wristwatches were not that popular in Germany at that time, this plan was hard to implement.
In 1933, Hummel left Laco to establish his own company, Durowe, which produced watch movements. Durowe supplied Laco and other watch brands in Pforzheim with watch movements, making it the most popular supplier in the district. Thanks to the support of Durowe, Laco had more freedom when it came to creating its own watch designs and specifications. This made Laco a truly independent watch brand.
Years later, in 1936, Lacher's son Erich joined the company. Under Erich's management, the brand began producing Laco watches entirely in-house. The company was also renamed the Erich Lacher Uhrenfabrik.
At the height of the Second World War
World War II brought catastrophe for various industries all around the world. Pforzheim was especially affected, due to its reputation as a well-established German jewellery and watch manufacturing district. Most—if not all—factories in the area were converted into producing precision instruments that were used in the German war efforts.
Due to this, the Royal Air Force (RAF) carried out a raid on Pforzheim in 1945. The results of this raid were massive, destroying the greater part of the city. Two-thirds of the entirety of Pforzheim was demolished into ashes. This, however, did not stop Laco. The brand continued to manufacture timepieces steadily. It was one of the companies that produced watches for the German Luftwaffe alongside A. Lange & Söhne, Stowa, Wempe, and IWC.
Laco Watches: the Aftermath of the War

After the war, the USA created the Marshall Plan. This was an initiative that helped rebuild Pforzheim and other cities back to their prime states. During this time, Hummel took it into his own hands to establish a house for Laco and Durowe. He created a building, five stories high, where Laco's pilot watch production took place. Even then, Laco watches stood out for their accuracy and durability.
Laco continued to develop and innovate its selection of timepieces. In 1952, Durowe created its first-ever automatic timepiece. That same year, Laco debuted the Laco Sport, which became a hit among watch enthusiasts. In 1961, Timex bought Laco. It later launched a German first—the first fully-functional electric wristwatch called the Laco Electric.
The Quartz Crisis during the late '60s and early '70s was a tough time for Laco. The brand decided to use this turbulent time to recalibrate its focus and turn to its roots. As such, Laco fully embraced its identity as a Flieger watch supplier, combining contemporary watch technology with its storied history. To this day, the company continues to stay on this track. The vast majority of Laco watches today are robust Flieger timepieces, with a few innovations like dive pieces on the side.
Eight Best Laco Watches to Add to Your Collection
1. Laco Flieger Stuttgart Pro

If you have not noticed yet, Laco watches primarily focus on German pilot pieces also known as Flieger watches. Since the invention of Flieger watches, enthusiasts have been fascinated with the attention to detail and the little variations that go into each piece. That is exactly what the Laco Flieger Stuttgart Pro offers.
Hailing from the Laco Flieger Pro collection, the Laco Flieger Stuttgart Pro is a Type A Flieger watch. It comes in a stainless steel case that is offered in three different sizes: 37mm, 40mm, and 43mm. This watch is highly customisable, as wearers can choose between having a sleek brushed case or one with a darker sandblasted finish. On the right side of the watch case is an engraving that reads "FL23883", which stands for 'navigation devices'. This watch also comes with a solid screw-down crown, which gives it an excellent depth rating of 200 metres.
Part of this watch's customizability also affects its caseback. You can choose between a closed caseback or a sapphire crystal one that is see-through. Wearers can also decide between having an automatic movement or a hand-winding movement. Both movements are based on reliable Sellita calibres, which promise steady dependability. Finally, you can strap this watch on your wrist with a luscious calfskin strap that comes in either black, brown, or vintage brown.
The dial of this watch is probably its most straightforward aspect. This dial has a simple matte black finish. It is filled with rectangular hour indices, Arabic numeral markers, and diamond hands outlined in blue, all of which are painted in Super-LumiNova C3. Protecting this dial is a double-domed sapphire crystal. This crystal has been treated with anti-reflective coatings, which promises wearers a clear and unhindered view of the watch face.
The Laco Flieger Stuttgart Pro costs around $1,020 USD.
2. Laco Flieger Karlsruhe Pro

Next up, we have the Flieger Karlsruhe Pro, which is a Type B Flieger watch. This customisable watch bears a lot of similarities to the previous model. Its stainless steel case is also presented in three different sizes: 37 mm, 40 mm, and 43 mm. You can opt for a brushed finish or a darker sandblasted finish. This watch's screw-down crown bears the distinctive "FL23883" engraving, and wearers can choose between a closed caseback or a transparent one, and an automatic or hand-winding movement.
The biggest difference between the Flieger Karlsruhe Pro and the Laco Flieger Stuttgart Pro is in terms of the dial design. The dial of this watch is slightly more complex and detailed. It is split into two segments. The outer ring of the watch contains double-digit Arabic numeral minute markers in five-minute intervals, along with a simple minute track. The inner section of the watch, on the other hand, bears its blued steel hands and Arabic numeral hour markers. All of these components are coated in Super-LumiNova C3, so you can easily read the dial even in the dark.
The Flieger Karlsruhe Pro also retails at $1,020 USD.
3. Laco Pilot Watch Special Model Frankfurt GMT Grau

If you are a natural globetrotter, then you probably need a watch that can keep up with your lifestyle. Perfect for frequent fliers, the Laco Pilot Watch Special Model Frankfurt GMT Grau is a lovely GMT watch that boasts a more stylish, modern aesthetic. It is a highly-celebrated timepiece, having won the 2020 Red Dot Award for Product Design.
This GMT watch sports a 43mm stainless steel case with a dark sandblasted finish, as well as a black leather strap. It has anti-magnetic properties, which makes it perfect for flying over altitudes that can alter a watch's accuracy. This watch case also has an anti-reflective sapphire crystal and a screw-down crown which contributes to its 200-metre depth rating.
The dial of this watch shows off a lovely grey finish. It is adorned with Arabic numeral markers and rectangular hour indices that are painted in a soft, pastel green lume, along with a compact date window at 6 o'clock. This watch also has diamond hands outlined in blue and an additional GMT hand with a yellow arrow-headed tip, which helps make the watch face more colourful and dynamic. On the rim of the dial, you can find an internal GMT bezel, which is painted in green and orange lume. You can rotate this internal bezel using the watch's second crown.
Driving this watch is the Laco 330 Calibre. This is an automatic movement that is based on the Swiss Sellita 330-2 calibre. Held together by 21 jewels, it offers a reliable power supply of 50 hours.
This distinguished GMT watch can be yours for around $1,990 USD.
4. Laco Pilot Watch Special Model Lausanne

If you want an entry-level Laco watch from the brand's Pilot Watch Special Models collection, then this piece is just for you. The Laco Pilot Watch Special Model Lausanne is housed in a 42mm stainless steel case. It features a matte finish and black IP plating, which adds to the gravitas of this watch. The watch's all-black look is completed by a comfortable black leather strap with white contrast stitching.
Like the watch's exterior, the dial of this timepiece also comes in black. It shows off a sleek pattern of horizontal lines and comprises Arabic numeral markers in white, diamond blue hands, and a date display at 3 o'clock. As a chronograph watch, this dial also has two small sub-dials for its 60-second and 12-hour counters.
Powered by a quartz movement, this Laco Pilot Watch does not sacrifice quality for the price. Priced at $520 USD, this is a modern Flieger watch that offers great value for money.
5. Laco Navy Watch Bremerhaven

Lest you think Laco only produces aviation watches, the brand also makes some of the best divers in the market. The Laco Navy Watch Bremerhaven is a lovely dive piece that draws inspiration from the classic pocket watch look.
In the 1940s, seafarers used pocket watches for accurate readings. Laco took the aesthetic of these pocket watches and incorporated them into a modern dive watch, the Laco Navy Watch Bremerhaven. This timepiece utilises a 42.5mm stainless steel case and a supple black leather strap.
The dial of this watch also comes in matte black, complementing the strap. It is decorated with Arabic numeral markers and sweeping syringe hands. These components are all coated in a pastel green lume, which stands out clearly against the dial. At 6 o'clock, you can also find a small seconds sub-dial that boasts an alluring sunray black finish. The rim of the watch also has a railway-like minute track, which is a signature of the 1940s Laco pocket watches.
Like the pocket watches of old, this timepiece is driven by a manual-winding movement, the Laco 98 Bridges. This movement shows off a traditional Côtes de Genève design and thermally blued screws. Indeed, it is a treat to look at this movement through the watch's sapphire crystal caseback.
The Laco Navy Watch Bremerhaven sells at $1,190 USD.
6. Laco Navy Watch Wilhelmshaven

From the pocket watches that inspired the Bremshaven, we bring you the Laco Navy Watch Wilhelmshaven. This vintage-inspired pocket watch is a must-have for any Laco watch collector. It is housed in a large 58mm stainless steel case, along with a 35mm fob chain made of the same material. Both the chain and the case are embellished with a lustrous, polished finish, giving the watch a more elegant look. Both the watch's front and caseback are also protected by scratch-resistant mineral crystals.
This watch has a fairly simple watch face, consisting of Arabic numeral hour markers, slender spade and whip hands, and a small seconds sub-dial at 6 o'clock. On both the sub-dial and the rim of the watch, you can find a railway-like seconds/minute track. This watch face is also treated with Super-LumiNova C3 for optimal legibility.
Powering this pocket watch is the Laco 97 Calibre. This is a hand-winding movement that is based on the ETA 6497.1 movement. It gives the watch a decent power supply of 46 hours.
A true classic, you can add the Laco Navy Watch Wilhelmshaven to your collection for about $1,300 USD.
7. Laco Squad Watch Amazonas.RB

Laco finds inspiration in the most unusual of things. With the Laco Squad Watch Amazonas.RB, the company drew upon the qualities of a scorpion. This is a watch that is meant to withstand the wild forests and anything that comes with it.
This vibrant timepiece uses a 42mm stainless steel case and a vibrant, neon green watch strap made of rubber. Affixed to the top of the watch case is a black elapsed time scale bezel, with clearly visible indicators in white and bright green. The dial of the watch, likewise, comes in matte black. It is furnished with Arabic numeral hour markers, a compact date aperture at 3 o'clock, and luminous line indices in various shades of green. The green indices dotted all around the watch are clearly inspired by the green venom of the scorpion family, which makes it both beautiful and meaningful.
This watch runs on the Sellita SW200 movement. This is a popularly-used automatic movement that can last for up to 38 hours when fully wound.
The Laco Squad Watch Amazonas.RB has an estimated price tag of $1,130 USD.
8. Laco Chronograph Hockenheim

For a more upscale Flieger watch, take a look at the Laco Chronograph Hockenheim. This watch offers everything an aviator needs—a day and date display, minutes and hour counters, and a running sub-second dial. It is a watch that performs great not just in the air but also on land.
This Laco watch uses a 42mm stainless steel case and a handsome black calfskin leather strap. Fitted on top of the watch case is a handy tachymeter bezel, which you can use to keep track of your speed. The dial of this watch also comes in matte black, blending well with the bezel. It is filled with Arabic numeral markers, sharp diamond hands, and a day-date complication. You can also find three chronograph sub-dials for the 60-second, 30-minute, and 12-hour counters. Adding to the sporty spice of this watch are the red accents scattered on its totalisers and its seconds hand.
Inside this high-quality timepiece, you can find the Laco 50 movement. Based on the ETA 7750 movement, this automatic calibre provides a 40-hour power reserve.
At $2,400 USD, the Laco Chronograph Hockenheim is a great addition to your luxury watch collection.
Laco Watches: Heritage and History on the Wrist
Many watch collectors take more than just price into consideration when purchasing a watch. If you are one of those who take into account the history of the manufacturer, then it is high time you pay close attention to Laco watches. It may have a slightly dark history alongside other Flieger watchmakers, but Laco took this history and translated it into a robust collection of modern Flieger pieces. To this day, German aviation pieces are revered in the industry, and Laco ups the game with its excellent watch offerings.
---
All photos from Laco.
Fascinated by pilot watches? Take a look at our review of the 7 best IWC Big Pilot Watches for aviation enthusiasts.