New & Feature
A Complete Walkthrough Longines Master Collection Moonphase Watches
Jul 14, 2022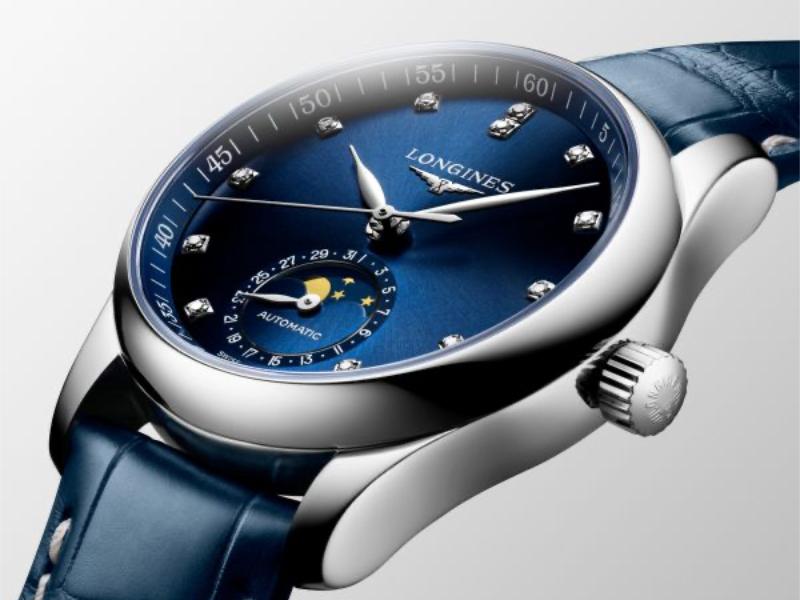 Moonphase watches are a staple in many watch companies. This is, after all, one of the most classic complications in a timepiece. In the line of perpetual calendars, having a moonphase on a watch makes it a lot more exquisite than it already is. This can be seen through iconic examples such as the Rolex Cellini Moonphase Ref. 50535-0002 and the Jaeger-Le Coultre Master Ultra Thin Moonphase Ref. Q1362520.
Longines is one of the brands that makes frequent use of moonphase complications in its watches. Despite being one of the oldest watch brands in the world, moonphase displays are a fairly new addition to Longines watches. In this article, we will be focusing specifically on the Longines Master Collection Moonphase watches. This collection is especially notable for being the first introduction of moonphase indicators to Longines.
Read on to find out more about the Longines Master Collection Moonphase and everything it has to offer. We will also look closely at moonphase watches and the value of the moonphase display to Longines.
What is a Moonphase Watch?

The moonphase display is an interesting complication for many watch enthusiasts. Even those who are not particularly interested in watches find the astrological and celestial workings of the moonphase complication fascinating. While it is completely accurate, the moonphase watch is a collector's must-have due to its unique aesthetic and unusual mechanism.
So, what exactly is a moonphase complication?
The term itself is quite self-explanatory. A moonphase complication is an aperture in a timepiece that displays a changeable image of the moon. The aperture showcases a sunlit part of the moon that is observable by everyone on Earth. It represents the phases of the moon during the 29.5 days in a lunar month.
Throughout the span of the lunar month, the moon experiences different phases. It goes from being barely visible to a full moon, and then back again as a new month begins. The image of the moon in the watch's aperture shifts to correspondingly represent these different phases.
History of the Moonphase Watch
Since the early 10th century, there have been a lot of mechanical and astronomical instruments that allow people to discover more about the movement of the earth and the moon that orbits it. In fact, the first-ever moonphase complication to be added to a clock was invented as early as the 14th century. It was seen on the grand Gros Horloge clock in Rouen, Normandy.
When it comes to the first moonphase wristwatch, however, we have to turn our eyes to Patek Philippe. In 1925, engineers at Patek Philippe succeeded in developing a moonphase complication on a wristwatch. This achievement was replicated by Rolex in 1949, with the Rolex Moonphase Ref. 8171.
That said, even during those early years, there was a recognition that the purpose of the moonphase complication was not very practical. Instead, the moonphase display functions as more of an aesthetic choice which offers an additional wow factor to a watch. After all, who would not want a fascinating celestial complication in their timepiece?
How Does a Moonphase Watch Work?
As mentioned, a moonphase complication takes the shape of a crescent-shaped aperture in a timepiece. It displays the waxing and waning phases of the moon. The most common type is called a bosom moonphase watch.  This type of moonphase watch showcases two identical moons that sit on a disc underneath the watch dial.
Pulling apart the moonphase complication, you will see that the disc is controlled by a driving wheel that has 59 teeth. This is a very systematic placement that allows the two moons on the disc to rotate completely throughout a lunar month. Remember that a lunar month has 29.5 days on average. Multiply that by two, and you will get the 59 notches needed to run the two moons through the moonphase complication.
By the use of a mechanical finger, the disc moves by one notch every 24 hours. This goes on until the full 29.5-day lunar cycle is complete. Only after the lunar cycle finishes does the second moon appear in the watch's aperture, signalling a new cycle of the moon's phases.
Longines Moonphase Watches: An Overview

As we mentioned, Longines first added moonphase watches to its catalogue in 2005, through the Longines Master Collection Moonphase range. The launch of this series, with such a unique and astronomical complication, represented a new height in the brand's watchmaking expertise.
Right from the outset, the Longines Master Collection Moonphase carried advanced mechanical movements that proved the quality of Longines craftsmanship. Over the years, however, the brand continued to further improve upon the features of the Longines Master Collection Moonphase watches. This included upgrades not just in the design of the watches, but also in terms of their performance.
The release of the Longines Master Collection Moonphase was a landmark for the brand. It opened the floodgates, resulting in the introduction of the moonphase complication to other Longines collections. From the Master collection, Longines went on to incorporate the moonphase display into Longines Conquest watches. The elegance of the moonphase complication helped the Longines Conquest pieces reach greater heights. It allowed the Conquest watches to manage a delicate balance between sophistication and sportiness.
Most recently, Longines has created a new, ground-breaking collection: the Longines 1832. This lineup carries modern interpretations of the most iconic Longines designs from over the years, starting from its founding in 1832. This, of course, includes several contemporary versions of Longines' older moonphase watches.
Best Longines Master Collection Moonphase Models
The Longines Master Collection Moonphase offers a number of different models that cater to both men and women. These variants are quite diverse, varying in both design and size. Let us begin by taking a look at the Longines Master Collection Moonphase models that are geared toward men. We will then move on to the timepieces intended for women.
Longines Master Collection Moonphase Watches for Men
The Longines Master Collection Moonphase watches for men come in two different sizes. You can opt for the slightly larger model at 42mm, or go for the smaller one with a 40mm case diameter. In total, there are four different moonphase watch designs offered for men. Let us break down each one.
Designs

The first dial design offered by the Longines Master Collection Moonphase showcases a simple black guilloche finish. This dial stands out in stark contrast against the watch's silver-tone watch case and hour markers. It is filled with Roman numeral hour markers in a bold typeface, slender feuille hands, and a minute track with stick indices and double-digit Arabic numerals on its rim. Located at 6 o'clock is a gorgeous moonphase display, which is surrounded by a simple date indicator.
You can find this dial design on the Longines Master Collection Moonphase Ref. L29094517. This model is paired with a handsome alligator leather strap in black, making it a very dressy take on the moonphase watch. It is perfect for your next dinner event. You can get this 40mm watch for just $2,350 USD.
You can also opt to get this dial with a sleek stainless steel bracelet. The Longines Master Collection Moonphase Ref. L29194516 comes in a 42mm stainless steel case, a bracelet made of the same material, and the black guilloche dial as described above. It retails at around $2,450 USD.

An even fancier approach is the iteration with diamond markers. Not every man is in it for the sparkles, but for those who love a more high-end and lavish style, this dial design is a great pick. It comprises silver-tone feuille hands, a minute track on its rim, and thirteen gorgeous, sparkling diamond indices. These are high-quality Wesselton VS-SI diamonds, which sum up to a total of 0.059 carats.
This dial design is offered in three different colourways. The first is a silver barleycorn finish (Ref. L29094773) that adds a certain dimension to the watch. You can also opt for a more muted and simple black finish (Ref. L29094576), which allows the watch's diamonds to shine more brightly. The final option is a classic blue sunburst design (Ref. L29094976) which adds to the refined aesthetic of the watch.
The 40mm watch with this dial design sells at about $2,750 USD, while the 42mm variant is priced at $2,850 USD.

If you prefer a more understated dial design, you can also opt for the version with simple applied indices. Paired with a sunburst blue dial, this design is an instant classic. It is great for everyday wear but also fancy enough to be worn at more formal events. You can get this dial design with a polished stainless steel bracelet (Ref. L29194926). Alternatively, you can also choose the model with a rich blue leather strap (Ref. L29194920), which perfectly complements the dial.
At 40mm, this watch costs around $2,350 USD. The 42mm variant, on the other hand, has an estimated price tag of $2,450 USD.

Finally, we have the most classic dial design with painted Arabic numeral hour markers, which come in a thick, stylised typeface. Coupled with a silver barleycorn finish, this dial design has an exquisitely vintage look to it. Unlike the other designs, which have silver hands, this design showcases blued steel hands that stand out clearly against the softer silver backdrop.
This model is also offered with a stainless steel strap (Ref. L29094786) or with a handsome calf leather strap in brown (Ref. L29094783). At 40mm, this watch is worth about $2,350 USD. You can also purchase the larger 42mm model for $2,450 USD.
Movement
All of the watches mentioned above are powered by the Longines Calibre L899. This is a self-winding movement that beats at 25,200 vibrations per hour (3.5Hz). It provides an excellent power reserve of approximately 72 hours. You can admire this movement through the watches' transparent casebacks, which are made using sapphire crystal and stainless steel. As dress watches, these timepieces also come with standard 30-metre water resistance capacities.
Longines Master Collection Moonphase Watches for Women
For its most recent release, Longines upped its game by applying the moonphase complication to a much smaller watch. In order to cater to the ladies, the brand successfully squeezed the moonphase complication into a slender 34mm case. This creates a truly impeccable watch for the ladies that is compact, easy to wear, and highly sophisticated.

The Longines Master Collection Moonphase watches for women carry similar designs as the men's iterations. You can select between dials with classic painted Arabic numerals, diamond markers, or slim stick indices. The biggest difference is that there is an additional dial finish offered exclusively to women: the mother-of-pearl dial finish. This alluring, shimmering backdrop boasts a lovely feminine aesthetic that is perfect for ladies.
All of the Longines Master Collection Moonphase watches for women come in slim 34mm cases. They can be paired with a stainless steel strap (Ref. L24094876). You can also couple them with an exquisite calf leather strap in either red (Ref. L24094872), glossy blue (Ref. L24094870), or beige (Ref. L24094874) hues. These watches run on an upgraded Longines L899.5 automatic calibre, which can last for up to 64 hours when fully wound.
Each Longines Master Collection Moonphase watch for women is priced at $2,750 USD.
The Classy Appeal of the Longines Master Collection Moonphase
The moonphase complication has a very classy appeal that makes a timepiece even more fascinating than it already is. Any watch, even with the sportiest designs, can have a more elegant touch with the addition of a moonphase complication. If you want a more accessible take on moon phase watches, the Longines Master Collection Moonphase watches are the ones for you.
---
Longines has more to offer with its Heritage collection. Check out these Longines Heritage watches for your vintage collection.
Photos from Longines.