New & Feature
The Timex Marlin: An Affordable Modern Watch With Vintage Aesthetics
Oct 20, 2022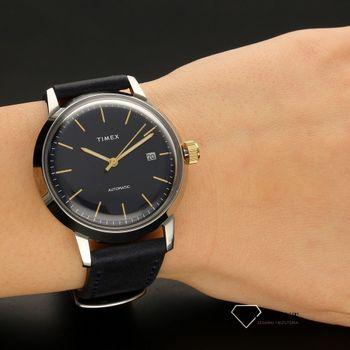 As one of the most recognisable watch brands in history, Timex has established a vaunted reputation for its broad range of reliable and affordable watches. Timex is also famous for being a mighty king of quartz. Having largely left mechanical movements behind decades ago, in the 1980s, the brand is famous for sturdy quartz watches like the Q Timex and the Timex Fairfield. 
However, after a long hiatus, the brand has once again re-entered the mechanical watchmaking game with the release of the Timex Marlin in 2017. Named after the Marlin fish, the Timex Marlin is a special reissue of the brand's popular dress watch from the 1960s. As such, it is a contemporary watch model with a very retro feel. 
In today's article, we will be delving deep into the Timex Marlin Automatic Ref. TW2T23100 and its incredible features. We will also be taking a look at some of the other best Timex Marlin watches under the brand's belt. 
A Closer Look at the Timex Marlin  
Case, Bezel, and Caseback

The Timex Marlin Automatic Ref. TW2T23100 is crafted in more modern construction, with very little trace of its 1960s styling. Its case measures 40mm in diameter and is 13mm wide. These are rather standard dimensions for dress watches, so this Timex Marlin watch can fit well on wrists of all sizes. The case is made of sleekly polished stainless steel and has straight lugs which add to the watch's neat, professional look. Affixed to the top of the watch case is a fixed bezel that is also crafted from stainless steel. Aside from holding the watch's crystal, this bezel also elevates the watch's durability, protecting the watch's face from any impacts and scratches.
On the right side of the case, you can find a crown. Although it is made of stainless steel, this crown is painted yellow gold, so it stands out vibrantly against the rest of the watch case. You can use the crown to manually wind the watch, by simply pulling it out and turning it clockwise. This crown also comes with deeply grooved edges, which provide wearers with a better grip, so they can hold and rotate the bezel more easily.

Flipping the Timex Marlin Automatic Ref. TW2T23100 over, you will find an exhibition-style caseback. It is made up of a stainless steel ring with a flat watch crystal enclosed within it. Through it, wearers can freely admire the movement that ticks inside the watch. You can see that the movement is quite plainly designed, with just the name of the brand carved, in bold typeface, on its bridge. Some of the watch's details are also engraved onto the stainless steel portion of the caseback. These include its case material, serial number, and the type of movement it uses. 
This caseback is also firmly screwed down. Like the watch's crown, it seals the watch case shut, preventing any moisture or dust from leaking in and damaging its inner mechanisms. Thanks to its crown and caseback, the Timex Marlin Automatic Ref. TW2T23100 has a depth rating of 30 metres. This is a rather typical water resistance capacity for a dress watch. It allows this Timex Marlin watch to survive any accidental splashes or showers, although you are not advised to bring it along with you for a swim. 
Dial

If you love blue dial watches, then the Timex Marlin Automatic Ref. TW2T23100 is a great choice for you. This watch shows off a classic navy dial with a beautiful sunray finish. It is furnished with slim sword hands and stick hour indices. These components all come in rich yellow gold. Not only do they gently complement the watch's crown, but they also stand out cleanly against the darker watch face. A compact date display can also be found resting next to a shortened 3 o'clock stick index. 
The hands of this dial are filled with a white lume. This helps to light up the watch face in low-light conditions, ensuring that wearers have a clear and legible view of the dial at all times. An integrated, domed acrylic crystal is also used to protect the dial. Although it is not as hard as sapphire crystal, acrylic crystal is still quite strong and extremely resistant to impacts and knocks, so it can protect this Timex Marlin watch against any external threats.
Movement
Perhaps the most interesting thing about the Timex Marlin Automatic Ref. TW2T23100 is its internal mechanism. Out of all the quartz watches in Timex's lineup, the Timex Marlin is notable for being a rare mechanical timepiece.
This Timex Marlin piece runs on a robust Miyota 8215 calibre. This is a popularly-used Japanese automatic movement which demonstrates incredible reliability and accessibility. Held together by 21 jewels, it beats at 21,600 vibrations per hour (3Hz) and delivers a solid power reserve of 40 hours. It also has an average accuracy rate of +40/-20 seconds per day, which is quite good considering how affordable this movement is. 
Strap

The Timex Marlin Automatic Ref. TW2T23100 is paired with a classic leather strap in a navy blue hue, which matches wonderfully with the watch's dial. Measuring a standard 20mm, this strap is secured by a stainless steel pin buckle, which has the word "TIMEX" stamped on it. This helps keep the strap safely fastened to your wrist.
As with all of the straps from the Timex Marlin Automatic series, this navy blue leather bracelet is made by S.B. Foot Tanning Company, a well-established company famous for its high-quality production of leather accessories. As such, the Timex Marlin's supple leather strap guarantees absolute comfort and durability. 
Price
Timex is known for offering quality timepieces at very accessible prices, and the Timex Marlin Automatic is just that. The Timex Marlin Automatic Ref. TW2T23100 retails at just $250 USD, allowing you to get a reliable everyday watch without having to break the bank. 
The Timex Marlin: Best Models
The Timex Marlin range has a wide portfolio of classic and dependable watches. Here are some of the other best pieces you can get from the Timex Marlin lineup:
1. The Timex Marlin Featuring the Chicago Cubs Logo Ref. TW2U93300

Are you an avid fan of the Chicago Cubs baseball team? If you are, and you want to support the team with some practical merchandise, then check out the Timex Marlin Ref. TW2U93300.
This Timex Marlin piece sports a streamlined 40mm stainless steel case, along with polished straight lugs and a supple leather strap in brown. Unlike the Timex Marlin Automatic Ref. TW2T23100, the crown of this watch comes in simple, polished stainless steel, complementing the rest of the watch case. On the underside of this watch, you can find an exhibition-style caseback. A pretty, silver image of a baseball player holding up a bat is also printed onto the caseback's sapphire crystal insert. 
The dial of this watch also shows off a silver sunray finish, which blends in well with its exterior. This dial has a very straightforward layout, which allows it to exude a very quiet and understated charm. It is decorated with silver stick indices and slender, luminous sword hands. A date window, outlined in steel, can be found at 3 o'clock. The only spot of colour on this watch face comes from the vibrant red and blue Chicago Cubs logo that rests at 6 o'clock, highlighting the partnership between these two American icons. 
A Miyota 8215 movement also drives the Timex Marlin Ref. TW2U93300. This automatic movement possesses a 40-hour power supply and a precision rate of +40/-20 seconds per day. Moreover, this watch has also been upgraded to provide wearers with a slightly improved depth rating of 50 metres.
The Timex Marlin Ref. TW2U93300 is priced at $259 USD.
2. The Timex Marlin Automatic x Peanuts Featuring Snoopy Secret Agent Ref. TW2U99500

Another masterfully-crafted model in the Timex Marlin series is the Timex Marlin Automatic x Peanuts Ref. TW2U99500. As another collaborative Timex Marlin timepiece, this watch is the perfect choice for those who adore the Snoopy cartoon series.
It is presented in a 40mm stainless steel case with a well-groomed, polished finish. This is paired with thick straight lugs and a black alligator leather strap. Like the previous Timex Marlin model, the dial of this watch boasts a sunray silver finish that is sleekly brushed. It is ornamented with stick indices and slim, luminous hands that are all made of stainless steel. At 6 o'clock, you can find an adorable outline of Snoopy in his secret agent outfit. Inside this watch is a Japanese Miyota 8215 movement, which can last for up to 40 hours when fully wound.
The Timex Marlin Automatic x Peanuts Ref. TW2U99500 has a price tag of $259 USD.
Alternatives to the Timex Marlin
Now, let us dive in with some of the best alternatives to the Timex Marlin Automatic Ref. TW2T23100. If you have a bigger budget to work with, then these are excellent timepieces that should definitely be on your radar.
1. Chopard Classic Ref. 161289-1001 

First up, we have the Chopard Classic Ref. 161289-1001. This lovely timepiece exhibits quintessential elegance, with state-of-the-art features that pair well with minimalistic style. It continues the unrivalled watchmaking traditions of the prestigious Chopard brand. 
This watch utilises a 38mm case made of lustrous 18K white gold, and a classic alligator leather strap in black. It also comes with fine straight lugs, which add to this watch's aura of collected refinement.
This watch also boasts a beautiful porcelain white dial that simply radiates soft, pure charm. It is adorned with silver-tone leaf hands, Roman numeral hour markers in a bold black font, and a small seconds sub-dial at 6 o'clock. A small date aperture can also be found at 3 o'clock. This dial is guarded by a layer of luxurious sapphire crystal, which offers top-notch protection against scratches.
The back of this Chopard Classic watch is sealed shut by a transparent caseback, which allows you to observe the movement inside. It is powered by a robust Chopard 01.04-C Calibre. Held together by 27 jewels, this automatic movement beats at an efficient 28,800 vibrations per hour (4Hz). It delivers an excellent 60-hour power supply and, like the Timex Marlin Automatic Ref. TW2T23100, a 30-metre depth rating. 
The Chopard Classic Ref. 161289-1001 sells at around $10,299 USD, a price tag worth its top-of-the-line features.
2. Patek Philippe Calatrava Ref. 5196R-001 

For a more sophisticated timekeeper, take a look at the Patek Philippe Calatrava Ref. 5196R-001. As the smallest timepiece in this article, this watch uses a 37mm case made of 18K rose gold. This is coupled with fine straight lugs and a trim brown alligator leather strap. This Patek Philippe watch fits well on small-to-average-sized wrists.
This watch also shows off a lovely silvered opaline dial, which goes wonderfully with the warm tones of the rose gold case. It contains rectangular hour indices and sharp dauphine hands in rose gold, along with a small seconds sub-dial at 6 o'clock.
Ticking inside this Patek Philippe Calatrava piece is an in-house 215 PS Calibre. This is a manual-winding movement that provides a 44-hour power reserve and beats at 28,800 vibrations per hour (4Hz). 
You can purchase this majestic Patek Philippe watch for around $31,899 USD.
Final Thoughts
On the whole, the Timex Marlin Automatic brims with modern sophistication and steady durability. As a vintage-inspired timepiece, the Timex Marlin also offers a certain nostalgic factor, with a touch of the retro in its design. If you are looking for a classic, reliable, and budget-friendly watch tool, then the Timex Marlin Automatic Ref.TW2T23100 is indeed a worthy grab.
All images courtesy of Amazon unless otherwise stated.
Featured image courtesy of Zegarki-Diament.pl.
If you are hunting for another classic Timex dress watch, you can also check our review about the Timex Waterbury Lifestyle.