New & Feature
All You Need to Know About Traska Watches
May 09, 2022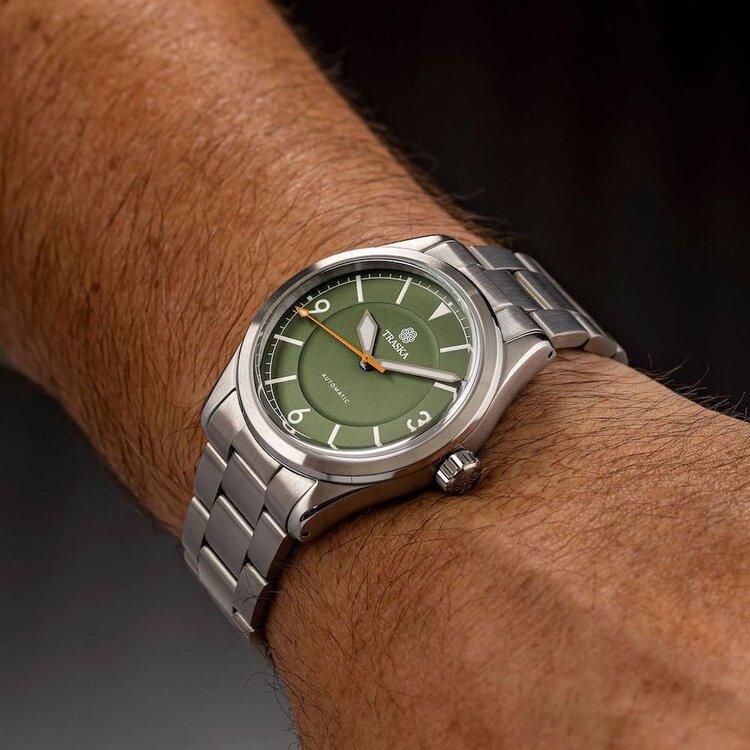 By and large, the horological industry is dominated by larger brands that have built a reputation for themselves over decades, if not centuries. However, that does not at all mean that smaller, newer watch micro-brands do not have anything to offer. Indeed, there are a number of micro-brands that have developed their own lines of stylish, reliable, and unique timepieces.
One such underrated micro-brand is Traska Watches. Traska Watches is a freshly-minted American micro-brand that was just established back in 2018. Although it is considered quite young in the watch industry, Traska Watches is still far superior to its competitors when it comes to affordability and durability.
Traska Watches's founder, Jon Mack, aimed to create a series of vintage-influenced timepieces that were sturdy and reliable enough for everyday use. And over the past three years, Traska Watches has developed a fairly extensive catalogue of high-calibre timepieces that impeccably blend subtle, vintage-inspired design cues with hardy durability. Without further ado, let us find out more about Traska Watches and everything they have to offer.
Traska Watches Collections
The Freediver

Traska Watches made its debut in the horology industry with the release of the Freediver in 2018. This series of high-end dive watches boast sturdy builds and stylish, contemporary designs. All Traska Freediver watches come in 40mm cases made of 316L stainless steel, coupled with slanting, drilled lugs and three-link bracelets made of the same material.
Each Freediver piece also comes with a 120-click unidirectional rotating stainless steel bezel. This bezel bears a luminous insert in black, with clean silver indicators for its elapsed time scale. This insert is made out of scratch-resistant ceramic, which ensures that the Freediver's face will look brand new and undamaged even after undergoing tough adventures underwater. 
The dial of the Freediver is offered in four different colourways: carbon black, arctic white, stone grey, and mint green. While the first three dial types are more traditional options, the Freediver with the mint green dial is the most popular, with a youthful, modern appeal that caters especially to younger audiences. The dial of the Freediver is also quite simple, comprising just triangular hour indices and alpha hands. Filled with Swiss-made BGW9 Super-LumiNova, these white indices and hands provide a swanky contrast to the matte finishes of the Freediver's dial. 
Powering each Traska Freediver watch is a robust Seiko Calibre NH38. This is a dateless version of the brand's iconic NH35A movement. Held together by 24 jewels, this automatic movement offers a power supply of 41 hours and an accuracy rate of +40/-20 seconds per day. As a dive tool watch, the Freediver also comes with an excellent 200-metre depth rating, which is actually greater than the typical ISO 6425 international standard for dive watches.
These Traska watches are all available at just $600 USD, regardless of which dial colour you choose.
The Summiteer

For their next line, Traska introduced an array of sports watches, each one meticulously crafted to be the perfect accessory for outdoor use. These Traska Summiteer watches are a flex of the company's expertise in its niche, crafting diverse yet highly-durable time-telling devices for its patrons and the general public. The Summiteer highlights an exquisite, vintage aesthetic that is effortlessly combined with top-grade engineering, making it both beautiful and hardy. 
As opposed to the Traska Freediver, the Summiteer boasts a much larger 46mm case diameter. It comes in a stainless steel case and bracelet, coupled with a fixed radial bezel made of well-polished stainless steel. Along with a sapphire crystal, this bezel keeps the watch face safe from scratches and impacts.
The dial of this watch also comes in four different shades: black, sage green, mint green, and midnight blue. Each Summiteer dial is adorned with applique Arabic numeral markers, silver-tone stick indices, a singular triangle index at 12 o'clock, and thick sword-shaped hands. The hands and indices of the Summiteer are also coated in Super-LumiNova for optimal legibility even in poor lighting environments.
Inside each Traska Summiteer model, you can find a Miyota Calibre 9039. Held together by 24 jewels, this automatic movement beats at 28,800 vibrations per hour (4Hz) and has a substantial 42-hour power supply. It also offers an accuracy rate of +30/-10 seconds per day and a reliable 100-meter depth rating.
The Traska Summiteer costs around $550 USD. It is a great option for those looking for a sleek, affordable sports watch.
The Venturer

Another well-received collection of Traska is the Venturer. This family of sophisticated and highly-functional timepieces is quite distinct from the other Traska watch collections, as it offers complications and features not available in other Traska watches.  
The Traska Venturer is immediately distinguishable from other Traska watches — thanks to its smaller size, measuring a slender 38.5mm in diameter and 10.5mm in thickness. The handsome dial of this watch is available in four different colourways: arctic white, steel blue, carbon black, and mint green. This dial contains simple rectangular hour indices and blunt silver-tone hands, all of which are coated in Super-LumiNova, so that the dial will be easily readable even in the dark.
Aside from that, this dial is also equipped with functions unseen in other Traska watches. These include a rectangular date display that is outlined in silver, replacing the 6 o'clock marker of the dial, and an internal rotating bezel that can be found on the rim of the dial. Operated by a second crown at 10 o'clock, this internal bezel allows wearers to keep track of two different timezones at once.
Driving all of these functions is a superior Miyota Calibre 9019. This self-winding movement possesses a 42-hour power supply and delivers an accuracy rate of +30/-10 seconds per day. In addition, it also comes with a solid 150-metre water resistance capacity.
If you want a watch that can really give you value for your money, you can purchase the high-utility Traska Venturer for approximately $585 USD.
The Commuter

Lastly, joining the catalogue of Traska watches is the understated yet striking Commuter watch collection. This is a series of all-rounder watches perfect for everyday use. They boast simple and versatile styles that can be paired with virtually any style, making them wonderful choices for daily beater timepieces. Out of all the Traska watches, the Commuter holds the smallest size, with a slim 36mm diameter. 
As with the other Traska watches, the Commuter comes in a case and three-link bracelet made of stainless steel. You can also get the Commuter in four different dial designs: classic slate black, woodland green, mint green, and arctic white. The layout of this dial is also quite similar to that of the Traska Venturer, albeit simpler and with fewer complications. It is furnished with just rectangular hour indices and silver blunt hands, all filled with Swiss BGW9 Super-LumiNova. A finely-brushed fixed bezel with polished chamfers is also fitted on top of the case, protecting the watch face from any external damage. 
The Traska Commuter timepieces run on either a Miyota Calibre 9019 or a Calibre 9039. Both of these movements deliver 42-hour power reserves, with accuracy rates of +30/-10 seconds per day. In addition, each model of the Commuter comes with a 100-metre depth rating, ensuring that it can perform well even when underwater.
These Traska watches sell at just $565 USD.
Final Thoughts
On the whole, Traska watches might not be everyone's cup of tea, but the brand has done an excellent job of offering a series of diverse tool watches that cater to a variety of purposes. Crafted out of high-grade materials, you can rest assured that each Traska piece is a reliable timekeeper that can accompany you on all your adventures. Designed for those who appreciate affordable timekeepers that show off subtle vintage inspirations, Traska watches is definitely a micro-brand worth checking out.
All images are courtesy of Traska's official website.
Featured image courtesy of Traska's official website.
Searching for another underrated yet sophisticated watch brand? Spare some time to read about the newest avant-garde micro-brand, Ming Watches.