New & Feature
Understanding and Measuring Watch Lugs: A Thorough Guide
Jun 08, 2022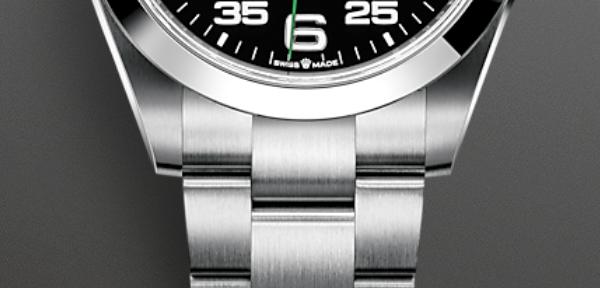 You cannot call yourself a true watch collector or connoisseur if you do not know what makes up your timepiece. Each and every part of a watch, no matter how big or small, plays an important role in allowing the watch to work flawlessly. It is a well-oiled machine that only functions properly because all of its components are complete.
That said, not every part of a watch gets the credit it deserves. Of course, all watch fans love to wax eloquent about unusual case shapes or gorgeous dial designs. But one crucial watch component that is frequently overlooked is the watch lugs. Subtle yet a fundamental component of a watch's composition, there is far more to watch lugs than you might initially think. Read on to find out all you need to know about watch lugs!
About Watch Lugs
The watch lug is one of the most crucial components of a timepiece. Without it, you will not be able to have a usable or wearable time-telling accessory. To put it simply, it is the part that connects the strap or bracelet to the case. This means that the lugs are responsible for linking together two of the most important pieces of a watch, both in terms of design and functionality. 

As the decades passed, the art of watchmaking has evolved as well. This progression can be seen through how much watches and their components have changed over the years. When it comes to lugs, modern-day craftsmanship and design mean that there have been quite a lot of developments in the structure of watch lugs. Today, watchmakers tend to utilize seven different, main kinds of watch lugs.  
Straight Lugs 

Straight lugs are probably the most common type of lugs used in contemporary watchmaking. As their name suggests, straight lugs have a very simple and straightforward structure that reaches vertically downwards, which renders them extremely versatile as well. This means that straight lugs have the ability to adapt to and complement virtually any case shape it is paired with, making them a go-to choice for watchmakers.
Since this type of watch lugs have a very straight structure, watch brands tend to play around with its size as well. Slim straight lugs better complement a more geometric, slender watch case, while wide straight lugs highlight the modernity and robustness of a chunkier watch.
Twisted Lugs

Next, we have twisted lugs, which are also commonly referred to as lyre or Bombé lugs. These watch lugs have a straight, diagonal build that slants inwards creating quite a geometric look. Watch connoisseurs often associate this type of watch lugs with the Omega Speedmaster, as it was first popularised by the Speedmaster watches. The cool thing is that, depending on the shape of the case, twisted lugs can bring out a completely different look in the watch.
For example, when it comes to round cases, twisted lugs pave the way for a more aesthetically pleasing, retro design. Rather than just being a part that links the case and bracelet, twisted lugs become just as striking and clean as the other components of the watch. Ultimately, this proves how important watch lugs are when it comes to watchmaking.
Wire Lugs

Wire lugs, also known as fixed lugs, are one of the rare watch lug types still used today. They are characterised by a wire, which is fastened onto both ends of the case, allowing for a hollow gap in between. The sheer simplicity that comes with this makes the wire lugs very easy to distinguish in comparison to other types of watch lugs.
However, if you are the type to often change your watch straps, wire lugs may not be the best option for you. This is because wire lugs do not come with any spring bars, which are typically used to make the strap changing process more convenient and simple.
Wire lugs are often used with watches that have rather large cases. Aside from that, wire lugs are also frequently used by German watchmakers, who pair them with minimalistic Bauhaus watches. This is because wire lugs are simpler and more understated, which allows the watch's case and Bauhaus design to truly stand out.
Explorer Lugs

Next up, we have explorer lugs, which are known as such because they are often used in Rolex Explorer models. While explorer lugs look quite similar to twisted lugs, this type of watch lugs offers a slightly straighter, more geometric structure. Explorer lugs have a rather squared look that starts out wide on the case side and gradually becomes slimmer towards the strap side.
Explorer lugs are known to be extremely functional and efficient, whilst also adding a certain striking look to the entire watch. They fuse seamlessly with metal bracelets, creating a very sporty and utilitarian style. On the other hand, when paired with a leather strap, the geometric elements of explorer lugs are able to shine through, allowing for a more classy, almost retro design.
Cushion Lugs

Moving on, we have cushion lugs, which often go hand-in-hand with cushion-shaped cases. Cushion lugs are more commonly used in vintage watches, particularly dive pieces. Today, watchmakers prefer to opt for straight lugs when using cushion watch cases, as this gives the watch a more versatile aesthetic. As a result, cushion lugs have somewhat fallen out of use. That said, there are some reissues and modern interpretations of retro timepieces that offer this unique watch lug type.
When it comes to structure, cushion lugs are able to bring out a more holistic look and vibe in the watch. Cushion lugs look a lot more integrated into the case, rather than just being a separate part of the watch that acts as a bridge. With their very distinctive look, it is easy to see why cushion lugs were such a hit amongst watch collectors and connoisseurs.
Hooded/Shrouded Lugs

Another iconic type of lug is the hooded lugs, also known as shrouded lugs. This is a very rare type of watch lugs that hardly exists in modern-day watchmaking. However, back in the past, hooded lugs were one of the go-to options for elegant and sophisticated dress watches.
Structure-wise, hooded lugs are made up of a single horizontal bar which allows the case to link to the strap. It offers a very unique look on its own and adds a refined, vintage feel to the whole timepiece. On the whole, it would be great to see more contemporary interpretations of hooded lugs today, especially in luxurious dress watches.
No Lugs

The last type of watch lugs on our list is the no lugs style. You are probably wondering how is it possible to have a watch with no lugs? Well, it is not. When we say no lugs, what we are really referring to are watches with fully integrated bracelets. In this case, the case and the strap of the watch are directly linked together, as opposed to having an obvious, separate component that aids in putting the two together.
The no lug style is an acquired taste for most. A lot of watch enthusiasts and collectors are conditioned to value the presence of watch lugs, so they often disregard the idea of integrated watch lugs. That said, there are some timepieces today that showcase the beauty of the no lugs look such as the Victorinox Airboss and Ikepod Watches.
Watch Lugs: Frequently Asked Questions
How to Measure Watch Lugs?

Now that we know what watch lugs are and their many different forms, we can move on to one of the most frequently asked questions regarding this watch component: how do you measure watch lugs? 
First and foremost, let us delve into why we must measure the length of our watch lugs in the first place. There is a very simple reason for this: if you want to change your watch strap or bracelet, you have to know the exact lug width of your watch. For those who do not know, the lug width refers to the horizontal distance between one end of the watch lug to another. As such, knowing how to measure the lug width of your watch lugs will help you in finding the appropriate strap to go with your watch case.
In all honesty, there are many ways to find out the lug width of your watch. You can do a quick google search on your timepiece, you can seek the help of a professional, or you can even refer to the manual your watch came with. However, if all else fails, you also have the choice of measuring it yourself. Worry not, because it is just as easy and straightforward as the other options mentioned.
Here are the things you need to do in order to measure the lug width of your watch:
Prepare your watch case (without the bracelet) and get a ruler or your preferred measuring tool.
Lay the watch case on a flat surface and measure the gap between the lugs (where the strap would be placed).
After this, you can also measure the connecting end of your bracelet in order to double-check whether your measurement is correct.
Keep in mind that lug widths always come in whole numbers. If your measurement does not yield a whole number, then you most likely did something wrong along the way. In this case, simply line everything up properly and measure it again.
What Are Drilled Lugs on a Watch? 

Another frequently asked question regarding watch lugs is about drilled lugs and what they are. Drilled lugs basically refer to watch cases with holes drilled into either side of the lugs. This allows wearers to change the watch's strap more easily since you can utilise a tool to poke through the holes and release the lugs' spring bar. In modern-day watchmaking, however, drilled lugs are not really a thing anymore. You are most likely to find this feature in older, vintage timepieces, or occasionally in some retro-inspired watches.
Selection of Watches 
Now that we all know more about watch lugs, let us take a look at some examples of iconic timepieces in the market. 
Hooded Lugs: IWC Portofino Ref. IW356506

First up, we have the IWC Portofino Ref. IW356506 with its simple yet classic design. This elegant dress watch perfectly showcases the sophisticated appeal of hooded lugs.
This IWC Portofino watch is presented in a 40mm stainless steel case and a stylish mesh bracelet made of the same material. It has a standard lug width of 20mm, making it extremely easy for wearers to swap the bracelet out for other aftermarket strap options.
The dial of this watch showcases a striking jet-black finish that stands out cleanly against the watch's all-silver exterior. It follows an extremely minimalistic layout that is evocative of a Bauhaus-style timepiece, comprising slim silver hour indices, sweeping leaf hands, and a compact date window at 3 o'clock. At 6 and 12 o'clock, you can find Roman numeral hour markers in a slender typeface, adding to the classiness of the watch. Powering all of these functions is an automatic 35111 Calibre. Composed of 163 components, this movement has a 42-hour power supply.
This IWC watch with hooded lugs sells at around $4,800 US.
Twisted Lugs: OMEGA Speedmaster Ref. 310.30.42.50.01.002

Moving on, we have the OMEGA Speedmaster Ref. 310.30.42.50.01.002, which offers a robust and sporty look through and through. It utilises twisted lugs that curve inwards, giving the watch a more rugged, utilitarian structure.
This Omega Speedmaster watch comes in a 42mm stainless steel case and a matching stainless steel bracelet, with a lug width of 20mm. The fashionable grey dial of this watch shows off a grainy texture that is very intriguing to look at. It is adorned with rectangular applique indices, luminous sword hands that sweep across the dial, a tachymeter scale on the black bezel, and a chronograph display. As is common with Omega watches, the chronograph display of this watch consists of three submerged sub-dials for the 60-second, 30-minute, and 12-hour counters.
Flipping the watch over, you will see a transparent caseback which gives you a clear view of the Calibre 3861 that runs inside the watch. This automatic calibre has a solid 50-metre water resistance capacity and a 50-hour power supply.
Priced at approximately $7,350 USD, this is one of the most powerful-looking timepieces out there with twisted lugs.
Explorer Lugs: Rolex Explorer Ref. 124273

The Rolex Explorer Ref. 124273, on the other hand, serves as a more luxurious take on sports watches. It comes with the iconic explorer lugs. These lugs add a sleeker, more professional feel to the entire timepiece with its nicely geometric proportions.
This Rolex Explorer watch is housed in a 36mm yellow Rolesor case, coupled with a luxurious Rolesor bracelet made from 18K yellow gold and Oystersteel. Like the aforementioned watches, the Rolex Explorer Ref. 124273 has a lug width of 20mm. Its lavish exterior is complemented by a black dial, with is furnished with rounded Arabic numeral markers, hour indices in the shapes of rectangles and triangles, and distinctive Mercedes hands. The hands and indices of this watch are coated in Chromalight, which ensures optimal legibility even in poor lighting conditions.
Powering this Rolex watch is a COSC-certified Calibre 3230. This in-house Rolex movement boasts incredible durability and precision. Equipped with a Chronergy escapement, it comes with anti-magnetic and shock resistance properties and has an excellent accuracy rate of +/-2 seconds per day.
If you are a fan of explorer lugs, what better watch to get than the model behind its name, right? The Rolex Explorer Ref. 124273 costs around $13,780 USD.
Wire Lugs: Panerai Radiomir Ref. PAM00292 

Next, we have the Panerai Radiomir Ref. PAM00292, which has a certain air of coolness and masculinity around it. It features subtle wire lugs that emphasise the watch's unusual squircle case, allowing it to truly shine on its own.
This Panerai Radiomir watch utilises a 45mm squircle case made of black-tone ceramic, which is highly resistant to scratches and impacts. In keeping with its all-black theme, this timepiece also comes with a black leather strap and a matte black dial. This dial is adorned with slim hour indices, luminous blunt hands, oversized Arabic numerals in a round typeface, and a small seconds counter at 9 o'clock.
Underneath this straightforward watch face, you can find a manual-winding movement with an impressive 56-hour power supply. Finally, this Panerai watch also has an excellent depth rating of 300 metres.
With an estimated price tag of $7,810 USD, this is one of the best examples of a watch with wire lugs.
No Lugs: Franck Muller Vanguard Ref. V45 CH TT BR OR 

Last but not the least, we have the eccentric Franck Muller Vanguard Ref. V45 CH TT BR OR. This is a bulky, powerful timepiece. Its hefty 53.7mm case diameter is perfectly complemented by its hidden lugs, which gives the watch a slimmer, longer look.
This Franck Muller watch sports a tonneau-shaped case made of lightweight titanium, along with a black leather strap. The dial has a dark blue sunray finish and is decorated with luminous blunt hands and vibrant orange Arabic numeral markers in a large, stylised typeface, which adds to the quirkiness of the whole watch. Driving this watch is an FM 2800 Calibre, which boasts great precision.
If you like loud, playful timepieces with no lugs, then this $10,515 USD watch is just the right pick for you.
Final Thoughts
Watch lugs are one of the most important components of a timepiece. While its structure and functionality has evolved through the years, watch lugs remain a crucial aspect in bringing a timepiece's case and bracelet together. Without watch lugs, watchmaking would be a completely different process. This is why it is necessary to be aware of such things, especially if you want to get started on your watch collecting journey! 
Photo Credits: TWC and Rolex
If you are interested in more watches, check out this piece on the 10 Best German Watch Brands!