Watch Reviews
Seiko SKX013 Review: The Best Midsize Diver
Dec 28, 2020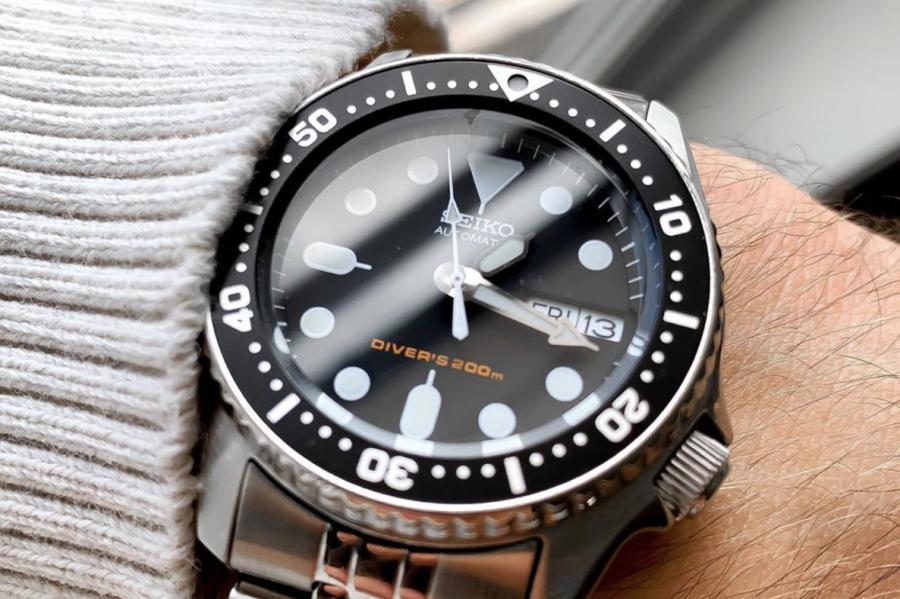 We have given praise to the Seiko SKX007 more times than we could count. It truly is a bang-for-buck dive watch that everyone should consider. And with that said, people should also look into the SKX007's little sibling — the Seiko SKX013.
The Seiko SKX013 is what we call "small but terrible" in a good way. Let's find out what makes this mini diver stand out from its bigger brother.
Seiko SKX013, Seiko SKX007 & Seiko SKX009: A Comparison

Seiko's SKX collection has become a cult classic. A lot of fans know that the difference between the SKX007 and SKX009 is only the colours of the bezel. The Seiko SKX013, however, has the same black colour scheme as the SKX007. So what makes it different from the rest?
When placed side by side, the Seiko SKX013 is smaller than the other two. In fact, it is only 37mm, making it smaller by a full 5mm. This makes the watch almost as small as vintage watches like the Rolex Day-Date. However, you would still feel its dive watch heritage with its thickness as it is as thick as the other SKX watches.
A more subtle difference is the dial. Due to its smaller size, the SKX013's dial feels more cramped despite having slightly smaller hands. There is also a small difference when it comes to the Jubilee bracelet's size, although it does not negatively affect its comfort.
Seiko SKX013 Specs
Case material: Stainless steel
Case dimension: 37mm
Movement: Automatic
Power reserve: 41 hours
Water resistance: 200m
1. Case & Crown

For a 37mm watch, its case is chunky with a thickness of 13mm. This gives it a feeling that the watch was solidly built. Meanwhile, the alternate polished and brushed surfaces make it look more expensive than it actually is.
In spite of its small stature, this watch is capable of diving. It is a true diver's watch with an ISO 6425 certification with a water-resistance rating of 200m, thanks to its protected screw-down crown. You should also be aware that this watch's crown has an unorthodox position. Instead of the 3 o'clock position, it can be found at 4 o'clock. According to Seiko, this is to keep it from digging into your skin and to offer additional protection to the watch.
The caseback is something you should not overlook as well. Being a Japanese model, it features an engraving of a Japanese icon — The Great Wave of Kanagawa. Along with it are technical details about the watch such as its serial number and case model number. Indeed, the back is as satisfying to look at as much as the front.
Overall, its size and proportions give the watch a vintage vibe. It even resembles the watches from the '50s when cases smaller than 40mm were popular. This means that the watch is not exclusive to people with slim wrists. If you're on the muscular side but want a retro-looking watch, I see no reason why you can't pull this off.
2. Bezel

Like its other dive watch siblings, the Seiko SKX013 has a unidirectional bezel. This is a requirement for the ISO 6425 in order for the watch to be considered a true dive watch. You can use this as a timer, not only in diving but in other situations as well. Again, the bezel feels well-built and rotates firmly yet smoothly. It has a toothed edge that is nice to grip and it gives off a satisfying click that lets you easily put it in the right position.
Like the dial, the bezel is also easy to read, even though it has very little lume. In fact, only the small circle inside the triangle marker lights up when put in a dark place. Despite its lack of lume, the small illuminated part is enough for divers to find out if they need to go up the surface already. The bezel is one of the things that make the Seiko SKX013 look and feel expensive.

3. Dial
On the dial, you get a mini version of the classic Seiko SKX007. It has the same high-visibility watch face that divers and watch enthusiasts have come to love. Its matte black background contrasts well against the white markers to give you an easy time reading. And despite the small space, Seiko was still able to fit in a day-date window at the 3 o'clock position. It also has Seiko's top-notch lume, so you could still read the time in low-light conditions.
The SKX007 and SKX013 have a few differences that you should take note of. For one, the hands of the former are more angular. Meanwhile, the smaller diver's hands have soft curves. The seconds hands are also different. The SKX007 boasts a lollipop hand while the SKX013 has a more unique set that is spade-like.
Lastly, the SKX013 makes use of Seiko's Hardlex crystal. To the unacquainted, it is a proprietary type of mineral glass that is unique to the brand. It was made by heating and chemically treating it to increase resistance to scratches and shatters. Apparently, this is what Seiko uses for many of their watch models including the Seiko Samurai and Seiko Presage.
4. Movement

Like the other SKX watches, the Seiko SKX013 uses an automatic calibre called the 7S26 movement. This is one of the most popular automatic watch movements by the brand and is well-loved by fans. You can even see a lot of success stories saying that this movement lasted them 20 years without any maintenance. For a mechanical watch at this price point, that is truly impressive.
Moving to the more technical part, this calibre beats at a frequency of 21,600 bph. It uses a traditional mainspring and is equipped with Seiko's Diashock technology. The latter is a shock-resistance system that protects the watch's long-term precision. In addition, it offers a decent power reserve of 41 hours when fully wound.
The only gripe some people have about this movement is its inability to be manually wound. Furthermore, it is non-hackable, meaning you can't set the time as accurately as you want. If you are extremely meticulous when it comes to timekeeping, this might be a dealbreaker. However, the average user won't likely be inconvenienced by the lack of it.
5. Bracelet
The Seiko SKX013 comes in two bracelet choices — black rubber strap or Jubilee bracelet. Depending on your needs and lifestyle, either of the two is a good choice. Find out below which one is a better match for you.
Jubilee Bracelet

Seiko makes comfortable metal bracelets and this one is no exception. It is lightweight and it perfectly balances the heavy weight of the watch's case. Some people might confuse its weight with being cheaply made, but Seiko assures that it has a solid build. Furthermore, its links are small enough that they don't pull on arm hair, unlike other metal bracelets.
The Seiko SKX013 with Jubilee bracelet was made for people with small wrists and thankfully, this feature extends to the bracelet. To demonstrate, the Jubilee bracelet has enough removable links to fit a 5.25-inch wrist. I bet a lot of people with small wrists gave out a sigh of relief just now.
In terms of safety, the SKX013's bracelet is fitted with a foldover clasp. This ensures that the watch is securely fastened to your wrist. You won't have to worry about accidentally opening it during physical activities.
Aesthetics-wise, the small beads of the bracelet give it an elegant look. Its classiness is a good match with the ruggedness of the case and dial of the Seiko SKX013. Choose this bracelet if you want an everyday watch that is versatile enough to be paired with casual to business casual outfits.
Rubber Strap

If metal bracelets aren't your thing, then the Seiko SXK013 with a rubber strap is for you. This strap is identical to the one that comes with the SKX007 and SKX009. This kind of strap repels water, which means it is best for watersports like diving, water polo, and others.
Another advantage worth taking note of is durability. Rubber straps will not stain and will last longer when properly maintained. They also offer a wide range of adjustability to give the perfect fit for different wrists.
A big reason to choose the rubber strap over the jubilee bracelet is its functionality. If you're planning to use the watch solely for sports and other physical activities, this setup is ideal for you.
Pros and Cons of the Seiko SKX013
Pros:
Great price-to-performance ratio — This is one of the most affordable dive watches you can find. Despite its cheap price tag, its value can rival those that are more expensive.
A capable dive watch — From durability to timers, it has everything a diver will need to explore the oceans.
Versatile design — The Seiko SKX013 is not too flashy and features a classic colour scheme that will blend in well with different outfits.
Cons:
Movement is non-hackable — Losing this feature means that you'll have a hard time setting the time up to the second. Although there are a few tricks that you can do to simulate a hacking movement, it is nice to have this feature.
Who is the Seiko SKX013 for?

Budding Dive Watch Collectors
It is very easy to recommend the Seiko SKX013 to someone who wants to start their own dive watch collection. For one, it has a lot of important features that dive watches should have. This gives beginners enough to tinker with and learn what makes dive watches great. Most importantly, the price is right and it's easy to acquire, unlike other dive watches like the Rolex Submariner.
Those Who Need An Everyday Watch
The SKX013 is an excellent daily driver for its durability and design. If you plan on having a one-watch collection, this model is an excellent choice as it is suited for different types of events. This chameleon can feel at home with a pair of jeans and a T-shirt or even with a sport coat and slacks.
Fans of the SKX007 with Slim Wrists
No matter how good-looking a watch is, sometimes your wrist just won't agree. Fortunately, Seiko has answered the prayers of people who are in love with the SKX007 but find it too big. Apart from the minor dial design details, the SKX013 is exactly like the bigger version. It also features the same build quality and movement.
Final Notes
The Seiko SKX013, like the other SKX models, deserves the title 'Value King'. It has a lot of advantages that will appeal to various types of people. This is the reason why this watch will always be one of the most recommended models in the community.
Want more options? Check out our review of the Orient Ray II, a great Seiko SKX alternative!