New & Feature
A Complete Guide to the Tudor 1926
Mar 16, 2021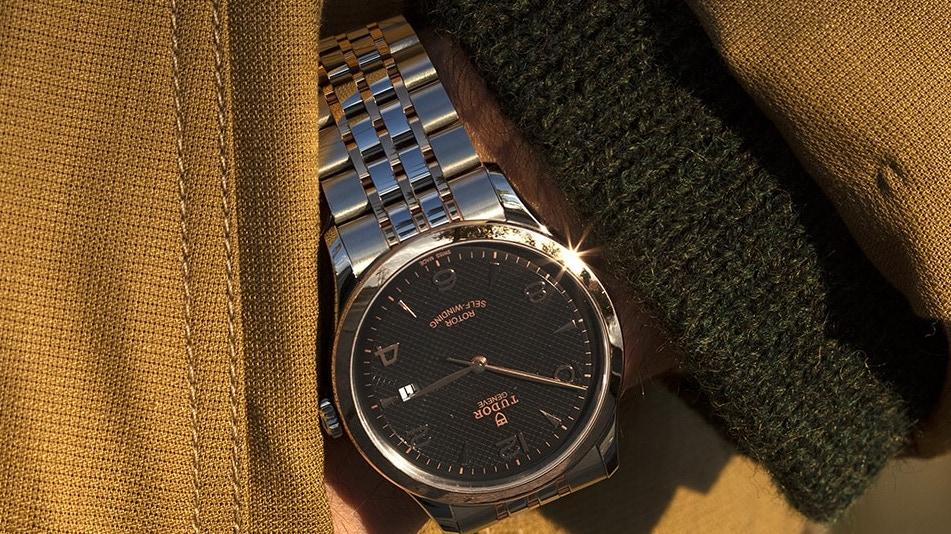 One of the best things about a watch is how capable it is of both taking you back in time and bringing you to the future, simply through its overall design and structure. There are certain characteristics of a timepiece that simply reminds you of a specific era, while some have features that seem light years away from the present. It is almost like having a time machine on your wrist (but not really). This shows how extremely versatile a watch can be as an everyday accessory. Aside from telling time and being an avenue to express one's self, a truly impressive watch can break the boundaries of the present and take its wearer on a journey beyond. The Tudor 1926 collection is the perfect series to highlight that concept. 
A Quick Look at Tudor

Tudor was officially trademarked by Hans Wilsdorf in 1926. It was previously called the house of Veuve de Philippe Hüther, founded in Geneva, before Wilsdorf gained its exclusive rights. The first pieces they released had the Tudor logo on the dial, while some included the Rolex brand name as well. This may be confusing for those who don't know that Wilsdorf is also the known founder of Rolex. A decade after the acquisition of rights, Tudor was officially transferred to Hans Wilsdorf in October of 1936. 
Shortly after the 2nd World War, in 1946, Montres TUDOR SA was officially established as a sole entity of its own. Wilsdorf's vision for the brand was to produce timepieces that offer the same reliability that Rolex is known for but at a relatively lower price point. This explains why even some Tudor advertisements have hints of Rolex in the overall design. The two brands are often associated with each other, making them great sister companies today. 
All About The Tudor 1926
Tudor is a brand that is known for its high-quality, durable, reliable, and precise timepieces. As a sister brand of Rolex, they have also managed to establish a name for themselves as a top-tier brand that is more accessible to all. 
The Tudor 1926 was a collection manufactured to awaken a sense of reminiscent feeling in people. Even just from the name itself, you can already tell that it was inspired by a time that has passed. The name of the series is derived from the year that Hans Wilsdorf trademarked Tudor, which can be seen as a tribute to the legendary man. This collection takes inspiration from Tudor's past watches, making it a modern-day interpretation of classic pieces. The Tudor 1926 is one of the brand's most refined and sophisticated models that really brings you back in time. It is difficult to create a watch that is representative of both the past and the present but the Tudor 1926 is able to do so effortlessly. 
The Best of Tudor 1926 Models 
1. Tudor 1926 M91650-0005 for Men

The Tudor 1926 M91650-0005 is one of the most eye-catching pieces in the Tudor 1926 line. The design draws attention in the most subtle way possible. It comes in a 41mm steel case with a 7-link bracelet of the same material. The opaline dial follows an embossed pattern, which seems to be a streamlined feature among the Tudor 1926 models. The numbers, hour markers, and hands are all in the colour blue, giving the entire piece a sense of depth and calmness to it. Moreover, there is also a date component at 3 o'clock. Inside, this Tudor 1926 is just as beautiful, powered by a self-winding  Calibre T601 mechanical movement. What's more, it also has a water-resistance of 100 metres and a power reserve of around 38 hours. This is the perfect watch for the gentlemen who prefer vintage and striking pieces. 
2. Tudor 1926 M91650-0003 for Men

Next up is this gorgeous diamond set Tudor 1926 watch. For some reason, this model gives me Kingsman vibes, but a subdued version of it. It looks very intricate and sophisticated, even just with a single glance. The exterior comes in a 41mm case, a smooth bezel, and a 7-link bracelet, all of which are made with stainless steel. The silver dial follows the iconic waffle-like pattern with minute markers in black. Meanwhile, the hands and Arabic numerals are in gold, with six diamonds around to replace the odd numbers. It also has a date component beside the diamond at 3 o'clock. This piece runs on a Calibre T601 which follows a self-winding mechanical movement. Lastly, it boasts a power reserve of 38 hours and a water-resistance of 100 metres. This is the perfect vintage piece for any sophisticated and stylish person. 
3. Tudor 1926 M91651-0003 for Men

The Tudor 1926 M91651-0003 screams elegance and sophistication. The overall colour combination works perfectly especially since the black pairs really well with the touches of gold. It has that classic and luxurious feel to it. This watch comes in a 41mm steel case with a two-tone bracelet in steel and rose gold. The black dial is outlined by the rose gold bezel. Furthermore, it includes numerals, indexes, and hands in rose gold plus a date component at 3 o'clock. This model runs on the self-winding Calibre T601 mechanical movement, boasting a 38-hour power reserve. What's more, it has a water-resistance of 100 metres. This is a good Tudor 1926 option for all the subtle luxury lovers out there.
4. Tudor 1926 M91350-0004 for Women

Fourth on our selection is another diamond set Tudor 1926 model. The Tudor 1926 M91350-0004 is a smaller version of the previous model and is catered towards the ladies. It has that fancy yet simple look that is reminiscent of Tudor's pieces in the past. It comes in a 28mm steel case paired with the iconic 7-link steel bracelet. The black dial follows the 1926 embossed pattern with rhodium-plated hour markers and hands. The diamonds are scattered in between the even numbers and there is a date component at 3 o'clock. This model runs on the Calibre T201 mechanical movement. It also has a power reserve of 38 hours and a water-resistance of 100 metres. This is a lovely and elegant piece that would really complement any wearer. 
5. Tudor 1926 M91351-0001 for Women

Last on our list is another dainty and refined Tudor 1926 model. This watch has a rather delicate yet elaborate look to it largely because of the overall colour combination. It comes in a 28mm steel case paired with a steel and rose gold bracelet. The bezel follows a polished finish in rose gold as well. The silver dial, following a waffle pattern, includes numbers, hands, and indexes in rose gold as well. This Tudor 1926 also features a Calibre T201 mechanical movement, a power reserve of 38 hours, and a water-resistance of 100 metres. This is the perfect watch for those looking for a versatile and dainty piece. 
Why Should You Get a Tudor 1926 Watch?
This collection offers a variety of vintage-looking pieces, perfect for those who want refined and classic watches. Below you'll find some of the selling points of the Tudor 1926.
There is a fair amount of options. The Tudor 1926 comes in multiple sizes, colour variations, and materials. You can easily choose one from the selection they offer. What makes it great is that, no matter what the variation, it will have that elegant and quintessential overall design and vibe.
It is a versatile piece. I personally believe that all the models in the Tudor 1926 collection have a sense of versatility to them. Some luxury or vintage watches only look great in certain circumstances, calling for smart or formal wear. However, the Tudor 1926 is one of those watches that would truly look great no matter what. It is a watch that's capable of completing or complementing an outfit of any occasion.
It has a rich history behind it. This article already gives a glimpse of how Tudor has evolved since its foundation. This collection in particular was created to celebrate the brand's heritage. The sense of nostalgia that the Tudor 1926 brings is thanks to its impressive craftsmanship and colourful history.
The iconic waffle dial design makes it so distinct and striking. This happens to be one of the key features of the Tudor 1926. The embossed pattern on the dial catches the attention of people and brings them back in time as well.
It has a lower price range. As expected of a sister company of Rolex, the price is still on the expensive side. However, it does come at a relatively lower cost in comparison to other Tudor collections and luxury watch brands. Don't worry because the quality remains the same for all.
The Evolution of Tudor
To fully understand the background of the Tudor 1926 collection, let's find out more about Tudor itself in order to fully comprehend how their collections have evolved through the years.
1950s
In 1952, Tudor released one of their most iconic models called the Tudor Oyster Prince. This watch included features that were known to be exclusive to Rolex as it made use of a waterproof Oyster case and a self-winding Perpetual rotor. However, this was not the only unique thing about this piece. The Tudor Oyster Prince actually came hand-in-hand with a rather one-of-a-kind campaign. Instead of merely describing the watch, Tudor chose to highlight its best features by showing men doing difficult jobs whilst wearing the Oyster Prince. This was done to give the people the idea that the Oyster Prince was a reliable and durable watch that can withstand extreme circumstances.
In the same year of its release, the British Royal Navy went about with their expedition to Greenland using Tudor Oyster Prince watches. This further solidified the Oyster Prince's reputation as a high performance and premium quality watch. Tudor continued with this concept for the Oyster Prince in the years to come as seen through their robustness test campaign.
Over the next couple of years, Tudor continued to launch models that would help shape the brand into what it is now. For example, in 1957, they released the Tudor Heritage Advisor, which is known to be the first watch with an alarm function. They also released the Tudor Oysterthin around the same time which is known as the thinnest waterproof wristwatch. The Oysterthin, a rare model even back then, made such a great impact that timepiece collectors and connoisseurs still want to get their hands on one until now.
1960s
Tudor began this decade by launching a model catered to entice their women consumers. They were able to incorporate both femininity and charm into the Tudor Royal, creating a truly memorable watch. However, the key point of this model actually lies in its snake chain bracelet which gives the entire piece a rather alluring feel to it. Furthermore, Tudor also released the Tudor Prince Date Day models in the 1960s. This piece is known to be one of the biggest watches in the Prince collection. It runs on a specific calibre that includes a date and day system. A single glance at this watch and you will immediately feel a sense of sophistication brought about by its overall design. Lastly, the Tudor Prince Date Day was also one of the first watches that had the shield logo on the dial. The change from the rose to the shield signified Tudor's commitment to durability and reliability.
1970s
This decade was the beginning of an impressive journey for Tudor's chronograph timepieces. The brand launched their first chronograph watch called the Oysterdate in 1970. They used vibrant colours and unusual shapes to give the watch distinct and striking features on its own, making it a huge hit from the start. Moving on, in 1975, Tudor came out with the Oyster Prince Submariner 9401/0 which boasted utmost precision, thanks to its ETA calibre 2776. This was only one of the numerous Submariner pieces released from 1969 until 1999, and each had distinct variations in features and functions.
1980s to 2010s
Truthfully, Tudor released different models in the span of four decades (which would be difficult to enumerate all). They consistently launched numerous Prince Submariners and Prince Oysterdates from the 1980s until the late 1990s. Each piece showcased unique variations and added touches from their predecessors. Another notable piece by Tudor is the Black Bay P01 model from their Tudor Black Bay collection, which was released only in 2019. Though it only came out fairly recently, this piece dates back to as early as the 1960s when Tudor's engineers were researching to meet certain requirements mandated by the American government. This piece was an attempt to showcase Tudor's dedication to their craft and their dauntless spirit.
At present, Tudor has an array of timepieces in its arsenal. The following are some of the collections they offer: Tudor Heritage Chrono, Tudor Princess Date, Tudor Royal, Tudor Pelagos, Tudor Clair de Rose, Tudor 1926, and many more.
Final Thoughts
Overall, the Tudor 1926 line offers great options for classic and luxury watch lovers out there. It is a model that was designed to make you think of a certain time and it really did well in doing so. This is one of the best reminiscent watches out there in the market. Truly a must-have for those who prefer vintage without having to sacrifice that sense of modern-day sophistication.
If you're a vintage lover, check out this article on 24 Hour Watches.
Photo credits: Tudor