New & Feature
Gerald Genta: His Genius and Legacy
Nov 22, 2019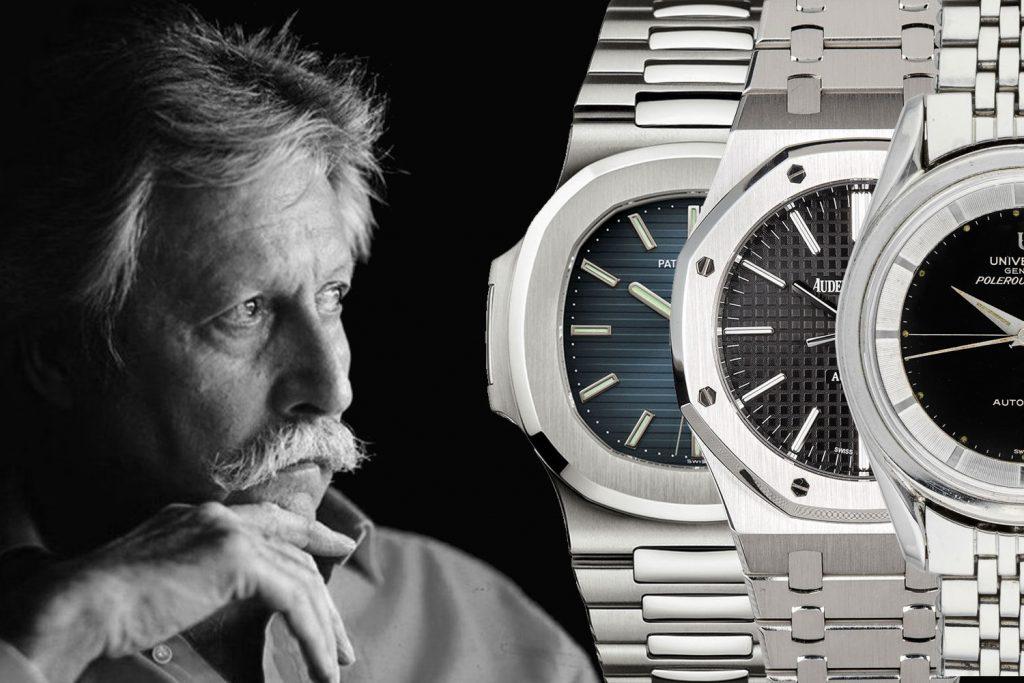 When talking about watch collections, an enthusiast might talk about their "grail." For the unacquainted, it is the general slang for an item that is on top of your wishlist. With that said, you can expect models like Gerald Genta's Audemers Piguet Royal Oak or the Patek Philippe Nautilus to be a staple in every watch collector's dream.
What may not come up as often as it should is the name Gerald Genta. It should be said that many of your grails started from the sketchbook of this man; from the contemporary Nautilus to the playful Mickey Mouse watch. It comes as no surprise why people regard him as the father of modern watchmaking. Some even call him the Picasso of watches.
Read on to find out how this man shaped the face of modern watches. So, ladies and gentlemen, may I introduce to you the genius that is Gerald Genta and his iconic watches.

Best of Both Worlds
Gerald Charles Genta was born in 1931. Due to his watchmaking capabilities, some of you might be guessing that he's Swiss. You are half correct. Gerald Genta was born to a Swiss mother and an Italian father. This was a combination that influenced his creativity.
His multicultural upbringing brought out two characteristics of both worlds — or should I say countries? From the Swiss, he inherited the art of watchmaking. And from the Italians, a penchant for exquisite style. With this, Genta went on to influence how we design watches today.
The Making of a Genius
Gerald Genta's career started with jewellery-making. He became an apprentice at the ripe age of 15. After four years, he finished his goldsmith and jewellery training. As a result, he earned a Swiss Federal diploma.
However, Switzerland's economy had fallen into a recession. And as a consequence, opportunities in the jewellery sector were scarce. But there was one industry where he found a viable career path, and it was in watchmaking.
Like many of us, young Gerald Genta had to start somewhere. He began by accepting commissions from various clients. His work consisted of designing watch cases, bracelets, and parts. During that time, he earned only 15 Swiss Francs per design. So, to get by, the designer had to finish a huge amount of work.
This pressure to create hundreds of designs proved to be of use to him. For one, it helped him create one of the world's most iconic watches in one night. But we'll get to that later!

How His Career Took Off
As Gerald Genta's portfolio grew, so did his network. This allowed him to work for well-known names like Hamilton and Benrus. But one brand that helped him experience a breakthrough was Universal Genève.
In 1954, the SAS (Scandinavian Airlines Systems) made a groundbreaking flight. They flew from Copenhagen to Los Angeles, making it the first flight that crossed the North Pole.
Back then, flying over the North Pole proved to be a challenge. The magnetic fields found in the Arctic Circle destroyed the planes' timing instruments. Even the crew's wristwatches were not spared.
To commemorate the historic flight, Universal Genève tapped Gerald Genta. They wanted him to make an antimagnetic watch. And this gave birth to the Polerouter (formerly called Polarouter). This iconic watch earned him praises and made his career take off.

Rewriting the Stars
A few years after Gerald Genta's highly-praised Polerouter, Omega offered him a contract. They were the first brand to do so. It involved redesigning the Swiss brand's star-studded collection called the Constellation.
Many people are confused about which pieces Genta designed. But luckily, his wife Evelyne Genta confirmed that he made the Ref. 168.009 C-Shape and the Ref. 168.005.
The designer's take on the flagship line gave it a new look. This is why these watches are still sought-after by collectors today.

From Designing to Producing
In 1969, Genta decided that it was time to produce his own watches from scratch. Thus, he started the Gerald Genta brand. Under his namesake brand, he disrupted the status quo by experimenting with new shapes and materials.
Years after he established his brand, he gained a distinguished list of clientele. He received commissions from very important people. This included the King of Saudi Arabia and Queen Elizabeth, among others.
Starting in 1983, Gerald Genta and his wife Evelyne strengthened their international recognition. They travelled to different countries to promote their brand. While Genta focused on designing, Evelyne took care of the marketing side of things. She developed new markets in Asia, Europe and the Middle East.
In 1995, he created the Grande Sonnerie. It is one of the world's most complicated watches with over a thousand parts. It features a minute repeater and dual power reserve display, among others. This watch sold for a whopping $2,000,000!

How He Saved Audemars Piguet
During the 1970s, the Swiss watch industry suffered from the Quartz Crisis. This was a period when Japan started producing watches with a quartz movement. This made consumers shy away from mechanical timepieces, resulting in a decline in sales.
One victim of that period was Audemars Piguet. It's hard to imagine how the now-iconic Swiss brand was at the brink of bankruptcy. Who would ever think that one of the "Big Three" was almost put out of business? If they did, then the watch industry would've been different now.
Fortunately, they made one decision that turned everything around. They listened to the Italian market about wanting to have a steel luxury watch. At that time, it was unusual as luxury watches were only made of precious metals.
Audemars Piguet's then-managing director Georges Golay was willing to take the risk. What could they possibly lose? He tried to find someone who can make the Italians' request a reality. And who would do a better job than a half-Italian designer? So, they took a leap of faith with Gerald Genta.
A day before the 1971 Basel Fair (now called Baselworld), Golay contacted Genta. He explained that they wanted a steel sports timepiece like no other. Here's another catch: they needed it the next morning!
With less than 24 hours, Genta put his game face on. Being the artist that he was, he drew inspiration from unusual things. For the Royal Oak, would you believe that it was inspired by a deep-sea diving helmet?
The product was an octagonal-shaped bezel. It had eight screws in every corner and a visible water-resistance gasket. This work of art led Audemars Piguet to become one of the world's most successful watch brands. Gerald Genta himself called it the masterpiece of his career.

All It Took was Five Minutes
Thanks to Gerald Genta, steel sports watches became a thing. This trend gave birth to another icon — the Patek Philippe Nautilus. Patek Philippe indeed takes pride in their sleek dress watches. But this sports watch is one of their most recognisable.
If you're thinking this timepiece closely resembles the Royal Oak — well, you are not mistaken. The similarities are not a coincidence because they came from the same creative mind.
A few years ago, Genta chose a diver's helmet as a model for the Royal Oak. And once again, he turned to the sea for inspiration for his next hit. The Patek Philippe Nautilus' contemporary shape came from a ship's porthole. It was even named after the submarine featured in the classic novel 20,000 Leagues Under the Sea.
If you remember, the Royal Oak has eight angular corners. Patek's contender also has eight sides, but the difference is they're subtly curved.
Staying true to its name, the Nautilus has a water resistance of 120m. During that time, it was high.
In an interview, Gerald Genta admitted that the idea struck him while dining at a restaurant of a hotel. He asked the waiter for a pen and paper and started sketching. And after five minutes, he produced the first drawing of the Nautilus. Who knew he could still outdo himself after designing the Royal Oak in less than a day?

Made for Engineers
In 1976, IWC wanted a fresh new look for their Ingenieur. So, they tapped no other than the most famous watch designer that time. As expected, Gerald Genta worked his magic and turned it into an iconic model.
As the saying goes, "if it ain't broke, don't fix it". Genta was no doubt a genius so he used the same winning formula that made the Royal Oak a legend. Gerald Genta kept the bezel clean, save for five visible screws. If you can remember, the Royal Oak also has this interesting characteristic.
They made the Ingenieur for scientists and engineers. That's why it's important that it was resistant to magnetism. It could even withstand 80,000 amperes per meter. Meaning, it can withstand most stun guns!

It Was Not Always Uphill
You can't please everyone. Take it from the Picasso of watches himself. When Gerald Genta introduced the redesign for the Bvlgari-Bvlgari, people were furious. The brand even called it "crass".
You might be wondering what kind of design stirred that kind of commotion. What Genta proposed was a bezel with the words "Bvlgari Bvlgari" engraved around it. This was in homage to the ancient Roman coins.
However, the dislike for the design did not stay long. People learned to love it after a while. Until now, the Bvlgari-Bvlgari is still the brand's flagship model. The double logo even became one of their signature motifs that you can see on their handbags, jewellery, etc.

The First Bronze Watch
In 1984, Gerald Genta received a request from three safari hunters. They needed a watch for the Big Five game hunt in Africa. The new model, called Gefica, got its name from the three hunters. They were Geoffroy, Fissore, and Canali.
The new timepiece features a moon phase complication and a compass. Apart from those, it was also made with bronze. Genta chose that material because it did not reflect sunlight. This gives the wearers added concealment when out hunting.
The metal did not only cover function, but it also covered form. The bronze material allows the watch to develop a patina. Like a pair of aged jeans, the Gefica will change colour depending on the wearer's lifestyle.
No Gefica watch will age the same. That is why this is the type of watch that will adapt and grow with the owner. Every scratch and every discolouration on it tells a story.

The Happiest Watch on Earth
Who says Mickey Mouse watches are for kids? Gerald Genta was not one to shy away from cartoon characters. During the '80s, he obtained a licence from the Walt Disney company. This allowed him to incorporate Disney icons like Mickey Mouse into his design.
This playful timepiece features the iconic mouse in the middle. Moreover, it uses the character's hands to point the hour and minutes passed. Genta set the collection in an 18K gold casing.
Nature is Key
We all have our own inspirations. And in an interview with Evelyne Genta, we learned about Genta's. Our first guess would be that he looked at various watch designs until he developed his own style. This was not the case. According to his wife, Gerald Genta did not look at other people's watches. He looked at nature. You can observe this in the Audemars Piguet Royal Oak and Patek Philippe Nautilus. Both were inspired by the ocean.

The Fusion of Gerald Genta's Two Passions
Designing watches wasn't the only passion of Gerald Genta. He also loved painting. With that, he made another eponymous brand called Gerald Charles. And in this brand, he showcased collections inspired by art. The new brand gave Genta total freedom of expression. If you would notice, the collections under this name showcased his boldest designs.
One such collection is the Heritage. Its contemporary dials are reminiscent of Italian renaissance art. After two years, Genta decided to sell the brand. His reason? He wanted to focus on painting. He wanted to return to his first love. His passion before he learned how to love designing watches.

A Watchmaker Who Disliked Watches
Gerald Genta's career spanned over 40 years. He even claimed that he penned over 100,000 designs. For a guy like him, you would think that his collection was directly proportional to the number of his works. Surprisingly, that was not the case.
In an interview back in 2009, Gerald Genta expressed how he felt about watches. You won't believe me but the answer is he didn't like them. "For me, watches are the antithesis of liberty. I am an artist, a painter. I hate having to adhere to the constraints of time. It irritates me," he said.
Although he didn't like watches, he loved designing them. He was fond of art and his passion was evident in his creations.
Passing the Torch
There is no denying that Gerald Genta was a gamechanger in horological history. Without him, the idea of a luxury watch made of steel might still be unimaginable. Or your mother's favourite bag would not bear the  Bulgari double logo. Simply put, there are a lot of things the world would be missing out on if not for Genta.
That is why it is only fitting to pay tribute to him after he died in 2011. So in, 2018, his widow Evelyne Genta created the Gerald Genta Heritage Association.
Evelyne Genta established the association to raise awareness about Gerald's contributions. But most of all, it aims to pass the torch to talented watch designers. By supporting and rewarding young talent, we hope to see a lot more Gerald Gentas in the watch community.
Keen to read more about Audemars Piguet Royal Oak and Patek Philippe Nautilus collections? Read our features here and here.