New & Feature
Used Rolex Submariners: Ultimate Buying Guide
May 18, 2021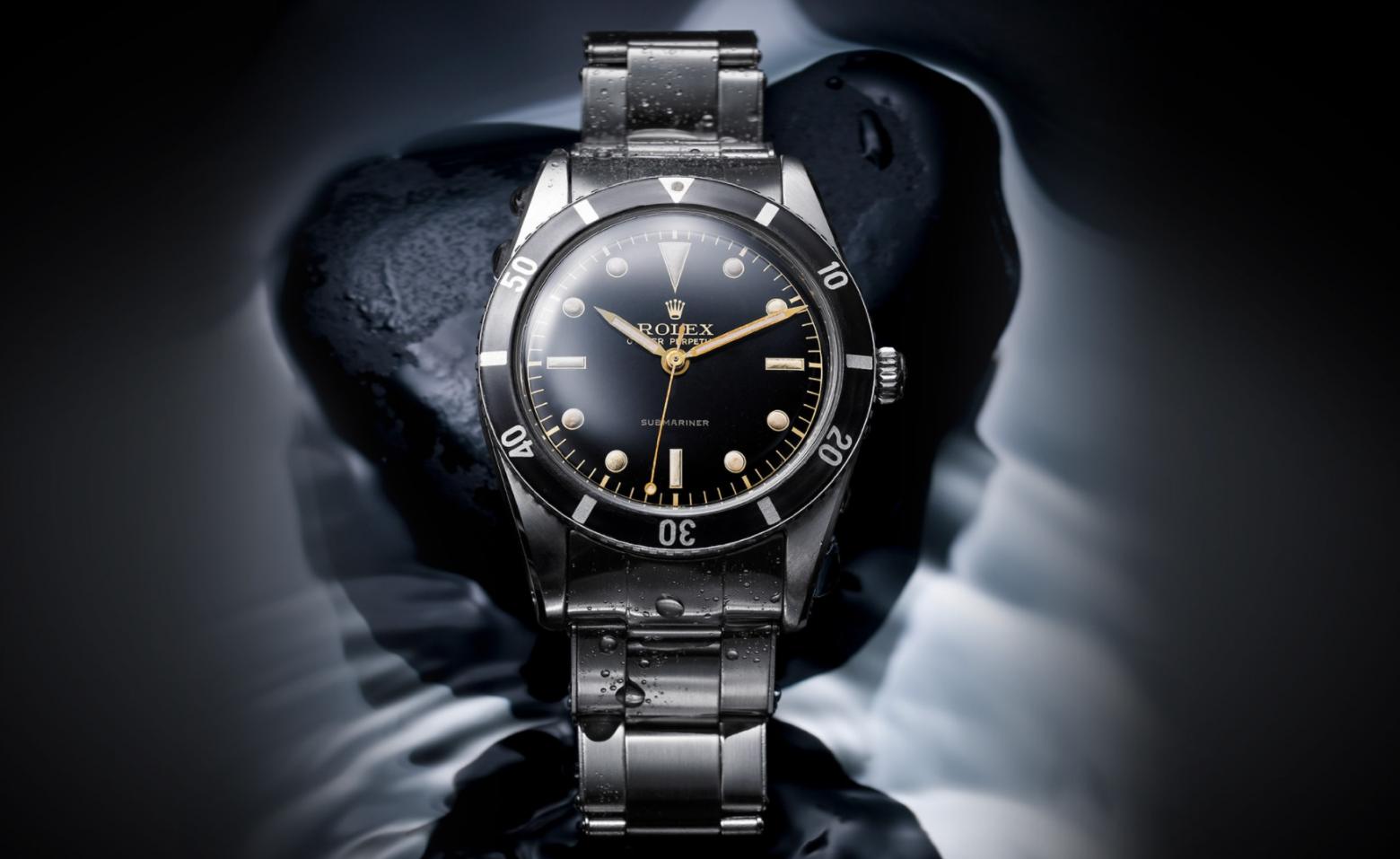 Rolex is a luxury brand that has an extensive catalogue of watches. From the Rolex Datejust to the Rolex Oyster Perpetual, this watchmaking legend has been a constant trailblazer since the beginning. One of their most highly regarded collections is the Rolex Submariner. This article will focus on this iconic watch, the perks of buying a pre-owned model, and tips to guide you in purchasing a used Rolex Submariner.
Brief History of Rolex

It all began when Hans Wilsdorf founded his own watch distribution company back in 1905. His dream was to create an elegant and dependable wristwatch. Wilsdorf turned this dream into reality by producing wrist-worn timepieces powered by intricate Swiss movements. Since then, Rolex continued to change watchmaking through consistent innovation and creativity. 
In 1926, Rolex came out with the first-ever waterproof wristwatch called the Oyster. The Rolex Oyster was chosen by Mercedes Gleitze as her companion during a 10-hour swim across the English Channel. This stunt proved how reliable and well-crafted the Oyster is, catching the attention of many. However, the Oyster's adventure did not stop there. In 1933, crew members wore Rolex Oysters during their flight expedition over Everest. Continuous exposure to harsh circumstances greatly contributed to Rolex's distinguished reputation as a dependable sports watch brand. 
In the years to come, the brand would continue to launch numerous models and collections that all boast unparalleled precision, reliability, and elegance. Rolex's decades of superior craftsmanship would eventually lead to their status as the King of Luxury Watches. 
All About the Rolex Submariner 

In 1953, the Rolex Submariner was introduced to the world. This timepiece became the first divers' watch to have a water resistance of up to 100 meters. It became the holy grail of many water sports enthusiasts because of how reliable it is both on land and underwater. At this point, Rolex didn't really need to prove anything anymore, but the Submariner was still put to the test (many times actually). For example, in 1960, Jacques Piccard and Dan Walsh descended into the ocean inside submarine Trieste. This was an expedition to reach the Challenger Deep, located in the Mariana's Trench, which is also known as the deepest part of the ocean. A Rolex Submariner prototype was attached to the Trieste and, of course, it worked just as it did on land.  
The numerous field tests led to people seeking and wanting a Rolex Submariner. Eventually, the brand would release more and more iconic models in the coming years. As the Submariner continued to evolve, the principle of showcasing unmatched craftsmanship, superior reliability, and timeless elegance remains the same. 
Rolex Submariner: Our Top 5 Picks
Now that we know more about the Rolex Submariner, here are our top 5 picks. 
Rolex Submariner 5513
The Rolex Submariner 5513 is one of the most iconic models to be released in this collection. It was officially launched back in 1962 and has become one of the most coveted Submariners since. It has that luxurious yet robust vibe present in many watches from the same collection. It comes in a 40mm Oystersteel case with a stainless steel bracelet and a unidirectional bezel. The black dial is very distinct with its mixed shape, luminescent indexes, and hands. In terms of movement, this model runs on a self-winding calibre 1530 featuring 17 jewels. Lastly, it also has an impressive 48-hour power reserve and a water resistance of up to 200m. The Rolex Submariner 5513 is one of the top choices of many vintage timepiece lovers out there. 
Rolex Submariner 116610LV
The 2010 Rolex Submariner 116610LV, also known as the Rolex Hulk, is probably the most eye-catching timepiece in the Submariner line. The LV at the end of its reference number stands for 'lunette verte' which translates to green bezel. This model is often associated with the 2003 Rolex Kermit, a symbol of the 50th year of the Submariner, because of its similar colour. The Rolex Submariner 116610LV comes in a 40mm stainless steel case, paired with a bracelet of the same material. Its rich green dial features luminescent hour markers and hands in different shapes. As if the dial wasn't striking enough, it also has a unidirectional bezel in the same shade of green. For technical specs, this model is powered by the Calibre 3135 with a 50-hour power reserve and a 300m water resistance. The Rolex Hulk is ideal for luxury watch enthusiasts who enjoy radiant and vivid colours. 
Rolex Submariner 6538 
Now, this timepiece is for the action fans out there. The Rolex Submariner 6538, dubbed as the Bond Submariner, happens to be the iconic Rolex watch featured in the 007 films (plural). It is a very robust yet sophisticated model, making it the perfect watch for James Bond himself. It comes in a 38mm Oystersteel case with a black rotating bezel. Its black dial features luminescent hands and markers in different shapes. It also runs on a calibre 1030 with a whopping water resistance of up to 300m. More than just the Bond Sub, it is yet another impressive model in the brand's selection of dive timepieces. Action lover or not, this luxury watch is the perfect vintage Rolex Submariner for men. 
Rolex Submariner 116610LN
If you haven't noticed yet, the Rolex Submariner 116610LN comes from the same family as the Rolex Hulk. However, the last letters of its reference number stand for 'lunette noir', which means black bezel. This model is a very classic and rugged-looking piece, making it a great Submariner for men. Released in 2010, this watch comes in a 40mm stainless steel case with a bracelet of the same material. Its black bezel and dial consist of luminescent hands and markers in multiple shapes. It also features a chronometer and is powered by the Calibre 3135. With a 50-hour power reserve and 300m water resistance, what more can you ask for? 
Rolex Submariner 6200
Lastly, we have the original Rolex Submariner 6200. This model is known as the first Submariner to be launched back in the 1950s. Its most popular feature is its relatively large crown with a diameter of 8mm. This is truly one of the most sought-after Rolex watches because it serves as the predecessor of many Submariners that came into existence after. It comes in a 37mm stainless steel case and bracelet. Its black dial follows an analogue layout featuring Arabic numerals, mixed-shaped markers, and Mercedes hands. It was also a favourite among divers back then with its water-resistance of up to 200m. More than its sophisticated design, this watch undeniably had many patrons especially those water sports enthusiasts.
Why Opt for a Pre-Owned or Used Rolex Submariner?

Some people might be asking what's the point of buying a used Rolex Submariner when you can get a brand new one? Well, at the end of the day, it all boils down to the factors you consider when you're making a big purchase. However, it should be noted that there are certain advantages you exclusively get from buying either a new or used piece. Here are some of the perks if you're leaning towards getting a pre-owned Submariner:
Usually comes at a lower price. You don't have to be well-versed in watchmaking to know that Rolex is a pretty luxurious and expensive brand. Their lowest-priced model retails for over $5,000 USD, while the most expensive one was sold at around $2.5 million USD. In between those two amounts are numerous watches at varying price points as well. One benefit of buying a pre-owned Rolex Submariner is that you can find ones in good condition that cost relatively lower than their original price. For example, a brand new Rolex Submariner 14050M costs around $14,000 USD, while a pre-owned one sells for $10,600 USD give or take. The lower price is because of the concept that a brand new Rolex watch tends to depreciate in value the moment it is sold. If you're looking for a more affordable option, then getting a pre-owned watch may your best bet. 
Wider variety of watches. A great thing about buying used watches is that you have a lot more options than you do when you're at the Rolex store. It is because you have access to rare/retro models that have been discontinued along with pieces that are still being produced. This explains why most vintage timepiece collectors are quite familiar with the 'used-watch market'. Especially for a brand like Rolex, their older models are often more sought-after than the ones in their current catalogue. If you know where to look, you can easily find some of their highly coveted models such as the  Rolex Submariner 1680, the Rolex Submariner 5513, and a lot more. 
Takes less time to get. This may seem like such a trivial thing but time is gold for many, right? Getting a used Rolex Submariner is as convenient as it can be. All you have to do is find a trusted source, choose the one you want, and buy it. You can even get your hands on some of the most popular pieces in their present-day catalogue that are always out of stock. You won't have to wait for that call or email about a restock because buying a pre-owned model means taking matters into your own hands. 
Generally a better investment. Some people may think that used luxury items depreciate more solely because it is used already but that's really not the case. It was stated earlier that a brand new Rolex watch loses a significant percentage of its value the moment it's sold. While that may seem daunting, it means that when you buy a pre-owned watch, it has already suffered through that major value loss from its original owner. I'm not saying it won't depreciate anymore but it will do so at a considerably slower rate. With that, it can also appreciate in value as time goes by, depending on the model and how sought-after it is. This just shows that purchasing a used Rolex Submariner can be a better investment overall. 
Enduring quality.  This point is pretty self-explanatory as it is. We all know that Rolex watches offer superior craftsmanship in all aspects, from the very beginning up until today. Longevity and quality should be the least of your worries once you're assured that the pre-owned Submariner is in a good condition. Many models from as early as the 1960s still work perfectly fine at present. While it may not look exactly the same as it was when it was new, Submariners are made with such good materials that a used one rarely gets too beaten down. 
Used Rolex Submariner: Buying Guide 101 
Once you're fully decided on getting a pre-owned Rolex Submariner, the following tips below can guide you in your journey:
Establish your personal criteria. This is very important when making big purchases. You have to clearly know what you want and the factors you wish to take into consideration. Things like budget, model, investment benefits, condition, and quality are some facets that can help you narrow down your options. Establishing your personal criteria will make the entire process more smooth because it leads to fewer chances of you getting overwhelmed or distracted. 
Know the market. Buying a used Rolex Submariner will be a completely different experience than getting a new one. You have to familiarise yourself with the market by getting to know the authorised resellers, observing the different prices, and scrutinising whether it passes your standards or not. For example, if you have criteria already, looking into the price range will give you a better idea about which models are within your budget. 
Extensive research. This obviously goes hand in hand with the previous tip. You have to really do a fair amount of research before actually purchasing your pre-owned or used Rolex Submariner. Try to familiarise yourself with certain terminologies that are often mentioned in the 'used watches market'. Not doing research will only lead to future purchases that you'll eventually regret. It is better to take your time absorbing as much information as you can in order to guide you in making the right decision. 
Consult with experts. When you are unsure about certain details and no amount of research is helping, then it is best to ask the experts. Most authorised resellers have professionals that can answer your inquiries and help you find what you are looking for. The Watch Company, for example, gives a number and an email address on their website that you can contact should you have questions about any of their watches. 
Beware of fraud. This is something that happens to all markets and the watchmaking industry is not an exception. There are people that try to scam others by selling fake Rolex watches at suspiciously low prices, so be cautious and vigilant at all times. This is where research and consultations become helpful because, while bad people exist, there are lots of trusted establishments that are willing to help you find the best Rolex Submariner for you. 
Final Thoughts
The Rolex Submariner has been offering a great selection of watches since its launch back in the 1950s. Brand new or used, wanting to buy a piece from this collection is already a great choice on its own. Just know that there are other alternatives out there besides buying a brand new Submariner. Ultimately, if you do enough research, you will know that opting for a used Rolex Submariner may even be a better investment than getting a new one. 
If you want to know more about vintage Rolex watches, check out our Guide to the Rolex Submariner 5513.
Photo Credits: Rolex