New & Feature
Rolex 5513: A Look At The Brand's Iconic Vintage Submariner
May 05, 2021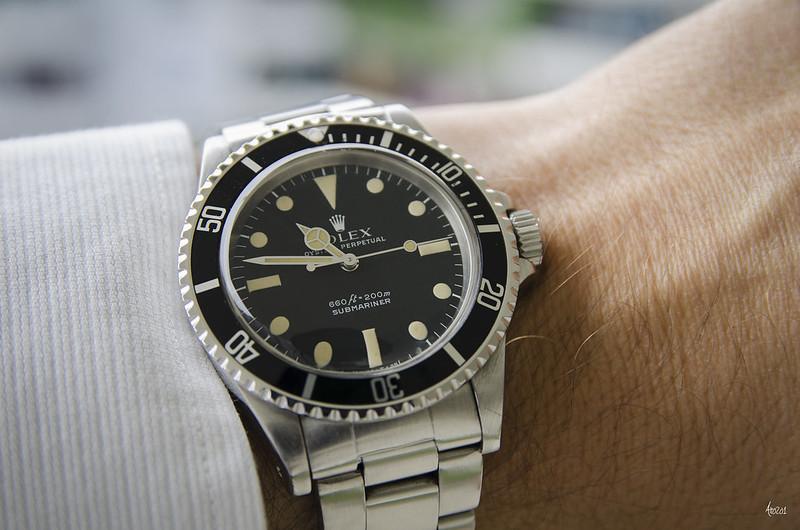 When it comes to luxury watches, Rolex is undeniably and automatically one of the first names that immediately come to mind. One cannot simply mention them in any horological conversation without thinking of the prominent brand. Hailing from the land where watchmaking significantly thrives, Rolex is a famous and acclaimed label that even regular people, who do not have the slightest bit of interest in collecting timepieces, would recognise at a single glance. Among its most iconic pieces is none other than the Rolex 5513, one of its most popular Submariner models.
The watches Rolex release can simply take your breath away as they possess certain qualities and characteristics you cannot find in any other competitors in the market. This is why the brand remains as highly-sought merchandise, despite being in the business for 116 years already. Like other aficionados in the niche claim, Rolex is indeed a company that does not need any long and fancy introduction for its watches alone can simply attest to what it has to offer.
If you review and digest the history of the celebrated brand, then you will know that they excel in crafting highly precise timepieces, particularly robust and functional watches designed for sports usage. They call this prestigious line the Rolex Submariner, which emerged in the 1950s, during the time when dive watches were slowly gaining popularity.
While the company still continues to enjoy fame with its other known collections like the Rolex Day Date, Rolex Cosmograph Daytona, and Rolex Yacht-Master, the Rolex Submariner remains unrivaled to some — due to the serviceability it brings to the table. And as mentioned, among the notable Submariner versions the brand has ever released is the Rolex Submariner 5513. Despite sporting a different type of movement unlike its predecessors, this timepiece remains a top choice for professionals and even for vintage watch collectors due to its classic and well-executed look.
But what exactly makes this watch remarkable? Although often discussed and dissected in watch forums, the timepiece has charms that remain unexplored up until this present day. In this article, we will find out what Rolex Submariner 5513 is all about and why it deserves to be at the top of your must-have watches list. Specifically, we will discuss its history, exemplary features, as well as some additional yet important details you should note before buying your own piece.
A Quick Look at the History of the Rolex Submariner
Originally devised for individuals that spend most of their time in the waters, the world-renowned Rolex Submariner is one of the company's legendary models. The concept for the series first came out in the early 1950s, specifically from the brilliant mind of the company's then-Public Relations Director René-Paul Jeanneret, who himself wanted a watch he could bring to his diving activities. His vision was simple and straightforward — Jeanneret hoped to develop a sturdy yet breathtakingly stylish timepiece that would be able to last amidst men's everyday conquests, as well as withstand even the extreme levels of water pressure. The Rolex executive saw the potential and the amazing waterproofing feature of the pre-existing Rolex models and decided that it is time for the company to take their watchmaking game up a notch.

After going through series of conceptualisations and revisions with the help of Jeanneret's close friend Jacques Costeau, an underwater explorer and a naval officer, the brand started to work on the Rolex Submariner in 1953. Along with the start of its production, Rolex also rolled out various field tests during the same year up to the 1960s in order to measure the dive watch's reliability.
The most notable one is when acclaimed Swiss physicist and inventor Auguste Antoine Piccard went down with his Bathyscaphe submarine to a depth of 3,131.8 metres. Instead of wearing one on his wrist, Piccard placed the intricate and beautifully designed timepiece that came with the iconic Rolex logo and a glowing dial to his watercraft's hull. Proving that the watch indeed brings wonders one could not even fathom, it miraculously survived the assessment with all its parts still intact and working well.
A year later, Rolex officially unveiled the Submariner to the general public in 1954 at Baselworld. With the launch of the Submariner with reference number 6204, with water resistance of up to 100 metres, Rolex instantly became a pioneer of the industry. Since then, the company has dedicated itself to producing and eventually upgrading its timepieces that reflect not only its wonderful and fruitful journey but also its attention to detail and top-tier craftsmanship. They made sure that every wearer, regardless of gender, would have an equal opportunity to sport a classy and timeless piece that is guaranteed to steal everyone's focus — perhaps even their hearts.
All About the Rolex Submariner 5513
The Rolex Submariner 5513, also referred to as the Rolex 5513 and the Submariner 5513, is one of the well-known upgrades from the Submariner line that attest to the brand's unparalleled mastery and rigor. Released in the market in 1962, the timepiece bears the title of being one of Rolex's premier vintage models, along with its predecessor the Rolex Submariner 5512. Not to mention, it is also one of the highly sought-after pieces from the luxury firm that watch connoisseurs continuously talk and rave about. Proving it definitely deserves to be put in the limelight, the Submariner 5513 possesses not only a lavish vibe but strong and sturdy components, making it a good addition to any watch lover's collection.

Due to its minimalist and classic design, this watch is often compared to or put alongside its closest sibling, the Rolex Submariner 5512. Adding to their identical case size, both watches also sport crown guards, making them more pleasing to the eye. The unacquainted would surely have a hard time telling them apart and distinguishing their main attributes, given that their only difference lies in their core. Their close resemblance is not a bad thing though, especially when you get to know both watches extensively. However, one should keep in mind that each has its own appeal and abilities that deserve its own moment of appreciation from enthusiasts.
Designed to stand out among the crowd, the Rolex Submariner 5513 simply goes beyond expectations. From its lovely dial and polished bracelet to the strategic crown placement and gorgeous bezel design, everything about this watch screams elegance and masculinity. It is the epitome of the perfect dive watch, suitable not only for the active and sporty men but also those individuals who put style and fashion above all.
Rolex Submariner 5513 Specifications
While the lovely model has now been discontinued since 1989, Rolex still considers the Submariner 5513 as one of the pieces that brought them fame and recognition. In fact, it is known for being the longest-running Submariner model within Rolex's entire collection. Despite its slightly brief yet impressive 27-year run, it still holds great value considering the admirable composition and the great number of variations it came with.
If you are an avid fan of vintage watches, you will know that this particular piece is hard to get nowadays. Adding to its rarity, the price of this watch has also increased despite having a low retail price during its release back in the 1960s. Whenever it lingers around various trusted online sites or secondhand markets, expect that it will be gone in just a blink of an eye. If you are thinking of getting one for yourself, below are the superb specifications of the 5513 variation of the Rolex Submariner that you should take a closer look at.

Case material: Stainless steel
Case dimension: 40mm
Movement: Non-chronometer, Automatic
Water resistance: 200m
Case
Like any other versions of the Rolex Submariner you can find in the market, this particular Rolex Submariner Reference 5513 in Underline variation comes in a 40mm brushed and polished case. Since its exterior is made from Oystersteel, expect that this watch could withstand a few accidental bumps and it will still look pristine. At first glance, you will think that this model seems burdensome because of its size. However, contrary to first impressions, this piece has a perfect size and weight overall, making it the ideal go-to watch you can bring to any of your adventures. At 15mm thickness, this one sits nicely on any type of wrist and is extremely comfortable to wear throughout the day. Bringing a well-balanced look, the 20mm lugs are also perfectly symmetrical with the size of the case, as well as the shape of the refined bracelet.
Accompanying the flawless screw-down, accessible and oversized crowns with the iconic Rolex crown logo at 4 o'clock position, we have the pointed crown guards, also called "shoulders". The primary aim of these features is to protect the winding mechanism of the watch, leading to optimal performance. Later on, the succeeding models started to sport rounded ones. Above all, the watch's crown, as well as its guards, also prevents water and any kind of moisture from entering its core.
Crystal
While this model does not have the sturdy sapphire crystal to protect its body, it can still resist few scratches without actually damaging the whole gorgeous look it exhibits. This is due to the acrylic crystal that serves as its main barrier. One advantage of using an acrylic crystal is that it is easier to maintain than its successors. For one, minor marks and scratches can be easily removed in the acrylic ones, rather than in sapphire crystals, which will most likely suffer permanent damage. With just one wipe, they can easily fade away. When it comes to aesthetics, the acrylic material also gives off a retro vibe, unlike the sapphire counterpart, which focuses on achieving a clean and smooth appearance. That being said, the acrylic design is perfect for those who are into vintage things and fashion. Rolex continued to use the domed plastic in their lineup until 1981 before being completely replaced by sapphire glass. Indeed, the Rolex Submariner 5513 packs a lot of great abilities albeit with its plain look.
Caseback

The caseback of the Rolex Submariner Reference 5513, unfortunately, does not allow wearers to see the heart of the watch. However, its polished and neat surface will surely make you realise that this is not your typical timepiece. Those people who are attracted to simple and direct composition will appreciate this model's charms. Despite not having a logo or any kind of engraving, the screw-down caseback still grabs attention as it allows the watch to become water-resistant of up to 20 bar. As a true diver's watch, you can wear this one during your professional water activities. Not to mention, this is also perfect for casual water sports such as swimming, jet skiing, and snorkeling.
Dial

Oftentimes, a lot of people would mistake the Rolex Submariner 5513 for its sibling, the Rolex Submariner 5512, due to their similar-looking dials and overall exterior. We can't blame you for the confusion since the main distinction between these two watches can only be seen if you decide to open and dissect the watch for close inspection. However, there are still small details that set them apart from each other. To those of you who are planning to purchase this watch in the near future, these attributes are the ones you should pay more attention to in order to make the right and appropriate decision.
Firstly, the model in question is a time-only watch like the 5512, which means that it does not have any special features like hour counters, moonphase, and day indication as well as a date display. Depending on your general lifestyle and preferences, this characteristic can either be a hit or a miss. Despite the lack of other useful facets, this one still looks amazing on the wrist and you can pair it with any style you want to go for.
Aesthetics-wise, this 1960s Rolex Submariner's dial is in glossy and deep black colour, while the hands, hour-markers, and signatures sport a gold hue. Even the "SWISS" word at the base of the dial is also gold-coloured. This design is also commonly referred to as the "glossy gilt", which is typically seen on Rolex's first collection of sports watches. Since the company decided to change the look of their watches' dials to the matte variant with white-coloured texts in the mid-1960s, this particular model is among the highly sought-after Rolex vintages watches today. Aside from the fact that it is rare, the Rolex 5513 is incredibly pleasing to look at from any angle.
While the hour hand is Mercedes type, the minute hand is in sword shape, proving the brand's affection for diversity. The indexes are also a mix of the baton and round style, with the exception of the 12 o'clock marker that sports a triangle figure. Together, all of them are coated with Tritium, allowing the wearer to keep track of the time accurately even in the dark.
Differences from the Rolex 5512
One thing that sets this watch apart from the 5512 is the underline feature just below the word "Submariner". There are many variations to the Rolex 5513 available in the market today, mostly in terms of their dial configurations, and this is one of them. According to some reports, the purpose of the underline is to easily determine that this model dons a dial with lower radiation. However, Rolex did not release any statement proving this theory.
Moreover, this particular Submariner timepiece does not have the "Superlative Chronometer/Officially Certified" phrase that you typically see on its direct predecessor. It is because the calibre of the Rolex 5513 is not certified by Contrôle Officiel Suisse des Chronomètres or COSC. However, this doesn't mean that it is of less quality, which will be elaborated later on.
In addition, the texts in the dial are usually arranged in 2 lines only, making it more less-cluttered. Watch lovers would also notice that this one names the depth rating at the 6 o'clock position in meters first — not feet — signifying that it is one of the earlier 5513 variations. With the simple and well-balanced placement it demonstrates, it becomes more impossible for anyone not to fall in love with this watch.
Bezel and Bracelet

Since this model is under the Submariner series, it has a unidirectional bezel that is relatively easy to rotate. It also sports a faded finish that is in between blue and black colour, giving it a slightly rugged look. The golden dot detail at the 12 o'clock position also adds a unique touch to the watch's aura. Overall, the bezel of this watch is reliable and robust, which ensures that you will be able to use it effortlessly during your dives.
Much like its case, the Rolex Submariner 5513 is made with stainless steel, prompting the watch to survive for years—perhaps even decades — to come. It also has a thin and easy-to-use folding clasp for more suave usability. Providing better security, the clasp sticks well and does not easily open which is a major plus, considering that the watch came from the 60s era.
Movement

A watch of great quality also deserves the best engine. The underline variation of the Rolex Submariner 5513 mainly relies on the self-winding calibre 1530, the same movement you would see in the most common and popular Rolex 5512 models. At a diameter of 28.5 mm and a height of 5.8mm, it features 17 jewels in total, however, it was not given any COSC rating. This prompted Rolex to sell these Submariner 5513 at a cheaper price. The lower value should not alarm you though as there is not much difference between the movement used in the 5512 and the calibre that powers the 5513 when it comes to performance. In fact, the calibre 1530 boasts energy efficiency and great precision with its 48-hour power reserve. On top of that, it also has an average yet dependable frequency of 18,000 vibrations per hour ("vph").
Another reason why 1530 calibre remains celebrated among other movements released by Rolex is that it is a workhorse. This means that even though it has few components, it is still a mechanism you could always rely on. Moreover, it also comes with the brand's signature KIF-Flector system and the Breguet balance hairspring that shields the watch from any kind of threats such as shock and extreme changes in temperature. Despite not having any recognitions, the calibre 1530 still works magic, giving the wearers the highest level of service they deserve. With that said, the watch is indeed impressive and overall a good one to have and keep around.
Other Variations of the Rolex Submariner 5513
Rolex has been known for incorporating various minuscule and subtle changes when it comes to their collections. Many Submariner models went through the brand's meticulous process like the Rolex Kermit released back in 2003, and of course — being an ancestor — the Rolex Submariner 5513 is no exception. While some find this annoying and hard to comprehend, many watch connoisseurs enjoy the little switches in details, proving that all timepieces from the brand are collectibles.
As mentioned earlier, you can find the difference between the Submariner 5513s mostly in their dials and structure. One notable version has the "Explorer" dial, released between 1962 to 1965, wherein the 3-6-9 positions in dial were printed in Arabic numbers, while the rest of the hour-markers were in baton style. While the gold, silver, and black theme is still evident throughout the case and even the bezel, the font and its size got incredibly modern and smaller. This is good news for those who like to keep a minimal aesthetic in their wardrobe. If this looks appealing to you, keep in mind that this is the very last batch among the company's Explorer-dial Submariners. So, if ever you see a piece sporting this kind of appearance, do not ever think twice or hesitate to buy it.

Another version, widely known as "Bart Simpson", has a subtler feature than you think. The focal point of this watch is the crown found in the dial's signature that looks like the animated character Bart Simpson. Even though it is also evident in many Submariner 5512 timepieces, this approach became popular and is closely associated with Sub 5513.
Moreover, it is important to note that Rolex also tweaked the interiors of the Submariner 5513. Two to three years after its initial release, the brand decided to upgrade the movements of the succeeding models from Calibre 1530 to Calibre 1520. However, the latter one is also not certified like its predecessor. With a frequency of 19,800 vph, the watch will certainly serve you for a long time without the need for frequent repairs.
There are many variants of the Rolex Submariner 5513 in the market today other than the ones mentioned above. With sufficient and substantial research, you will surely find what suits your fancy taste the most. Whether you prefer a timepiece with a matte dial and luminous white fonts or a model that gives you more information about its capabilities, the Submariner 5513 has them all. Overall, it is the best option if you are looking for your next vintage watch to anchor your collection.
Why should you own and invest in a Rolex Submariner 5513?
It is hard to find. As emphasized earlier, you cannot find a brand-new Rolex Submariner 5513 nowadays because of its discontinuation in the late 1980s. Despite its long run, it is a very difficult watch to own especially now that it has joined Rolex's lineup of rare vintage models that are to die for. The earlier samples, which had the pointed crown guards and the glossy gilt dials, are the most coveted ones today simply because their parts are something you don't see at the present Rolex timepieces. If you get your hands on this rare gem, consider yourself lucky as it is the ideal example of the brand's acclaimed dive watch.
It has a lower price range. Considering that it hails from the most popular luxury watch brand, the Rolex Submariner 5513 is still on the hefty and expensive side. However,  since it does not have a COSC certification under its belt, it comes at a lower cost compared to other vintage Rolex watches you see today.
Rolex's Humble Beginnings
Known for its rich and extensive history, Rolex has been creating accurate and opulent timepieces that could last for years – perhaps even decades. The Swiss brand prides itself as having the "most expensive watch ever sold online" and currently holds the record for having the most certified chronometer movements in the category of wristwatches. However, like any other company in the watchmaking realm, Rolex also started from the bottom and eventually worked its way up in order to achieve success.
Rolex's prestige dates back to 1905, when Hans Wilsdorf, a watchmaker of German descent, decided to move to London, England to explore the wonders of watchmaking. Together with his brother-in-law, Alfred Davis, they established a small company in the same country, whose primary focus is to distribute timepieces designed to accompany wearers for years to come. To be able to bring consumers what they truly deserve, both Wilsdorf and Davis placed their attention on the import of Swiss-made Aegler movements that eventually graced the gorgeous cases made by various British companies including the Birmingham-grown firm, Dennison. These top-of-the-line products were then purchased by jewellers from different areas, who had the opportunity to stick their signatures on the dials.

Seeing how the watches he made became a hit among manufacturers, Wilsdorf decided to take a huge leap of faith in order to expand his business. Fueled by his high level of instinct and a desire to make it big, he wanted to come up with a short and special term for his watches. Not to mention, he also wanted the term to carry a lot of impact and character — something that wearers could easily recall and remember. After several attempts of mixing alphabet letters to create a unique title for his brand, Wilsdorf suddenly had a eureka moment, while casually exploring Cheapside Street, which led to the birth of the iconic name "Rolex". This particular event marked the start of Rolex's legacy as one of the top luxury watch firms of all time.

First Few Achievements
One of the significant milestones Rolex had after having its name registered as a trademark was the honor of becoming the company to produce the first-ever wristwatch that holds a Swiss Certificate of Chronometric Precision. Particularly, this honor was bestowed to the company in 1910 by the Official Watch Rating in Bienne, Switzerland, due to Rolex's dedication to continuously innovate and improve the quality of their movements.
Realizing the massive effect the grade brought in terms of their popularity and sales, Rolex also scored the Class A precision certificate from the Kew Observatory, four years later. By 1915, the company changed its name to Rolex Watch Co. Ltd., while savouring the glory brought by its owners' and workers' hard work and strong commitment.
While the chaotic and depressing World War I brought inevitable problems to Rolex's economic performance, it was able to prove its resilience to any challenges with its dedication to inventing groundbreaking and extraordinary timepieces that eventually redefined the watchmaking world. Instead of dwelling on the problems that could only bring the company down, Rolex focused its attention on bringing glory and pride with its relocation to Geneva in 1920. To mark the company's new start, it changed its name to Montres Rolex S.A. during the same year and later on to a shorter one called Rolex S.A.
Final Notes
Overall, the Rolex Submariner 5513 is a great timepiece to have especially if you are the type of person who likes simplicity and elegance. While it is a watch specifically made for divers, nothing can change the fact that it is a versatile one that you could wear on a daily basis. Despite being released years ago, it still holds great value and appeal because of its exceptional functionalities and truly unique and uncomplicated design. If you are thinking of plunging into the trend of Rolex dive watches, then this vintage Rolex 5513 is the perfect starter piece to look out for.
Interested in knowing more about Rolex, particularly the other Rolex Submariner models you can find in the market today? Check out our reviews on the Rolex Submariner 114060 and Rolex Submariner Black 116610LN. 
Featured image by Alt0201 on Flickr
Other photos are from Rolex's website unless stated otherwise.