New & Feature
10 Best-Selling Affordable Mondaine Watches for Men and Women
Oct 14, 2021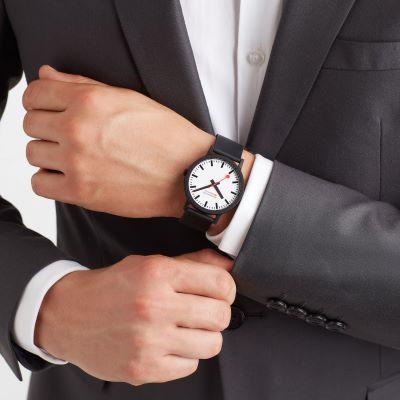 Mondaine watches are some of the best-known Swiss timepieces all over the world because of their popularity and brilliant craftsmanship. The brand's timepieces are famous not just for their popularity but also because they have been proven to be highly functional and sustainable. For over 70 years, Mondaine has captured the hearts of both watch collectors and even those who are new to watches.
If you are looking to purchase one, we have collated a list of the 10 best affordable Mondaine watches for men and women. We will also cover all that you need to know about this famous Swiss brand. 
History of Mondaine Watches 
Mondaine Watch Ltd. was officially launched in 1951, founded by Erwin Bernheim. During that time, Mondaine was one of the few Swiss brands selling affordable yet reliable watches to help every wearer get through the day. Bernheim's success eventually led to the company's expansion across the globe. 
In the 1960s, Mondaine produced their first digital wristwatch in collaboration with Howard Hughes, an aviation pioneer. It was one of the first few watchmakers to invent such a highly accurate LCD watch. This was a huge milestone for the brand. Mondaine's digital watch became so popular that it paved the way for greater demand, especially in Asian markets like Japan. 
During the late 1980s, Mondaine kept up with the trend of producing fashion watches. Bernheim came up with the idea of creating an industrial and modern design that would truly epitomise and represent the brand. Thus, Mondaine decided to reproduce the famous Schweizerischen Bundesbahnen (SBB) clock, also known as the Swiss Railway clock, but in the form of a wristwatch. The Swiss Railway clock is notable for featuring a red second hand with a round dot at the end. Every 1.5 seconds before a new minute, the red second hand on every Swiss Railway clock pauses for exactly 1.5 seconds. Then, the second hand starts to tick again, in tandem with the minute hand, ensuring that all Swiss Railway clocks are perfectly in sync with the master clock and each other. Mondaine watches adopted this iconic red second hand design, turning it into the brand's trademark. 
Today, a Mondaine watch cannot be called such if it does not feature the bold red second hand on the dial. And this does not just apply to wristwatches either. The signature red second hand can be found in all of the brand's wall clocks, alarm clocks, and pocket watches. This trademark signifies the simplicity and timelessness of Mondaine watches throughout all its years of watchmaking.
How Good are Mondaine Watches 

Before purchasing a watch, every buyer wants to know about its quality and features. Over the years, Mondaine has made sure that it has what it takes to be the first choice of anyone in the watch industry. Indeed, one of the primary reasons why it remains so popular in the industry is because of its sustainability in mass-producing timepieces. 
Since 2019, part of Mondaine's exceptional innovation has involved the production of solar-powered watches. This is part of the brand's goal toward greater sustainability. Every Mondaine watch is made in its factory in Biberist, Switzerland. The factory is a photovoltaic solar plant that covers almost all the electricity demands needed to manufacture each watch. Other than the solar plant, the brand also strives to maintain responsible use of environmentally friendly materials and other non-polluting solutions. This helps reduce the brand's ecological footprint. Moreover, this also serves as Mondaine's effort in inspiring other watch companies to save the environment for the next generations of watchmakers and collectors. 
Another unusual green step that Mondaine has taken is watch recycling, which few other brands have done. This works by breaking down the individual parts of all the products maintained in the Mondaine factory and adequately disposing of every tiny material used. By doing so, Mondaine manages to uphold the principle of minimizing waste. Mondaine's steps in creating a green watch community have garnered it much recognition in the industry.
That being said, sustainability is not the only thing Mondaine watches are recognised for. In addition to being environmentally friendly, Mondaine watches are also 100% Swiss-made. This means that they are well-crafted and reliable timepieces held to strict, legal Swiss watchmaking standards. Other Swiss brands like Jaeger-LeCoultre, TAG Heuer, and Breitling have proven what an incredible timekeeping experience Swiss watches can give you. 
So, if you ever wonder how good are Mondaine watches are, we can tell you now that they are more than excellent. They are expertly crafted with top-notch standards. Best of all, all Mondaine watches are sustainable, which is a claim not many watches in the industry can make. If you are looking to make a difference to the environment with your watch purchase, then you should definitely consider Mondaine watches. 
Best-Selling Mondaine Watches 
Have we got your interests piqued? If so, not to worry! We have collated a list of the 10 best Mondaine watches money can buy you. This list contains everything you need to know about these best-selling Mondaine watches, including prices and features. 
1. Mondaine Essence Black Men's Watch MS1.41110.RB

For $195 USD, this sustainable watch from the Mondaine Essence collection is made for men looking for a minimalist and elegant-looking timepiece. The Mondaine Essence Black Men's Watch MS1.41110.RB has a 41mm case made entirely out of renewable raw materials, including 41% castor oil and 30% glass powder. The black case is paired with a natural rubber black strap, which is an excellent material for maximal comfort and durability. 
On the dial is a clean, white background with sleek black indices and hour markers. This 30-metre water-resistant Mondaine watch features only the essential timekeeping functions and has no date aperture or other such complications. The most striking thing about this minimalistic timepiece is the signature red ball-tipped second hand. This makes the dial much more legible and easier to read. A quartz Rhonda 513.S movement with a battery life of 24 months drives this three-hand timepiece.
2. Mondaine Essence White Watch MS1.41111.LT

For those who prefer lighter colours, this is the white version of the previous watch listed above. For $225 USD, the Mondaine Essence White Watch MS1.41111.LT is great for men and women looking for a soft sustainable watch. It also features a 41mm case made from renewable raw materials and a natural rubber strap. It runs on the same quartz Ronda 513.3 movement. The main difference between the Mondaine Essence White Watch and the previous timepiece is the strap and crown's colour, which come in beige and white respectively. These are neutral, versatile colours that can match almost any outfit. 
3. Mondaine Classic A660.30360.17SBQ

This Mondaine timepiece is part of the Classic Collection, and it most clearly resembles the design of the Official Swiss Railways clocks. This watch costs $275 USD only. It comes in a large 40mm stainless steel case with a regular gasket crown. This is paired with an Aquarius strap that is inspired by the colours of summer's sky. As with most Mondaine watches, this piece's case and strap are made from sustainable materials like recycled PET bottles and textile fabric with cork lining. 
The dial of this timepiece boasts a simple white backdrop, with silver indices, stick-shaped hour and minute hands, and the familiar red ball-tipped second hand. This Mondaine watch is powered by a quartz Ronda 763E movement. It comes with a 30-metre water resistance capacity and a standard battery life of up to 40 months. This makes the Mondaine Classic A660.30360.17SBQ the perfect watch for those who plan to go on long adventures or travels. Besides its gentle and soothing aesthetics, this Mondaine watch is also quite durable and reliable. It is resistant to shocks and magnetic fields and has an accuracy of -10/ +20 sec per month. 
4. Mondaine Classic A128.30008.16SBC

The Mondaine Classic A128.30008.16SBC watch embodies boldness and style in one piece. For $850 USD, you can have a 33mm petite silver case that is very suitable for elegant yet stylish men and women. It is equipped with a vibrant red genuine leather strap and a white dial with black accents. At the 3 o'clock position is a small date display that sits subtly on the dial without being too distracting.
Among all the Mondaine watches, this red Mondaine Classic model is one of the few pieces that is powered by an automatic movement. It runs on the powerful and reliable Caliber SW200-1, which is made in Switzerland. It features a 38-hour power reserve, 28,800 vibrations per hour, and a 30-metre water resistance rating. In addition, it has a hacking feature and is more resistant to shocks and bumps. 
5. Mondaine Classic A660.30314.16OM

The Mondaine Classic A660.30314.16OM is one of the best-selling Mondaine watches because of its affordability and sleek design. Retailing at $260 USD, this timepiece features a finely brushed stainless steel case with a solid steel case back for greater protection. It uses a layer of hardened, scratch-resistant mineral glass to protect the dial as well. 
On this Mondaine model, you will see a minimalistic white dial. It has no markings or logos other than the black indices, stick-shaped black hour and minute hands, and the iconic red ball-tipped second hand. This watch is powered by the Ronda Calibre 512, which has a 30-metre water resistance rating, 45 months of battery life, and an accuracy of -10/+20 seconds per month.
6. Mondaine Evo2 Gold Watch MSE.40122.LB

The MSE.40122.LB is part of Mondaine's Evo2 collection. It is a sophisticated timepiece that looks even more luxurious than its $365 price tag. This Mondaine watch boasts a functional gold crown and elegant, slim case lugs. This is paired with a 40mm well-brushed, ion-plated gold case. This is considered the most advanced surface coating for watches today, as it is eight times more durable than other surfaces, and more resistant to corrosion as well. Paired with this exquisite gold case is a black leather strap that is very comfortable on the wrist. 
This model uses the quartz Ronda 519.S movement, which has a battery life of 45 months and a 30-metre water resistance rating. It has a simple, straightforward time display that features gold-plated indices, gold hour and minute hands, and the Mondaine red-tipped second hand. These are placed on a brushed black dial that perfectly contrasts the gold accents. This suave black-and-gold Mondaine watch is the perfect companion for anyone attending a dressy occasion. 
7. Mondaine Evo2 Stainless Steel Watch MSE.30210.SM

The MSE.30210.SM is the all-stainless steel model from the Evo2 collection. This women's watch boasts a 30mm stainless steel case, which is ergonomically designed for maximal comfort even during all-day use. Paired with the case is a stainless steel mesh bracelet with brushed surfaces.
This piece is powered by a quartz Ronda 509 movement, which has a battery life of up to 10 years. This is one of the few Mondaine watches that have a date display. The sizable date aperture can be found on the right of the white dial, which also features black indices and hands, and a red ball-tipped second hand. The MSE.30210.SM is a great dress watch perfect for the stylish urbanite.
8. Mondaine Stop2Go A512.30358.16SBB

This elegant Mondaine model from the Stop2Go collection only costs around $550 USD. It has a brushed stainless steel case with a diameter of 41mm. This is paired with a flat sapphire crystal and a switch-style crown on the right of the dial. The sleek, quintessential look of this timepiece is completed with a 20mm black leather strap and a white dial with black and red accents. 
This watch uses an analog quartz movement with two motors– one for the red ball-tipped seconds and another for the minute and hour hands. A lithium-ion battery powers the Mondaine Stop2Go A512.30358.16SBB, giving it three-year battery life. 
9. Mondaine Essence Large White Case MS1.41110.LS

Another best-selling Mondaine timepiece made from sustainable materials is the MS1.41110.LS. Retailing at $220 USD, this watch boasts a 41mm white case made from renewable, recycled materials. This is paired with a standard white Mondaine dial with black and red accents. The highlight of this Mondaine timepiece is its 20mm interchangeable strap. It is made from recycled textiles and has a skin-friendly lining made from real cork material. 
The Mondaine Essence Large White Case MS1.141110.LS is powered by a Ronda 513.S movement, which comes with just the essential hours, minutes, and seconds timekeeping functions. If you are looking for a subtle, versatile timepiece, then this is the perfect Mondaine watch for you. 
10. Mondaine Classic All-Gold A660.30360.16SBM

The All-Gold A660.30360.16SBM, worth around $310 USD, is another best-selling Mondaine watch. It is inspired by 1970s gold watches, giving it a retro vibe, albeit with a chunkier and more unconventional appearance. This Mondaine watch's 40mm case and 20mm bracelet are gold-plated and finely brushed to give a more classic look. The white dial has a brushed metallic finish, giving it an added shimmer against the sleek gold-plated indices and handset. Though this watch's colour scheme is mainly white and gold, the iconic red second hand is still present, adding a splash of vibrancy to this elegant Mondaine timepiece. 
This watch is using the Ronda 763E, too. It is a Swiss-made movement with 30-metre water resistance and giving an accurate display of the seconds, minute, and hour functions. 
3 Best Alternative Watches to Mondaine Watches
1. Tissot T-Classic Le Locle Powermatic 80 T006.407.16.053.00

The $423 USD Tissot T-Classic Le Locle Powermatic 80 t006.407.16.053.00  is a suave men's watch that is a perfect substitute for Mondaine timepieces. You can use this Tissot watch for formal events and corporate duties because it can withstand all sorts of everyday wear and tear. It is equipped with a 39mm stainless steel case, which is resistant to scratches and bumps. In addition, it has a leather strap, which is not only very comfortable on the wrist but also very stylish. This is a good alternative to Mondaine watches, with its slimmer case and strap.
2. Fossil Classic Minute BQ3327

The Fossil Classic Minute BQ3327 watch has the slimmest strap on the list, weighing in at just 8mm. With many similar elements to Mondaine women's watches, this $143 USD timepiece is ideal for ladies seeking simplicity and class. It features a small 32mm case, a minimalist and clean dial, and thin gold indices. This Fossil timepiece is also extremely lightweight, hence, it will not be cumbersome even when worn throughout the day.
3. Longines Mini L23030874

An elegant alternative to Mondaine watches would be the Longines Mini L23030874 in light pink. For $880 USD, you can have this dazzling watch adorned with diamonds on its bezel. The polished stainless steel case measures only 16mm, which is great for ladies with smaller wrist sizes. You will never have to worry about your watch falling off or turning around loosely since this Longines model will sit perfectly on the wrist. Moreover, it can match any outfit of the day with its clean white dial, warm pink strap, and exquisite diamond-embedded indices.
Mondaine: Affordable, Environment-Friendly Watches
The Mondaine watches are not just your ordinary Swiss-made, quartz-powered timepieces. All models are built with purpose and value, which is seriously needed in mass production. They are also hand-crafted and are carefully made with keen attention to every detail. In addition, all Mondaine watches are equipped with Backlight Technology to provide strong visibility even in low light conditions. On top of these amazing features is affordability, ensuring that everyone can have their sustainable piece on the wrist. 
Photo credits: Mondaine's official website.
Wondering where to buy Swiss-made watches? Check out The Watch Company and see the latest deals it has for you!