Watch Reviews
May 24, 2019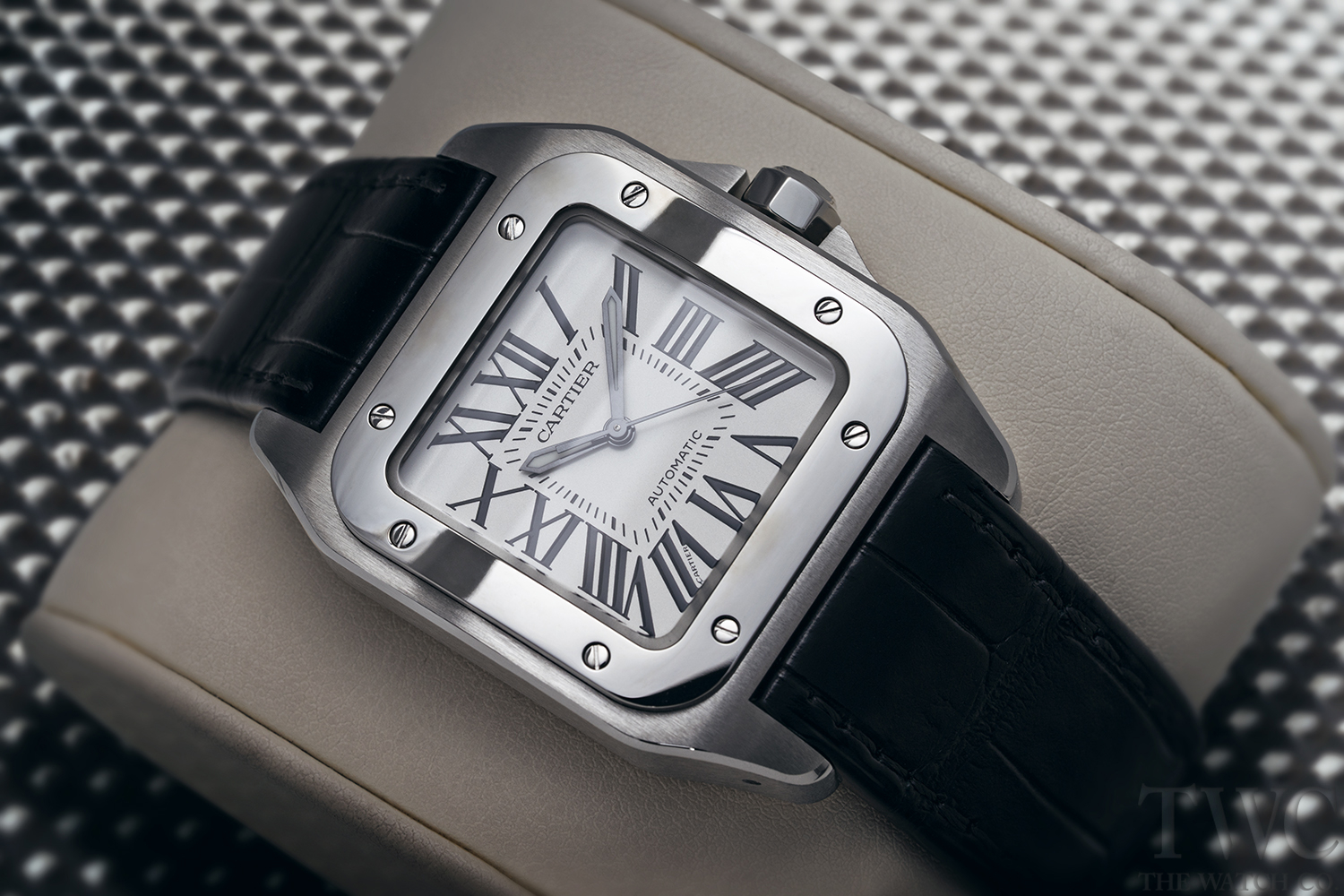 No matter who you are, as soon as you think about any wristwatch, you see a round shape. However, the watch in question here is the Cartier Santos 100, a watch that has a square dial with style. Square watches are not everyone's choice, but we are not talking about ordinary watches here. Historically speaking, there are a lot of square watches that count among the most popular and influential watches ever made. We obviously can't deny the fact that such watches are indeed quite rare and difficult to find. What is interesting, however, is that you will find most of them to be Cartier watches. One of the most famous watches ever, the Tank is also a square watch and it is a Cartier product. In comparison to this Cartier watch, however, even the Tank looks less than square so let's dive straight into what this watch offers.
Making it Fit
There is something unnatural about having a square-shaped watch on our rounded wrists and a never-ending battle that ensues every time you put a square watch on your wrist. However, as we see now, this is only circumstantial and in fact, if a watch design is correct, it can end up looking extremely beautiful as a square watch. One thing that must not go unnoticed is the wrist test which involves putting the actual watch on your wrist. The purpose of this exercise is to determine if a watch actually looks good as expected on your wrist. The Cartier Santos 100 provides an excellent wearing experience and looks quite dashing. After seeing the difference, one naturally asks how this phenomenon works and the answer to that is clearly the words "witch hunt." It is impossible to simply explain it but it is definitely about aesthetic alignment.

The Visual Aspects
At first glance, you might think that the Cartier Santos is a big watch but that is entirely not the case once you get close to the watch. The case has a diameter of 38mm with a width of 41.3mm, and with a depth of 10.34mm (which is quite thin). The biggest advantage of this is that this watch is fit for a wide range of different wrist sizes. It is a watch that gives an impression of boldness which the fans really look for. The main body of the watch is brushed stainless steel paired with a black colored strap instead of a bracelet. There are other variants too, such as ones that come with brown alligator bands and 18k gold bezel. The most prominent feature of this watch is easily this bezel which makes it a fine looking men's Cartier gold watch. 
Case Design
One of the most important aspects of Cartier Santos is the design of its case. The watch originally had a screw down case which is a very old and simple method. However, the exposed screw look became synonymous with the style of the watch. At this point, the company decided to keep the screws on anyway, even though they could make the watch without this old method. It is now a permanent part of the case design for the watch. It is important to notice that this watch may look square but to the wearer, it is surprisingly round. There is a grace to the way it curves around the lugs, making it even more comfortable. The challenge is to create a watch that looks square but feels round. To that effect, they were able to make it edgy where it matters while retaining an overall round watch feeling.

Features, or a Lack of It
At this point in any typical review, we would list down the range of features included in the watch. However, that is not entirely possible for this watch. The reason for this the fact that it is a very basic watch. In terms of functionality, there isn't much on offer with this watch. However, it makes up for this lack of features quite easily by offering a solid few specs and highest quality. The main reason for this is Cartier's approach which is to create an affordable watch accessible to anyone with a reasonable amount of money. The result is this watch that may not be the most feature rich watch in your collection but you can still wear it with grace due to its quality. While were are still discussing futures, it is important to note that the Cartier Santos 100 features water resistance of 100 meters.
The Movement
Given the type of watch this is, we were expecting to see an in-house built movement powering the watch. Having that would definitely increase the value of this watch a lot. It would also make the watch a lot more visible to potential collectors. However, the company decided to rely upon the old and yet highly successful movement by Rolex, the ETA 2892. The movement is automatic and it is safe to say that the watch is in good hands with that movement under the hood.
Conclusion
The Cartier Santos 100 is an amazing watch design to show anyone. In 2018, the company launched a second version of the watch that featured a lot of improvements in the overall design. The watch is thinner and offers an even more comfortable fit. The biggest improvement is an in-house developed movement. It is an automatic mechanical movement called 1847 Calibre as well. The watch runs at 4Hz frequency and is also capable of providing 2 days' worth of food in this package. The overall impression of the Cartier Santos is quite amazing. In our opinion, if you can afford it then it is definitely a watch worth buying! Do you have this watch in your collection? If yes, then please share your experience with us!