New & Feature
CasiOak: The Underdog of Affordable Modern Watches
Sep 20, 2021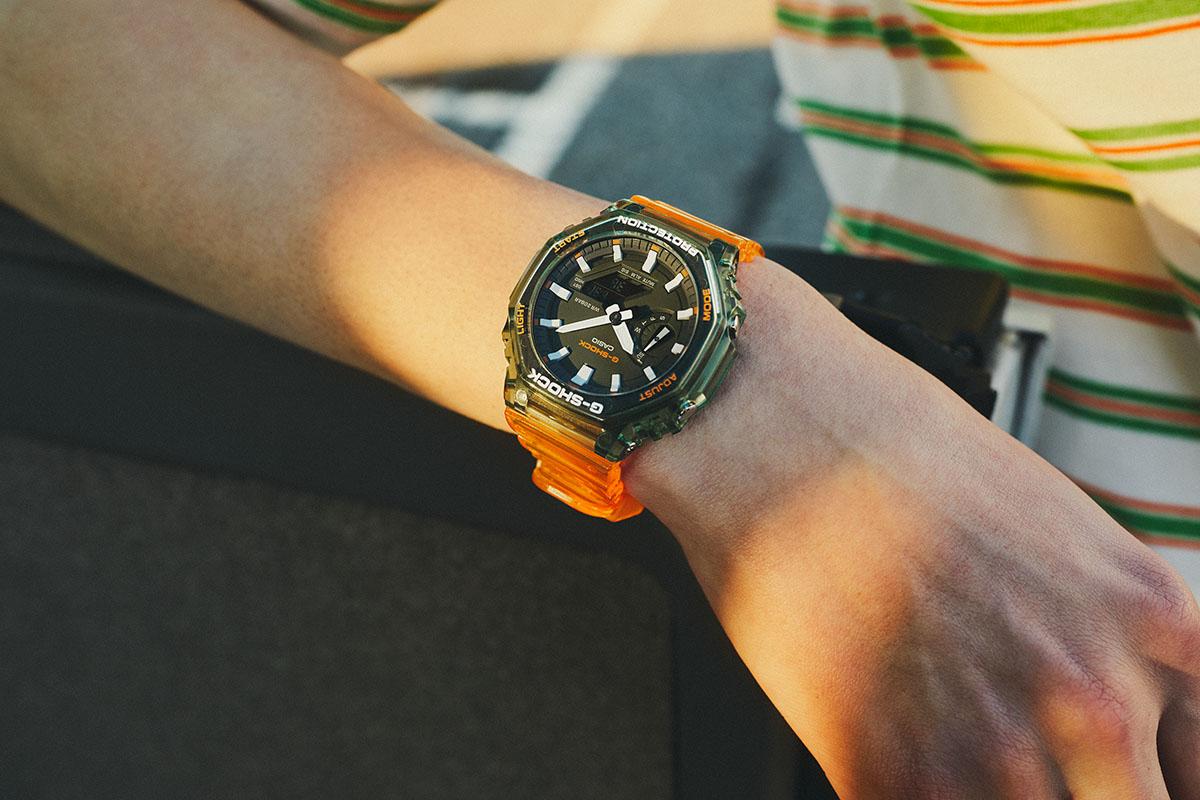 Casio has been in the watchmaking scene for several years now. One of their most prominent watch collections is the Casio G-Shock line. The G-Shock watch started out as a simple digital timepiece equipped with Casio's Tough Solar and Multi Band 6 technologies, which have both become mainstays in the whole G-Shock collection. Given its immense popularity, Casio decided to update the watch and incorporated a rugged, modern design that was well-loved by younger generations upon its release, and which the G-Shock has retained across various incarnations. Over the years, however, this collection has run into a major problem, with people's interest in the collection dwindling due to its overly consistent design and lack of aesthetic innovation. In order to counter this issue, Casio introduced a minimalistic version of the G-Shock, the Casio G-Shock Ref. GA2100-1A1. Going for such a simple look went even better than Casio expected, due to its flexibility in design and the ability to modify it seamlessly. This particular model has been termed the "CasiOak", a reference to its similarity to the Audemars Piguet Royal Oak watch.

The Casio G-Shock GA2100-1A1, or the CasiOak, proved to be a fan-favourite, especially since its colours can be customised freely by either professional artists or the wearer themselves. There are many elegant, hand-painted models of the CasiOak, which adhere to the sophisticated interests of the younger generation. Moreover, it is an affordable timepiece that has quickly become one of the best alternatives to a popular luxury watch—namely Audemars Piguet's Royal Oak. 
All that being said, let us take a good look at what makes the CasiOak so popular in terms of its design and specifications. Is it truly a bang for the buck kind of watch? Will it live up to its name as a budget-friendly Audemars Piguet alternative? Let us find out.
Specifications
Not much can be said about the specifications of the Casio G-Shock GA2100-1A1, and this is largely due to its simplified, minimalistic design. Unlike other G-Shock models, it is not jam-packed with complications such as chronographs or smartphone connectivity. All it does is tell the time, along with some additional features in its arsenal, all of which are focused on timekeeping. The Casio G-Shock GA2100-1A1 can be considered a sleek and "no-nonsense" everyday watch, with a perfectly reasonable and budget-friendly price point to match.
Case
As far as uniqueness goes, the Casio G-Shock GA2100-1A1 stands out with its octagonal resin bezel that is fixed on a moderately-sized black carbon case. One truly intriguing aspect of CasiOak is that there have been a number of customisations of this watch, and as such, the market is flooded with several variations of the CasiOak that are either official designs or custom-made. Indeed, the versatility of the CasiOak is one of its main strengths, as you can have CasiOak timepieces that vary in both colour and style.
Despite the many design options available, the dimensions of CasiOak's case remain the same throughout all the different variations. It is a 45.4mm case made from carbon, which makes the CasiOak a relatively lightweight watch, perfect for both mundane and strenuous activities. As we all know, the G-Shock range prioritises durability so that their watches can last a long time—making the timepieces in this collection some of the best watches to have for the long term. As such, the quality and sturdiness of the CasiOak will never disappoint. In addition, Casio even used their Carbon Core Guard technology to provide the watch with maximal strength. The CasiOak is equipped with a 200-metre water resistance rating, which is more than enough for an average non-diver watch. 

As for the bezel, the octagonal shape is an expanded version of the old G-Shock DW5000C's bezel. Instead of going for a more common round bezel, Casio uses the octagon shape on the CasiOak for a more sophisticated, unique look. This design is the main reason why this watch was dubbed as the "CasiOak". Not only does it have the same octagon shape, but it also has almost the same dimensions as the Audemars Piguet Royal Oak, with the latter being only a few millimetres smaller. That said, the Casio G-Shock GA2100-1A1 still manages to maintain its own unique identity through its versatility in design and its more casual aesthetics, allowing fans to appreciate the CasiOak in its own right.
Dial
The dial of the Casio G-Shock GA2100-1A1 is as simple as it gets. As mentioned before, there are no dual-time sub-dials, chronographs, and other such complicated functions to confuse the wearer. Its analog-digital features will cover all your timekeeping needs. It has a world timer, a total of 31 time zones, a full-auto calendar that goes up to 2099, an alarm, and a stopwatch. These features can be accessed in the digital dial by pressing the respective buttons on either side of the watch. The CasiOak does not have a crown since buttons are the preferred choice for G-Shock timepieces. Aside from the digital dial features, the analog dial consists of hour and minute hands, hour markers, and a day-of-the-week sub-dial. 

The CasiOak offers several dial colours you can choose from, all of which are stylish and perfectly complement the case, no matter the colour. There are also customised dials hand-painted by professionals available. These designs add individuality to the watch without sacrificing its overall quality. Just be sure to look for respectable and legitimate stores that offer these kinds of services.
Movement
The Casio G-Shock GA2100-1A1 is equipped with a Japanese quartz movement commonly used by Casio. For a watch with a hundred-dollar price point, the Casio G-Shock GA2100-1A1 makes use of a battery-powered quartz movement rather than Casio's very own Tough Solar and Multi Band 6 technology, which is quite unusual for a G-Shock watch. That said, the functions the Casio G-Shock GA2100-1A1 offers are still great for such a budget-friendly watch that is both straightforward and hassle-free.
Price
As mentioned before, the Casio G-Shock GA2100-1A1 is quite an affordable timepiece. It is safe to say that this watch is probably one of the ultimate beginner-level timekeepers in the market. It is an inexpensive branded watch that offers all the essential timekeeping features needed by an average on-the-go timepiece. Both the Casio G-Shock GA2100-1A1 (carbon black) and the Casio G-Shock GA2100-4A (bright red) have the same price of $100 USD, while other variations cost around $10 USD more. Customised CasiOak timepieces tend to be a bit more expensive due to certain factors like the extra labour required, the materials used, and a few more inclusive fees depending on the seller or artist. That said, the price points of the customised CasiOaks are still relatively accessible, which is what Casio was going for in the first place with this watch.
Now that we have gotten the topic of price out of the way, let us move on to three notable CasiOak models that offer the best and most outstanding designs available.
Notable CasiOak Models
As mentioned before, there are a few noteworthy CasiOak models that cater to those who prefer a nice blend of colours rather than a pure black carbon watch. These colour variations add character and individuality to each CasiOak, ensuring that there is a CasiOak timepiece for every age and gender. Here are some of the best CasiOak models that might be right up your alley:
Casio G-Shock GA2100SKE-7A

Sometimes, the best colour is the one with no colour at all. Such is the case for the Casio G-Shock GA2100SKE-7A. Instead of going for the brightest of hues, this watch sports a transparent carbon case and resin band. This particular CasiOak is part of Transparent Pack series, which consists of Casio watches that are equipped with transparent resin bands and cases. The idea of a transparent watch may seem bland to some people, but the G-Shock GA2100SKE-7A uses this concept to seamlessly emphasise its minimalistic nature. It cannot be denied that the design of this watch doubles down on the simplicity of the CasiOak, putting the focus solely on its utility as a versatile timekeeper. This watch can be purchased for $110 USD. It is the perfect watch for those who are not fond of bright and dark colours. 
Casio G-Shock GA2100-4A

If you prefer vibrant and brightly-coloured watches, the Casio G-Shock GA2100-4A might be the one for you. As exaggerated as this watch might seem, its bold and vivid demeanour can easily be associated with sports. Sports watches usually come in brighter colour schemes that include orange, yellow, and red. Darker colours, on the other hand, are more suitable for utility watches like aviation or diving timepieces. The Casio G-Shock GA2100-4A gives off an energetic aura with its all-red design. And that is one of the many reasons why most athletes would almost always choose a funky and energetic colour like this for their watches. Since the Casio G-Shock GA2100-4A boasts a completely solid colour like the Casio G-Shock GA2100-1A1, it is entirely possible to add a few modifications to its dial and bezel. You can consult design experts on how to make this watch more sporty or more stylish, all for a certain price. That said, the base Casio G-Shock GA2100-4A model retails at $100 USD, as previously mentioned.
Casio G-Shock GM2100N-1A

Last but certainly not least, we have the Casio G-Shock GM2100N-1A, which is perhaps the classiest timepiece out of the whole CasiOak collection. This watch deviates from its fellow CasiOak models in terms of the materials used. Instead of the usual carbon resin case, the Casio G-Shock GM2100N-1A is equipped with a full-metal case that is paired with a resin band. This timepiece, along with the Casio G-Shock GA2100-1A1, is the go-to watch for those who prefer subtler designs without any standout or overly vibrant colour schemes. Since it has a stainless steel case, the price for this watch is a bit more expensive than the two aforementioned models. The retail price of this watch starts at $330 USD. If you have the money to spare, this model is definitely the best choice for those looking for an accessible, well-rounded watch. It has a perfect balance of class and relaxed style, making it a versatile watch suitable for both everyday wear and dressy occasions.
Alternatives to the CasiOak
If the CasiOak is considered the cheapest alternative to the Audemars Piguet Royal Oak, then there surely must be alternatives to the CasiOak too. As such, here are two more timepieces that can serve as good alternatives to both CasiOak and the highly-regarded Audemars Piguet Royal Oak:
Casio Edifice EFR-S108D-1A

The Casio Edifice EFR-S108D-1A is a simple analog watch that also sports the iconic octagon bezel. Much like the Royal Oak, this watch has a stainless steel case and bracelet, making it a proper dress watch. The case of this watch measures only 40mm in diameter, which is quite compact compared to the CasiOak, with its 45mm case. The dial features hours, minutes, and seconds hands, along with luminescent hour markers and a date aperture at the 3 o'clock position. As a stainless steel watch, this timepiece is quite sturdy—especially since Casio takes special pride in the durability of their watches. Like the CasiOak, the Casio Edifice EFR-S108D-1A also has a retail price of $100 USD. Though the two watches cost the same, the Casio Edifice EFR-S108D-1A is more suitable for those seeking a smart and elegant dress watch, as opposed to the more casual flair of the CasiOak. All in all, the choice between these two models ultimately depends on the preferences and needs of the wearer.
Maurice Lacroix Aikon Ref. AI6008-SS002-330-1

Another great alternative is the Maurice Lacroix Aikon Ref. AI6008-SS002-330-1. This watch may not have the signature octagonal bezel, but it has a Clous de Paris dial design similar to that of the Audemars Piguet Royal Oak. Much like the Casio Edifice EFR-S108D-1A, the Maurice Lacroix Aikon is also a dress watch that exudes simplicity and elegance. This watch has a 42mm stainless steel case and bracelet paired with a round bezel. The stainless steel strips on the bezel add an edge to this timepiece, creating the image of an octagon-shaped illusion at first glance. The black Clous de Paris dial boasts hours, minutes, and seconds hands, applied indices, and a date aperture located at 3 o'clock. As for the movement, the Maurice Lacroix Aikon Ref. AI6008-SS002-330-1 is equipped with the ML115 automatic calibre movement. This movement boasts a 38-hours power reserve with a consistent frequency of 28,800 VpH. For those who have the budget to spare and are looking for a dressy Swiss watch with a design reminiscent of the CasiOak, you can consider the Maurice Lacroix Aikon Ref. AI6008-SS002-330-1, which retails at $1,200 USD.
History of the CasiOak
The Casio G-Shock Ref. GA2100-1A1, more commonly known as the CasiOak, is basically a more stylish version of its predecessor, which is the Casio G-Shock DW5000. Ryo Amikura, the man behind the design of the GA2100-1A1, emphasises the use of the G-Shock's iconic octagon bezel while also applying different dimensions to the CasiOak. This gave the Casio G-Shock GA2100-1A1 have a more unique design without deviating too much from the original G-Shock. During the planning and the production phase, both designers and product managers were sceptical about this watch. They were unsure whether this would sell well or if it would be shrugged off as just another cheap watch. Despite this, Casio proceeded with its plans and introduced the Casio G-Shock GA2100-1A1 in 2019. Contrary to their low expectations, this particular watch became a solid hit among both young and old watch wearers. Not only is it inexpensive, but the design of this watch also perfectly captures the simplicity of modern watches while still managing to pay tribute to the original Casio G-Shock DW5000. 
The main reason why Casio decided to create the Casio G-Shock GA2100-1A1 was that they wanted a timepiece that could truly embody the daily lives of the younger generation. In general, the younger watch audience tends to have a greater affinity towards casual timepieces that are both straightforward and comfortable to wear. With that in mind, Casio went with a different approach with the CasiOak. Instead of bolstering their existing G-Shock models, most of which are relatively large and rugged, they chose to make the CasiOak smaller, with bolder and more vibrant undertones instead.
Final Thoughts
Casio nailed it when introducing the Casio G-Shock GA2100-1A1 to the younger generation. Some may be sceptical about this watch since it lacks several iconic Casio features and complications. That said, the CasiOak makes up for it with its versatility. The diverse variety of designs available perfectly synergises with the current trends and is sure to cater to everyone and anyone. It is the perfect entry-level watch that is both accessible and highly affordable. Although it may initially seem like it is just a poor alternative for the Royal Oak, the CasiOak is actually on a tier of its own, with its own unique strengths and casual charm. 
Are you still looking for the perfect watch with an octagonal bezel? Be sure to check out our 10 Best Picks on Girard-Perregaux Laureato!
All images courtesy of Casio unless stated otherwise.