New & Feature
Certina DS Action Diver: Where Classic and Modern Meet
Aug 16, 2021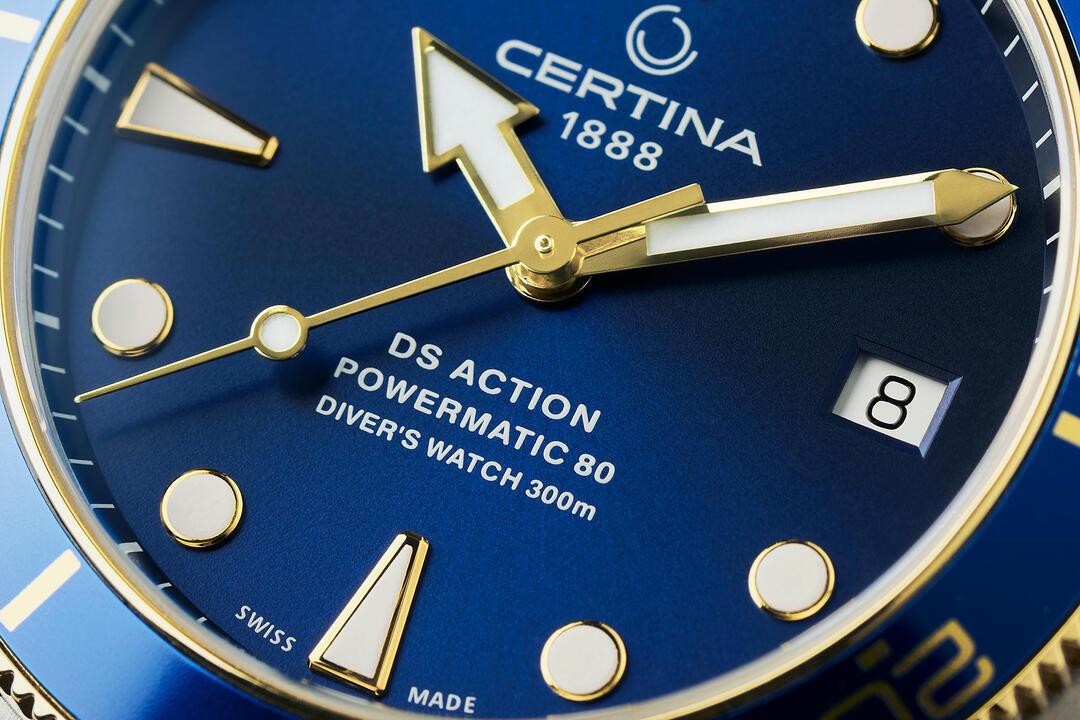 When talking about diving pieces, there are certain iconic models that immediately ring a bell such as the Rolex Submariner, the Omega Seamaster, the TAG Heuer Aqua Racer, and more. It is no surprise that these names would pop up first because of their popularity and excellent reputations among the general public. However, there is far more to the watchmaking industry than the brands we most commonly encounter. This article is all about one hidden gem, in particular, Certina, and their high-performing diving model — the Certina DS Action Diver.
What does DS mean? 
DS stands for Double Security/Safety and is a technology developed by Certina back in 1959. Essentially, it is a reference to how these Certina watches are made out of hardwearing components and elements that allow for superior reliability and sturdiness.
An In-Depth Look at the Certina DS Action Diver
The Certina DS Action Diver can be found under the brand's Aqua collection, along with models such as the DS PH200M and other variations of the DS Action. There are currently more than a dozen DS Action Diver models, each with distinct designs and functions that all scream quintessential diving watch. Truly, it is no surprise why this watch continues to be a staple for the brand and its patrons. Let's now take a closer look at what the DS Action Diver has to offer.
Exterior 
Generally speaking, the Certina DS Action Diver watches all share that same classic look that most diving models are known for. This makes the DS Action Diver a great entry piece for many because it offers versatile aesthetics, meaning it is very unlikely to go out of style in the foreseeable future. Aside from its versatility, the Certina DS Action Diver also exhibits a very purposeful design, which means that all the elements used in it were mindfully chosen. 
For example, the Certina DS Action Divers are typically presented in 316L stainless steel cases for excellent durability and longer shelf lives. Most of the time, these are paired with 316L stainless steel bracelets or rubber straps, which are both ideal band materials for diving as well. For the steel bracelets, they come with an extension mechanism that allows for ease of use and a more comfortable fit around any wearer's wrist. Aside from that, the faces of these Certina watches are protected by sapphire crystal glass with anti-reflection coatings to prevent light glares underwater.   
All of these components, when put together, result in beautifully designed and incredibly functional watches. 
Dial
When it comes to the dial, the Certina DS Action Diver timepieces all follow a very traditional and straightforward layout. This means that there are no unnecessary complications that clutter up the dial because the focus is on making it easy to read for the wearer, both on land and underwater. The dial of the Certina DS Action Diver usually consists of large hands and hour markers which are treated with Super-LumiNova, for greater legibility in poor lighting conditions. Some DS Action Divers include additional features for greater utility, such as date windows and sub-dials. 
Technical Specifications
One of the things that makes the DS Action Diver different from other pieces in Certina's Aqua collection is its compliance with the ISO 6425 Standard. Models that meet these requirements are generally considered legitimate watches for divers because of their functionality and security. In addition, Certina DS Action Diver watches boast excellent water resistance capacities of up to 300 metres and have been tested to last around 3 hours submerged in water. Meanwhile, in terms of movement, most of these watches are equipped with the Powermatic 80 calibre which has an impressive power reserve of up to 80 hours. 
Price
The price range for the Certina DS Action Diver models ranges from approximately $900 USD to $1,500 USD. The most affordable model retails at around $930 USD while the most expensive one is priced at around $1,420 USD. Overall, these watches are quite budget-friendly, especially when you consider the quality of each piece and the Certina DS Action Diver's impeccable reputation among the watch community. 
Selection of Certina DS Action Divers
As of 2021, the Swiss brand offers a total of 16 Certina DS Action Diver watches in their current catalogue. Here is a quick peek at some of the different models available:
Certina DS Action Diver Ref. C032.407.17.051.00

The first watch on this list is the Certina DS Action Diver Ref. C032.407.17.051.00, which has a robust but stylish exterior. It comes in a 316L stainless steel case, paired with a rubber strap in black, and a black luminous bezel with aluminium inserts. The dial, which also comes in a matte black colour, featured large, Super-LumiNova-coated hands and hours markers plus a date window at 3 o'clock. Lastly, this Certina Action Diver is equipped with a Powermatic 80 calibre and is a certified diver's watch, as per the ISO 6425 Standard. 
Certina DS Action Diver Ref. C032.427.11.041.00

Next up, we have this Certina DS Action Diver Ref. C032.427.11.041.00 which has a creative design that is reminiscent of a submarine. It has a sturdy and bulky design, making it perfect for those who prefer large timepieces. It comes in a case and bracelet made out of silver 316L stainless steel, along with a luminous bezel in blue. Aside from the large, Super-LumiNova hands and hour markers, its matching blue dial also has a date window and a chronograph display with 3 small sub-dials. Lastly, it runs on an automatic movement and has an excellent water-resistance of up to 300 metres. 
Certina DS Action Diver Ref. C032.407.11.091.00

The Certina DS Action Diver Ref. C032.407.11.091.00 is quite a classic and eye-catching piece. It comes in a stainless steel case and bracelet with a striking green bezel. The dial, also in the same shade of green, has a date aperture along with large, luminescent hands and hour markers for maximum readability. Powered by an automatic movement, this Certina watch boasts a power reserve of up to 80 hours and a 300-metre water resistance. 
Certina DS Action Diver Ref. C032.407.44.081.00

Next on the list is the Certina DS Action Diver Ref. C032.407.44.081.00, which is very similar in layout and structure to the model mentioned above. It has the same luminescent elements and small date window on its grey dial, along with a matching steely grey bezel. What sets this timepiece apart is that it is primarily made from titanium, which gives it a more rustic, almost vintage vibe. In terms of its technical specifications, it is powered by a Powermatic 80 movement and has a 300-metre water-resistance as well. This Certina DS Action Diver is a great option for those who prefer lightweight and lower-maintenance watches.
Certina DS Action Diver Ref. C032.807.22.041.10

Last, but certainly not least, we have this Certina DS Action Diver Ref. C032.807.22.041.10, which was made in collaboration with the Sea Turtle Conservancy. This special edition piece is a tribute to the Swiss brand's advocacy of saving the aforementioned aquatic animals. It has the same layout and overall structure as the core DS Action Diver models but stands out with a striking two-toned bracelet and a blue-black dial. Its hands and hour markers are tastefully lined with gold and filled with white luminescent material, maintaining the same two-tone colour scheme as the bracelet.
When it comes to technical details, just like the other Certina DS Action Divers, it is also driven by the Powermatic 80 calibre. What is really interesting about this timepiece is that, in an effort to be more sustainable, Certina made sure to use eco-friendly materials for all of its packagings. If you're in the market for a new dive watch and this advocacy speaks out to you, then make sure to check out the Ref. C.032.807.22.041.10.
What Makes the Certina DS Action Diver So Special? 
If this article has got you hooked on Certina DS Action Divers, here are a few more reasons why you should not miss out on them:
Made for Real Divers. Out of context, this reason might seem a little exclusive, so let me explain just what this means. Certina DS Action Diver watches are all made in compliance with the ISO 6425 Standard. This means that they all pass a series of criteria, that not all timepieces can meet, in order to be recognised as official diving watches. Certina had divers, both professional and casual, in mind when they were conceptualising this model. So, they designed the DS Action Diver to meet the higher standards required by divers. With that being said, it does not mean that this watch is only for those people. Whether you are an avid collector or someone who is just making their entry into the world of horology, you are guaranteed to enjoy every bit of the Certina DS Action Diver. 
Worth Every Penny. In previous sections, we have gone through how each component of this watch was expertly crafted with durability and reliability in mind. Indeed, it is only true to say that the Certina DS Action Diver is very reasonably priced if you note all the excellent qualities it comes with. If you are looking for a diving watch that will really last, this is definitely one I would recommend because of its expert craftsmanship, top-notch materials, and reliable durability. Think of it this way; you will be spending less than $1,500 USD for a high-performing watch that was literally made to endure harsh circumstances and last a long time. Definitely worth it, right? 
Perfect Balance of Traditional and Modern. Much like many things in the world, there are plenty of watch trends that just and come go. However, quintessential timepieces will always remain a staple in this market. While Certina chose to go with more traditional aesthetics for the DS Action Diver, the Swiss brand made sure to not fall short in terms of offering modern features and functions. With this watch, they proved that just because a timepiece looks classic doesn't mean it can't have contemporary functions. The Certina DS Action Diver is a perfect representation of that balance between past and progressive. 
Result of a Rich Heritage. When I was reading up on the history of the brand, I found it interesting that they were so active in testing their watches in different environments, through the expeditions and programs that Certina took part in back then. This allowed the company to further develop its technology and turn it into the state-of-the-art innovation it is today.  As such, the Certina DS Action Diver is the direct result of the Swiss brand's rich heritage. It is the culmination of all the years of Certina's experience in horology and technological developments. More than that, it is a testament to Certina's commitment to continually improving and creating even better timepieces.
Simple yet Powerful. In the watchmaking world, there has been an increase in overly lavish and avant-garde pieces. While there is nothing wrong with that, a simple, quintessential watch will always have a place in the industry. The Certina DS Action Diver doesn't have any fancy dial designs or diamond settings around the bezel, yet it still speaks volumes with its beguilingly minimalistic designs. If you want a simple yet incredibly powerful watch, then the Certina DS Action Diver is your best bet. 
Certina DS Action Diver vs Tissot Seastar 
Certina and Tissot are two Swiss brands that are often compared to each other; even watch enthusiasts believe that these two share many similarities. Let us take a closer look and compare the two diving models of these companies, the Certina DS Action Diver and the Tissot Seastar. 
Similarities
There are a handful of similarities between the Tissot Seastar and Certina DS Action Diver, from having the same water resistance of up to 300 metres to both being equipped with a Powermatic 80 calibre. Moreover, the two also share a similar price range of around $800 USD to over $1,000 USD. More importantly, both diving watches pass the ISO 6425 Standard with flying colours.  
Differences 
Right off the bat, a clear difference between the two is that the Tissot Seastar offers a more extensive set of different models than Certina DS Action Diver does. While Certina does still have a solid selection in its arsenal, this also means that the Tissot Seastar has more variety in terms of designs and aesthetics. Indeed, a quick look across the Tissot Seastar catalogue shows that the company tends to be more risky and experimental with the Seastar models, while Certina is a lot more straightforward and traditional. If you are looking for an avant-garde piece with an unusual look, you might want to check out the Tissot Seastar. If, however, you prefer more quintessential watch styles, then the Certina DS Action Diver is the watch for you.
Final Thoughts
While Certina may not be as popular as brands like Seiko, Tudor, TAG Heuer, and the like, the DS Action Diver models are proof that they can certainly compete with the big names in terms of quality. With classic aesthetics, excellent reliability, and impressive features; this amalgamation of tradition and modernity may just be the perfect diving watch for you.
Photo credits: Certina Official Website 
Looking for more diving watches? Check out our article on the Omega Seamaster 300M Beijing 2022 Edition.