New & Feature
Seiko SPB153 "Captain Willard" : The Coolest Reissued Diver Watch
Mar 25, 2022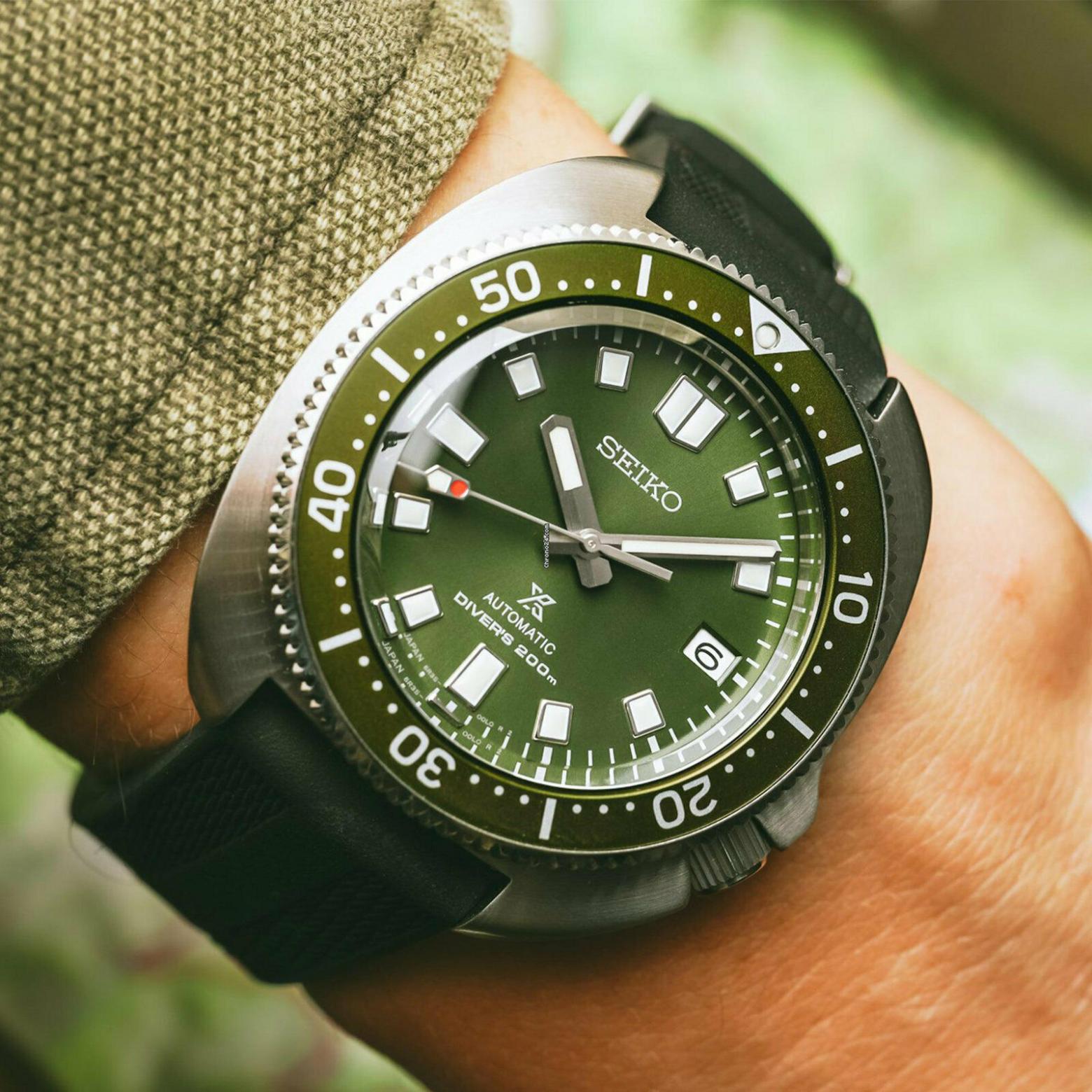 Early in 2020, Seiko released the Seiko SPB153 "Captain Willard", a modern reinterpretation of one of its legendary diver watches from the 1970s, the Seiko 6105. While the well-received SRP series is obviously inspired by the 1980s Seiko 6309 watches, the Seiko SPB153 "Captain Willard" retains most of its designs from the venerable Seiko 6105.
Older patrons of Seiko and members of the watch community might remember that the Seiko 6105 was one of those watches that took a while to gain traction. It was not until Martin Sheen, playing the role of Captain Williard in the 1979 American film Apocalypse Now, wore the watch in the film that the Seiko 6105 shot up in popularity. Today, the modern Seiko SPB153 "Captain Willard" is named as a tribute to the man and the role that helped popularise its predecessor.
Unlike the Seiko 6105, the Seiko SPB153 "Captain Willard" actually became a hit in the market as soon as it was released. It is a compelling option for a premium dive watch from Seiko's catalogue. So, without further ado, let us take a closer look at the Seiko SPB153 "Captain Willard" and everything it has to offer. 
Anatomy of the Seiko SPB153 "Captain Willard"
Case, Bezel, and Crown

Taking its design cues from the Seiko 6105 watch, the Seiko SPB153 "Captain Willard" feels reminiscent of the 70s. This watch is presented in a 42.7mm stainless steel case that has been hard-coated with Seiko's DiaShield technology, bolstering its resistance to scratches and impacts. This case comes in a chunky tonneau shape, which was incredibly popular back in the 70s and makes the Seiko SPB153 look bigger than it really is. Seiko adds a smooth, well-polished finish to the sides and bottom of the case, giving it a sleek lustre that plays with the light really well. 
Fitted on top of the case is a highly-functional 120-click unidirectional rotating bezel bearing a matcha green elapsed time scale insert. The sides of the bezel have sharp notches, a design reminiscent of the Seiko 6105. These notches provide wearers with a better grip, so they can grasp and turn the bezel more easily. The bezel also delivers smooth, clicky action and has no form of back play whatsoever. As such, you do not have to worry about the bezel turning in the wrong direction and causing you to lose track of how much time you have spent underwater.
On the right side of the case, you can also find a stout crown with grooved edges for an easier grip. This crown is protected by asymmetrical crown guards, which keep it safe from any hard impacts or shocks. One downside, however, is that due to the large size of the crown guards, the crown is almost entirely surrounded. As such, it can be hard for you to find any purchase so you can grasp tightly onto the crown. This might make winding the watch a little challenging, especially when underwater.
Dial 

One of the much-anticipated, impressive features of the Seiko SPB153 "Captain Willard" is how beautifully executed the dial is. While it is not quite identical to the original dial of the Seiko 6105, the influences of the original can nevertheless be seen throughout.
Seiko offers two different versions of the Seiko SPB153: a matte black dial variant and one with a green sunburst dial. The black dial version is actually more faithful to the original Seiko 6105, but it is the stunning green sunburst model that has received the most attention from watch collectors. It shows off a brushed, metallic green finish that adds to the watch's sleek, stylish look. In addition, the sunburst design also creates a sort of visual effect. The colour of the dial seems to vary depending on the light and the angle from which you are viewing the watch, boasting hues ranging from a shiny bright green to a deeper shade of army green.
The dial of the Seiko SPB153 is also adorned with geometric hour indices and slender sword hands, all of which are coated with LumiBrite for optimal legibility even in the dark or underwater. The 12 o'clock marker, in particular, takes the form of a wide double-index, shaped like a book, so that it stands out from the rest of the pack. A small date window is placed in lieu of a 3 o'clock marker, with black text and a white background that contrasts strongly against the dial, so it is easier to read.
Seiko also incorporates a layer of sapphire crystal on top of the dial, providing extra security against any scratches. This sapphire glass has been treated with a layer of anti-reflective coating, giving wearers a clear and unhindered view of the watch face. 
Movement
A robust and powerful in-house calibre 6R35 automatic winding movement runs inside the newest Seiko SPB153 "Captain Willard" watch. Held together by 24 jewels, this movement beats 21,600 vibrations per hour (3Hz) for a smooth seconds sweep and comes with a very impressive 70-hour power reserve. This means that you could leave this watch aside over the weekend and not have to worry about winding or resetting the watch's time at all. In addition, this first-class movement is also packed with 4,800A/m of magnetic resistance. It is noted to have a precision rate of -15/+25 seconds per day.
Water Resistance
Given that the Seiko SPB153 "Captain Willard" is exclusively built as a diver watch, its excellent 200-metre depth rating is only to be expected. This water resistance capacity is an upgrade from the original Seiko 6105, which was only equipped with a 150-metre depth rating. 
Strap 

Both the black dial and green sunburst dial variants of the Seiko SPB153 "Captain Willard" are offered with the same retro-style silicone strap, available in a black hue. It truly complements the watch's whole classic appearance, oozing a sporty and very masculine vibe. This strap also comes with a pin buckle clasp made of stainless steel, which ensures that the watch rests securely on your wrist. 
Price
Seiko watches are famous for offering high-quality, extremely precise timekeepers at very budget-friendly prices. The Seiko SPB153 "Captain Willard", in particular, falls in the premium category of Seiko's dive watches. It has a price tag of around $1,100 USD. This is a little more expensive than most of Seiko's offerings, but it is still a very affordable price compared to most luxury dive watches from other brands.
Seiko 6105: The Original Captain Willard

In the vintage realm, the Seiko 6105-8110 "Captain Willard" is known as one of the most sought-after and highly recognisable Seiko divers. As previously mentioned, this specific model became a hit after it was worn on-screen by Martin Sheen, who played Captain Willard in the 1979 American film "Apocalypse Now."
The Seiko 6105-8110 "Captain Willard" came in a 44mm tonneau-shaped stainless steel case, much like the one seen on the modern Seiko SPB153 "Captain Willard". The Seiko 6105-8110 also showed off the same finely polished finish, stout crown, and asymmetrical crown guards as the Seiko SPB153.
Although the Seiko SPB153 was offered in two different variants, there was only one version of the Seiko 6105-8110 released, with a black dial and a matching matte black elapsed time scale bezel. The Seiko 6105-8110's striking black dial was furnished with thick luminous indices and slender silver sword hands for easy timekeeping, even in the dark. A compact date aperture was also located at 3 o'clock, outlined in silver for a greater contrast against the black backdrop. A layer of mineral crystal was used to protect the dial from any external damage. 
In addition, the Seiko 6105-8110 "Captain Willard" was driven by Seiko's calibre 6105B, which was considered one of the brand's state-of-the-art watch movements back in the day. This calibre is held together by 17 jewels and beats at 21,600 vibrations per hour. It is also equipped with a solid power supply of 46 hours and a depth rating of 150 metres, which was quite impressive for a dive watch in the 1970s.
The Seiko 6105-8110 "Captain Willard" is no longer being produced by Seiko. Furthermore, as a top-tier vintage watch, there is a high demand for it in the vintage market, so it should not come as a surprise that this watch sells at a relatively exorbitant price. Depending on the seller and the condition of the watch, you can get your hands on the Seiko 6105-8110 "Captain Willard" for around $3,958 USD or more. 
Alternatives to the Seiko SPB153 "Captain Willard"
Now, let us have a closer look at some of the best alternative watches to the Seiko SPB153 "Captain Willard".  
1. Citizen Promaster Ref. JP2000-08E

Like the Seiko SPB153 "Captain Willard", the Citizen Promaster Ref. JP2000-08E features a simple yet classic appearance, albeit with some quirks. This Citizen Promaster watch is housed in a 44mm stainless steel case with a black rubber strap and a matching black unidirectional bezel that bears indicators in white for an elapsed time scale. As with the Seiko SPB153, this Citizen watch has a sizeable crown placed at 4 o'clock, protected by asymmetrical crown guards. However, the crown guards of this watch are smaller and do not block off the crown, so wearers will probably have an easier time gripping and turning it. 
The most striking thing about this watch is probably the various protrusions along the sides of the case that make it look bulkier than it really is. As a hybrid chronograph piece, this watch comes with three different pushers that control its alarm, stopwatch, full auto-calendar, and 1/100th of a second chronograph function. On the left hand side of the watch you can even find a dive sensor, which includes a depth alarm for the last dive, a dive time alarm (5-60 minutes), rapid ascent warning, and a maximum depth indicator up to 80 metres.
Powering all these functions is a robust Calibre C520. This is a quartz movement that provides a decent battery life of 24 months and a depth rating of 200 metres, making this watch suitable for most water activities.
If you plan to wear a reliable and highly functional dive timepiece, this $479 USD Ref. JP2000-08E is the best option for you.
2. Mido Ocean Star Ref. M026.830.18.091.00

Looking for a more casual, everyday dive piece? Then the Mido Ocean Star Ref. M026.830.18.091.00 definitely deserves to be on your radar. This dive watch utilises a solidly-built 40mm stainless steel case, coupled with a dark green fabric strap. The case features a glossy polish and comes with a stout crown at 3 o'clock. Fitted on top of the case is a 120-click aluminium unidirectional bezel bearing a green elapsed time scale bezel.
The dial of this Mido watch comes in an exquisite shade of lighter green that blends perfectly with the bezel and strap. It is decorated with long, printed hour indices and diamond-cut hands that are filled with white Super-LumiNova. A bright orange lollipop seconds hand adds a pop of vibrant personality to this mostly green watch face. A day-date complication is also placed by the 3 o'clock marker.
This Mido Ocean Star piece is driven by an in-house Calibre 80, which is based on the ETA C07.621. Containing 25 jewels, this calibre has a beat frequency of 21,600 vibrations per hour (3Hz) and an extended 80-hour power reserve. As a dive watch, it also has a substantial 200-metre depth rating, matching that of the Seiko SPB153 "Captain Willard". 
The Mido Ocean Star Ref. M026.830.18.091.00 is available at just $899 USD.
3. Casio Oceanus Ref. OCW-G1200-1AJF

If you enjoy wearing titanium watches with smart features, then the Casio Oceanus Ref. OCW-G1200-1AJF is the right choice for you. This watch comes in a bulky 51.5mm titanium case and matching titanium three-link bracelet. Despite its large size, this watch is actually fairly easy to tote around all day, thanks to its lightweight titanium build. It is also fitted with a stylish black titanium bezel that is outlined with blue highlights. A solid sapphire crystal keeps the watch face safe from any impacts or scratches.
This Casio watch's all-silver exterior is cleanly contrasted against its black dial. This dial is quite busy, jam-packed with luminous blue hour indices, slender silver hands, a small power reserve indicator, and a rectangular date window between 4 and 5 o'clock. In addition, it also comes with three large sub-dials for the chronograph, stopwatch, and day-date functions. On the rim of the dial, you can find indicators for 27 different cities, which gives this watch access to an incredible 40 different time zones. This watch is also equipped with the brand's advanced Tough Solar technology and GPS radio wave reception timekeeping.
Driving all these functions is a premium GPS Hybrid Wave Ceptor. This hardy quartz calibre possesses magnetic resistance and a useful depth rating of 100 metres, which will allow this watch to survive most watersports activities. It also has an impressive accuracy rate of ± 15 seconds per month.
For $1,999 USD, you can experience all the excellent features of this Casio Oceanus timepiece.
Final Thoughts
All in all, the Seiko SPB153 "Captain Willard" is a top-tier dive watch with a sleek and easy-to-use design. As a premium dive watch from Seiko, it is a compelling option, highlighting the beauty and functionality of the original Seiko 6105-8110 "Captain Willard" while also introducing stylish modern elements to keep up with the times. With its excellent reliability and durability, it is no wonder why the Seiko SPB153 is such a hit amongst watch enthusiasts.
All images are courtesy of eBay.com unless otherwise stated.
Featured image courtesy of eBay.com.
If you are searching for another classic diver watch in the market, then check out our article about the Doxa Sub 200.