New & Feature
30 Best Minimalist Watches for Fashionable Men
Aug 04, 2020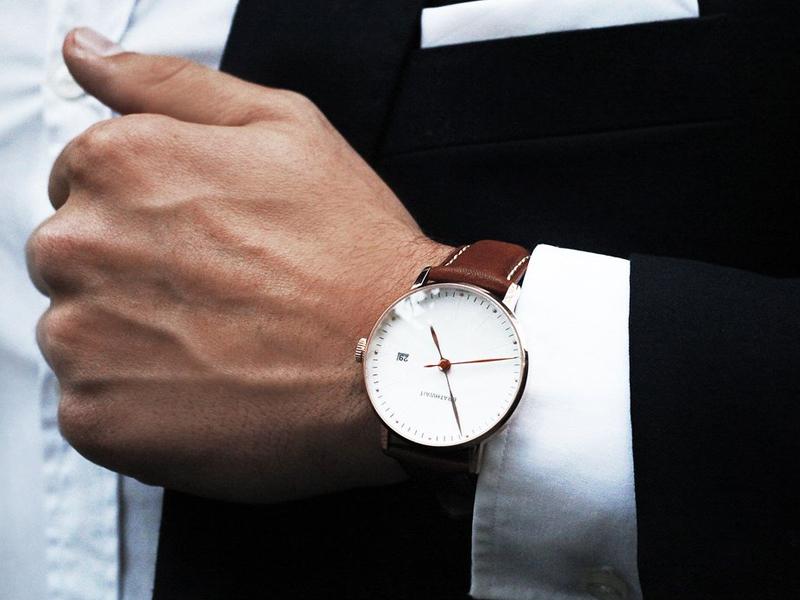 There's something about simplicity that makes it so appealing for many. A lot of people have been leaning on this concept as of late. There are a lot of movements on the rise that revolve around simplicity. You have Marie Kondo on one hand or Dostadning for a more intense clutter-free living. However, there's one movement that's been going long before we held an item in our hands and wondered if they sparked joy: Minimalism.
You can look at it in various ways but one way to put it is focused on simplicity. From lifestyle to fashion choices — you name it — there's always a minimalist version of it. So, in our journey to provide you with all things watches, we present to you the '30 Best Minimalist Watches for Men'. Ready to pick a minimalist watch of your own? Read on to learn more.
What is a Minimalist Watch?
These simple watches have a lot in common. Not only do they have the same design principles but they also have the same purpose. A minimalist watch focuses only on the necessary: time. No hullabaloo, no fuss, no hassle. While minimalism is an art form in itself, it also is a lifestyle for a lot of people. And just like said lifestyle, a minimalist watch must not distract you from what's necessary. It has to be direct and easy to understand. Nonetheless, that doesn't mean it's easy to come up with a clean pick. There are still a lot of things you should consider before getting a minimalist watch. After all, if you're only to pick one of these, it has to be best. Right?
You should be able to take a truly minimalist watch anywhere. And by anywhere, we mean anywhere. Do you have late-night plans after nine to five? You shouldn't feel the need to pick a different watch that will suit your destination. A suit and tie event? Minimalist watches for men should be able to elevate themselves to that level on its own.
Fortunately for you, it's not hard to find simple, elegant watches. Because their concept lies with the lack of complicated designs, they don't have a hard time fitting in anywhere. However, despite their understated elegance, minimalist watches must be just as functional. Believe it or not, these watches can also have complications as powerful as a five-figure watch. Don't believe us? See for yourself. Here are the best minimalists watches that are sleek enough to transcend any occasion.

1. NOMOS Glashütte Lambda
One of the best — if not the best — minimalist watches on our list deserves the number one spot. NOMOS Glashütte needs no introduction despite it being fairly young. Established in 1990, Nomos produced countless award-winning designs that put their name on the map. If we are to pick the model that best suits the NOMOS Glashütte aesthetic and principle, it would be the Lambda. The NOMOS Glashütte Lambda represents precise timekeeping as well as straightforward classy design. This sleek watch is perfect for the robust wrist at 42mm. Albeit one of the most expensive ones, rest assured that this watch is worth every penny.
Brand: NOMOS GlashütteModel: LambdaMovement: NOMOS Glashütte Calibre DUW 1001Power Reserve: up to 84 HoursCase Diameter: 42mmWater Resistance: 3 ATM/30m (splash-proof)

2. Daniel Wellington Classic St Mawes
As far as a minimalist watch goes, the Daniel Wellington Classic St Mawes ticks all the boxes. It's straightforward and classy. There's really nothing else you'd look for once you have this watch. With its leather strap, it can surely elevate your style just by putting it on. With interchangeable straps, you may also enjoy this watch's flexibility. Just change the strap and people wouldn't even think it's the same watch. It comes in either a 316L stainless steel case or a double-plated 316L stainless steel in rose gold. This sleek and elegant watch surely goes beyond style.
Brand: Daniel WellingtonModel: Classic St. MawesMovement: Japanese Quartz MovementCase Diameter: 40mmWater Resistance: 3 ATM/30m (splash-proof)

3. QLOCKTWO W by Biggert and Funk
If you're looking for a minimalist digital watch, then this has to be the one for you. The QLOCKTWO W watch tells you the time, quite literally. Its intelligently designed face has a uniform grid of multilingual letters and phrases. With one press of a button, the letters light up to tell you what time it is. This award-winning design impressed everyone at the 2018 Red Dot Award and 2019 iF Design Award. It's like you don't even need to compose your sentences when someone asks you for the time. It's written right there for you!
Brand: QLOCKTWOModel: W SeriesDisplay: DigitalFeatures: Display of calendar day, seconds, and battery level indicatorWater Resistance: 5 ATM/50m

4. Nordgreen Philosopher
With its conical dial shape and asymmetric second hand, the Philosopher has to be one curious design. Nordgreen, a sustainable Danish brand, focuses on minimalism and anchors itself to its social responsibility as a brand. Designed by acclaimed designer Jakob Wagner (Bang & Olufsen, Hay), the Nordgreen Philosopher is a classic that diverts your attention to what's important: time. The sunken dial gives the watch a new dimension and a straightforward function.
Brand: NordgreenModel: PhilosopherMovement: Japanese Quartz MovementCase Diameter: 40 mmWater Resistance: 3 ATM/30m (splash-proof)

5. Citizen Eco-Drive Axiom
Citizen is one of the leaders in sustainable watch options. Its Eco-Drive technology allows for their watches to be powered by any light. This means Eco-Drive watches doesn't need a battery. This solar power feature, however, is just one of the many things to like about the Citizen Eco-Drive Axiom. Indexed with only the 12-hour marker, its face is truly minimalistic with a date window at 3 o'clock. It is sleek in stainless steel with black ion plating, black dial, and black accents. In addition, it has an intriguing edge-to-edge glass feature for a polished finish.
Brand: CitizenModel: AxiomMovement: Citizen Eco-Drive Caliber J165Case Diameter: 40mmWater Resistance: 3 ATM/30m (splash-proof)

6. UNDONE Urban Minimalist
UNDONE has been making waves in the watch industry for its unique business structure. The brand pioneered customisable watches online and has been leading the market since. It's no surprise especially with their range of watches and completely interactive customisation options. Tapping on the minimalism market, UNDONE presents the Urban Minimalist model. This hybrid flyback chronograph model represents simplistic sophistication at its finest. It features a matte, monochrome dial that you can still mix-and-match. Just like any of the watches on their site, the Urban Minimalist is made to order to suit your style and taste.
Brand: UNDONEModel: Urban MinimalistMovement: Seiko VK61 Mechanical-QuartzCase Diameter: 40mmWater Resistance: 3 ATM/30m (splash-proof)

7. Kitmen Keung LD 1.0 – S
Hong Kong-based Kitmen Keung specialises in distinct watch designs that capture the essence of simplicity in form. The modern design of their watches seizes true minimalism in its function. The Kitmen Keung  LD 1.0 – S focuses on clarity and simplicity. Open for any and all interpretation, the brand carries their watches like art forms. More than just functional objects, they represent a lifestyle and spatial awareness. This watch is modern, logical, and overall a pleasing sight to understand and appreciate.
Brand: Kitmen KeungModel: Long Distance CLassic 1.0 – Stainless SteelMovement: QuartzCase Diameter: 39mmWater Resistance: 1 ATM/10m

8. MVMT Revolver Ghost
MVMT seemed to have already mastered minimalism in their watch designs. The start-up brand has come a long way from its humble beginnings. The brand now has various designs that are completely minimalist and time-focused. One of their stand-our classy men's watches would be the Revolver Ghost. This watch, coming from their Revolver series, has a lot of white spaces on the dial, allowing for a breathable design. It fits any style, any look without having to sacrifice its functionality. It has an onion-shaped crown for better grip, as well as interchangeable straps.
Brand: MVMTModel: Ghost (Revolver Series)Movement: Miyota QuartzCase Diameter: 41 mmWater Resistance: 5 ATM/40m

9. Rossling & Co Continental Automatic
If you're looking for a Bauhaus watch, the Rossling & Co Continental Automatic is the one for you. It's a sleek nod to the modern German art style. This well-balanced watch works with an automatic movement so you will never have to worry about battery replacement. With its perfectly proportioned design, you'll get everything you need. At a glance, you have the hour, minute, and second as well as the date, all under a 10mm thickness. This watch truly is an everyday watch that transcends the weekends and even special night outs.
Brand: Rossling & CoModel: Continental AutomaticMovement: Miyota Calibre 9015Case Diameter: 40mmWater Resistance: 5 ATM/50m

10. Ora Lattea
Designer watches have the knack to provoke imagination while remaining stylish. If you're in the hunt for an interesting timepiece that can be a conversation piece in itself, we present you, the Ora Lattea. Designer Denis Guidone made a name for himself in the industry with his curious creations. The Ora Lattea is just one of many. This watch is representative of the solar system. There's some time needed to get used to this watch but once you get the hang of it, you'll be as unstoppable as time itself. There are three dots on its dial. The bigger one indicates the hour as the smaller indicates the minutes that passed. The one in the middle doesn't move. Ora Lattea aligns with Guidone's abstract watch designs, leaning heavily on minimalism.
Designer: Denis GuidoneModel: Ora LatteaMovement: QuartzCase Diameter: 42 mmWater Resistance: 3 ATM (splash-proof)

11. Timex Weekender Fairfield
For a more affordable option of minimalist timepieces, the Timex Weekender Fairfield would be the ideal choice for you. Designed to be free of any and all complicated design aspects, the Fairfield is truly minimal. However, it's one of the underdogs on our list. Not a lot of people recognise its minimalism but with a straightforward dial, it's undoubtedly a strong contender. Moreover, it's also on the more affordable range on the list. The watch somehow has a very fluid design that allows for the eyes to naturally divert on the important details: hour, minute, then seconds. It also has an Indiglo dial so legibility wouldn't be a problem for this watch.
Brand: TIMEXModel: FairfieldMovement: QuartzCase Diameter: 37mmWater Resistance: 3 ATM/30m (splash-proof)

12. Skagen Hagen SKW6340
Skagen is one of the leaders in the minimalist watch market. The brand undoubtedly comes up with smart ways to keep their designs to a certain level of simplicity while providing necessary information. One of their most sought-after collections is Hagen. This minimalist collection comprises a lot of models but the SKW6340 indeed stands out. This 40mm Hagen features a three-hand movement, with the second hand in standout red. It also has a matte dial with luminescent indexes for better legibility. The only other detail on the watch is the date as seen in the window at 3 o'clock. This simple watch's quick-release-pin construction makes changing straps incredibly easy. With that said, yes, it has interchangeable straps that you can mix and match.
Brand: SkagenModel: Hagen SKW6340Movement: QuartzCase Diameter: 40mmWater Resistance: 5 ATM/50m

13. About Vintage 1969
In 1969, the quartz movement changed the watch industry forever. With its remarkable accuracy, precision, and significantly smaller size, wristwatches became more affordable and accessible to many. To celebrate this, About Vintage designed a watch that revolves around the quartz movement, the aptly named 1969. It has a slightly curved dial and a domed glass for the quintessential vintage look. Our favourite design for 1969 has to be its black dial version. It allows for the hands and indexes to stand out. This makes information more intelligible and distinct.
Brand: About VintageModel: 1969Movement: QuartzCase Diameter: 39mmWater Resistance: 3 ATM/30m (splash-proof)

14. Calvin Klein Even
Among the fashion watches on the list, Calvin Klein Even is one of the best for one specific reason: design. CK has a line of sleek and stylish men's watches, however, Even is unquestionably its finest. The watch has a crosshair design on the dial that darts the eye right to the middle where the important details are. Its linear purity makes up for the large lugs. It comes in various designs such as with a black dial, a pink gold case, and our favourite, a silver case. This model comes with a leather strap for a comfortable fit as well as a refined construct.
Brand: Calvin KleinModel: EvenMovement: Swiss QuartzCase Diameter: 40mm

15. Fossil The Minimalist
Fossil has a whole line of minimalist watches on its catalogue and The Minimalist stands out for various reasons. Firstly, it's monochromatic. Monochrome is not always the best option for a watch especially if it's all black and over very, very dark grey as Batman would have liked it. But this Fossil Minimalist watch relies on the raised markers. its hands also have a light grey hue to guide the eyes.
Brand: FossilModel: The MinimalistMovement: QuartzCase Diameter: 44mmWater Resistance: 3 ATM/30m (splash-proof)

16. Guess Diamond Watch
Guess prides itself as a fashion giant with various products on their catalogue. We, of course, know the brand is best with their apparels such as denim and shirts. Who doesn't recognise the iconic question mark logo, right? However, among their many merchandise come the watches. Believe it or not, they do have a pretty decent selection for every person's unique style needs. The minimalist doesn't fall behind with this simple Guess Diamond watch that strikes balance with a diamond at 12 o'clock. That's a real, genuine diamond right there that adds a tone of elegance to the sleek design. It comes in various strap materials but best suits the leather bracelet.
Brand: GuessModel: GW0009G1Movement: QuartzCase Diameter: 44mmWater Resistance: 3 ATM/30m (splash-proof)

17. Junghans Max Bill MEGA Solar
German brand Junghans takes its minimalist design up a notch with a more sustainable option. The famous Max Bill model now comes with a bigger case and solar power. If you're looking for a sleeker option for solar-powered watches, this could be the choice for you. Its titanium composition makes the watch extremely light with a comfortable feel against the skin. It also has a state-of-the-art radio-controlled movement and a perpetual calendar feature. Time zones may also be conveniently adjusted via the crown or remotely through the Junghans MEGA App. The Bauhaus watch evokes simplicity at its finest without sacrificing style with its timeless design.
Brand: JunghansModel: Max Bill MEGACase Diameter: 38mmWater Resistance: 3 ATM/30m (splash-proof)

18. Brathwait The Classic Slim Wrist Watch
Brathwait marries the classic and the modern in this watch. As a manufacturer of high-quality watches, Brathwait diverts from cheap materials, so expect nothing but the best from them. The Classic Slim Wrist Watch has a minimalist design with modern tech that powers it through. This elegant timepiece has a Swiss-made Ronda Calibre 785 as well as a domed sapphire crystal for optimum protection. The surgical grade stainless steel also allows the watch to have 100m of water resistance. Wearers may opt for various straps depending on the style and comfort. From steel mesh straps, leather straps, to fabric NATO-style straps, this watch transforms to any style, any day.
Brand: BrathwaitModel: The Classic Slim Wrist WatchMovement: Swiss Ronda QuartzCase Diameter: 40mmWater Resistance: 10 ATM/100m

19. Braun Gents BN0173 Classic Watch
German brand Braun has been a purveyor of simplicity with function for various products. As a lifestyle brand, its name conquered the world and caught the attention of watch enthusiasts all around the world. As a part of their philosophy, their products embrace minimalism through their designs. One of their most iconic designs is the BN0173 Classic Watch. This model has no lugs, to keep attention away from the unnecessary. The long line indexes also lead the eyes towards the centre of the watch. A touch of yellow lives through the second hand. The design of the watch generally revolves around the German design principle, Bauhaus.
Brand: BraunModel: BN0173Movement: QuartzCase Diameter: 42 mmWater Resistance: 3 ATM/30m (splash-proof)

20. Bulova Men's Regatta 96A232 
Bulova's line of men's watches spans from classic designs to intricate works of art. The Regatta rests on the classic side of the spectrum with a design inspired by Bulova's heritage timepieces. This timepiece has a stainless steel case with slim Roman numeral markers on a white dial. Positioned at 2 o'clock, the crown makes gripping and adjusting easier for the wearer. The angled lugs make for a unique statement. Moreover, the watch has a flat sapphire crystal for a sleek look.
Brand: BulovaModel: Regatta 96A232Movement: QuartzCase Diameter: 38 mmWater Resistance: 3 ATM/30m (splash-proof)

21. Projects Watches' M&Co 10-one-4
Designer Tibor Kalman is no stranger when it comes to designing timepieces. His witty creations leave a mark on the wearers as well as the industry in itself. One of his minimalist watches includes the M&C0 10-one-4 Unisex Watch. Maira, Tibor's wife, inspired the design of 10-one-4  through a sketch of a watch face with its three random hours from which to navigate the day. This watch is a part of the Permanent Design Collection of The New York Museum of Modern Art. Made from black IP stainless steel, 10-one-4 is indeed a timeless and affordable designer watch.
Brand: Projects WatchesModel: M&Co 10-one-4 Watch (PJT-7402)Movement: QuartzCase Diameter: 33mmWater Resistance: 3 ATM/30mm (splash-proof)

22. Mondaine Helvetica Regular MH1.R2220.LB
Helvetica, indeed, is one of the most famous typographies in the whole world. Mondaine takes this iconic font face to the world of watches with a collection dedicated only to it. The collection features minimal designs, inspired by different weights of the font — from light, regular, bold, as well as smart. The Mondaine Helvetica Regular watch leans on the modern side of design. Not only is it aesthetically pleasing but also focused on the main function that is telling the time. The smooth typography on the watch makes time-reading swift and easy, at a glance.
Brand: MondaineModel: Helvetica Light MH1.L2210.SMMovement: Quartz Rondo 715Case Diameter: 38mmWater Resistance: 3 ATM/30m (splash-proof)

23. Defakto Mono Superluminova
Defakto manufactures minimalist watches that suit different types of personality. One of their models is the Mono Superluminova watch. This watch has a minimalist look at first glance. But in the dark, as its name suggests, the watch lights up for optimal readability. Its markers use fine lines of the same weight. That said, the watch uses five-minute indexes to decode time, therefore, it only has one hand. The needle-like hand aligns perfectly with each index. The Mono Superluminova's design provides a more relaxed experience of time as a unisex watch.
Brand: DefaktoModel: Mono SuperluminovaMovement: Swiss Ronda QuartzCase Diameter: 40mmWater Resistance: 5 ATM/50m

24. VOID V01MKII
VOID's V01 gets a few improvements with the second iteration of the model. Launched in 2008, the V01 has been one of the most minimalist digital watches in the market. It has a square stainless case that a lot of design enthusiasts praise and adore. The sapphire crystal on the watch's face makes for better protection. This sleek watch's design allows for a legible time-reading even in the dark with just a press of a button.
Brand: VoidModel: V01MKIICase Diameter: 36 x 42mmWater Resistance: 5 ATM/50m

25. Tsovet SVT-SL37
California-based company Tsovet creates designs fit for the independent traveller. The brand's innovative design ranges from high-performing chronographs to minimalist two and three-hand watches. The SVT-SL37 is the brand's minimalist take on timekeeping. This model comes with various cases and strap colours to better suit your style and taste. Each design under this model, however, represents an understated elegance as well as a sleek take on timepieces.
Brand: TsovetModel: SVT-SL37Movement: Swiss QuartzCase Diameter: 37mmWater Resistance: 3 ATM/30m (splash-proof)

26. Georg Jensen Koppel Automatic Mechanical Watch
Georg Jensen's Koppel watches takes minimalism to an elegant status. This monochromatic watch has a masculine design. It is a rework of an original design by Danish modernist Henning Koppel. It's stripped off of any and all unnecessary features to focus only on telling the time. The watch also has a Swiss-made self-winding mechanical movement with a date window at 6 o'clock. The indexes are dots for the ultimate minimal blueprint.
Brand: Georg JensenModel: KoppelMovement: Swiss Automatic MechanicalCase Diameter: 41mmWater Resistance: 3 ATM/30m (splash-proof)

27. Normal Tokiji T2-L18BL
Tokiji directly translates to "numerals that represent time" in English. This minimal watch does just the function a watch must serve without the hullabaloo. The black dial displays the vivid numerals that represent time. Designed to be a digital watch in an analogue body, the watch follows a chronograph architecture with three pushers. It features time, date, as well as a second timezone. It also has an alarm, stopwatch, and a backlight for optimum readability. This watch has a unique liquid crystal display, specifically developed by Normal to eliminate glare.
Brand: NormalModel: Tokiji Tt2-L18BLCase Diameter: 38mmWater Resistance: 3 ATM/30m (splash-proof)

28. Miansai M24 II
Miansai thrives with accessories that are truly minimal, elevated with a luxurious feel. The brand has a few watches under its name that are of the highest class. The minimalist design of the M24 features a sleek two-hand Japanese quartz movement. It also has a mineral glass face that makes it mostly scratch-resistant. The watch may also be customised with a monogram as with most of Miansai's accessories.
Brand: MiansaiModel: M24 IIMovement: Seiko Japanese QuartzCase Diameter: 39mmWater Resistance: 3 ATM/30m (splash-proof)

29. Instrmnt K-100
Glasgow-based multi-disciplinary design studio Instrmnt creates industrial-led products. Their products have generally simple designs with a conscious take on retail. The K-100 features a sandblasted black casing, smooth to the touch. It also has high-quality Swiss components, arranged to achieve a minimalist, utilitarian design. It comes with a  black vegan rubber strap manufactured in Italy. Each of the brand's watches is packaged in a recycled GF Smith paper box with a bamboo pulp insert.
Brand: Instrmnt K-100Model: K-100Movement: Swiss Ronda QuartzCase Diameter: 40mmWater Resistance: 5 ATM/50m

30. Eone's The Bradley Watch
A one-of-a-kind take on modern minimalist watches, The Bradley watch, indeed, is one for the books. The titanium watch assures a high-quality timepiece with a one of a kind means of telling the time. The watch has raised markers that allow you to tell the time by touch, making it a truly inclusive watch. It has a triangular marker at 12 o'clock and elongated lines for 3, 6, and 9 o'clock indexes. The other shorter lines are for the other indexes. There are two magnetised balls that tell the time. The hour ball revolves around the watch's edge while the minute ball moves on the face of the watch.
Brand: EoneModel: The BradleyMovement: Swiss Ronda QuartzCase Diameter: 40mmWater Resistance: 5 ATM/50m
---
Love classic watches? Check out our list of classic analogue watches for men and women.