New & Feature
A‌ ‌Closer‌ ‌Look‌ ‌at‌ ‌the‌‌ Super Tough Casio GRB200 ‌G-Shock Gravitymaster
Dec 21, 2021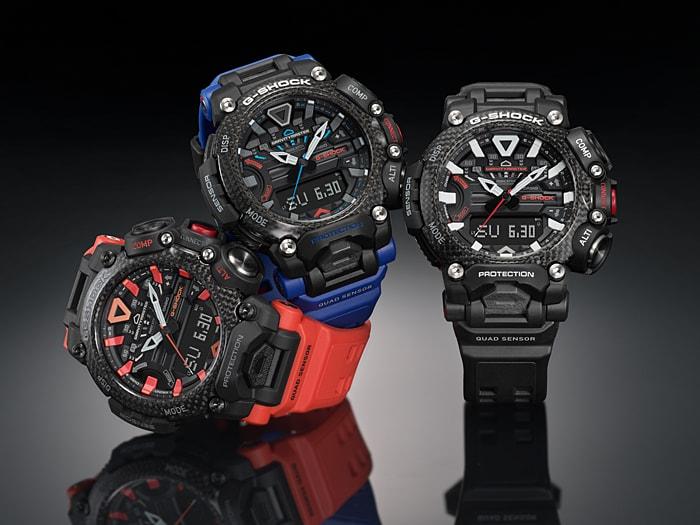 While Casio is well-known for making tough, super durable watches, the brand's rugged G-SHOCK range still manages to stand out with its exceptional resistance to all sorts of extreme conditions. The G-Shock line is expertly made, not just to tell the time, but also to be able to withstand any sort of damage and impacts while doing so. If you are seeking the best, most robust timekeeping experience possible, the collection's latest Casio GRB200 G-Shock Gravitymaster is an excellent option.
The Casio GRB200 Gravitymaster is from G-Shock's famous "Master of G" sub-range. Tougher than virtually any other watch in the market, this is an aircraft-inspired timepiece jam-packed with superior functions, made to cater to a pilot's every need. Without further ado, let us check out all the impressive features the Casio GRB200 G-Shock Gravitymaster has to offer.
A Quick Look at Casio‌ ‌GRB200‌ G-Shock Gravitymaster

At first glance, you will immediately notice how distinctive the Casio GRB200 Gravitymaster looks. Designed based on the appearance of a helicopter stick, this watch boasts a rugged and masculine aesthetic. Despite its robust build, this watch is quite understated — thanks to its largely monochrome theme.
The Casio GRB200 may seem a little confusing at first, as it is packed with features and comes with many buttons and indicators. However, a closer look shows that all the functions on this watch are clearly labelled, so it will not take you long at all to figure out how to use them. With its tough exterior and handy attributes, the Casio GRB200 both looks and is ready to tackle any challenge.
Specifications
Case and Bezel

The Casio GRB200 G-Shock Gravitymaster is an incredibly tough timepiece, largely due to the patented Carbon Core Structure that houses it. Its resin case is famous for being ultra-strong and highly shock-resistant, especially with its additional layer of carbon fibre backing. The Casio GRB200 is also quite large, with a case diameter of 54mm and a thickness of 18.3mm, and is best suited for bigger wrists. However, it weighs just 80g — thanks to its resin build, and thus you will not find it too heavy on your wrist despite its size. There are also multiple oversized buttons protruding out from the case at various angles, adding to the Casio GRB200's robust vibe.
This watch also comes with a huge bezel, which is made out of three layers of resin. This bezel comes with a semi-permeable top layer that possesses an intertwined carbon fibre structure, giving a distinctive signature look to its case with large buttons and displays. It also does an excellent job at protecting the analog-digital dial and case, adding to the Casio GRB200's status as a top-notch shock and vibration-resistant watch.
Analog-Digital Dial and Luminous Hands

Right off the bat, you might think the Casio GRB200 G-Shock Gravitymaster looks quite complicated, with its analog-digital dial and multitude of features. However, once you spend some time looking it over, you will realize how easy-to-use this rugged watch actually is.
The Casio GRB200 comes with a cool black dial that is well protected by the watch's 3-layer bezel. This dial comes with "Double Super" LED lights, allowing you to illuminate the face of the watch with just the push of a button. In addition, its sword-shaped grey hands and protruding hour indices are also equipped with the brand's signature Neo-Brite luminescence, which will glow when in poor lighting environments. This allows you to read the watch face easily even in situations where you are unable to press the button for the LED lights.
The Casio GBR200's dial is also three-dimensional, which is quite uncommon for a pilot watch. This dial is fitted with numerous practical functions, such as sunrise and sunset data, a world timer with 38 time zones, a countdown timer, a 1/100th second stopwatch which can time up to 24 hours, 12/24 hour time, a five-alarm function, and a full auto-calender. These features can be activated simply by pressing buttons for different modes, making the Casio GBR200 a very convenient watch to have.
Finally, the Casio GBR200's digital dial display is located at the lower half of the watch face. It comes with a black backdrop, which blends in well with the rest of the monochrome dial, and white text. On top of the digital display, you can find a layer of scratch-resistant mineral glass.
Quad Sensor Technology
The most impressive part of the Casio GRB200 G-Shock Gravitymaster is, without a doubt, its sensors. Compared to most pilot watches, this G-SHOCK timepiece is highly compact with Quad Sensor technology and Bluetooth capability. With its Quad Sensor technology, the Casio GBR200 houses sensors for altimeter, barometer, compass, and thermometer measurements. These features are essential for aviators to easily understand their surroundings and environment while flying, allowing them to maintain comprehensive flight logs. These functions are also clearly labelled, so the Casio GBR200 is quite easy to understand and use.
With the Casio GBR200's Bluetooth connectivity, you can also connect this watch to your phone using the G-Shock app. This allows you to quickly change the watch's settings configuration and even deliver Mission Functions. If you ever misplace your smartphone, you can also use the Casio GBR200's phone finder feature, to sound an alarm on your phone simply by pressing a specific button. For those who enjoy healthy lifestyles, this Casio Gravitymaster timepiece also has an accelerometer function that allows you to track your step count.
Movement
The Casio GRB200 G-Shock Gravitymaster is powered by the brand's own Calibre 5635. This is an extremely accurate Japanese quartz movement, possessing a two-year battery lifespan and an average accuracy of +/- 15 seconds per month. With this movement running your watch, you never have to worry about precise timekeeping during a flight. In addition, this movement also has a depth rating of 200 metres, which is extremely impressive for a pilot watch.
Strap

To showcase Casio's strong ties and partnership with the Royal Air Force, the Casio GRB200 G-Shock Gravitymaster features a supple black resin strap marked with the official motto of the Royal Air Force, "Per ardua ad Astra". This resin strap is durable and provides excellent comfort to the wrist. For those who prefer brighter, more vibrant colours, Casio also offers the resin strap in red or blue, so you can choose whichever option best suits your style and preferences.
Price
Those familiar with Casio know that the brand offers all their watches at very budget-friendly prices, and the Casio GRB200 G-Shock Gravitymaster is no exception. Whether you are looking at the version with a black, red, or blue resin strap, each Casio GBR200 Gravitymaster piece retails at just $350 USD. If you are looking for a tough and rugged watch for your next flight mission or outdoor escapade, the Casio GRB200 is definitely a great bargain.
Alternatives‌ ‌to‌ ‌the‌ ‌Casio‌ ‌GRB200‌ G-Shock ‌Gravitymaster
The Casio GRB200 G-Shock Gravitymaster is a top-notch, versatile pilot watch made to survive the harshest of conditions. However, not everyone wants to wear a timepiece as rugged as the Casio GRB200. Some might find its style not to their liking, or they might want a watch that is smaller and fits better on their wrists. As such, we have curated a list of the five best alternatives to the Casio GRB200 Gravitymaster that you might want to check out.
1. Breitling‌ ‌Aviator‌ ‌8‌ ‌Chronograph‌ ‌Ref.‌ ‌A133161A1L1A1‌ ‌ ‌

For those who want a more professional, less rugged pilot watch, the Breitling‌ ‌Aviator‌ ‌8‌ ‌Chronograph‌ ‌Ref.‌ ‌A133161A1L1A1‌ is a great option. This pilot watch features a standard 43mm stainless steel case and bracelet that perfectly complements its military green dial. Like the Casio GRB200, this Breitling Aviator 8 watch is furnished with luminous grey-tone hands and hour markers, providing superb legibility even in the dark. Aside from that, the dial also bears a day-date aperture at 3 o'clock and three chronograph sub-dials, which include the small seconds, 30-minute, and 12-hour counters, all of which can be controlled using the pushers on the right side of the case. 
One difference between this Breitling watch and the Casio GRB200 is that the Breitling Aviator 8 Chronograph Ref. A133161A1L1A1‌ has a bidirectional rotating bezel. In addition, it is powered by an in-house Calibre 13, which offers a 42-hour power reserve and a water resistance capacity of 100 metres.
You can purchase this sleek aviator watch for around $5,450 USD. 
2. Citizen‌ ‌Promaster‌ ‌Eco-Drive‌ ‌GPS‌ ‌Satellite‌ ‌Waves‌ ‌Ref.‌ ‌CC3067-11L‌ ‌

Next up, we have the Citizen‌ ‌Promaster‌ ‌Eco-Drive‌ ‌GPS‌ ‌Satellite‌ ‌Waves‌ ‌Ref.‌ ‌CC3067-11L‌. This Citizen Promaster piece features a quirky watch face with black-lined luminous hands and hour indices over a relatively complicated dial. It comes in a 43mm PVD stainless steel case, paired with a stunning blue dial and a suave black leather strap. Its dial is also protected by a solid layer of sapphire crystal that provides it with greater protection from scratches and impacts. 
Designed to be the perfect companion of pilots, this Citizen watch is packed with a load of handy functions, including a synchronization GPS satellite wave that allows for more precise timekeeping and a perpetual calendar for up to 7 years. On the rim of the dial, you can see indicators for 27 cities, allowing you to track a total of 40 different time zones using this watch. Finally, its power reserve indicator is placed unusually between the 6 and 9 o'clock markers.
All of these run on an innovative Eco-Drive movement that allows this exquisite pilot watch to be powered using solar energy. You can purchase the Citizen Promaster Eco-Drive GPS Satellite Waves Ref. CC3067-11L‌ for approximately $756 USD. 
 3. Hamilton‌ ‌Khaki‌ ‌Aviation‌ ‌Ref.‌ ‌H77612333‌ ‌

Hamilton is a brand known for producing excellent aviation watches that many pilots trusts. One of its best offerings is the Hamilton‌ ‌Khaki‌ ‌Aviation‌ ‌Ref.‌ ‌H77612333, which exudes a cool and professional vibe that catches anyone's eye. This Hamilton watch comes in a 42mm stainless steel case, a black dial, and a matching black rubber strap. Like the Breitling Aviator 8 piece mentioned above, this watch has a jagged bidirectional bezel. This bezel, however, is marked with graphs that allow you to calculate speed, time, and distance, which can be very handy for pilots on flights.
This Hamilton Khaki Aviation piece also features a sleek black dial, bearing luminous white syringe hands and Arabic numeral markers in a neat font. You can also find two sub-dials in alternating black and silver hues, both of which have sunray finishes, adding to the smart look of the watch. In addition, a white date aperture is placed in lieu of the 6 o'clock marker.
The Khaki Aviation Ref. H77612333‌ is powered by a Calibre ETA 251.292 quartz movement, which is equipped with a substantial water resistance capacity of 100 metres. You can get your hands on this watch for around $737 USD. 
4.Tissot‌ ‌Heritage‌ ‌Ref.‌ ‌T124.427.16.031.01‌ ‌

The Tissot‌ ‌Heritage‌ ‌Ref.‌ ‌T124.427.16.031.01‌ is another distinctive, handsome pilot watch on our list. This piece is instantly recognisable, thanks to the combination of its 43mm cushion-shaped stainless steel case, short lugs, and striking panda dial. This is paired with a handsome brown strap with white stitching that enhances the watch's suave look.
This Tissot Heritage watch's attention-grabbing panda dial displays three black chronograph sub-dials against a clean white backdrop. These sub-dials feature the 60-second, 30-minute, and 12-hour chronographs. The dial also has stick indices, a date display located between the 4 and 5 o'clock markers, and luminous hands in black, silver, and bright orange that add a hint of quirky fun to the watch. 
When it comes to this Tissot watch's timekeeping ability, you do not need to worry as it is run by a first-class Valjoux A05.H31 movement. This is a Swiss automatic movement with a 60-hour power reserve. The Tissot Heritage Ref.‌ ‌T124.427.16.031.01‌ has a price tag of around $1,799 USD. 
5. Sinn‌ ‌Instrument‌ ‌Series‌ ‌900‌ ‌Pilot‌ ‌S‌ ‌Ref.‌ ‌900.020‌ ‌

Last but certainly not the least, we have the highly practical and robust Sinn‌ ‌Instrument‌ ‌Series‌ ‌Pilot‌ ‌S.‌ ‌Ref.‌ ‌900.020‌. This timepiece comes in a 43mm black PVD stainless steel case and bracelet, coupled with a matching black dial. The dial is furnished with three black chronograph sub-dials, luminous silver stick hands, and has an unusual 24-hour layout with thin hour indices and only odd-hour Arabic numeral markers. One downside to this watch is its small date window can also be found next to the 3 o'clock marker. With its black backdrop that blends into the dial, size, and relatively minute font, this date aperture can be quite hard to see and read.
This Instrument Chronographs watch is also equipped with an interior pilot's bezel and a second timezone. Powered by the Swiss SW500 self-winding movement, this pilot's timepiece has a 46-hour power reserve and an excellent 200-metre water resistance rating, which is on par with the Casio GRB200. Prepare to shell out around $4,369 USD before you can get your hands on this high-end Sinn pilot watch. 
Final Thoughts
Casio never fails to craft tough, well-rounded timepieces at budget-friendly prices, and the Casio GRB200 only continues that trend of excellence. It hails from the Casio G-Shock collection, which has consistently proven the brand's expertise at creating the toughest, most durable watches in the market. Packed with all sorts of essential features for aviation needs, such as Bluetooth connectivity, Quad Sensor technology, and comprehensive flight mission support, the Casio GRB200 is a rugged and reliable pilot watch that is ready for any challenge.
All images are from Casio's official website unless otherwise stated.
Featured image courtesy of Casio's official website.
Searching for a top-tier tactical watch? Why not spare some time to read our article on the Luminox Recon: An In-Depth Review of the Brand's Best Tactical Watch.