New & Feature
Everything You Need To Know About the Polar Ignite 2
Sep 14, 2022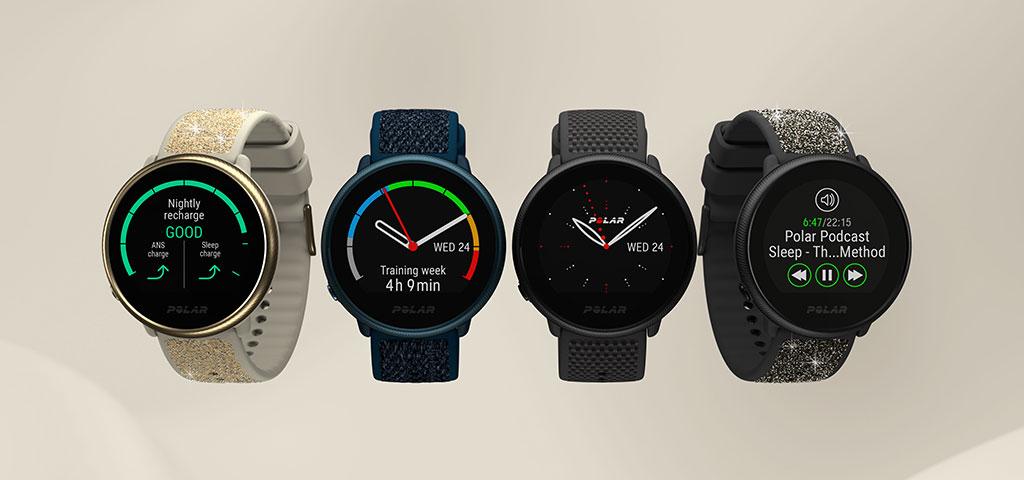 From basic timekeeping purposes in the past, watches today have fully evolved to match the digital landscape that surrounds them. This has led to the advent and rapid proliferation of high-tech smartwatches. Sleek and convenient, these smartwatches can make your daily life easier in every way. 
Manufactured in Kempele, Finland, Polar watches are known for their exceptional accuracy and beauty. As a great alternative to brands like FitBit and Garmin, Polar Electro Oy is known for producing top-notch sports smartwatches and one great example is the premium Polar Ignite 2. An upgraded version of its predecessor, the Polar Ignite 1, this smartwatch looks simple but comes with extremely sophisticated technology that caters to all fitness and health nuts. 
Read on to find out more about the Polar Ignite 2 and everything it has to offer. 
Anatomy of the Polar Ignite 2 

Build
Despite being used primarily as a sports and fitness smartwatch, the Polar Ignite 2 nevertheless maintains a very sleek and stylish exterior. Indeed, it would not look out of place at a formal event at all. This watch measures 42.9mm x 8.4mm in terms of diameter and height, so it has a rather average size that can fit nicely on wrists of all sizes. 
The case of this watch is made out of glass-fibre-reinforced polymer, which makes it extremely durable and resistant to all sorts of scratches and impacts. This polymer material is also very lightweight. As a result, the Polar Ignite 2 weighs just 34 grams (1.2 ounces) and wears extremely lightly on the wrist, even compared to other fitness and smartwatches, all despite having a stainless steel bezel & button. 
At the front of the watch case is a circular LED screen. It has a 240 x 240 resolution, giving the wearer sharp and clear graphics with no fuzziness at all. This screen is also enclosed in a lovely, textured stainless steel bezel. This bezel is coated in lavish yellow gold and showcases a pattern of slanting ridges. It adds significantly to the refined aesthetic of the Polar Ignite 2. 

Strap
The Polar Ignite 2 typically comes with a soft beige silicone strap, which measures between 130mm and 210mm. This silicone strap is designed to look like soft leather, which gives it a more elegant look. However, users have reported that the strap itself feels a little cheap, so it might not be to your tastes. 
If you are not a fan of the Polar Ignite 2's standard watch strap, or if you want something that is a little more premium, the brand also offers you an alternative. This alternative strap is a lot more lavish, as it is embedded with lovely Swarovski crystals, allowing for a more glamorous, high-class look. This strap, however, is sold separately from the Polar Ignite 2, so you will have to fork out more money for this accessory. 
Features
Like other watches from Polar, such as the Polar Unite and Polar Vantage M2, the Polar Ignite 2 runs on the brand's FitSpark software. 
Compared to previous Polar watches, this timepiece also offers an improved battery life, a series of notable features like low-power mode for long training sessions, and a weekly summary dashboard. You can use this watch to connect to Bluetooth, which enables it to broadcast your heart rate to Bluetooth-enabled gym equipment. Connecting the Polar Ignite 2 to your phone or computer also gives you access to smart notifications, music controls, and weather forecasts.  
For tech-savvy health nuts, the Polar Ignite 2 also offers a number of useful features that let you keep track of your health data. For instance, you can use this watch to track your heart rate, sleep, and recovery. Some programs that are considered a special standout are FitSpark, which gives you personalised daily workouts so you can train more smartly, and Serene, which provides guided breathing exercises. 
In addition, the Polar Ignite 2 also supports more than 130 different sports. Users can utilise the Polar Flow function to customise sessions for their favourite sports. Some of the favourite fit activities under this profile include running, cycling, pool swimming, high-intensity interval training, and cross-training.

Battery
The Polar Ignite 2 is powered by a 165mAh lithium-ion (li-pol) rechargeable battery. This allows the watch to run for up to five days in full watch mode. However, some of the watch's fitness apps can be quite draining. As such, when used continuously in GPS mode, this digital watch can last for up to around 20 hours. 
There are some tips for extending the battery life of the Polar Ignite 2. For instance, reducing GPS Polling is one approach. You can also turn off the watch's heart rate tracker. This will extend the Polar Ignite 2's battery life so that it can last around 100 hours in training mode.  
Water Resistance
The Polar Ignite 2 has an ISO 22810 certification, which gives it a depth rating of around 30 metres. This allows the watch to survive splashes, showers, and even shorter swim sessions. As such, you can also use the Polar Ignite 2 to keep track of your swim sessions. 
However, be warned that you should not use the Polar Ignite 2 to swim distances greater than 500 metres. Doing so will affect the accuracy of the watch. 
Price and Availability
The Polar Ignite 2 is considered a premium item amongst the fitness smartwatches on the market. It retails at about $299 USD. This watch is offered in two different colourways: Black and Pearl. There are also three different sizes of the Polar Ignite 2 available: small, medium, and large. This allows you to pick the version that best suits the size of your wrist. 
Best Alternatives to the Polar Ignite 2
1. Garmin Forerunner 45

Designed especially for runners, the Garmin Forerunner 45 combines features of both heavy-duty timepieces and handy fitness trackers. This watch sports a round 42mm case that comes in a sleek, smooth black finish. 
This is paired with a robust, sweat-resistant silicone strap, which you can get in either vibrant red or black, to better match the watch's case. Like the case, this silicone strap is smooth and lightweight. It makes chafing a distant memory, allowing for optimal comfort. 
A GPS watch that lets everyone run at their own pace, the Garmin Forerunner 45 has everything that runners need to jog for miles. It comes with an old-school yet effective heart-rate tracker, which can be found on the caseback of the watch. It also comes with smart notifications, so you can keep track of any texts or emails you get. In addition, this watch is also equipped with built-in incident detection and assistant features. This monitors your progress and can help you if you get into an accident during any of your runs.  
Aside from that, the Garmin Forerunner 45 is also able to assist runners with its free Garmin Coach adaptive plans, which help runners with their training. It keeps track of your distance travelled, time, location, and more with its highly-precise GPS functions. 
As one of the more powerful smartwatches on the market, the Garmin Forerunner 45 can last for up to 13 hours when used continuously in GPS mode. In smartwatch mode, you can use the Garmin Forerunner 45 for up to seven whole days. 
The Garmin Forerunner 45 sells at $199 USD. 
2. Coros Pace 2

Imagine being able to keep track of your heart rate for nearly three weeks. That is one of the key features offered by the Coros Pace 2. Considered a premium GPS sports watch, the Coros Pace 2 is a powerful smartwatch that gives sports enthusiasts everything they need in order to perform at their best. Compared to its predecessor, the Coros Pace, this watch comes with a processor that is 1.5 times more powerful, along with 5 times more RAM and 4 times more storage space. 
The Coros Pace 2 utilises a round fibre-reinforced polymer case that measures a standard 42mm in diameter. This is coupled with a comfortable silicone strap. If you want a strap that is a little more casual and lightweight, however, you can also opt for the brand's nylon watch band. This nylon strap is 50% lighter than the silicone one and is more breathable, so you will not have to worry about any discomfort from sweat or moisture. 
As a top-notch smartwatch, the Coros Pace 2 comes with smart notifications and alarms, which come in handy in your everyday life. You can also use it to keep track of both your heart rate and your sleep. 
For health nuts, this watch offers a Strength Mode training program with a library of more than 200 exercises. This program is meant to help you train everything from your upper and lower body to your core work and more. It also has a number of sports modes, such as a Track Run mode that makes the watch's running data more accurate, and a Flat Water mode that keeps up with you during all your watersports activities. 
Like the Polar Ignite 2, this watch also has GPS functions. When used continuously in GPS mode, you can use this watch for up to 30 hours. This can be extended by putting the watch in UltraMax mode. 
The Coros Pace 2 is priced at just $199 USD, making it more budget-friendly than the Polar Ignite 2. 
3. Huawei Watch Gt2 Pro

Finally, we have the Huawei Watch Gt2 Pro. As opposed to the other timepieces on this list, which cater more towards athletes, the Huawei Watch Gt2 Pro is designed more as a casual everyday watch for daily use. Although it is not produced by a dedicated smartwatch brand, this is still a great choice that can fulfill all the needs of active professionals. 
The Huawei Watch Gt2 Pro is presented in a titanium case that is both extremely durable and very lightweight, so it wears comfortably on your wrist. This is paired with a robust fluoroelastomer strap. The watch showcases a colourful AMOLED screen that is protected by a layer of scratch-resistant sapphire crystal. Housed behind this LED screen are the watch's Kirin A1 + STIL49 processors and 4GB of memory. 
As part of its utility as an everyday watch, this Huawei piece comes with the following trackers: accelerometer, gyroscope, geomagnetic, optimal heart rate, and air pressure sensors. In addition, it also comes with oxygen saturation detection, which gives you 24-hour tracking of your oxygen levels, so you can ensure that you are as healthy as an ox. 
Finally, this watch also comes with a GPS function that allows you to keep track of your whereabouts. If you find yourself in a situation where your GPS signal is weak, do not worry. The Huawei Watch Gt2 Pro is equipped with a Route Back feature, which can help you retrieve your previous travel routes. 
The Huawei Watch Gt2 Pro can last for around 14 days under typical conditions. It costs approximately $230 USD. 
Final Thoughts
If you are someone who values both form and function, then the Polar Ignite 2 is one of the best watches for you. With a sleek design, as well as functions that cater to both everyday use and sports application, the Polar Ignite 2 is just about the total package. 
All photos are courtesy of TheWatchCompany.com, Polar Watches, and their respective sources. 
In this article, we explain why getting a Garmin Instinct watch is a must for every adventurer out there.