Watch Guide
The Perfect Filippo Loreti Watches for Your Daily Needs
Sep 12, 2022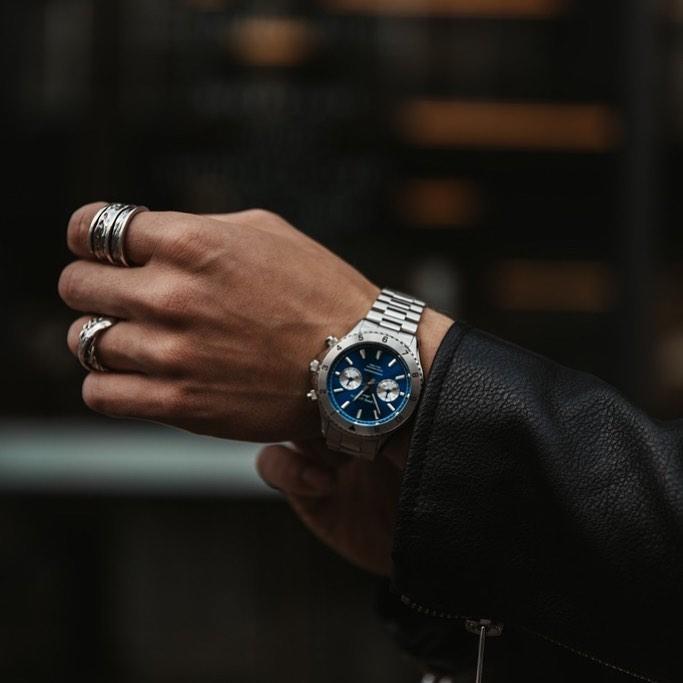 Italian watches are undoubtedly quite rare in the watchmaking industry. This is not, however, due to any deficiencies in Italian watchmaking. Instead, it is simply the result of the dominance Swiss and Japanese watch brands have over the market. Indeed, Italian watches actually feature some of the best designs you could ever find in horology. This is why the Italian Filippo Loreti watches are certified to be a great choice if you are looking for beautifully-made timepieces with a touch of elegance. 
Filippo Loreti has quite a few watch collections that are worth checking out. From practical utility to casual, everyday wear, you can find everything you need in Filippo Loreti's extensive portfolio of watches. Offering straightforward, no-nonsense timekeeping, the Filippo Loreti watches are efficient and reliable timekeepers that are sure to elevate your wardrobe. Read on as we delve into Filippo Loreti watch brand, its history, and the best Filippo Loreti watch models that money can buy. 
Filippo Loreti: A Brand History
Filippo Loreti was founded by brothers Danielius and Matas Jakutis. With a passion for creating affordable and well-designed timepieces, the Jakutis brothers launched a Kickstarter campaign in late 2015. The campaign quickly gained steam, and two years later, Filippo Loreti was established and began introducing its watches to the global market.
Filippo Loreti is quite young compared to other, more prestigious Italian watch brands like Bvlgari and Panerai. Nevertheless, it has managed to stay relevant to the masses due to its beautiful designs and accessible prices. Over the years, Filippo Loreti has garnered quite a positive reputation with its patrons across the internet.
First Impressions
Going into each watch collection, Filippo Loreti watches are quite consistent in terms of their designs. So if you are expecting something grand and overly sophisticated, then Filippo Loreti might not be the right brand for you. However, if you are in the market for a nice and quintessential everyday piece or tool watch, then you are in the right place. Other than that, the Filippo Loreti watch collections offer versatility in utility depending on what occasion you need your watch for.
Filippo Loreti Watch Collections
Diver

The Filippo Loreti Diver collection holds some of the best dive watches for beginners. With their solid 100-metre depth ratings, the Filippo Loreti Diver watches offer all the basic features that you need for recreational swimming and a bit of diving. The watches in this collection also showcase a robust, professional build that recalls the well-built designs of the famous Rolex Submariner watches.
The Filippo Loreti Diver series can be further categorised into two sub-collections: the Okeanos and the Odyssey. The Okeanos watches possess a more simplistic design, with plain and straightforward dials that focus on the nuts-and-bolts hours and minutes timekeeping. The Odyssey contains chronograph watches with dive capabilities. As such, the Filippo Loreti Diver Odyssey timepieces have slightly more complex dial designs.
The price range of the Filippo Loreti Diver series ranges from around $160 USD up to $200 USD. This is an absolute bargain for such beautiful and reliable dive watches.
Racer

As you might have guessed from its name, the Filippo Loreti Racer collection is composed of rugged and cool racing watches. Despite being a series of racing timepieces, the watches in the Racer lineup show off designs that are quite sleek and versatile, with a touch of luxury. As such, they look equally at home on a racetrack or at a fancy dinner party. This has led to the Filippo Loreti Racer being an especially popular choice amongst patrons. 
The Filippo Loreti Racer watches sell from around $150 USD to $200 USD. You can consider these more accessible versions of the luxurious TAG Heuer racing watches. 
Classic

The Classic collection of Filippo Loreti is also one of its bestsellers. This collection holds some of the most elegant watch designs out of all the Filippo Loreti watches. Most notably, this series contains watches with moonphase displays. This is a high-end complication that is frequently seen in luxury watches from brands like Patek Philippe and Jaeger Le-Coultre. The best thing about the Filippo Loreti Classic is that it gives you a very elegant accessory without having to break the bank, so it is an exceptional choice if you are on a limited budget. 
As of today, the Filippo Loreti Classic range is made up of only one model: the Venice Moonphase. It retails at about $200 USD.
Sophisticated

Finally, we have the Filippo Loreti Sophisticated. As its name suggests, this collection is home to Filippo Loreti's most complex watch designs, which are comparable to luxury watch brands like Grand Seiko or Tissot. This series uses high-quality materials to create refined and well-crafted Filippo Loreti watches. 
The Filippo Loreti Sophisticated can be divided into two different lines: the Eterno and the Eterno Gilded. The primary difference between the two is that the Eterno Gilded watches come with lovely gold accents, which adds to their sophistication and grace. 
The timepieces in this range are mostly priced at $200 USD.
Five Best Filippo Loreti Watches
1. Ascari Monza Heritage Edition

First off, we have the Ascari Monza Heritage Edition. Just from its design, you can tell that this watch hails from the Filippo Loreti Racer collection. It has a sporty aesthetic that is very similar to the TAG Heuer Carrera series. 
This watch uses a 42mm stainless steel case and a matching three-link stainless steel bracelet. Affixed to the top of the watch case is a unidirectional bezel. Made of stainless steel and black ceramic, this bezel offers excellent scratch resistance.
The dial of this watch also comes in matte black, complementing its bezel. It is decorated with lovely applique hour indices, broad skeletal sword hands, and a date display between 4 and 5 o'clock. The hands and indices are coated in rose gold, adding a very refined touch to this watch. As a racing chronograph, this dial also contains three sub-dials for the 60-second, 60-minute, and 24-hour counters, all of which are also lined with beautiful rose gold accents.
Driving this watch is a SII Hattori/Seiko Calibre VK64. It is a reliable quartz movement that offers an outstanding battery life of three years. This watch is also water-resistant up to depths of 100 metres. 
You can purchase the Ascari Monza Heritage Edition for about $239 USD. It is one of the pricier Filippo Loreti watches available. 
2. Venice Moonphase Silver

Of all the Filippo Loreti watches on this list, the Venice Moonphase Silver is an undeniable fan-favourite. It offers an exquisite sophistication that you would typically expect from much more expensive luxury watch brands, all at a very accessible price.
The Venice Moonphase Silver is presented in a 40mm stainless steel case and a handsome, rich brown leather strap. A thick fixed bezel is placed atop the watch case, protecting the face from any scratches or impacts. The polished finish of the case and bezel gives it a lustrous shine shine that is befitting a thousand-dollar luxury watch.
The dial of this watch boasts a fine silver-white finish. This dial has a dynamic, three-dimensional build, with a slightly submerged centre. It is also ornamented with rectangular hour indices and three sub-dials in sunray silver, for the day-of-the-week, month, and date indicators. At 6 o'clock, a beautiful crescent-shaped moonphase display can also be seen, adding to this watch's graceful aesthetic.
Inside this gorgeous watch is a Miyota 6P00. This is a Japanese quartz movement that can also last an excellent three years when fully charged. It is also considerably cheaper than most movements with moonphase complications, which accounts for the Venice Moonphase Silver's very budget-friendly price.
The Venice Moonphase Silver retails at just $169 USD.
3. Ascari Two-Tone Gold Steel Link

In this entry, we have the two-tone Ascari Two-Tone Gold Steel Link. Although it belongs to the Racer Ascari collection, this watch has a more refined style that makes it seem like an elegant dress piece. It sports a 42mm polished stainless steel case and an H-link bracelet made of the same material. Sitting on top of the watch case is a count-up bezel with embossed Arabic numeral markers. It is painted in royal gold, just like the golden crown and pushers that rest on the right side of the watch case.
This watch shows off a jet-black dial, which stands out in sharp contrast against its silver and gold exterior. This dial has a textured finish that resembles black asphalt, a tribute to its racing inspirations. It is furnished with bullet-like applique hour indices and long sword hands, along with two chronograph sub-dials for the 60-second and 24-hour counters. The hands, indices, and sub-dials are all accented with gold, enhancing this watch's lavish, upper-class look. The hands and hour markers are also filled with white lume, which allows for optimal legibility in the dark.
All of these features run on the Seiko VK64 movement. It possesses a battery life of up to three years and a superb accuracy rate of +/-20 seconds per month.
This watch sells at $200 USD.
4. Marble Black Gold Mesh

One of the most unique Filippo Loreti watches on the list is the Marble Black Gold Mesh. This watch caters to ladies seeking a fashionable dress piece to elevate their formalwear. It shows off an exquisitely minimalistic style and is highly reminiscent of the German Bauhaus watch designs. 
This watch is housed in a 40mm stainless steel case, coupled with a stylish mesh bracelet that is also made from stainless steel. Both the case and bracelet are painted in gold, giving it a more luxurious, high-end look. A round fixed bezel is also fitted on top of the watch case. It bears a lovely polished finish, just like the watch's case and lyre lugs.
The dial has a truly unique design that you might have guessed from the watch's name already. Its marble-like pattern creates a sophisticated look that gives this watch a very classy yet rustic style, perfect for formal occasions. It also has a very simple layout. This dial does away with all components except a pair of bevelled dauphine hands in gold.
A Miyota 2035 movement powers this watch. It is an affordable quartz movement that offers reliable timekeeping accuracy and outstanding four-year battery life.
The Marble Black Gold Mesh has a price tag of $99 USD. Despite its beautiful design, it is one of the most budget-friendly Filippo Loreti watches available, making this an extremely value-for-money bargain. 
5. Okeanos Classic White

Finally, we have the Okeanos Classic White. This dive watch boasts a pure all-white style that simply captures your attention. It is very versatile and can look good in sports, casual, and formal settings.
This watch utilises a 42mm stainless steel case and an H-link bracelet, both of which are sleekly polished. Pressed on top of the watch case is a brushed stainless steel case. It is engraved with indicators for an elapsed time scale, which allows you to keep track of the amount of time you have spent underwater.
The dial of this watch also showcases a refined silver-white finish, which goes extremely well with the rest of the timepiece. As a dive watch, the layout of its dial is very straightforward and prioritises legibility, so that divers can read this timepiece clearly even when underwater. It is adorned with applique hour indices in silver and thick, bevelled hands. A minute track can also be found on the rim of the dial. The hands and indices are treated with white lume, which helps light up the watch face in the dark.
Ticking inside this watch is the Miyota 2025 movement. This is yet another accessible Japanese quartz movement, which offers a battery life of up to three years. It is also water-resistant up to depths of 100 metres, so you can easily bring this timepiece to your water sports adventures.
The price for the Okeanos Classic White starts at $159 USD. 
Final Thoughts
Even though Filippo Loreti has a relatively cheap price tag, the watches that they offer bear some of the most beautiful designs in the market. Indeed, Filippo Loreti is focused on high-quality and fashionable watches for everyone to enjoy. It serves as an exceptional alternative if you are looking for something to add to your elegant style. The Filippo Loreti watches may not be the most high-functioning timepieces you can find, but they deliver their best in providing an excellent timekeeping experience for just 200 dollars.
All images courtesy of Filippo Loreti. Featured image courtesy of Filippo Loreti.
If you are still in the market for Italian watches, check out our list of 15 Italian Watch Brands That Should Be On Your Radar!